KCK native Lisa Peña has decided to take her act on the road—and sidewalks, alley ways, bridges, and side streets. In early 2019, Peña launched Urban Hikes KC as a way to get Kansas Citians to tour their own city. "I'm an original Dotte!," she exclaims. "As a child I loved to walk on the trail in the woods with my friends behind my house in the Rosedale area. This sparked my interest in trails."
After high school, Peña heightened her adventurous spirit when she volunteered with Peace Corps for three years and lived and worked in the Dominican Republic. "Living in the Dominican Republic really help to grow my resilience, cultural understanding, empathy, patience, and the ability to problem solve," she says. "I absolutely loved the culture, food and people, but it was hard to make ends meet there. So, my husband and I started a baking side hustle making banana bread. There are bananas everywhere there, but hardly anyone makes banana bread, so we found a niche—and my first business!"
Eventually, Peña and her husband made their way back to the metro. "Once I returned to KC, I got a job with Girl Scouts of NE Kansas & NW Missouri, connecting the Hispanic and Spanish speaking community to Girl Scouts," she says. "We always talked about how girls can be entrepreneurs and those ideas really resonated with me—how girls should take risks to succeed. And without me even knowing it, I adopted a lot of those same empowering ideas."
Now she's helping tourists and locals hoof their way around the metro to glean the who/what/when/where of our fab city. We wanted to find out more about Pena's trippy, well-received endeavor.
What was the genesis behind Urban Hikes Kansas City?
"One day in 2018 I was listening to the podcast Side Hustle Nation, now called Side Hustle Show, and heard about Urban Hiker San Francisco. I got that excited feeling that I've only had a couple of other times in my life, and I knew that I had to bring urban hiking to Kansas City. I absolutely love the outdoors, my city, and exercise. Additionally, Kansas City was growing and getting cooler by the day. I felt like there was so much to see, and we live in a car culture where it's not common to explore the city by foot. There was my niche, again!
After talking to the owner of Urban Hiker San Francisco to get her blessing, it took about a year of planning and working on everything I needed behind the scenes (insurance, website, route plans, booking system, business cards, social pages) to actually launch. I had my first paid hikes in March 2019."

I'm guessing all tours are a little bit different, yes? Tell me more.
"Yes! My first hike was the Crossroads Westside Urban Hike, which I created. My second hike was our Strawberry Hill Downtown KCK Urban Hike, which I designed in collaboration with Rebekah Baughman, another native of KCK, who is my main guide for that hike. Since then, I've co-designed most of the rest of my hikes with guides. Currently I have three guides, a fitness instructor, and a yoga instructor. You can find a description of my hikes here:  Kansas City Tourism | KC Historical Sites | Urban Hikes KC."
What can guests expect?
"Most of my guests are local, but we also have some travelers. Guests can expect to see a side of Kansas City they've never seen, even in neighborhoods they think they know. We learn about the history and stories of people who made a difference in Kansas City, see different types of outdoor art including murals, walk up hidden stairsteps, bridges, alley ways and parks.
We normally stop at a local business for a treat. Guests also have plenty of time to chat with someone new on the hike or with whomever they came with. My public hikes are four to five miles long, so you really get your steps in for the day. Since KC is a hilly place, you get a workout! Guests often share with me how they learned so much and saw things they didn't know existed."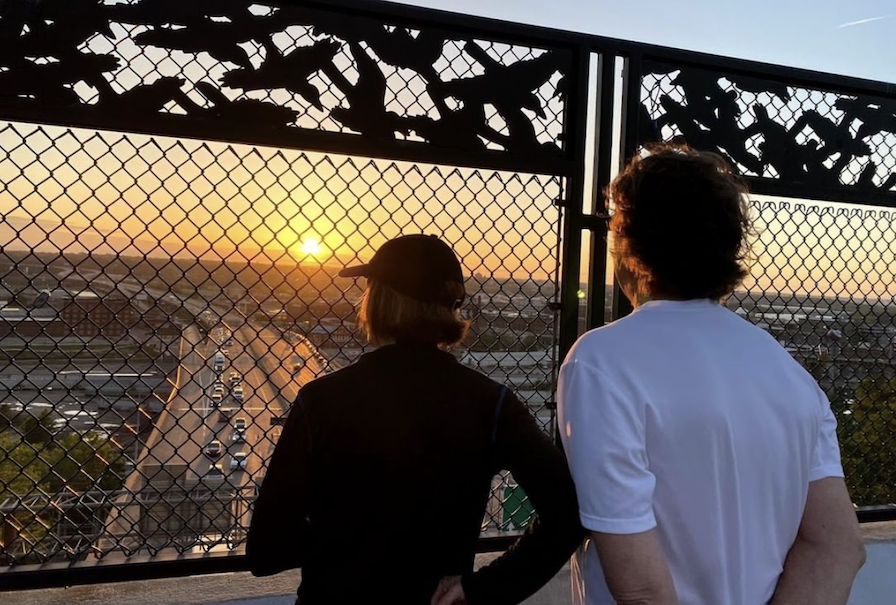 What has response been since you started?
"Initially, it was slow to get the word out—to go from not existing to existing. Despite the pandemic, once I started to get more guides and more routes during the summer of 2020, we grew a lot! It was a great thing to do during the pandemic since we are mostly outside and can be socially distanced."
Any other nuggets our readers simply must know?
"Yes! We have public hikes for anyone to join on the weekends for $32 a person and we do private hikes during the week. We give hikes for staff outings and teambuilding, families, and birthdays. We've had positive responses to all our hikes regardless of the age. We have a kids' version of some of our hikes and fit people in their 70s and 80s can plan a private customized hike.  You can book a spot on a public hike at www.urbanhikeskc.com or contact me at adventurer@urbanhikeskc.com to set up a private hike."