Laundry Room/Organization Hub
When Laura Flanigan had infant triplets and a 2½-year-old, she learned the importance of organization—fast. She and her husband, Dick, now an executive at Cerner, tidied everything up before they went to bed. "It made facing the day so much easier," she recalls.
With her children now grown, she still carries those lessons to her Leawood laundry room that also serves as a space for Zoom meetings, bill paying, wine drinking, and bird-watching. "You spend so much time in your laundry room, you want it to be a peaceful, quiet, hard-working space you can enjoy," she says.
Laura worked with designer Kurt Knapstein, who rendered "an exceptionally customized space" that suits her to a tee. "There are no redos with Kurt," says Laura. "He gets it right the first time." Even down to the whimsical wallpaper and a mirror to check her appearance before this art museum docent walks out the door.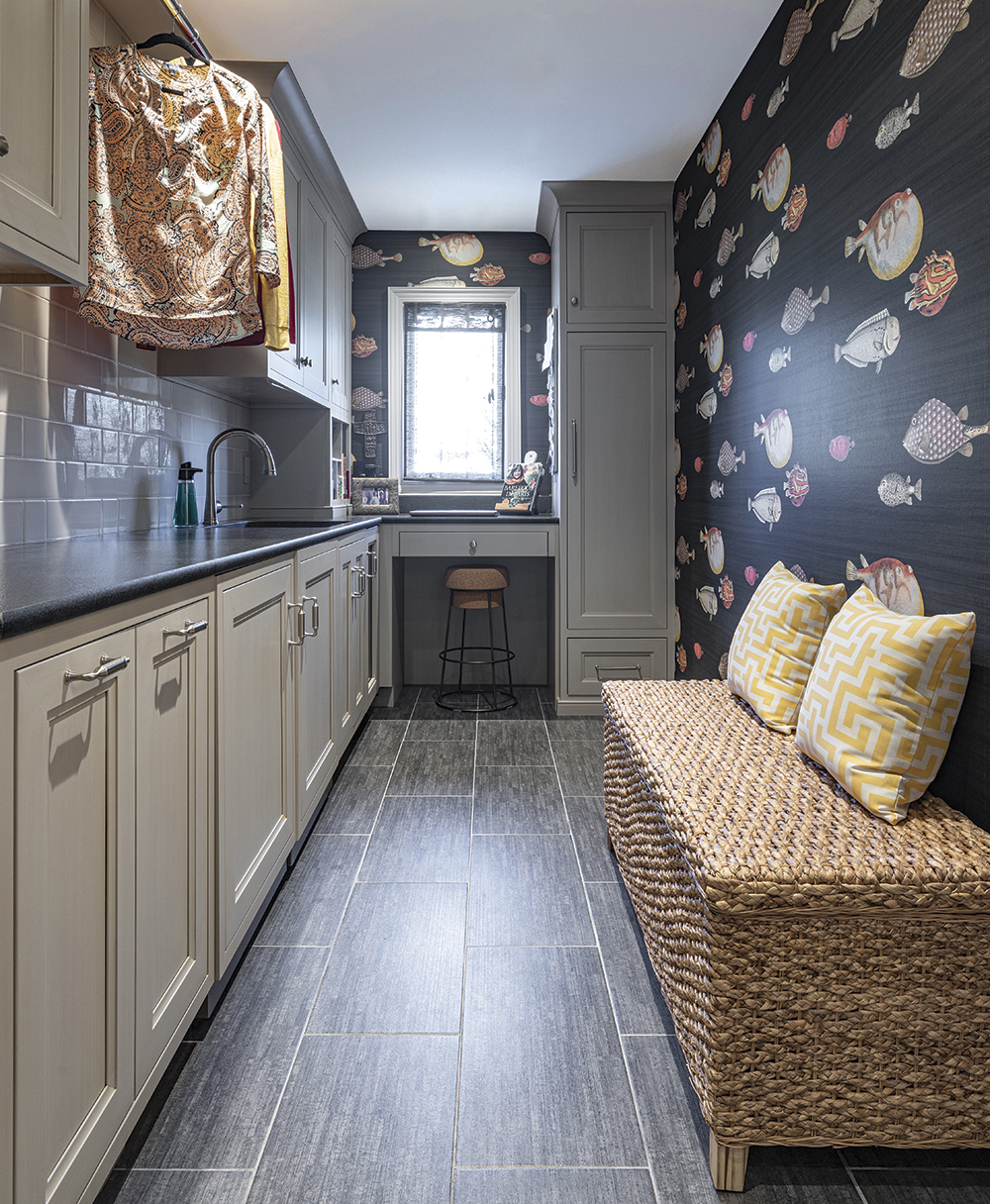 ---
Laundry Room/ Locker Room
With three sport-playing sons ages 9 to 16, Chrissy Wichman does laundry every day. School clothes, play clothes, practice clothes, team uniforms. And socks. Lots of socks. Says Wichman, "I spend a lot of time in this room."
So when it was time to redo their Leawood kitchen, Wichman and her husband Jason, a pediatrician, tackled their laundry room as well. They enlisted the help of Jessica Gordon of Sara Noble Designs for a modern classic look.
"The boys cannot seem to put things away," says Chrissy, so this room does it for them. Big, ventilated drawers hold shoes and socks. Two drawers hold uniforms. "Everybody knows exactly where everything is." The GE front-loading washer and dryer is specially vented. "You can fill up the soap dispenser to do enough for 50 wash loads," says Chrissy.
With everything in its place and sports chaos at bay, there is room for a little whimsy—a wallpaper for dog-lover Chrissy. "Every time I go in this room, I am happy," she says. Adds designer Gordon, "Many laundry rooms are now doubling as a place to kennel and bathe pets, too. We have designed custom kennels, as well as tiled showers with easy-to-use hand-held sprayers."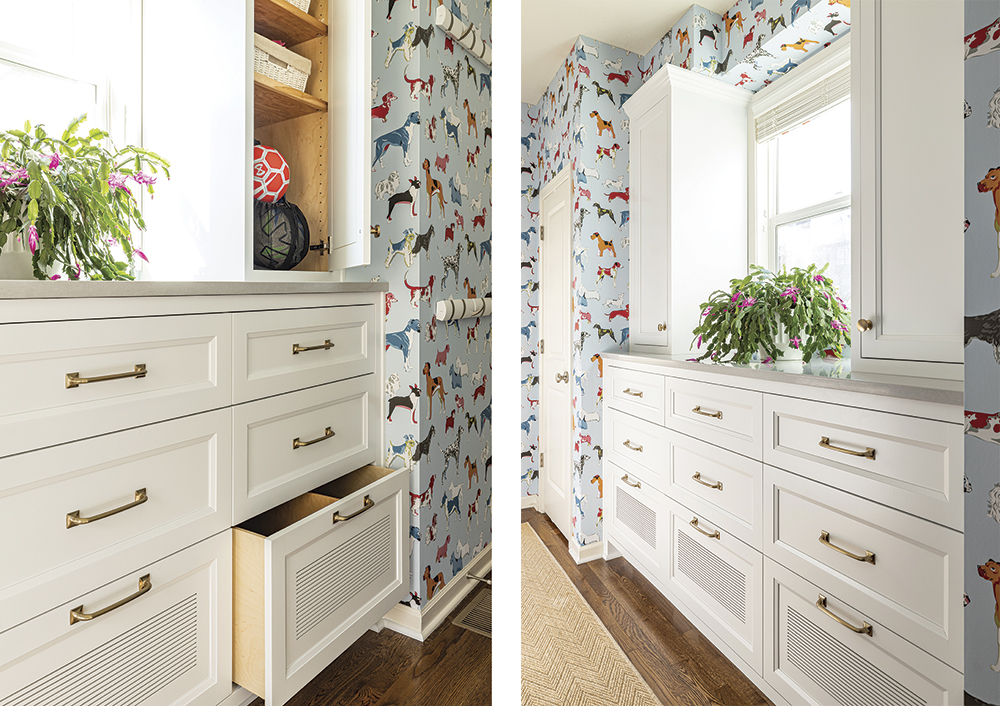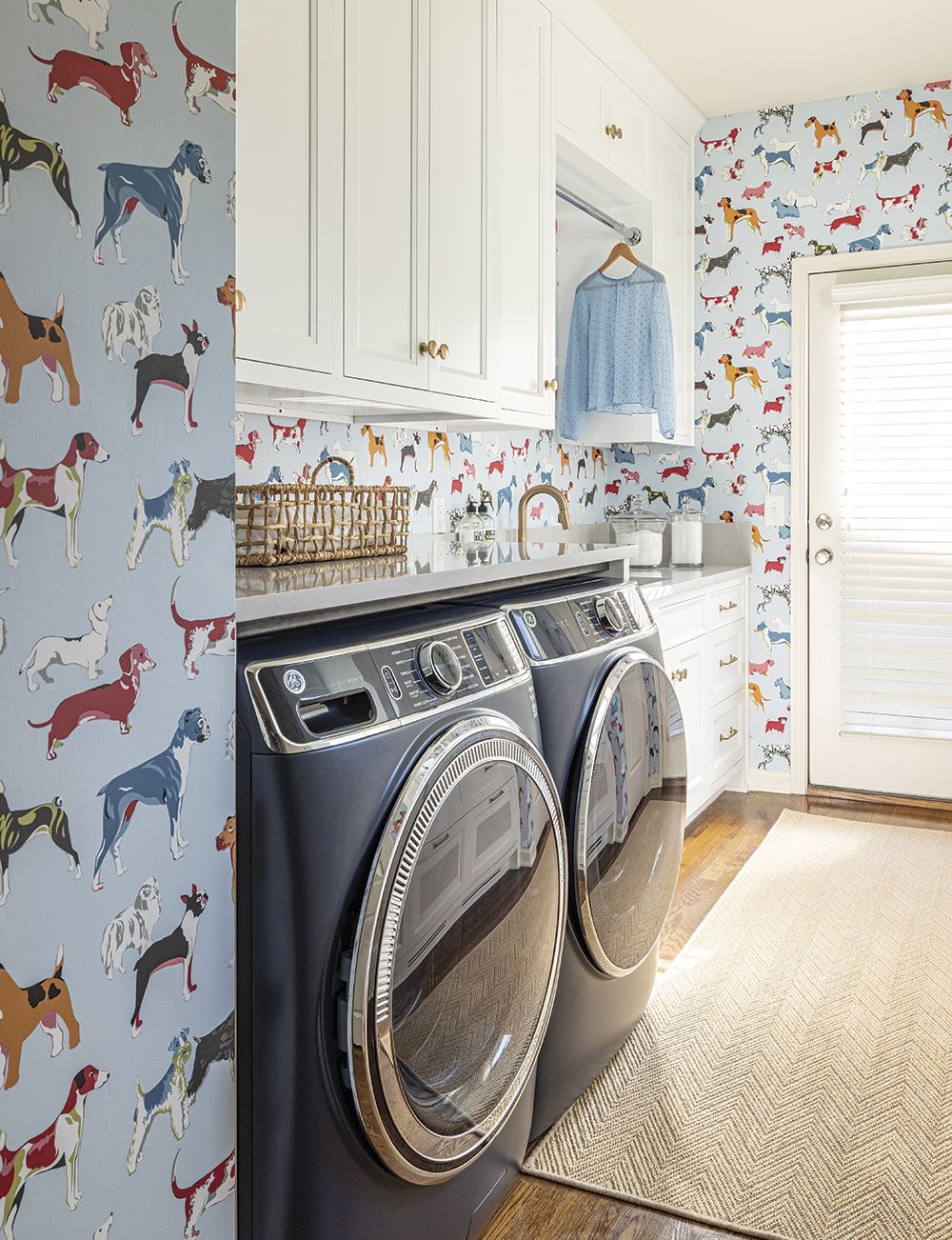 ---
Laundry Room /Prep Kitchen
Perched high up in the Alameda Towers, this condo is home to two Kansas City business executives who love to entertain. "Everybody gravitates to the kitchen," says the homeowner, who also loves to cook. "And for a small gathering, that is great. But when we have a big party, we wanted a space for the caterers to prep."  They turned to Geri Higgins of Portfolio Kitchen & Home for the perfect solution: A laundry/utility/catering kitchen space.
"Laundry rooms can be so much more," says designer Higgins. "They can also be gardening zones, gift-wrapping or craft spaces, kitchen support, or charging centers. A custom laundry room answers the client's question: What do I want?"
"Now, there's a washing side and a cooking side," says the homeowner. Two different counter heights handle the two different tasks, all blended together with fine finishes of dark wood cabinetry and deep-veined Calacatta marble on walls and floor.
An induction cooktop, under-counter refrigerator, and storage for serving pieces make a catered event a snap. And cleanup is right across the aisle.