Move over, ginormous all-white kitchens. Kansas City kitchen designers and happy homeowners show us how to achieve high-contrast style and smart function—and make kitchen dreams come true.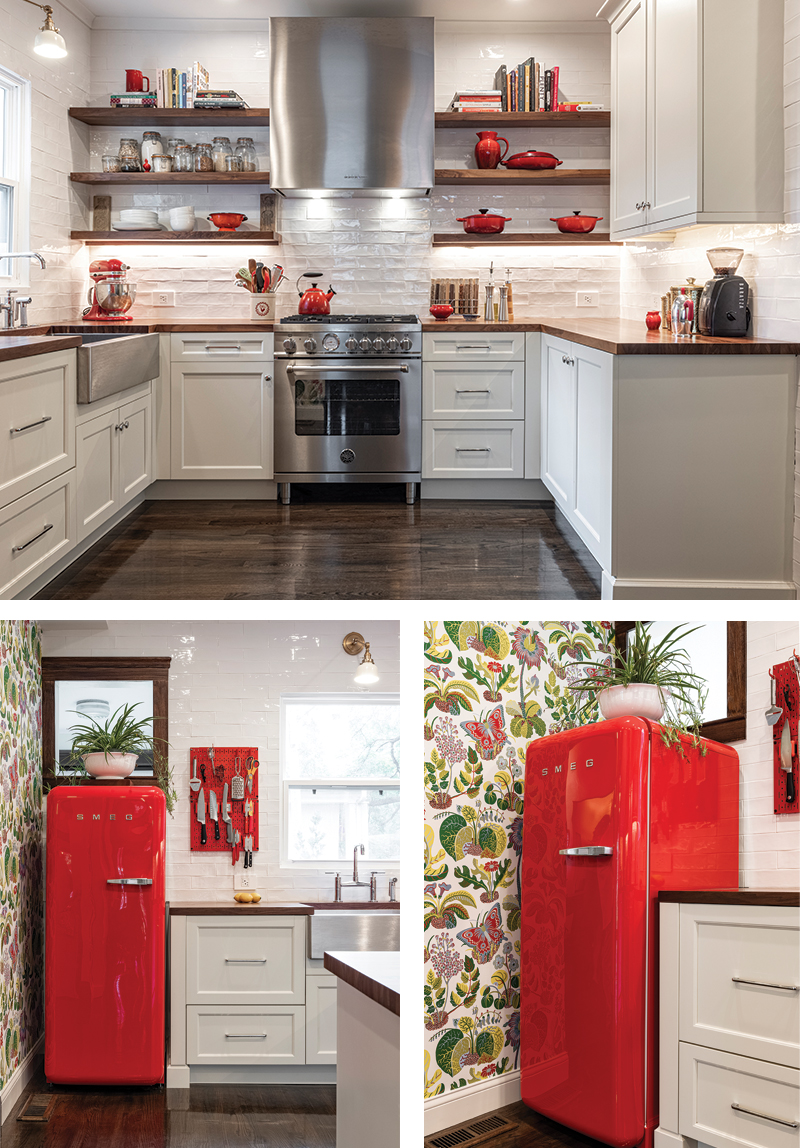 Lipstick Red, Creamy White, and Dark Walnut
The vintage shirtwaist house in Kansas City's South Hyde Park neighborhood needed a kitchen refresh worlds away from its original dark wood and somber tones. Jamie Schwendinger-Schreck, a scientific project manager, and her husband, Carl, an informatician at the Center for Genomics Medicine at Children's Mercy Hospital, wanted something more youthful. "When we visited friends in Oakland, California, I was drawn to their mint-green refrigerator," she says. "I wanted one, but in another color. During graduate school, I used to shop the Le Creuset sale rack and I had a lot of red pots."
With help from Geri Higgins and Brian Burchfiel at Portfolio Kitchen & Home, the couple and their two children now have a kitchen of creamy white custom cabinetry, a Smeg refrigerator in lipstick red, and open shelving for display of all that Le Creuset. A playful wall of colorful Schumacher wallpaper keeps the vibe upbeat. Says Higgins, "We loved helping create this bright and happy kitchen."
"I love to cook," says Schwendinger-Schreck, "and I'm happiest when I'm chopping." The natural walnut counters add warmth and are forgiving of dings, spills, coffee rings, all evidence of a well-used space. "I like the thought of my kitchen reflecting my presence in it," she says.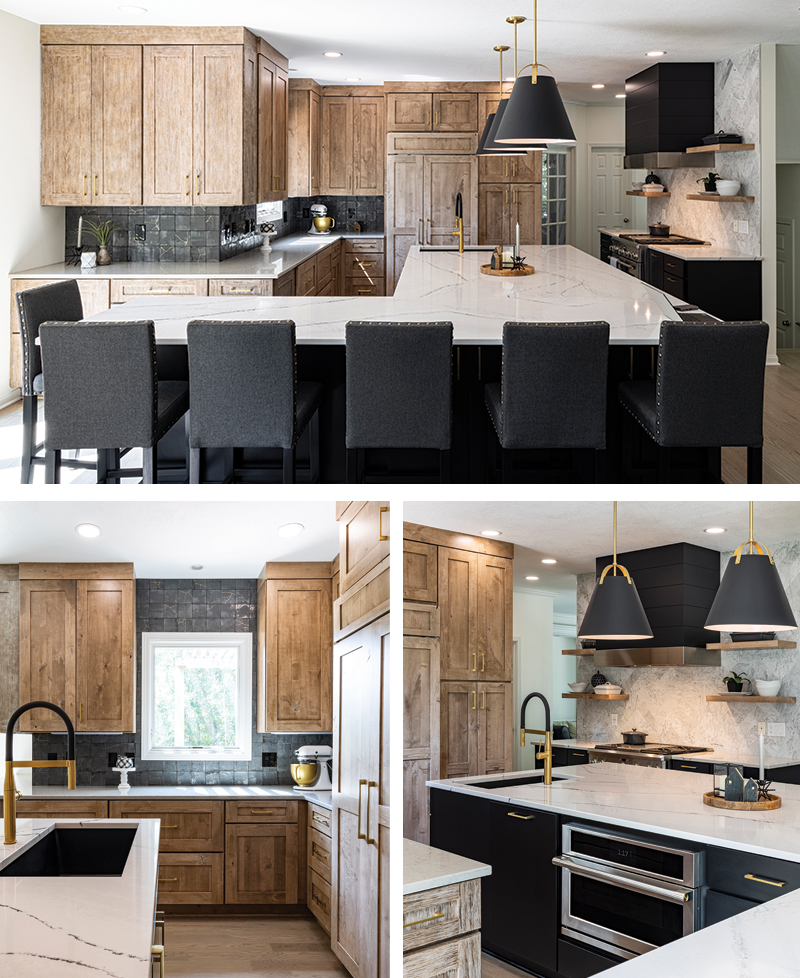 Matte Black and Pickled Cherry
''When we built our Shawnee house in 2003, we were just a couple," says Alysia Heller, a pharmacist with OptumRx, now in an operations role. She and her husband, Matt, a structural engineer, tootled along just fine until their two children, now ages 12 and 14, joined the family. Year by year, the design and functionality of the kitchen no longer suited their lifestyle, or their taste. And then, of course, the pandemic hit, and everyone was at home, all day, every day.
For help, the Hellers turned to Karin Ross Designs in Lee's Summit. "As soon as I walked in the kitchen, I knew what needed to change," says Ross. "I saw a small, choppy island and a table you couldn't walk around." Now, a unique L-shaped island seats the entire family (and a friend or two). The kids can be doing their homework there while dinner is prepared.
And the style! "These clients wanted cleaner lines and a mix of elements for a modern transitional style," says Ross. Heller had seen a photo online that prompted the cabinetry in a pickled cherry finish paired with matte black finishes and pendant lighting from Wilson Lighting. The Grohe faucet pairs function with flair.
"There is no clutter on the counters anymore," beams Heller. "There is a space for everything. And that gives us such a sense of well-being."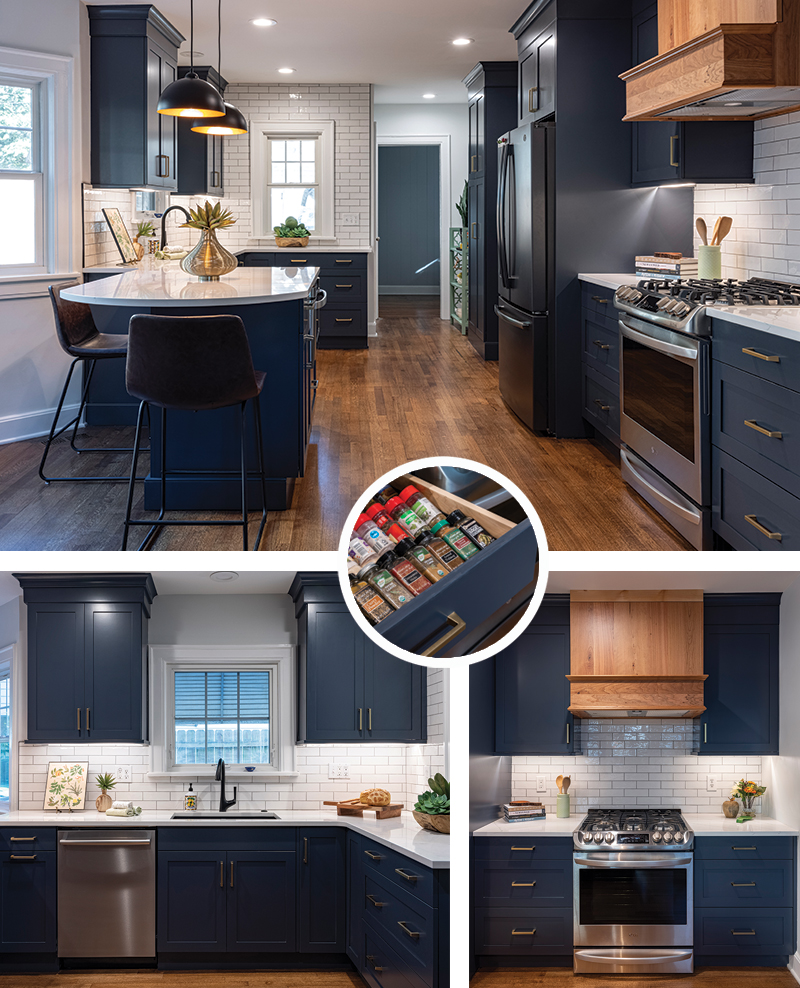 Classic Navy and Natural Cherry
On the plus side, the vintage 1940s Brookside area home had location, location, location, and original hardwood floors. On the minus side, a series of little rooms for cooking and dining. Ashley Vollmar, a physical therapist, and her husband, Louis, a chemical engineer, wondered how they could create a contemporary space there for cooking and entertaining.
Lisa Otterness, of Classic Kitchens Design Studio in Leawood, showed them the possibilities with a 3D presentation combining the butler's pantry, breakfast room, and tiny original kitchen into one long space. Sold!
Although the couple wanted an island, they soon realized that a peninsula worked better. And navy was their go-to: "Blue was our wedding color," says Ashley. Otterness told the couple, "We can do a catalyzed factory finish on Wood-Mode cabinetry." The blue and gray veining in the solid surface counters and the textured subway tile backsplash pick up on the crisp, classic theme. The range hood in natural cherry echoes the hardwood flooring for a warm accent. Otterness used a "point of use" design matrix so that the kitchen fits how the couple wants to use it. Louis doesn't have to reach in a cupboard to get herbs and spices for a signature dish; they're right in the drawer by the five-burner gas range.
"This kitchen remodel was transformative for the whole house," says Otterness. "And we love it," says Ashley.