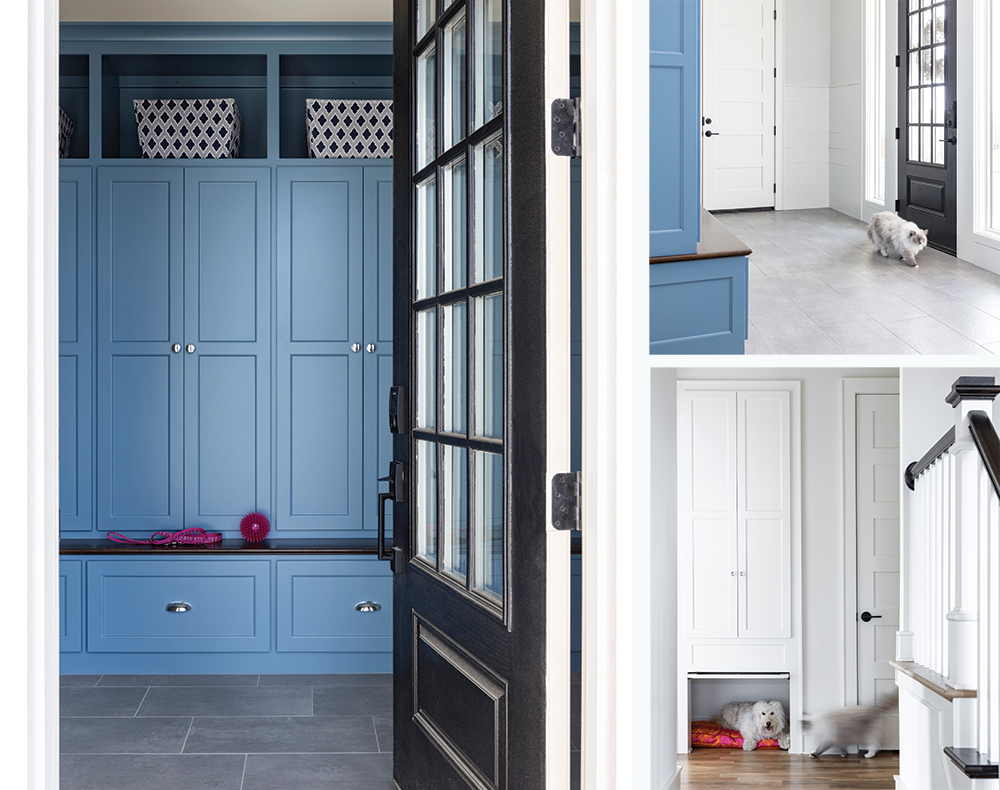 Mudroom.
Pet Condo.
Family Entrance.
When Mindi and Derick Shupe decided to build a home at The National in Parkville, Mindi searched for an interior designer who could guide them in the design process. She interviewed Jessica Gordon, a senior designer with Noble Designs, and found the perfect match.
"Mindi is very organized," Gordon says. "She has a system for everything. So it's very custom." The mudroom lockers were designed so that each member of the family, Mindi, Derick, and their three girls, had their own cubby. Each is designed to be wide enough to hold multiple sports bags, while the drawers are deep enough for all the types of sports shoes the girls wear. "They're a very active family; the girls are involved in several different sports," Gordon says. The soft blue paint on the custom cabinetry is Benjamin Moore's Alfresco.
The Shupe's pets, Diva, a golden doodle, and Luna, a ragdoll cat, received just as much thought as the human members of the family. Just off the mudroom door is a custom built-in crate for Diva. "They wanted to have a specific place for Diva to sleep without having a dog bed taking up space in a bedroom or the hearth room," Gordon says. The top-down door is a grate, so when it's closed, Diva can still check out the action. Gordon designed the custom-made dog bed covered in a Lee Industries fabric used on the reverse and piped in fuchsia for a pop of color.
The cabinet above the dog cubby is an organized catch-all for all the detritus of everyday living: work bags and keys, plus a charging station and individual slots for iPads, computers, and phones.
Gordon's design perfectly defines the adage: A place for everything and everything in its place. And it's pretty too.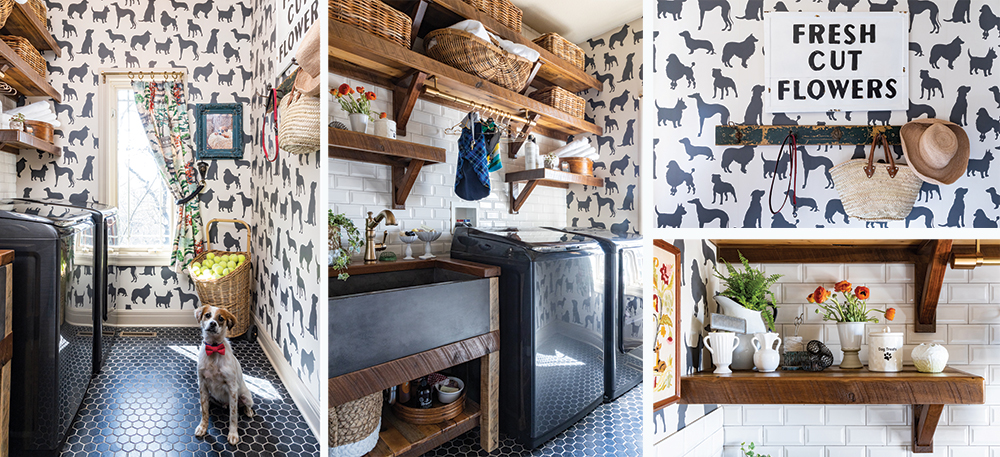 Laundry. Mudroom. Flower Room.
Interior designer Julie Ransopher Baker and her husband, Jeff, are renovating room-by-room the 11-year-old home they moved into five years ago that's tucked away in the secluded Bonner Springs lake community, Lake of the Forest.
This dual-purpose room was high on their list. The pup-friendly space has a large, deep Native Trails sink from Ferguson Bath, Kitchen & Lighting that works for both laundry tasks and occasional dog baths for Charlie, their beagle/border collie mix. "We put that sink in because we've always had small dogs and it works perfectly for bathing them," Baker says. The sleek Samsung washer and dryer, also from Ferguson, fit the room's black-and-white aesthetic.
Pottery Barn baskets fill the custom shelves built by Chris Ownings of Got Barnwood. "He can build anything you want out of reclaimed wood," Baker says.
And that Fresh Cut Flowers sign isn't just for looks. "I do a lot of flower arranging in here," she says. "I'm a novice, but I really enjoy it. I always have some little vases and pots available so I can just clip and put things out."
Beveled subway tile runs floor-to-ceiling on one wall, while three-inch hexagon floor tiles, both from International Materials of Design, mean that if Charlie splashes in the bath, no harm done. "Best in Show" Osborne & Little wallpaper, an homage to Charlie and the Baker's beloved past pets,  covers the remaining walls.
The Bakers recently adopted Charlie when Julie found him at an online rescue site. "We call him our Walmart greeter," she says of Charlie. "He's just a sweet, sweet dog."
If you have any doubt that Charlie isn't living the good life, check out his Instagram @mr.charlie.baker.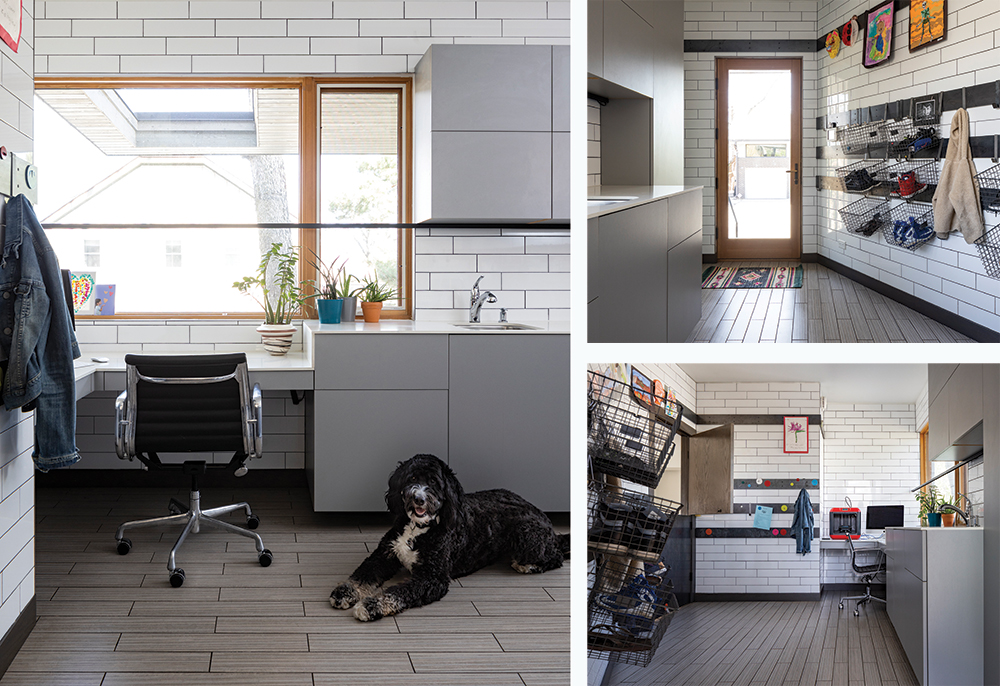 Office. Mudroom. Kid Corral.
When Jesse and Matt Hufft, co-founders of Hufft, an architectural design and fabrication firm, built their Roanoke home nine years ago, they knew the mudroom had to grow and change with their young family. Jesse Hufft describes it as "a place for your day to unravel. Coming in with dogs and kids, there's always stuff we just didn't want to have in the main area of our home."
Utilizing storage was the key to making the mudroom usable and efficient, so Matt designed custom cabinetry with unique uppers that have tons of room. "The doors are on a lift system," Jesse says. "When you touch the front, it rises up instead of opening left or right, so it takes up much less space."
The couple designed the open storage to adapt to their three kiddos. "When they were little, it was a holding area for toys and such," Jesse says. "As they grew, we needed storage for shoes and coats and backpacks." They developed a system of blackened steel strips along the walls that employ magnets for lighter items and heavy-duty custom hooks for coats, wire baskets, and such.
White tile covers all four walls of the room from floor to ceiling. "It's super low-maintenance," Jesse says. "And using white tile makes a smaller space feel larger."
They're packing a lot of use into one room. "It's also my home office," she says. "Lighting was key to making it feel like I wasn't tucked into a closet. There's a nice, big window and the porte cochere over the driveway has an intentional hole cut into it to allow even more light to come through."
When the Huffts first moved in, they had two large dogs, a baby, and a 2-year-old. Now the three kids range from ages 10 to 6, and they've adopted a new puppy, a brindle boxer named Oso. (That's Hazel in the photo, a neighbor who stood in as Oso wasn't available to model the day of the shoot.) "It's grand central where everything happens," Jesse says. "And it's organized in a very efficient way so that it's a blank slate that can ebb and flow with us."