We asked local interior designers about their most memorable makeover. Up next? Carmen Thomas of Tran + Thomas Design Studio chose a nursery redesign, part of a 2nd-floor reconfiguration and full renovation project. "Our clients live in an older home in Fairway. They are both doctors and were expecting their first child and wanted the work to be done prior to the baby's arrival in the spring of 2016," says Thomas, who had initially designed the couple's great room. "We were thrilled with the opportunity to assist them with another design project."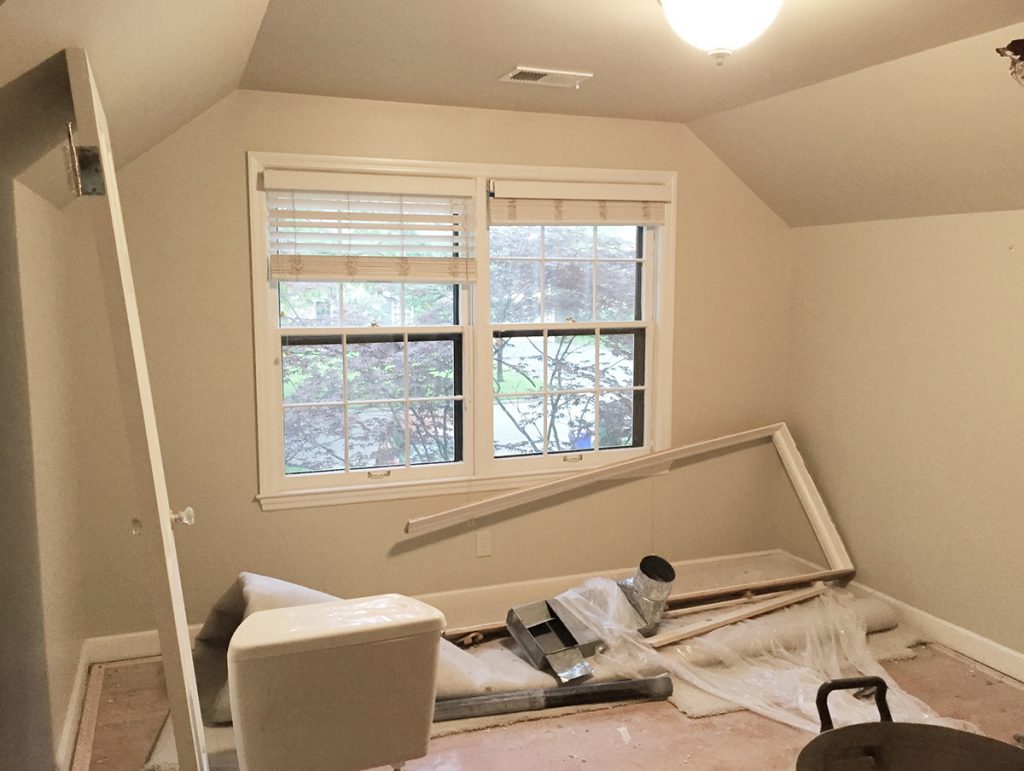 The 2nd-floor reconfiguration project posed several design complications. "One of the biggest was the complicated roof lines and pitches which were the result of previous additions to the home completed throughout the years," says Thomas. Finding space for the new 2nd-floor laundry room and solving the issue of the accessibility to the bedrooms was also dilemma-worthy. "The problem was the only access to two of the bedrooms was through the adjacent bedrooms. But I just love a challenge, especially space-planning challenges involving home remodels," she says. "Part of the thrill is the engineering/design puzzle that must be solved—and there isn't always a right answer."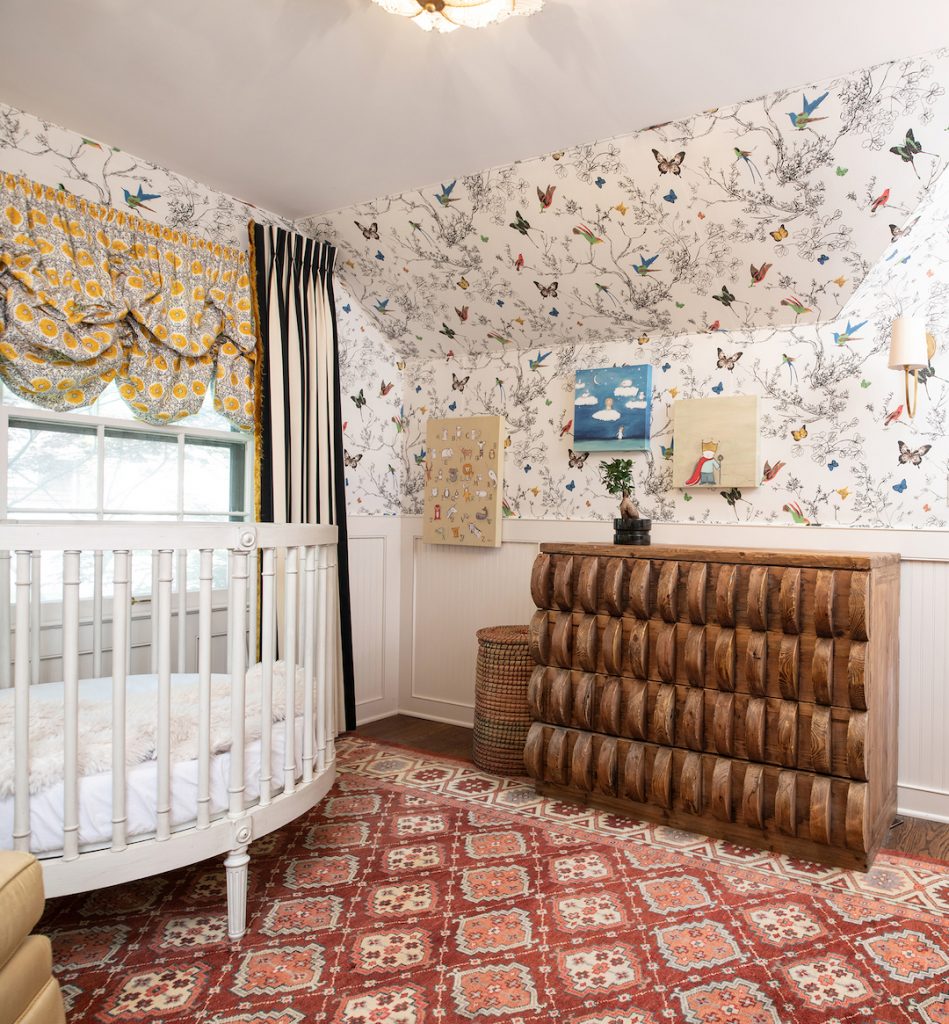 In the early stages of the design, the clients mentioned their love of travel and how they were drawn to eclectic spaces that blend design inspirations from many cultures. Thomas says one of the mom-to-be's hobbies was quilting. "She spends much of her free time gathering fabrics and making elaborate, beautiful quilts with colorful patterned fabrics. It was very important to her that the room be very colorful, specifically red, white, and black, and incorporate lots of different patterns," says Thomas.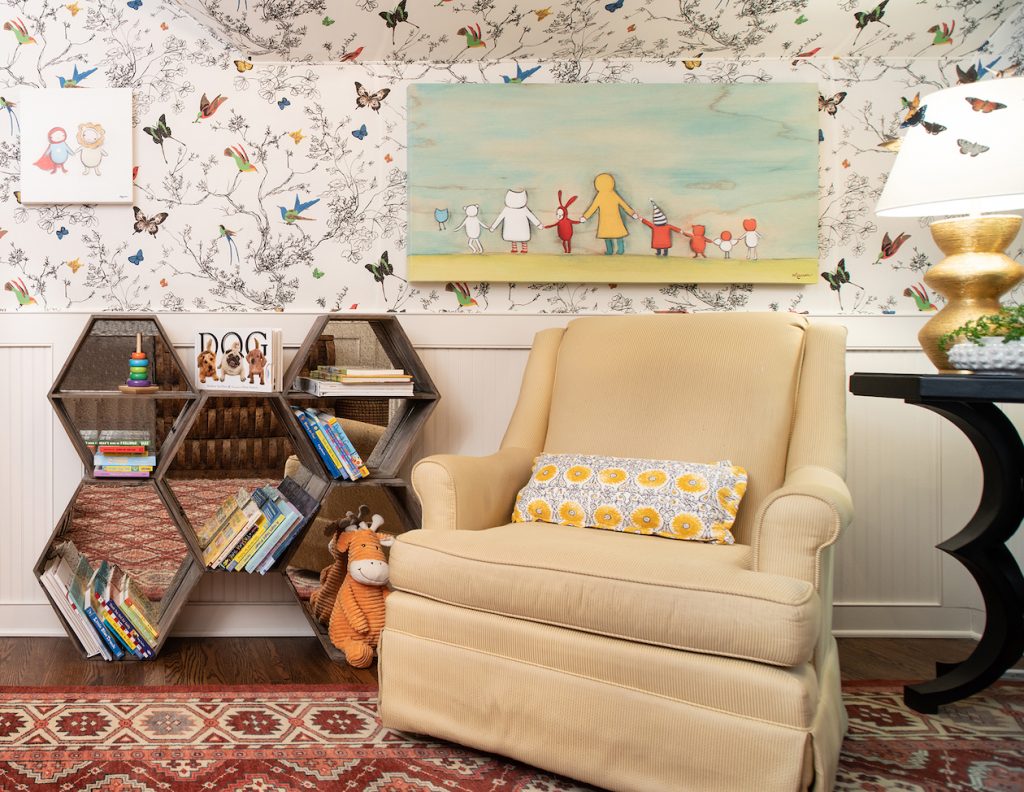 Her clients wanted the sex of the baby to be a surprise, "so we were designing a room that would work for a boy or a girl," Thomas says. Other than a round crib the clients coveted, the design team was given carte-blanche to decorate the space.  Thomas chose soft materials and plenty of fabrics to absorb sound. "It was important that this be a warm, soothing, comfortable space for mother and baby," she says. "We took great care when selecting products to be sure that each and every piece was unique, playful, and would inspire creativity."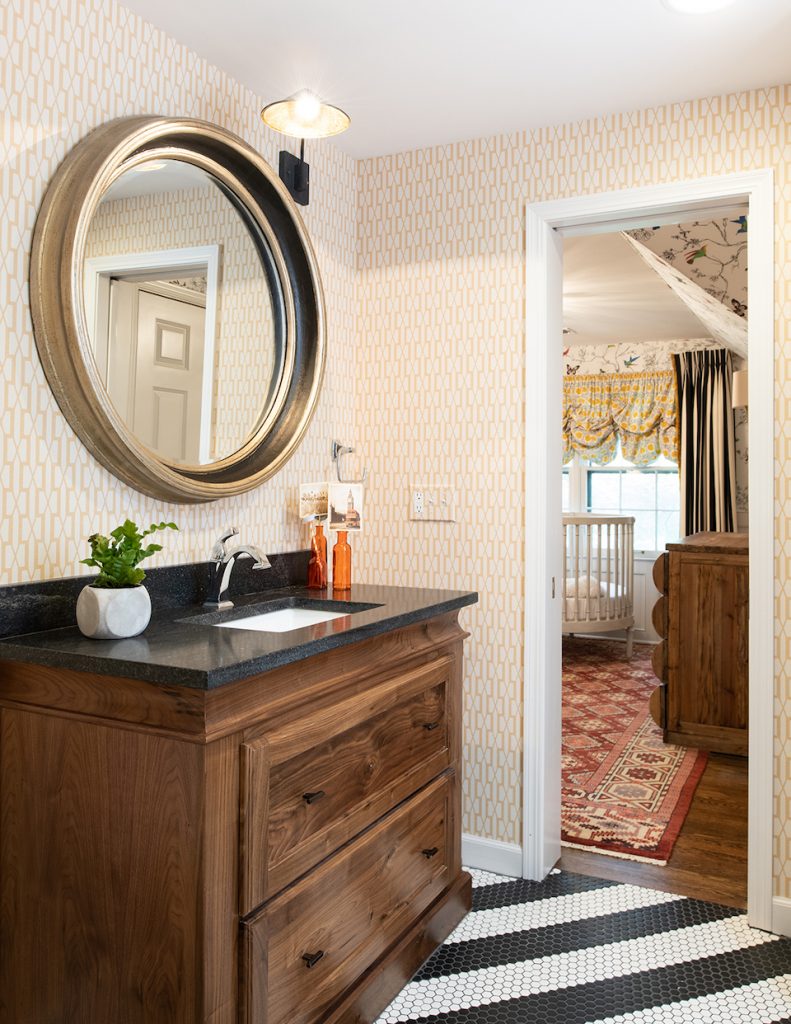 The dresser/changing table remains one Thomas's absolute favorite pieces in the room. "It is reminiscent of Lincoln Logs—one of my favorite childhood toys," she says. "I didn't want the changing table to have only one function. It was important that it also be a good storage piece that could work as the baby grew up."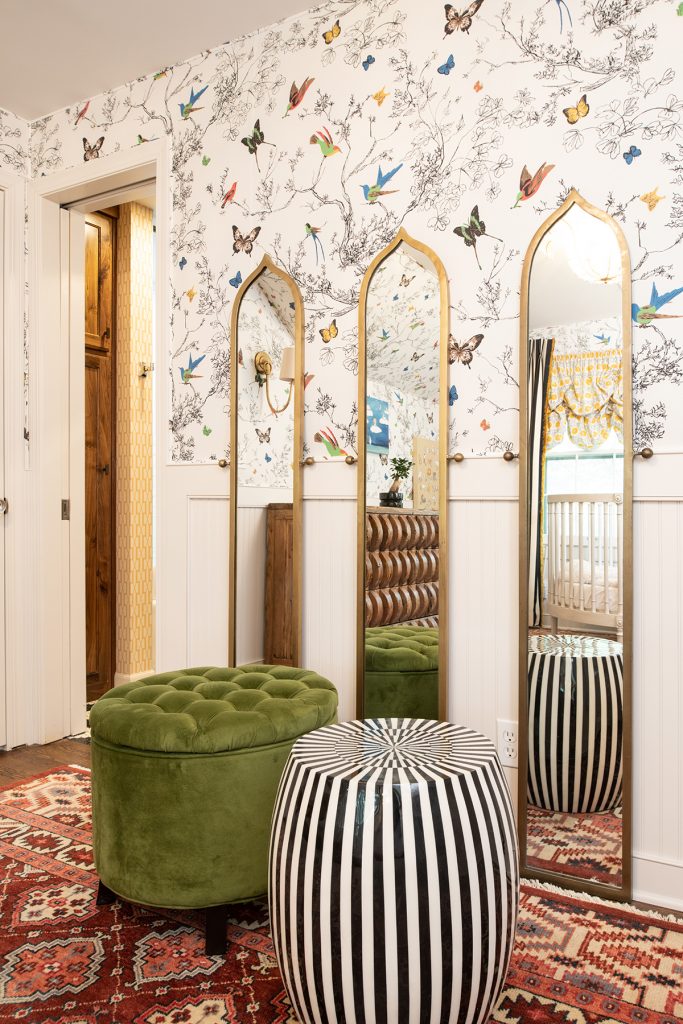 Thomas's special touches include playful porcelain butterflies carefully placed and glued to the lampshade. And safety was of the utmost importance in the design. "Since we know how little hands love to touch and pull on everything, we made sure that each and every piece of furniture was carefully anchored to the wall, and the artwork was securely attached with safety wire," she says.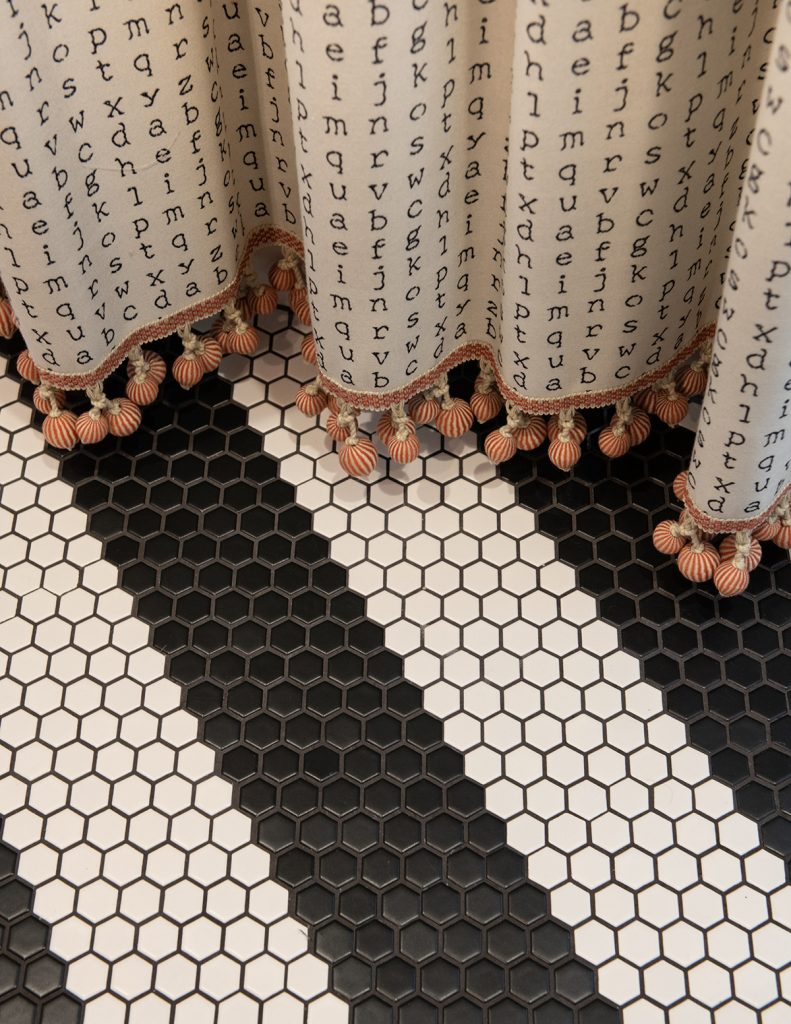 Colorful, playful pattern continues from the nursery into the adjacent jack-and-jill bathroom with a yellow trellis-patterned wallpaper and a customized diagonal black-and-white hex mosaic floor tile. "So many colors and patterns—different and unique in their own way—all pair together perfectly. It's one of the reasons I love this room so much. And the fact that I was designing for the upcoming birth of a new baby made it all the more special and wonderful," Thomas says. "Our lovely clients welcomed a boy that spring and have since added a daughter to the mix. We remain in close touch with them and look forward to beginning designs for the main floor remodel/addition project this summer."