Bobby Berk is back, baby!
The affable Queer Eye designer (and Missouri native) was in town to introduce his new furniture line today at Nebraska Furniture Mart—and, of course, see some friends along the way.
Our digital editor Michael Mackie got the chance to dish with Berk about everything from his love of Kansas City to which celebs are obsessed with his show.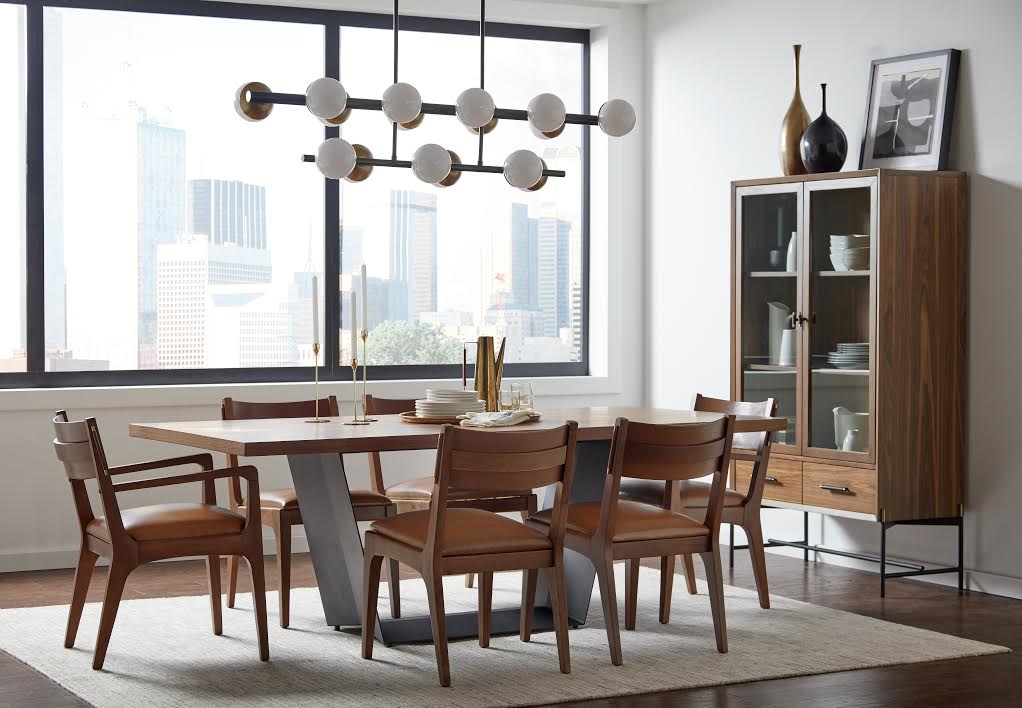 Welcome back, sunshine. Why are you back in town, my friend?
"I'm here for the launch of my furniture line. Nebraska Furniture Mart is carrying it here in Omaha, Dallas, and Kansas City—and I came by to see everybody. It's a full collection—dining, bedroom, living room—it encompasses everything I would want in my own home. Everyone is always like, 'Ah, I wish Bobby could design my house!'—and now I kinda can. [laughs] Every single thing here was designed by me. I'm definitely not one of those people where your house needs to feel like a museum, and uncomfortable. Your house needs to be lived in, but I like my straight, clean lines. I like things that aren't too busy, too ornate, or a lot of embellishments. I like showing the beauty in the actual material—and keeping it simple."

What's your designing guilty pleasure?
"Black! Black makes everything looks good. When it comes to my house, it's very simple and clean. I don't like a ton of stuff at home. I'm more Scandinavian that way."
What's next for Queer Eye?
"Japan [the new season] just came out yesterday. Have you seen them already? So many people have already binged them all, and I'm like, 'Girl, relax, it just came out four hours ago.' We love that fans can't wait to get more. The show is a lot of fun to make—and a lot of fun to see how people react and enjoy it.
Japan has, I think, four of the best episodes we've ever done. It was like the first time all over again. Season one and two we didn't know what we were doing. The show hadn't been out yet. We didn't know what we were making."
Kansas City loves them some Queer Eye. Is it reciprocated?
"Don't tell Atlanta or Philly—but Kansas City was definitely our favorite to film in. Kansas City – all the way from Mayor Sly to the film commissions to even the city buses—anything we needed; the city rolled out the red carpet. They made it easy. In Atlanta, they were like, 'you're one of 2,000 things filming here, we couldn't care less.' Same for Philly. Everyone in Kansas City was super hospitable and every business welcomed us with open arms. It's not like weren't welcome in other cities, it's just Kansas City was great."
Do you have a particular makeover in Kansas City that resonated with you? We just did a follow-up story in our magazine about your KC heroes.
"Jess—Black Girl Magic—she's my baby girl. And the great thing is she moved to Philly, so while we were filming there, we got to hang out. Our stories were just so similar.
And house-wise? It was Wesley. We're at like 70-something [makeovers] at this point between all our seasons, so it's hard to keep track of what city and season, but with Wesley, I got to gut the whole house and start over—and I got two weeks to do it!"
You're having good hair today.
"Thank you! It's, like, day six of not washing it. That's when it gets real good. [laughs] You've got fine blonde hair too—sometimes it needs to get a little dirty to look good."
Finally—name drop! Who's your biggest surprise fan? Any celebs that love your show?
"Tina Fey. Maya Rudolph. Amy Poehler and I are friends now. Heidi Klum. Oprah. Hollywood has really embraced us. (If Nate Berkus gets hit by a bus, you're in with Oprah!) We're friends and I always tell him, 'Girl, if you do one more collection with Target, I'm going in and scratching off the Nate and the us and it's just gonna be Berk." [laughs]
Interview condensed and minimally edited for clarity.