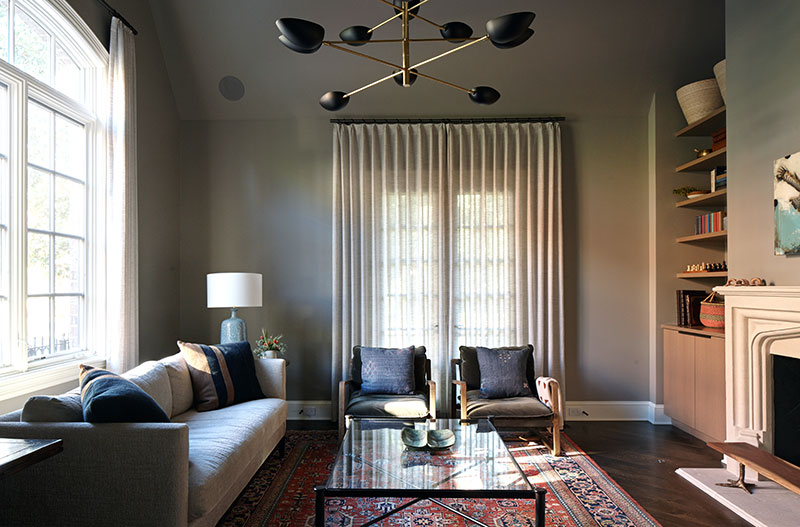 Out with the old, in with the nouveau.
That was the overarching goal for designer Lisa Schmitz's home makeover in City Haven. "Our clients purchased this home for its prime location close to shopping and entertainment, but its traditional aesthetic interior weighed down the couple's casual and playful lifestyle," she says. Heavy red draperies, out of proportion faux beams, and ornate cabinetry were gone. Awkward angles that felt overwhelming were honed and smoothed.
According to Schmitz, the burdensome, traditional, formal space did not match the owner's barefoot, yoga-inspired, meet-and-greet lifestyle.
Breathing Room
Schmitz's first order of business was to reflect her clients love of entertaining family and friends. She wanted to give them plenty of room to breathe. Call it R&R&R&R—reimagine, remodel, then rest and relaxation. "We added textural furnishings for warmth," she says. In the kitchen, Schmitz procured a dining table and a beautiful hutch that became part of an inviting kitchen where guests could linger. With the addition of a wine cooler, bar storage, and two dishwashers, her client now has a functional space for entertaining guests, she says. The expansive kitchen design is so inspiring the clients—as they put it—"feel compelled and delighted to cook."
We asked if there were any problem-tunities along the way. Schmitz demurred. "The home seemed to keep unfolding in that we found ways to keep existing elements but strip them to a more simplistic form. The way the kitchen was angled in contrast to the living room was a bit problematic in determining the layout of the kitchen table. Should it align with the living room? Or with the island? And this needed to be determined during construction in order to locate the pendants. The table ended up aligning with the living room, allowing for more circulation and open areas around the island—perfect for gathering and entertaining."
Speaking of, thoughtful statement art adorns the dining room which takes the stage for dinner parties and late nights. A den, with a darker hue and cozy furnishings, is nestled nearby for more intimate conversations. A curvy, eye-catching three-story slim railing replaced one of many original, fussy details.
Fancy and Formal No More
Schmitz found ways to make her design equally nuanced and refined. The team at Lisa Schmitz Interior Design chose a palette of overall neutrals, but added textures bring in additional warmth and interest through dry-stacked stone, ribbed cabinets, raffia pendants, chairs and ottomans made of rope. The clients were thrilled with the end result—a "peaceful, grounded, light-filled and welcoming" space, she commented.
Arched windows, cumbersome cabinets, and a bulky fireplace were all unwelcome focal points in the home's original great room, so Schmitz got creative. "We vaulted the ceiling to its full extent and squared off the upper windows, took the fireplace to soar at full-height and added dry-stack stone for texture," she says. Discreet lighting which illuminated the ceiling and floating shelves were a must. A cozy niche was added for literal reader benefit.
Reinventing the original master bath was not without its challenges. The shower felt like a cave—without glass or a view. A built-in tub took up half the room and cabinets were awkwardly non-functional. "By opening the shower with a glass wall, we could bring in a new bench, shelving, and a steam/rain shower with dual heads to add luxury and a light and airy feel," she says. "The free-standing tub is a tranquil focal point, with full-length curtains providing privacy. Dual vanities with wall-mounted faucets and custom mirrors add functionality that the client needed." Now the new bathroom doubles as a relaxing retreat.
Accolades on the design soon followed as the project won gold in Residential in the 2020 IIDA Mid America Design Awards. The client, meanwhile, offered her own props and kudos. "Lisa and her team were able to conceptualize and actualize an utterly transformed space that reflected our casual and playful lifestyle," she comments. "The functionality is irresistible."