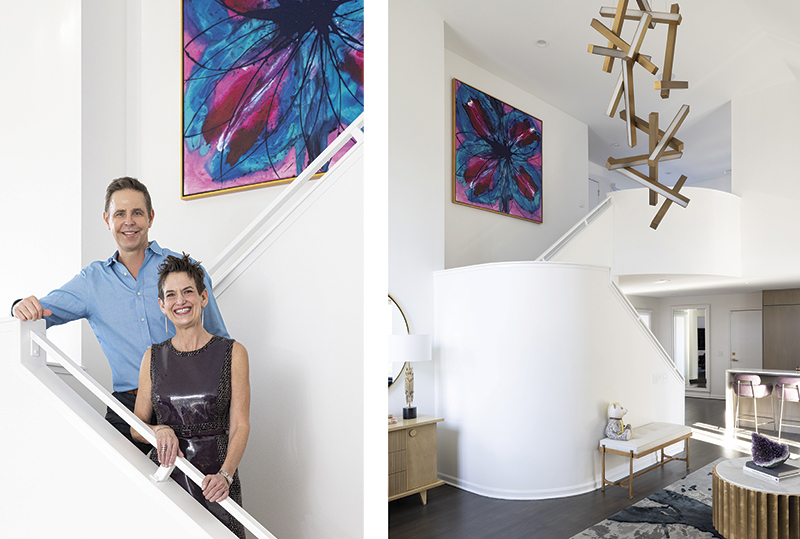 We all know farm to table, grape to glass. For Shelly Legler, the formula is more apt to be design to dress. And make it couture.
"I was a fashion model in Los Angeles before I became a nurse," she says. "Ten years ago, at the age of 50, I became one of the faces of 5F at Bergdorf Goodman in New York City, and my modeling career began again. I love fashion and collect vintage brooches, hats, and clothing. I wear treasured iconic pieces from both my mom and my mother-in law—who were both fashion models—by Chanel, Gucci, Dior, Yves Saint Laurent, Geoffrey Beene, and Oscar De La Renta."
Still a nurse, but also the brand ambassador and part owner of her artist son Brady Legler's multi-faceted company, which includes his designs for jewelry, rugs and art, she brought her own style to a Prairie Village home in a quiet enclave. "I immediately liked the spaciousness of the layout with the high ceilings in the main room, the tall limestone fireplace that looks like a ski lodge, and the rounded staircase to the upper story that reminds me of the Guggenheim Museum in New York," Legler adds. Built in the 1980s, the house needed a refresh. She called on Doug Wells of Wells Design Studio.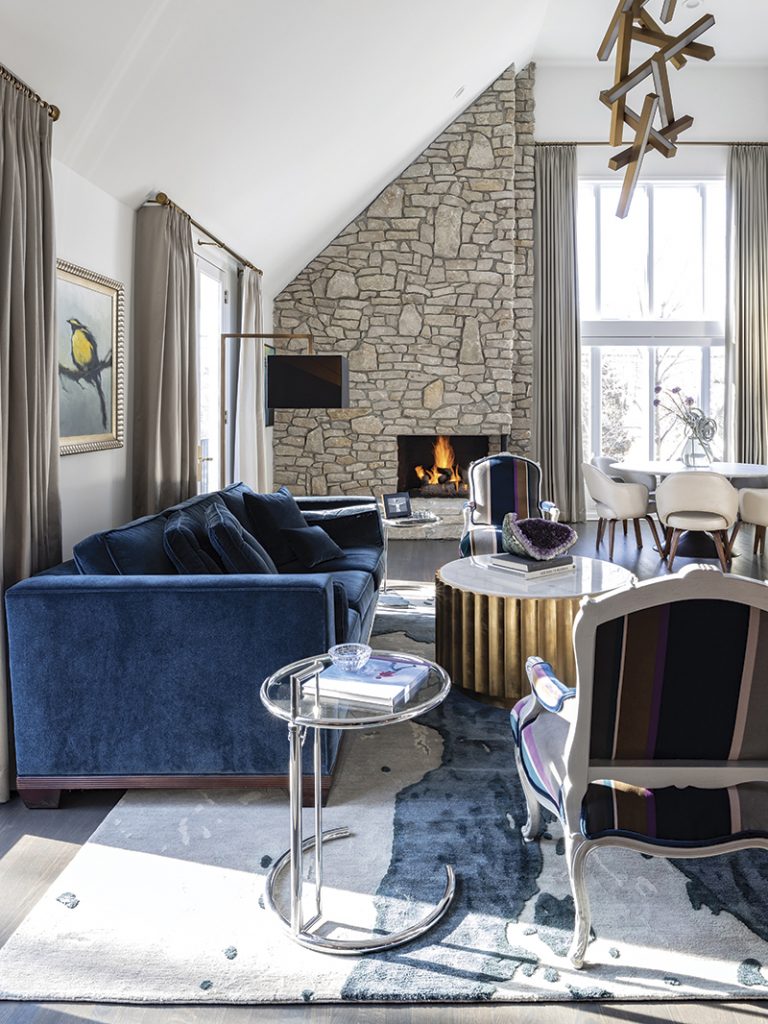 "I've known Shelly for 25 years," says Wells. "She has an understated glamour. I reimagined the space to suit her—a more open plan on the ground floor, the kitchen open to the living room—the soft, soothing master bedroom suite, office on the mezzanine, and her long closet for all those shoes."
"Doug asked me how many pairs of shoes I had," recalls Legler. "I think it's a hundred," she says. They're now displayed on built-in shelves on one side, Legler's high fashion finds on the other. Wells also cleverly hid a closet behind a full-length mirror off the generous bathroom next to the family room, a designer detail tailored to the owner.
"Her house is like a great outfit," says Wells. "We took cues from her closet for the interior design."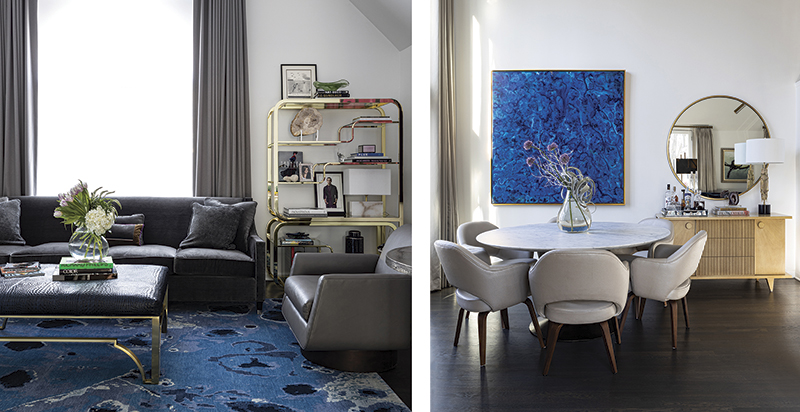 And so, throughout the house, you'll see neutrals—not everyday beige and gray and off-white, but shimmery, powdery, fizzy pales on walls and cabinetry, like a sip of champagne. Contrasting gemstone colors echo the sapphire-blue sequined Diane von Furstenberg wrap dress that Legler debuted for Bergdorf Goodman (and finally bought years later at an auction). Or they reference amethyst and smoky topaz, jet, pink ruby, and lapis lazuli.
Textures are important, too. Velvet on draperies and sofas, a woven fabric on the bed that could be the boucle cousin of a vintage Chanel suit. An alligator print jumps from handbag to ottoman in the family room.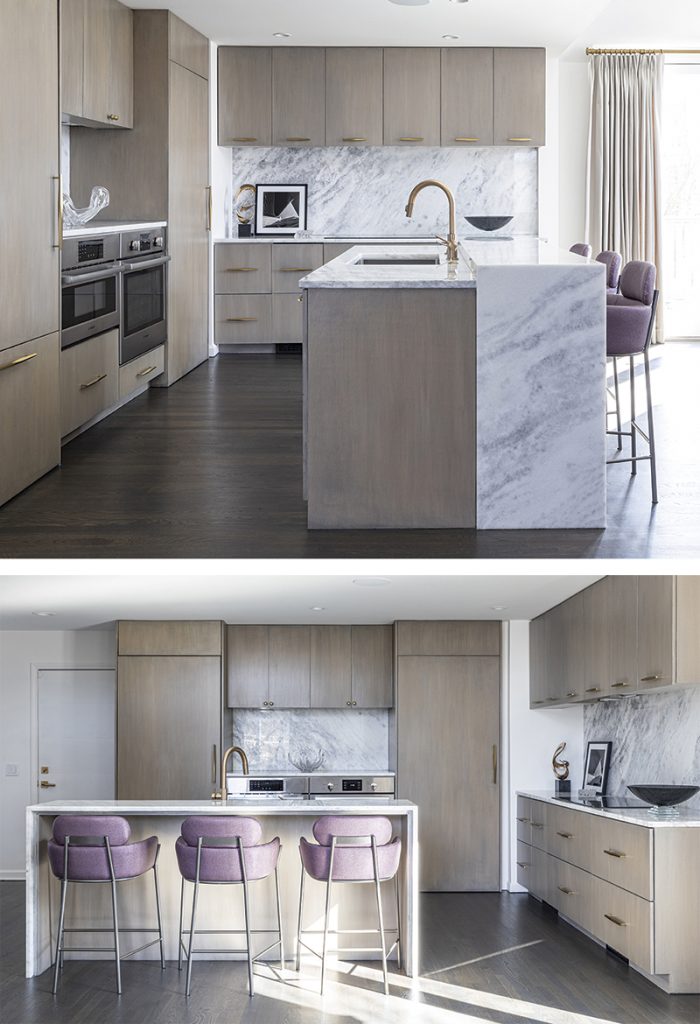 "I'm also drawn to simple geometric shapes and you'll see them all around in the light fixtures, the hardware, and in the tile in the bathrooms," says Legler. The lighting throughout the house, all from Wilson Lighting, suggests geometric statement necklaces, dangly earrings, or chunky bracelets.
In addition to the fashion sense, there's also an unmistakable warmth. "My aesthetic is eclectic and also sentimental," says Legler. "I like to mix it up." Just as Legler might wear a Chanel jacket with a pair of jeans, she might also place a glamorous Kelly Wearstler mirror near a piece from Target.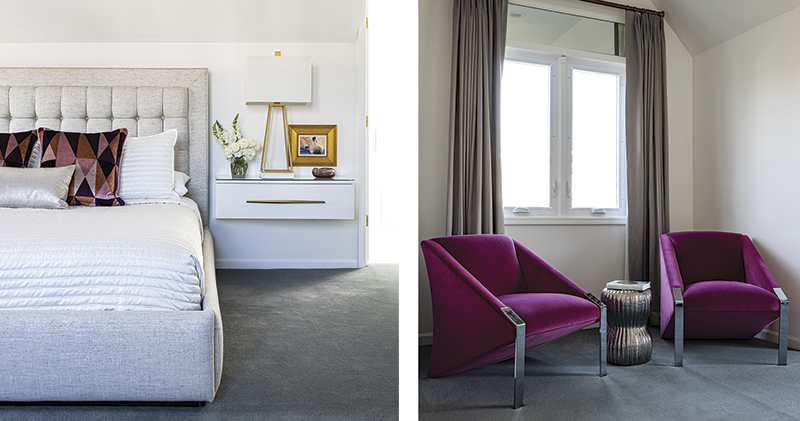 Brady Legler's abstract expressionist canvases hang in every room, with a special "Love" painting in the family room. His vividly colored rugs, like paintings in wool, are soft underfoot. Family photographs pop up here and there.
Legler repurposed furniture pieces from her parents and knows her stylish mom would approve of the chandelier in the living room. "It's amazing how much you're like your parents," she says.
In the kitchen, a pale island surrounded by powdery amethyst bar stools looks out onto the living room with its soaring fireplace. Here, the amethyst deepens, joining sapphire blue, ebony, and silver in a sort of day-to-evening look.
The master bedroom with its extra padded carpeting is like a restful retreat in a treehouse. Across from the silvery bed is a midcentury-modern chair recovered in a fuchsia fabric for that punch of color.
The bathrooms, with exquisite marble and reupholstered chairs and fixtures like jewelry, seem more like Parisian fashion house ateliers.
Legler moved in just before the pandemic hit, and has found her new home to be just the uplifting space she didn't know she needed. "I come back from work and walk in and think 'God, I love this house,'" she says.
---
The It List
Art & Rugs
Brady Legler
Builder
Dadon Builders
913-334-4077
Interior Design
Wells Design Studio
Flowers
Studio Dan Meiners