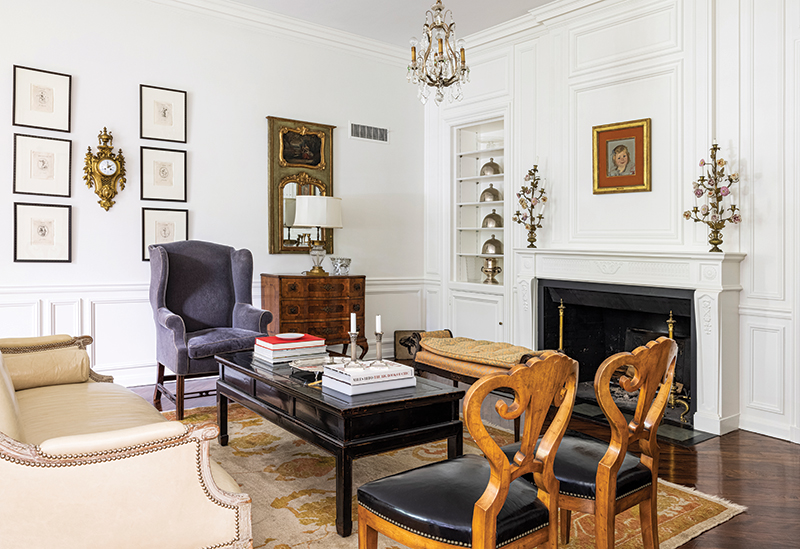 When a house gets it right the first time, it can easily embody the changing tastes of successive owners.
This Fairway home, whose classic French bones have stood the test of time, has gone through three style evolutions. And it's ready for a fourth.
In 1937, Kansas City architect Arthur Kriehn designed and built a scaled-down French chateau with a slate roof as his residence in Fairway. Kreihn was known primarily as a church and school architect with Felt, Dunham & Kriehn/Architects. Eventually, the sun porch would afford a view of the Old Mission United Methodist Church, which he also designed. The chateau's kitchen was tiny, the rooms formal, reflecting the taste of the era.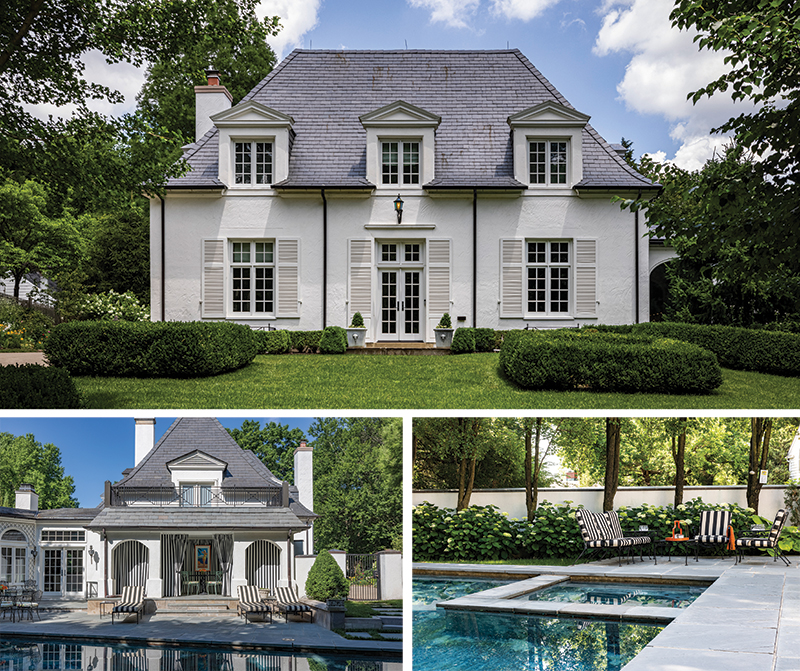 Until the next owners moved in.
They enclosed the screened-in sun porch and added a large kitchen wing with a heated terracotta floor onto the back. They celebrated a bravado French style with vivid Provençal colors, Directoire wallpaper, and a boho spirit throughout. They painted the exterior salmon with turquoise shutters, a look that would be right at home in Nice.
Until Heidi Peter and her daughters, Sara and Grace, moved in.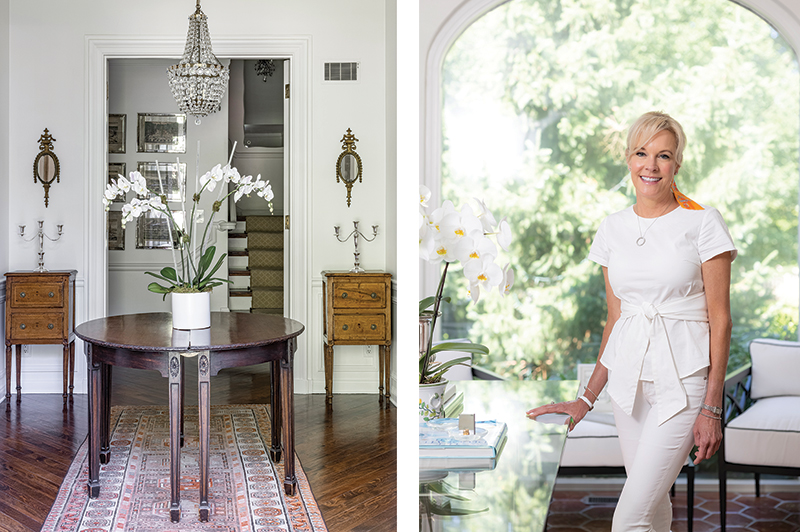 Peter, a real-estate professional at LocateKC with ReeceNichols, knows good bones when she sees them. "I love symmetry," she says.
Almost eight years ago, when she first saw this house, she also fell in love with the architectural details—the custom hardware on the doors, the cherry floors in a chevron pattern, the generous windows—and the desirable location so near the Plaza.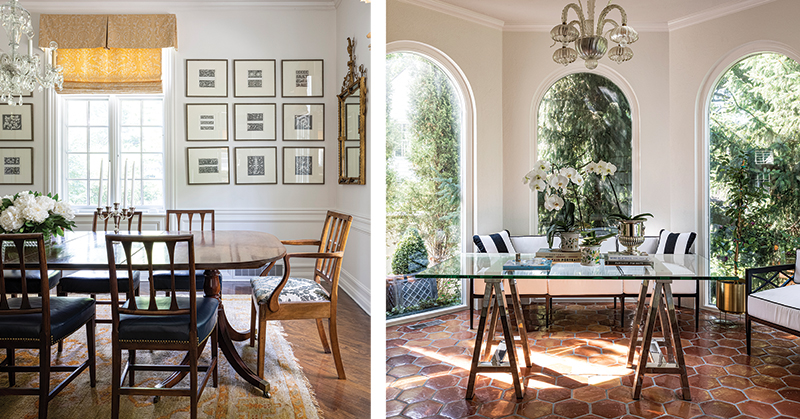 Preferring a more pared-down aesthetic—"I love everything to feel fresh," she says—Peter had the exterior painted in Sherwin Williams' Creamy and the first floor interiors in Benjamin Moore's White Dove. She laid her beloved Oushak rugs on the floors, hung Roman shades in Fortuny fabric at the windows, dressed the rooms with cherished antiques and family silver. The daughter of German artist Harald Peter, who worked for Hallmark, Peter hung her father's art and framed menus from trips back to Munich. She found the perfect location above the mantel for a child's portrait by Mary Cassatt, an American Impressionist, which she shares with sister, Liesl, and brother, Hans.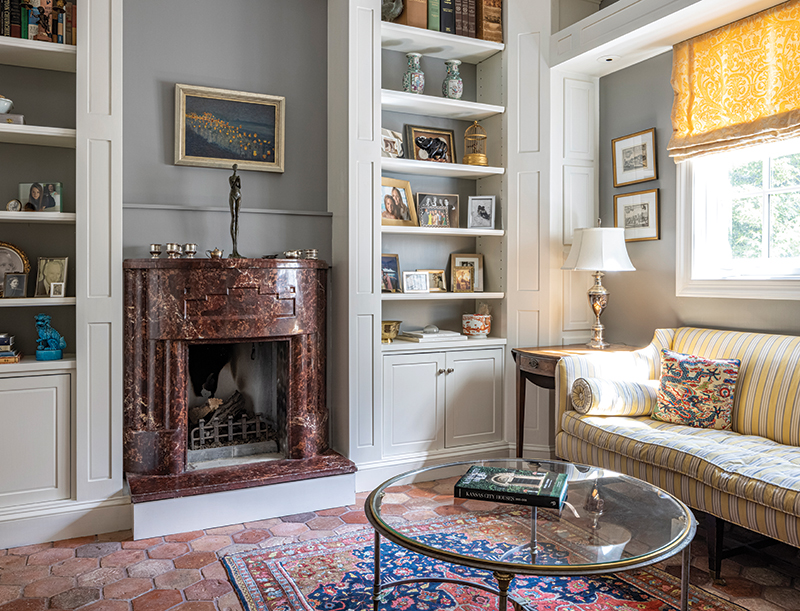 Three years ago, she started collaborating with Doug Wells of Wells Interior Design on the primary bedroom suite. "Doug brought me out of my comfort zone," she says, which is what good designers do.
"I have pushed her a little bit," admits Wells, who is also collaborating on Peter's next project. "Heidi brought me in because I can reinvent spaces and have a pretty good eye for what she wants. And we've worked together before. I'd say her style is classic and refined, French, modern yet comfortable," he says. "She tends toward traditional. I reimagined spaces and brought in a little more glam. Now she has a boutique feeling in bed, bath, and especially the closet."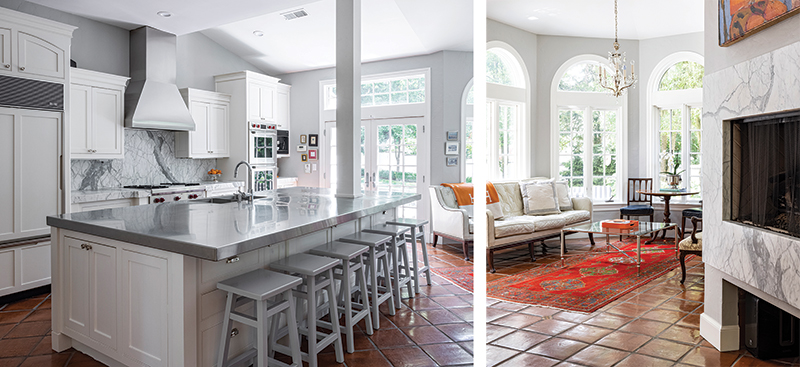 Working as her own general contractor, Peter says, "I've touched every surface," even the original door hardware, substantial and gorgeous again after refinishing. "Hardware is the jewelry of the house," she maintains.
Upstairs, the primary bedroom in creamy whites gets a punch of color from a favorite signature orange Hermes scarf hung from special brackets her sister-in-law found; another Hermes scarf hangs in the adjoining spa-like primary bath with its sculptural soaking tub, quietly luxurious. The custom door with the Lucite and metal doorknob presages Peter's new shift towards Hollywood Regency.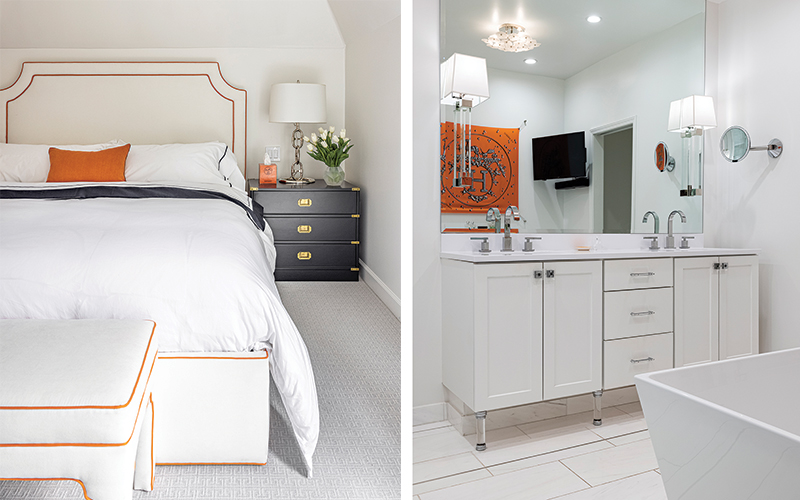 Peter streamlined and updated the newer kitchen with marble and stainless steel, making it a wide-open gathering spot. Ian Byrne of Byrne Custom Woodworking seamlessly blended old and new. The original kitchen is now a cozy study with book-lined shelves.
Peter worked with Patrick Kappelmann of Arcadian Gardens to add privacy around the sunroom windows and landscaping around the pool.
But all good things must come to an end, and it's time for another adventure. Peter has sold this house and found another home that she wants to take in that Hollywood Regency direction.
"I live in my dream home on my dream block. It's hard to leave," Peter says.
But the house with good bones will continue to evolve … with a new family.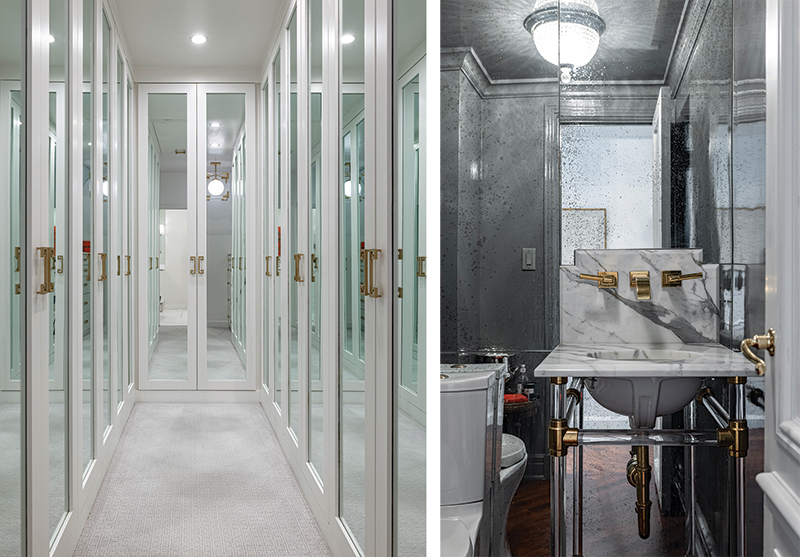 ---
The It List
Interior Design
Wells Design Studio
Landscaping
Arcadian Gardens, 816-645-9591
Flowers
Studio Dan Meiners