This past Monday, I bopped into the new breakfast hotspot Snooze Eatery expecting a lengthy wait. Mercifully, it was hectic, but sans dramatic line out the door. Rumor has it the place was so jam-packed during opening weekend; they were on a two-hour wait from the minute they opened their doors to ravenous clientele. This, of course, proves two things we already knew: 1) Kansas City is obsessed with brunch and 2) Kansas City is obsessed with new funky brunch restaurants.
Snooze Eatery's motto? "Breakfast, but different"—which they've lived up to since opening their first Denver location in 2006. (Lively and welcoming, Snooze is even green-friendly—recycling nearly 90 percent of their waste.)
Now they've expanded their flip-breakfast-on-its-head concept to the ever-blossoming 'burb of Westport. We caught up with general manager TJ McReynolds to find out egg-actly why people are raving about the menu.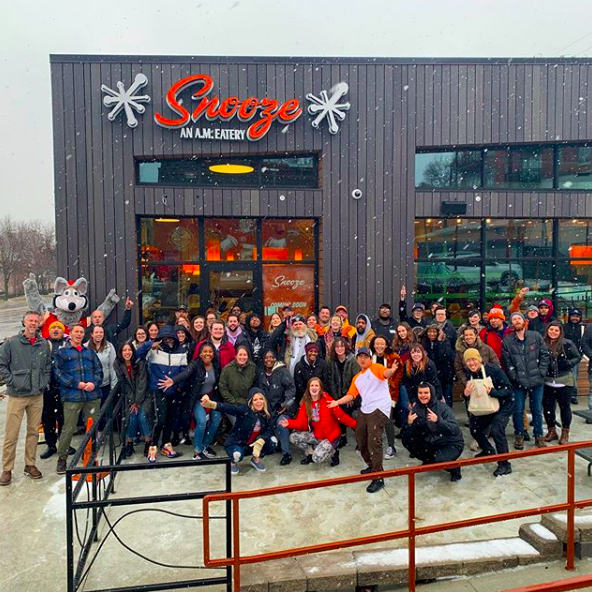 So, we hear it's been insanely busy since you flung open your doors? That's a good problem to have, yes?
"We have hit the ground running for sure! KC has been so incredibly welcoming and supportive. I wouldn't even call it a problem! I would say that we are blessed to have had such a strong opening and are excited to share Snooze with our new community."
KC loves them some breakfast, but they appear to be obsessed with Snooze. Why is that?
"We offer a different breakfast experience than what a lot of people are used to. We focus on delivering a breakfast experience that is unique, fun, energetic, and of course, delicious. We have an incredibly diverse menu that attracts all walks of life, and we deliver a level of hospitality that we hope will bring everybody back through the door. The vibe in here is infectious!"

We must know—what's your must-have, go-to dish on the menu?
"Our benedicts are absolutely phenomenal. We have a wide variety though, so it truly depends on what kind of mood you may find yourself in! The pineapple upside-down pancake is unreal as well. So good."
 And because we gluttons for pleasure, what's your most caloric dish? (PS. We'll order two.)
"Our Funky Monkey French Toast is quite rich. White chocolate-chip banana bread dipped in French toast batter, topped with caramel sauce, candied pecans, a brûlée'd banana, and whipped mascarpone. Order three! It's worth it!"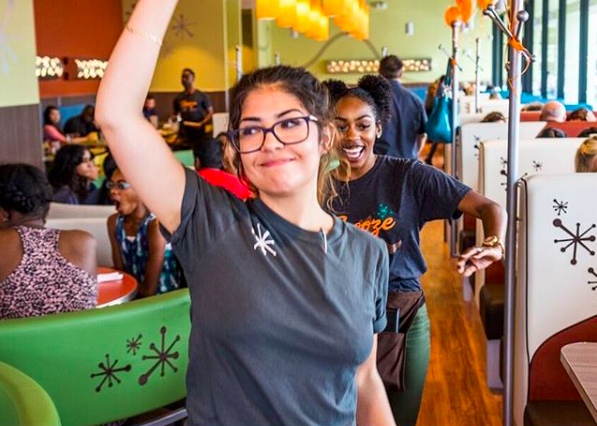 We noticed your servers all have a delightful spring in their step. We're guessing it's because the coffee is just that good, eh?
"I am so happy with our servers. They are all so energetic and passionate. The delicious coffee definitely helps, but we also focus on hiring for personality. If our team is happy, then they will all be working towards making our guests happy. Servers at Snooze know they are 'more than just a server'—they get to be a part of something bigger than themselves making a difference in their community and for the planet. We know that this deeper connection is a big reason why our servers don't just seem happy, they are happy! Come in, say hi, and try some of our pancakes for yourself! We can't wait to see you."