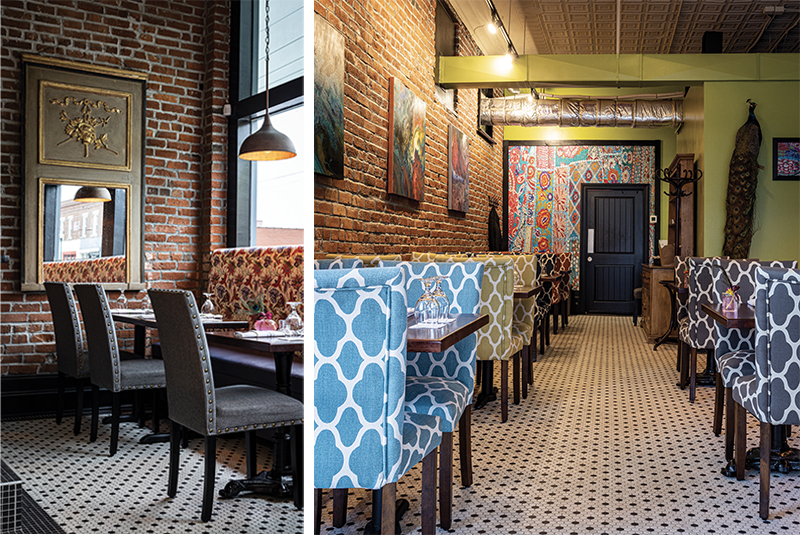 How much of an impact can you make in a small space? A pretty big one, if you're The Peacock, a new restaurant from the owners of Bistro 303 located right next door.
The Peacock opened this winter at 301 Westport Road, which was previously home to Ragazza. Past visitors will remember the space is small but cozy, and the new owners lean into its intimate feel while throwing some bold colors into the mix—would you expect any less, given the name?
Chairs at the handful of tables are upholstered in an array of hues, beams are painted lime green, and colorful art and accents adorn the walls. A stuffed peacock looks out at the restaurant from its perch by the kitchen, majestic tail on full display. Another image of the fowl stares out from a TV behind the bar, which features a backsplash of multi-colored tiles and moody purple lighting cast over the bottles and glassware. (At publication time, The Peacock did not yet serve a set drink menu, but the bartender was happy to make cocktails at guests' request.)
While the interior showcases the color spectrum, the menu is all about global diversity, with items that draw inspiration from around the world.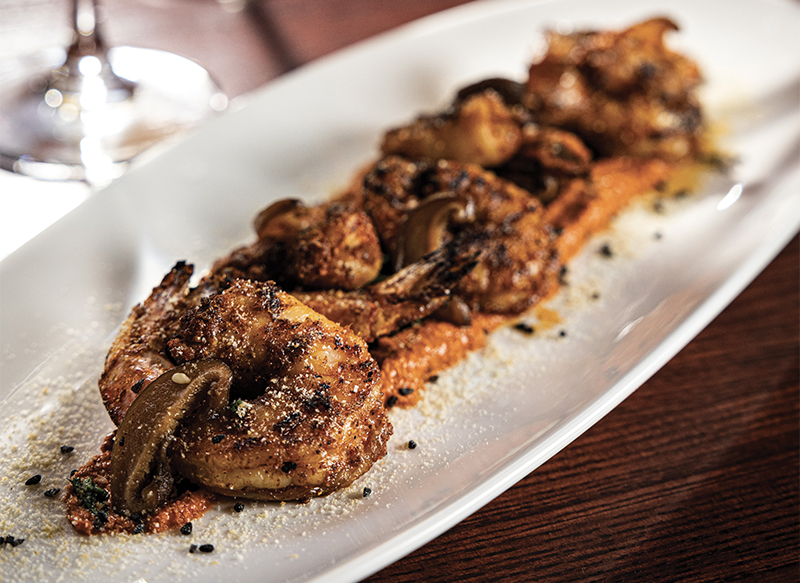 Starters include beet hummus, a charcuterie plate, fried Brussels sprouts, and pork belly. The latter includes a sizable portion of the prized protein topped with a crunchy, garlicky cashew pistou alongside tart pickled red cabbage, enoki mushrooms, and a tamari cider caramel. Although the caramel is an interesting dimension, it feels out of place. The sauce tastes more like coffee than either tamari or cider and overpowers the delicate mushrooms.
But The Peacock's nails its Peri Peri Chicken, a dish that has roots in South Africa and Portugal. Bird's-eye chili pepper, the traditional basis for peri peri, is commonly balanced with lemon, garlic, and vinegar, although The Peacock's version also features an evolving sweetness that plays well with the spice and acidity—one bite is blazing heat, the next is smoky sugar. The half chicken's skin could be crispier, but the meat is tender and juicy, and its boldness is complemented by the subtlety of the accompanying dirty basmati rice studded with shiitakes, cranberries, and charred greens.
Peppers go in an entirely different direction in the Seafood Loco, where mussels, calamari, shrimp, and chorizo are bathed in a citrus guajillo-pepper sauce that's a world away from the traditional Italian American varieties most of us associate with pasta. The merlot-colored sauce carries much of the peppers' smokey, mellow spice brightened up with some acidity. It's a beautiful contrast to the dish's seafood, which is plentiful—so much so that you must actively search to find the cazzellitti pasta, which isn't a bad problem for a seafood lover to have.
The restaurant also serves up a few more traditional entrees—a ribeye with smashed turnips and heirloom carrots; chicory coffee-rubbed lamb shank alongside whipped potatoes and mustard greens—as well as Canadian salmon with a white anchovy sauce and a za'atar seasoned pork chop.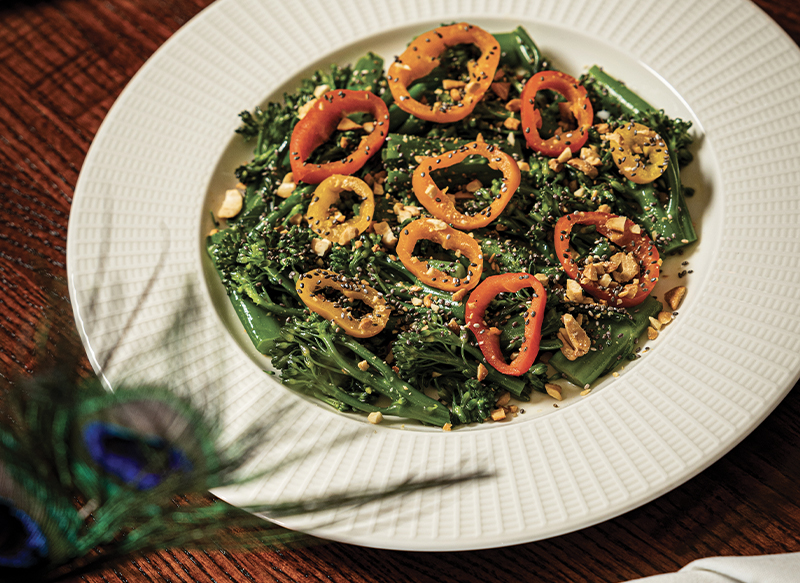 The Peacock carries its commitment to powerful flavors all the way through to dessert, which includes offerings like double chocolate ice cream and the dense, almost fudgy pecan oatmeal cookie pie. The tamari cider caramel once again makes an appearance, but the sauce is much more effective here, adding salty complexity and depth that work with, and not against, chunks of tart granny smith apples and a nutty oat crumble.
Like most of The Peacock's dishes, there's a lot going on in one plate, and with so many of the dishes boasting intense and diverse elements, attention must be paid to what you're ordering each course to avoid getting tastebud whiplash. But just as you wouldn't fault its namesake for being too vibrantly colorful, it's hard to criticize The Peacock for putting out a plate that's too dynamic.
There's a big, fascinating world of food out there—and The Peacock is enthusiastic about sharing it with Kansas City.