In a city where cooking meat is elevated to an art form, the plant-based food at Pirate's Bone feels radical.
The Crossroads restaurant spun out of Pirate's Bone Coffee, a Brookside shop run by Zaid Consuegra that eventually evolved into a vegan eatery. While experimenting with different dishes, he found a hit in his plant-based burgers and decided to focus on the concept at this new space with business partner Lydia Palma.
Pirate's Bone sits on the corner of 20th and Main, the side of the building swirling with a funky mural. It's the restaurant's most distinctive design element—inside, the aesthetic is low-key hipster diner, with a smattering of plants and one long mint-colored counter running the length of Pirate's Bone where visitors sit on stools that offer a view of the open, bare bones kitchen.
It would be easy for Pirate's Bone to come off as hipper-than-thou, but friendly service and a laid-back vibe make it feel welcoming. Whatever your day-to-day diet may look like, there's an overwhelming sense of acceptance and compassion for devoted vegans to curious carnivores and everybody in between.
As a strangely alluring mix of music play (ABBA's One of Us followed by a norteño track), a heavily tattooed guy can be heard telling his friend, "No vegan restaurant has better fries than this place." 
This might seem like a strange thing to latch onto at a vegan restaurant—after all, aren't most fries vegan by nature? But the guy is not wrong. Although the fries could be crispier, they're packed with flavor. The truffle fries are tossed with just the right amount of truffle salt and chives, while other variations top the dish with Pirate's Bone chunky, satisfying guacamole or melted "cheese."
It makes sense that fries are done well—they're half of the menu. The other half is dedicated to the restaurant's signature sliders served on activated charcoal buns. The sesame seed-speckled black buns don't have a particularly distinctive flavor to match their striking look, but they get the job done all the same. Pirate's Bone offers several sliders that mimic the texture and flavor of meat, including a classic burger with a Beyond Meat patty and a breakfast burger with faux sausage, egg and cheese. But it really shines when it leaves the idea of meat alternatives behind and fully embraces plants.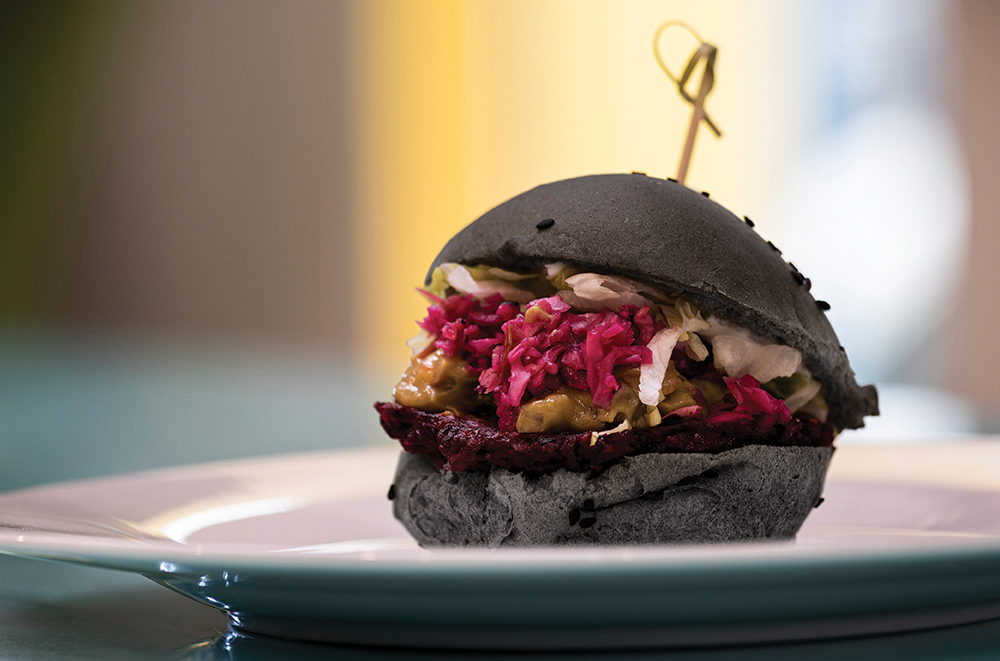 The beet burger is a riot of colors and flavors with a vivid magenta grilled-beet patty topped with guacamole and pickled cabbage. The earthy sweetness of the beets, which stay together surprisingly well, is an ideal base for bolder flavors, like the tangy pickled cabbage. The black bean burger features a patty of grilled black beans and carrots, again topped with guacamole, plus jalapeños, which threaten to dominate the slider with spice, but stop just shy of crossing the line. Pirate's Bone also offers a few other culinary odds and ends, such as a vegan hot dog, plantains two ways, and a popular "Waffle Wednesday" special, starring activated charcoal waffles.
True to its roots, the restaurant still serves up java, including its signature coffee with Mexican spices, cane sugar, and a shot of milk, as well as nitro coffee and matcha tea. The horchata, made with plant-based milk, is on the sweeter side but not sickly, with flecks of the generously doled-out cinnamon clinging to the sides of the glass as you sip. Diners can also grab a Jarritos Mexican soda in one of a rainbow of colors from a case that sits next to a cooler full of paletas, ice pops made with fresh fruit that serve as a refreshing, bracing dessert. (Flavors rotate, but the chili-mango shouldn't be missed if it's available.)
Food is speedily prepared—eliminating meat will have that effect—and each item rings in at under $5. Funny how after a quick, satiating meal that costs less than $20, life without animal products suddenly seems a lot more appealing.