There's something in the air as you walk up to Parlor. Is it a sense of excitement about the new Crossroads food hall? Maybe, but there's also the unmistakable scent of fried chicken.
Stepping over a pair of Bird scooters parked out front and walking through the entrance, it would be easy to mistake Parlor for a posh hotel lounge with its artfully designed lobby-style seating areas were it not for one thing—every person in sight has a plate, and no two meals look alike. That's because Parlor isn't just one restaurant, it's seven different dining concepts under one ultra-cool roof, which makes for an experience as eclectic as the Crossroads itself.
The first floor features a lengthy bar, where guests can choose from a frequently refreshed list of cocktails, beers, and ciders before scoping out their food options. Orders are placed at each of the restaurant's counters. Diners leave their cell numbers and receive a text when their food is ready.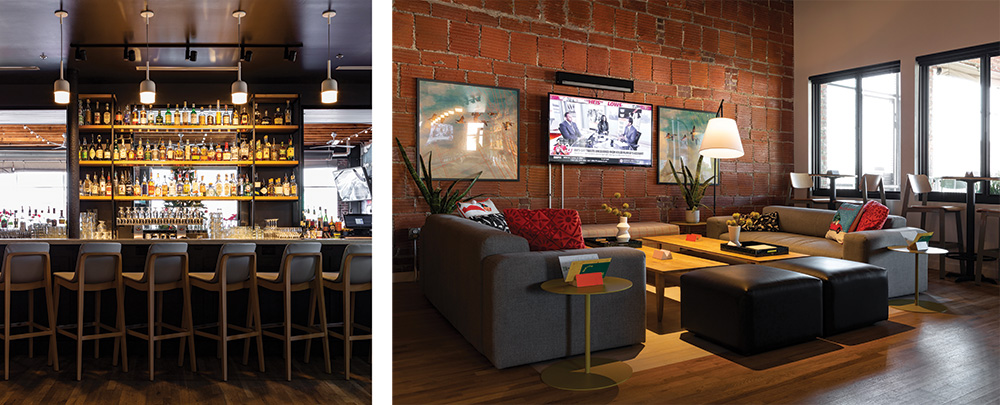 The ground level is abuzz as families, couples and friends look from menu to menu, talking through their options, which include Providence Pizzeria Co., serving up gargantuan slices of New York-style pizza, pan pizzas, and classic Italian pies. Local foodies will already be acquainted with another first-floor spot, Farm to Market Sandwich Co., which prominently features Farm to Market breads in items like the Grains Galore Grilled Cheese, a combination Green Dirt Farm's nettle cheese with provolone and Swiss—ideal for a winter lunch.
For less familiar fare, venture to Yaki-Ya, led by Shio Ramen's chef Patrick Curtis. The Japanese grill shop offers a number of yakitori options, but its okonomiyaki is the clear winner. The savory pancakes are available Hiroshima-style, with a crepe and noodles, or Osaka-style, which is more akin to a pancake. Both incorporate cabbage and onions and come generously topped with green onions, kewpie mayo and a tangy, umami okonomiyaki sauce along with one very eye-catching ingredient.
"What's the stuff on top that's moving?" one guest returns to the counter to ask after receiving her order. "It's kind of freaking me out."
That would be the katsuobushi, dried, fermented, and smoked fish flakes, which writhe around atop the okonomiyaki, dancing as a result of the steam from the dish. Beyond making the plate look unlike any other in the city, the paper-thin flakes add a salty kick to each bite.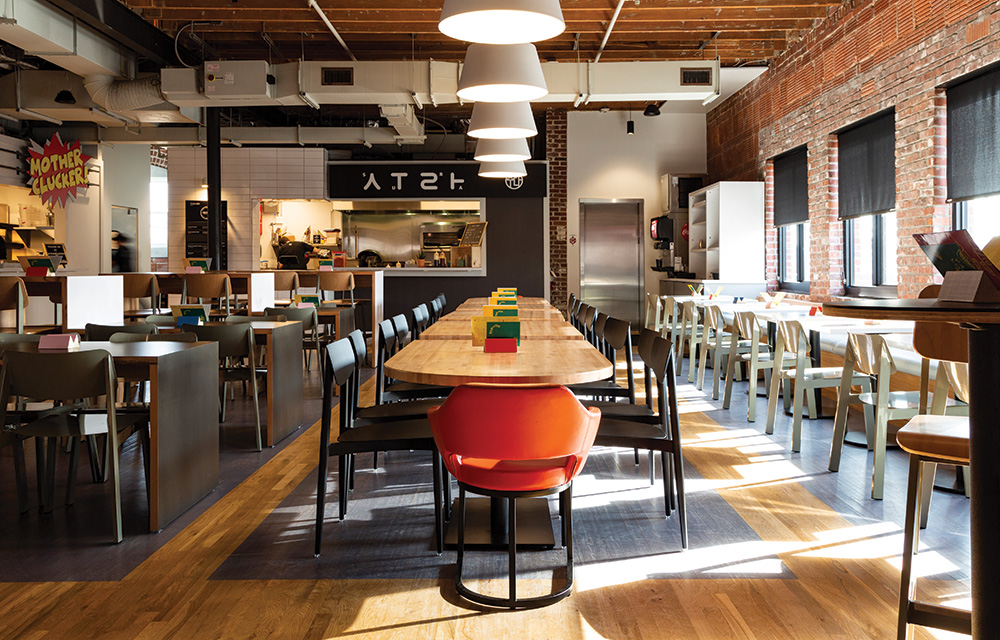 Parlor's second floor is home to another bar and a spacious heated patio along with four other concepts, including the most popular judging by the lines—Mother Clucker, chef Derrick Foster's hot chicken and comfort food spot. If the fact that Mother Clucker's heat chart goes up to "What the Cluck" doesn't key you into how serious the operation is about spice, the whole milk available to purchase should. Opt for just a hint of burn with "Kickin' It Up," then pick your chicken of choice, be it the Come Back Sandwich, served with slaw, pickles, and the restaurant's signature Cluck sauce, or the Clucker, a boneless breast that proves worth the wait it takes to get it. The chicken is juicy and the breading flavorful and beautifully crisp. For extra spice and sweetness, take advantage of the hot honey available at the counter (and be sure to grab one of the moist towelettes, too—you'll need it).
Other second floor eateries include Korean restaurant Sura Eats; Vildhast, a Scandinavian street food stall from the minds behind Krokstrom Klubb & Market; and Karbón, which draws its inspiration from the Yucatan and Middle East.

The latter concept feels the most lived-in, with its handwritten menu of dishes, including braised chicken picadillo empanadas and Turkish elote, loaded with garlic mayo and za'atar. Karbon's sweet plantains are a standout, sliced thick and fried, served piping hot with a generous portion of crema, cotija cheese, and cilantro to balance out the dish's sweetness.
Whether it's your last order of the day or your first, you'll be coming back for more. And that's good, because at Parlor, there's always another stall, another dish, another flavor to explore.