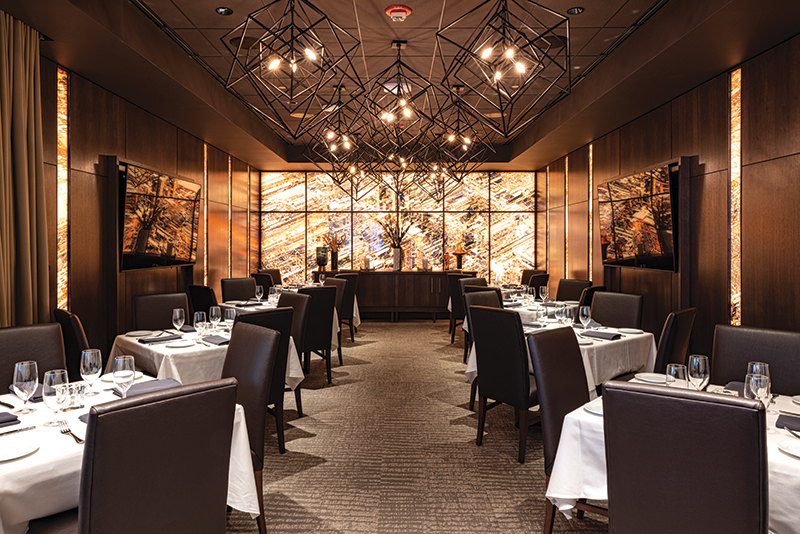 Ocean Prime has made quite the splash in KC.
The seafood and steak concept from Cameron Mitchell Restaurants has locations from California to Boston, but it debuted in Kansas City with something new: A rooftop bar, dubbed Prime Social. Perched on 46 Penn Centre's 16th floor, the bar wowed guests with its spectacular views, swanky atmosphere, and deluxe cocktails—setting high expectations for the brand's restaurant on the building's ground floor.
The good news? Ocean Prime is well worth the hype and the time you might have to wait for a table at the popular spot.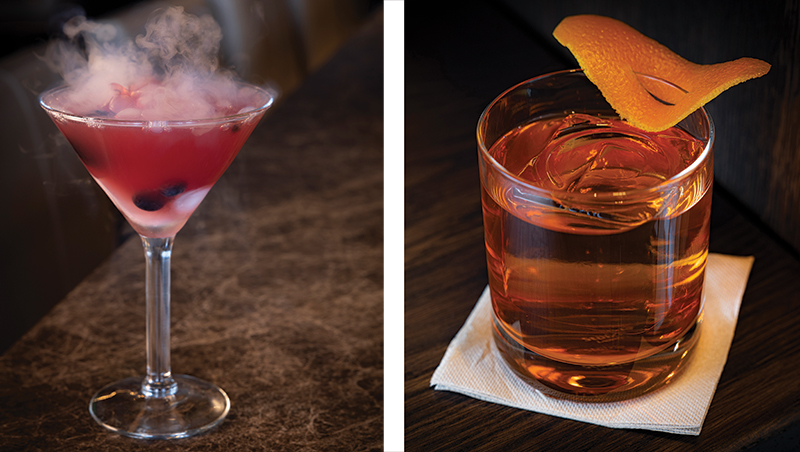 Even late on a weeknight, the restaurant is lively, necessitating a brief pause in the well-appointed waiting lounge next to the entryway. Surrounded by rows upon rows of encased wine bottles, the area divides the space, with the bar and lounge to one side and the dining room on the other. Both feature a dark color palette, dim lighting, and refined finishes that have become hallmarks of high-end dining establishments. But Ocean Prime strikes a more modern tone with contemporary art pieces, floral arrangements, and a booming, synth-heavy soundtrack that wouldn't feel out of place at First Fridays.
The menus also show more creativity than you might expect from a nationwide fine-dining restaurant, starting with the drinks. In addition to a formidable wine and spirits list, Ocean Prime serves up cocktails like the Berries & Bubbles. The breakout star is both an invigorating refreshment and entertainment as it's assembled tableside; citrus vodka and sparkling wine contacting dry ice to create a bubbling effect that lasts through the main course.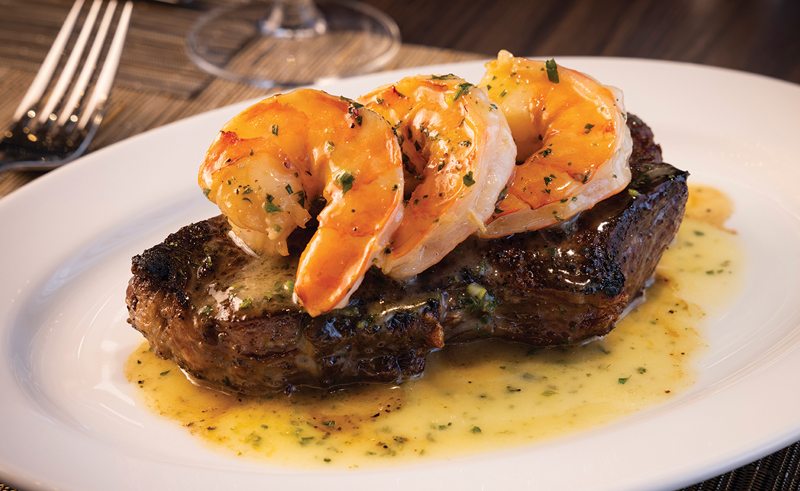 It's much harder to make decisions when it comes to food. Ocean Prime provides a selection of items on ice, from East and West Coast oysters to shrimp cocktail and a whole Maine lobster, but there are also a handful of sushi rolls. And in addition to soups and salads, there's an array of appetizer options, including ahi tuna tartare, jumbo lump crab cakes, and Sonoma goat cheese ravioli. The shrimp sauté features four plump shrimp in a pool of buttery, garlicky tabasco cream sauce that's served alongside spears of cheesy bread.
Among the entrées, the main attractions at Ocean Prime are the seafood (delivered to the restaurant almost every day of the week) and steak. Diners can choose from options including lobster tails with asparagus and drawn butter; sea scallops atop Parmesan risotto; or Chilean sea bass with whipped potatoes and champagne truffle sauce. Recommended by the server, the Florida grouper is delicate and flavorful, the fish's meat flaking under a golden crust. Presented with plentiful lobster chunks, gnocchi, spring peas and a lemon jus, it's a thoughtful, elegantly constructed plate that's easy to overlook among the menu's more obviously luxurious offerings.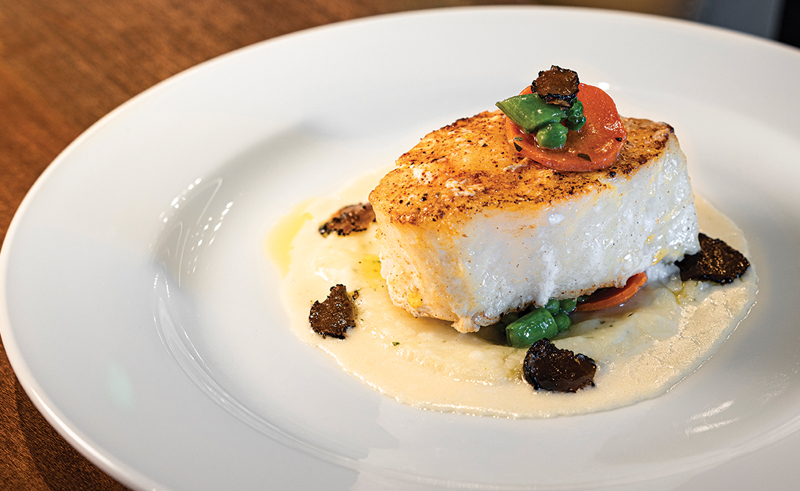 The steaks are more straightforward: Two sizes of filet mignon are served, plus a bone-in filet, New York strip and rib eye, and all are available with add-ons, such as garlic shrimp scampi or a Maytag blue-cheese crust. Steaks are seasoned simply with salt and pepper and broiled at 1,200 degrees, resulting in a satisfying crust and meat that's still cooked to specified doneness—in this case, a perfect medium rare.
Sides don't come alongside the beef, but half-orders make it appealing to mix and match from the more than dozen possibilities. That includes six potato preparations (the city's best tater tots, made with onion and smoked gouda, among them) plus roasted brussels sprouts, bacon-creamed spinach, and black-truffle mac and cheese.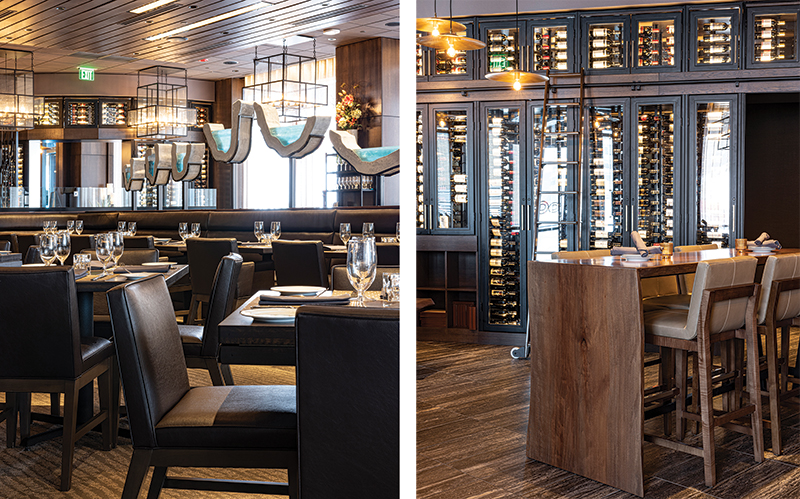 If you make it this far into your meal and still have room, you owe it to yourself to get dessert. Opt for the Ten High Carrot Cake and experience the overwhelming satisfaction that only perfectly even and defined layers of cake can provide.
Is it indulgent? Absolutely. But you don't come to Ocean Prime for a meal you could make yourself. The appeal lies in the high-quality ingredients and their painstaking preparation. If it's not for you, there are plenty of other fish in the sea—they just won't be quite as delectable.