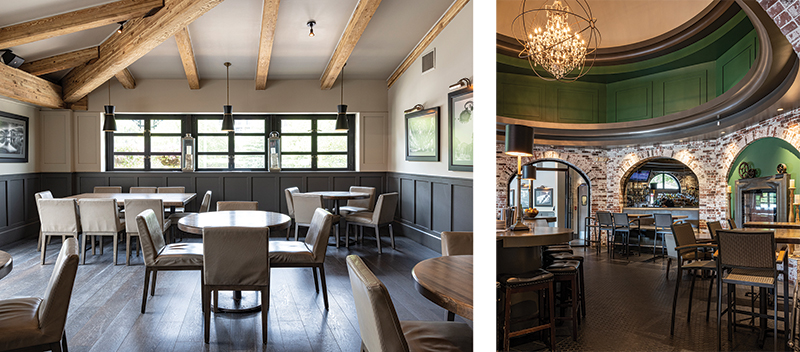 Gram & Dun has long been a Kansas City favorite for one big, sun-soaked reason—its spectacular patio is the best on the Country Club Plaza, if not the city. Now under new ownership, the restaurant is reminding diners that it's more than just a pretty patio with a revamped menu and refreshed interior. 
The look of the restaurant will be familiar to anyone who loved the previous iteration. Inside, the décor has been subtly updated and brightened up without any fundamental changes. But the patio is still clearly the main attraction, packed with people drinking and dining in the shade of massive umbrellas on a warm weeknight.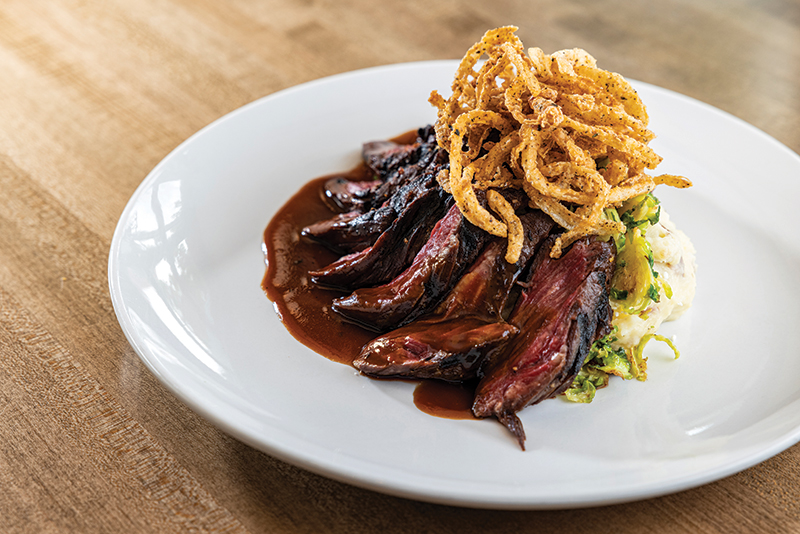 Gram & Dun leans into its designation as a summer spot with a lineup of spritzes and seasonal cocktails, offered along with signature favorites and classics, including the G&D Old Fashioned and a refreshing basil smash. The Mr. Pimms, one of the summer spritzes, seems tailor-made for sipping on a hot day—mint simple syrup, mixed-berry shrub, cucumber, and orange combining for a cocktail that deftly balances fruity and herbaceous ingredients. 
Although some of Gram & Dun's signature dishes remain on the menu—the Asian pig wings, shrimp and grits, fried catfish, and burnt-end mac and cheese—there are also new selections sprinkled throughout. 
Start off with the chicken or short rib nachos drizzled with a house-made beer cheese sauce, or opt for Moroccan-spiced tenderloin skewers with tzatziki. Other new starters include the tempura shrimp, magnificently crispy on the outside and tender within, served on a spread of blue cheese mousse and topped with blue cheese crumbles, celery hearts, and a buffalo vinaigrette. Despite all of the bold flavors at play, the sweetness of the shrimp still shines through, holding its own against the building heat of the buffalo sauce. 
Gram & Dun also introduced entirely new sections of the menu devoted to sushi and tacos. They're slightly out of step with the rest of the offerings, which skew more Southern inspired, but the dishes are nonetheless tasty. 
The Flying Dragon roll features blue crab and unagi, with a sweet eel sauce doing most of the heavy flavor lifting. The roll is one of four available on the sushi menu, all of which lean into approachability with limited raw ingredients but plenty of spicy mayo and crunch. The street-style tacos are small yet packed with flavor. Tender shrimp is complemented by candied fresno chili and an avocado purée, while the short rib tacos are topped with pico de gallo, guacamole, and cotija. With a few tacos per order and no sides, they're best ordered as an appetizer rather than an entrée. 
Because Gram & Dun's entrées are anything but skimpy. In addition to the holdovers from the previous menu, diners can now enjoy half grilled chicken, which arrives as a tower built on a foundation of roasted potatoes, sauteed garlic swiss chard, and two pieces of chicken. The grilling doesn't do much in the way of crisping up the bird's skin, but the chicken is juicy and imparted with a nice touch of char to balance out the buttery lemon pan sauce that graces the dish. Other options include a vegetable curry, Alaskan halibut, and a handsome dry-aged Duroc pork chop with grits. Gram & Dun also serves up a slightly retooled selection of sandwiches and salads as well as topnotch steaks.
The Gram & Dun Bar still reigns supreme when it comes to dessert—the favorite features chocolate mousse, ganache, and peanut nougat, plus salted caramel, pretzel, and peanut-butter cup ice cream in a compact dessert that's big on flavor. For a lighter finale, consider the coconut crêpe, the light pastry filled with coconut crème and caramelized coconut and served with a sharp pineapple mango coulis and dehydrated pineapple slice. 
Yes, it's a dish perfect for the patio. But as we now know, there's so much to enjoy about Gram & Dun, inside and out.