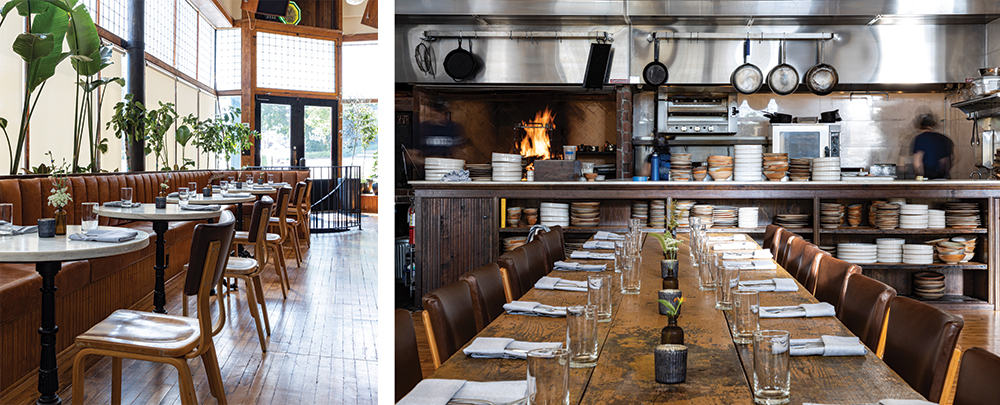 Fox & Pearl is finally where it's meant to be. After a stint in a temporary Westside location, chef Vaughn Good's restaurant has settled into its permanent home down the road—and what a home it is.
A set of cherry red doors beckons diners into the space, a 112-year-old building that retains much of its charm from a previous life as a drugstore while feeling fresh and modern. Storefront windows and leaded glass transoms flood the space with natural light to the benefit of a perimeter of plants around the dining area.
A large central bar captivates on the main level, rimmed with claw-footed stools where you can take a seat and order up one of bar manager Katy Wade's cocktails, showcasing fresh ingredients and sustainable spirits in drinks like the Third Plate, a rotating seasonal cocktail featuring local produce. Other creative offerings include the Bois, Bois, Bois, the rare cocktail using a cognac base, paired with amontillado sherry, chamomile, and sparkling wine, and the So Fresa, So Clean, a complex drink that marries the smokiness of mezcal with bright citrus.
Even the staunchest cocktail lover will want to study the wine list, if only for the pleasure of reading general manager and wine steward Richard Garcia's delightfully unconventional descriptions—a Koppitsch Rét red blend is explained as having "a touch of crunchy funk," while a Broc Cellars Luna Matta Picpoul is a "salted Meyer lemons, ripe pears, summertime lawn situation." Garcia is also happy to provide recommendations directly, dropping an f-bomb of enthusiasm as he describes the goodness of one rosé hybrid—your stereotypical stuffy sommelier he is not.
Follow the steep spiral staircase down to the cozy speakeasy-style bar area, which houses Good's custom curing room. A secluded brick patio also sits off the main level. A few steps up from the bar deliver you to another dining space that offers a prime view of the restaurant's open kitchen, where Good and company prepare the restaurant's signature Midwestern bistro-fare, a celebration of local ingredients.
The seasonal menu fits on a single page, arranged in just one column. There aren't salads, starters, soups and sandwiches, just small and large plates and a few family-style dishes and sides. The less-is-more approach forces you to read through the menu in its entirety, lest you overlook something incredible.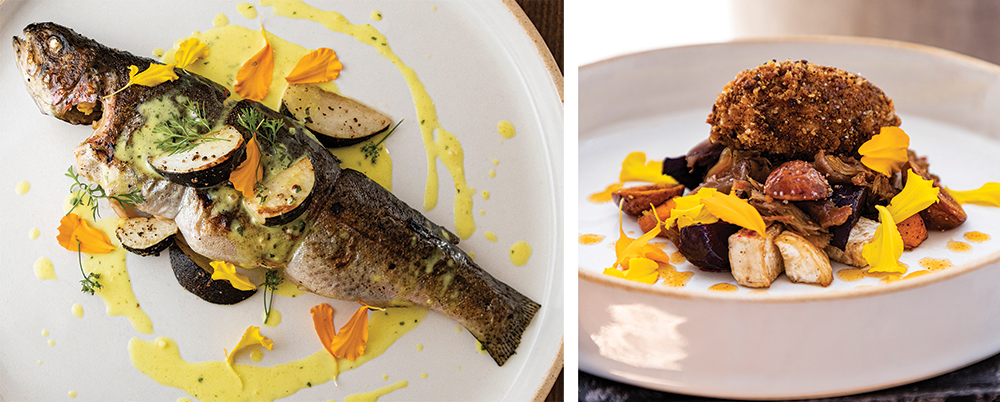 Small plates include a bowl of pickled vegetables—thick-cut cucumber slices, green beans, and a lone garlic scape with a kick of spice and satisfying crunch—and a truly spectacular foie gras and heritage pork sausage, the silky sumptuousness of the meat contrasted by a blackberry gastrique. For a soulful starter, Good's buttermilk biscuits are unrivaled in Kansas City. Here, they're filled with a smoked and pan-seared pork terrine, tangy green strawberry honey and roasted-garlic aioli.
A handful of pasta dishes appear on the list of large plates, tasty inclusions although they don't quite fit with the rest of the menu. The cavatelli is a rich, layered bowl with smoked pork jowl, tomato confit, and Prairie Tomme cheese. But the true standouts are Good's protein-based plates. The succulent, fatty porchetta's richness is beautifully complemented by sweet grilled onions, and the chermoula-rubbed quail is cooked to perfection and served with feather-light hush puppies. The duck breast with a duck jus is smoky with an umami tang, and although it's a hair over cooked, a bite of duck with the accompanying caramelized onion tart is a forkful that will stick with you long after you've paid the check. The tart, artfully layered both in its literal construction and depth of flavor, exemplifies the respect and attention even an unassuming root vegetable gets at Fox & Pearl.
Desserts change regularly, but tonight the options include a mixed berry buckle served fresh from the oven in a mini cast-iron skillet and topped with a dollop of house-made ice cream. It's a relaxed, familiar dish with a spot-on texture somewhere between bread pudding and warm muffin.
For Fox & Pearl, it's good to be home.