In 1921, Kansas-born Amelia Earhart bought her first airplane. The yellow, secondhand Kinner Airster was nicknamed the Canary. Now a century later, a new Canary is taking flight in Kansas City, with Keely Edgington and Beau Williams in the cockpit.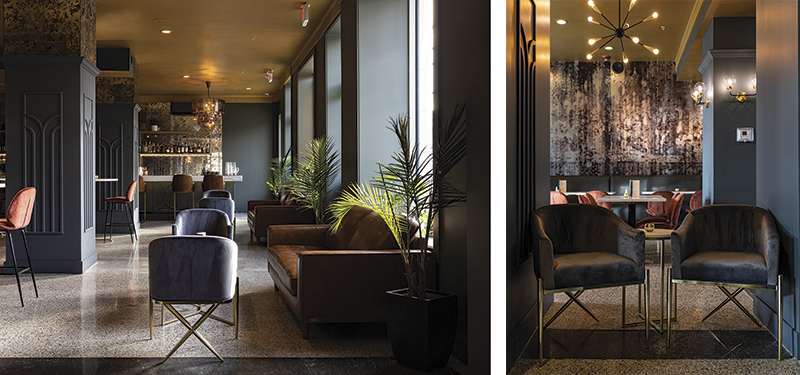 Photos by Aaron Leimkuehler
The couple behind Julep teamed up with The Netherland Hotel & Residences to open the concept on the ground floor and rooftop of the historic midtown building at Main and 39th St. Inside, the restaurant's atmosphere is charming, if a bit lackluster. The look of the space—filled with blue-greens, gold, and bold accent walls—is chic, but undercut by the humdrum lobby it backs up to.
That's about the only criticism that can be leveled at Canary, which soars thanks to high-quality cocktails you'd expect from the Julep owners and a smartly conceived and executed food menu courtesy of the executive chef, Mark Dandurand, who previously operated Fond at Strang Hall.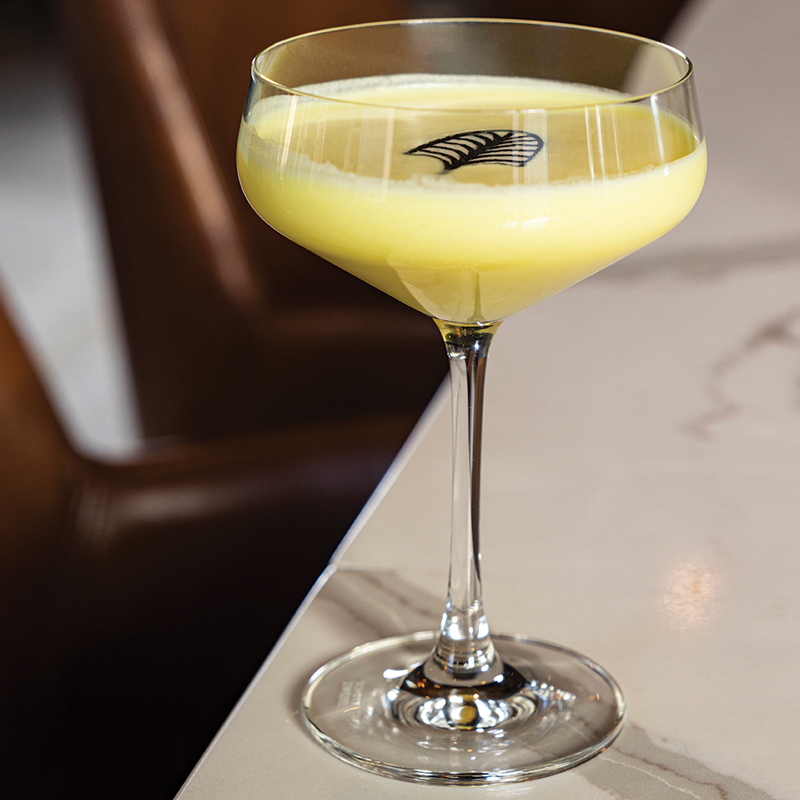 Even if the Canary cocktail didn't share a name with the restaurant, there would be no doubting that it is the signature drink. Big Bird yellow and adorned with an edible rice paper stamp featuring Canary's art deco-style feather logo, the cocktail is light, frothy, and hard to put down. Tropical flavors, including pineapple and coconut, come through as refreshing rather than overly sweet, thanks to counterbalances provided by ginger, lemon, and turmeric. The bar also features a selection of non-alcoholic libations, including chai tea, oat cream, and turbinado Cherub.
The quality of the cocktails was all but guaranteed; however, the food comes as a delightful surprise. While the menu does lack a clear sense of unity—small plates range from oysters to popcorn chicken to pierogi, and entrées cover both pork and beans and beet pasta—dishes are delicious across the board. Classic oysters are plump and fresh, served with a blackberry champagne mignonette that asserts more character than you'd expect.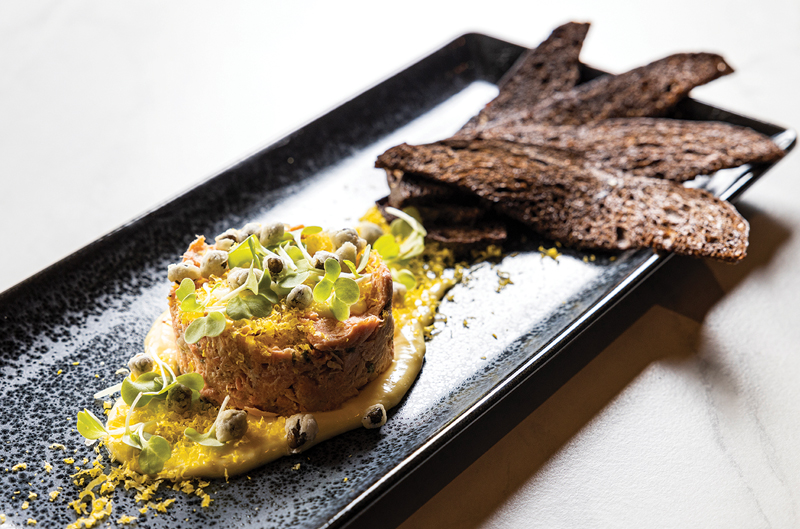 A plate of five pierogis merits careful observation—when an appetizer is this good, you want to make sure everybody gets their fair share, unless you're able to sneak in an extra bite while nobody is looking. The crispy, golden brown pockets contain a French onion and horseradish potato filling that will fill you with warmth, complemented by a tart blackberry balsamic drizzle.
The beet chitarra is a stunning bowl of pasta, a nest of eggplant-hued al dente noodles entwined with chunks of seafood, dollops of caviar and crema, and vibrant purple and orange flower petals. A lobster cream sauce provides a big hit of the crustacean's flavor, but it's lobsters' pint-sized cousin, the crawfish, that gets a moment to shine as the featured protein. Tender and sweet, they're a joy to eat.
Canary further proves the kitchen's mastery of seafood with the arctic char, which is cooked and seasoned with great finesse. It's served atop smoked chili grits that are creamy, while maintaining just the right amount of their natural coarse texture. Other entrée options include a burger with cheese curds and steak fries, roast chicken thigh with wild rice, and the vegetarian-friendly roasted cauliflower.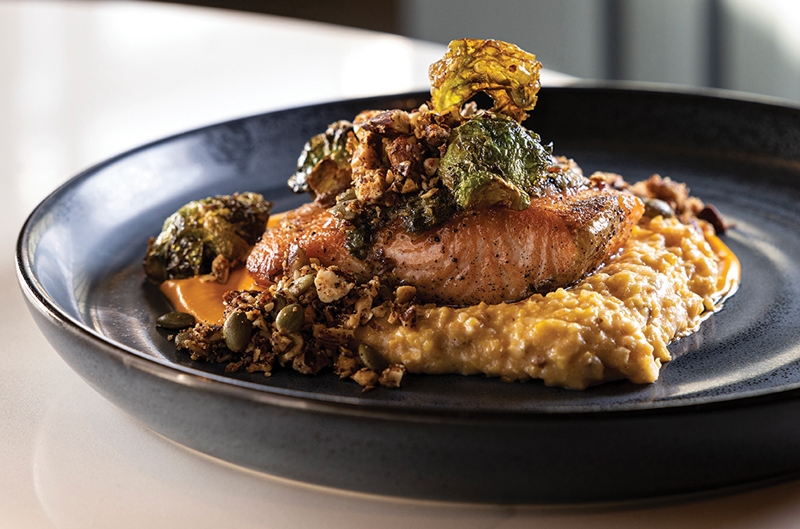 Diners who fondly remember chef Mark Dandurand's stint at Strang Hall will be happy to see his tuxedo cake on the menu. The dome-shaped dessert features chocolate cake, peanut butter chocolate mousse, and a high-shine chocolate glaze. Salted caramel eclairs with coffee cream and warm chocolate chip and toffee cookies are also available as a sweet endnote.
The only thing sweeter? Finishing the night off with a cocktail at Canary's glamorous rooftop lounge, set to open later this spring. With cozy seating arrangements and a breathtaking view of Kansas City's skyline, it feels like a vacation—no flight required.