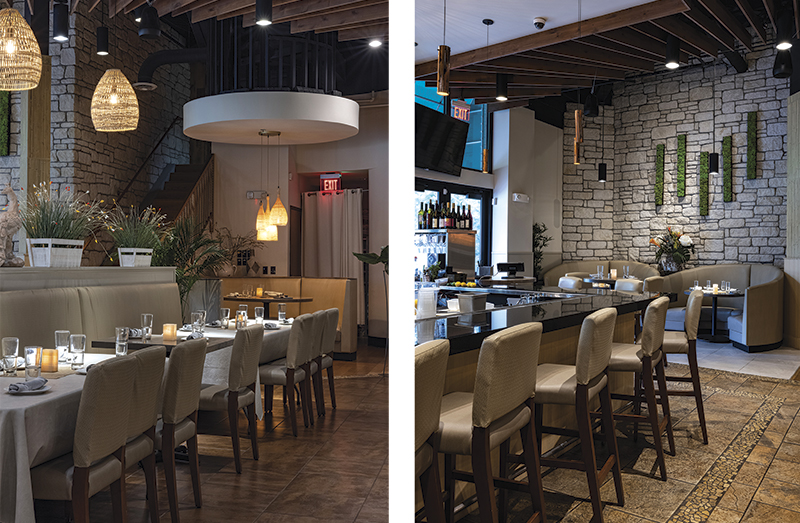 To taste Penny Mufuka's food is to love it. It was true at the chef's first two restaurants, Thai House and KC Thai, but Mufuka's cuisine reaches soulful, stylish new heights at Bamboo Penny's, the restaurant she opened in Leawood's Park Place this summer.
Like her other restaurants, Bamboo Penny's offers a selection of impeccably crafted Thai dishes, but there's also much more of a focus on atmosphere. The large, open dining room is swathed in soothing shades of tan and cream punctuated by greenery and floral arrangements, an aesthetic that seems almost designed as a counterpoint to the big, bold, often fiery, flavors present in the food. Upstairs, guests will find the Bamboo Room, a Polynesian-inspired rooftop patio open Thursday, Friday, and Saturday evenings and Sundays serving small plates, desserts, and cocktails—one of the other ways that Mufuka levels up Bamboo Penny's.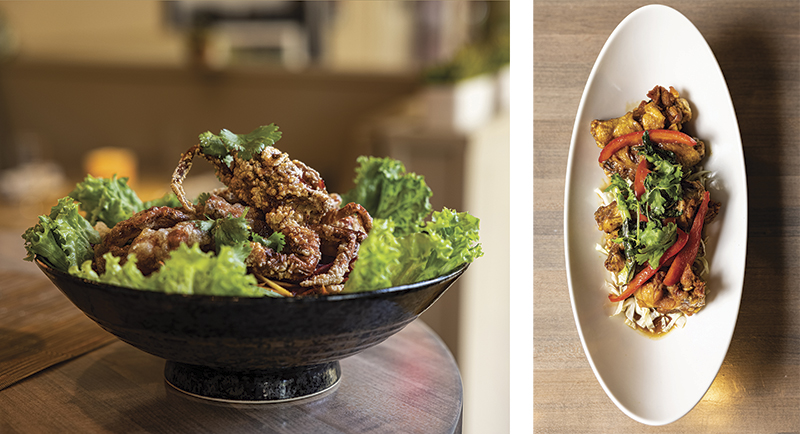 The restaurant and rooftop feature a full lineup of tropical-inspired drinks, including bamboo mules, available with any of the numerous house-infused spirits; rosé sangria, made with papaya juice, elderflower liqueur, mint syrup, and dried rose petals; and the Sazzy, a compelling herbal reimagining of the classic Sazerac. Bamboo Penny's also offers an assortment of beers and wines, plus a deliciously complex Thai iced green tea, almost minty with rich sweet cream adding body. 
When it comes to food, there's almost no way to go wrong. Rather than sussing out the gems, ordering at the restaurant is more an exercise in self-examination: What journey do you want to embark on, and how hot will you choose to go, since most dishes are available in one of five spice levels?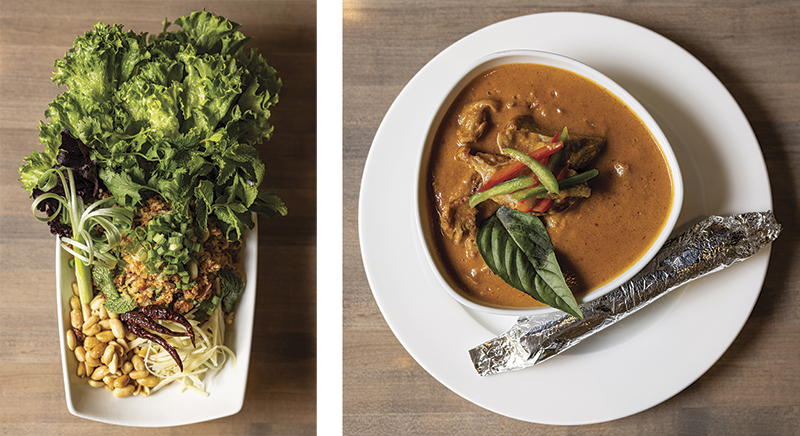 The drunken Thai BBQ ribs are more sweet than spicy, marinated in a red-wine reduction developed over the course of years at the chef's home backyard barbecues. The pork offers just the right amount of resistance coming off the bone. Meanwhile, the Thai soft-shell crab salad turns up the heat—the medium spice level of the red wine vinegar and tamarind dressing is intense, without numbing the palate to the sweetness of the flash-fried soft-shell crab or the veggies and herbs tossed with mixed field greens. It's a splendid example of how Mufuka allows every ingredient to shine, even when playing with elements that could easily overpower them, as is the exemplary mint beef salad. Light and invigorating, it features seasoned pan-seared strip loin tossed with fresh mint, cilantro, Thai chilis, tomato, and fresh cucumber.
Rice, noodle, curry, and stir-fry dishes account for much of the menu, served with a choice of proteins including vegan options. The pineapple fried rice, studded with raisins and cashews, is winsomely served in a hollowed-out pineapple, and while the pad see ew isn't quite as visually appealing, it boasts nuanced flavors, with mushrooms, bok choy, and broccoli adding their own depth to the noodles' sweet soy sauce. The yellow coconut milk curry, flavored with turmeric, is rich and savory, soaking satisfyingly into the accompanying roasted potato, carrot, and onion.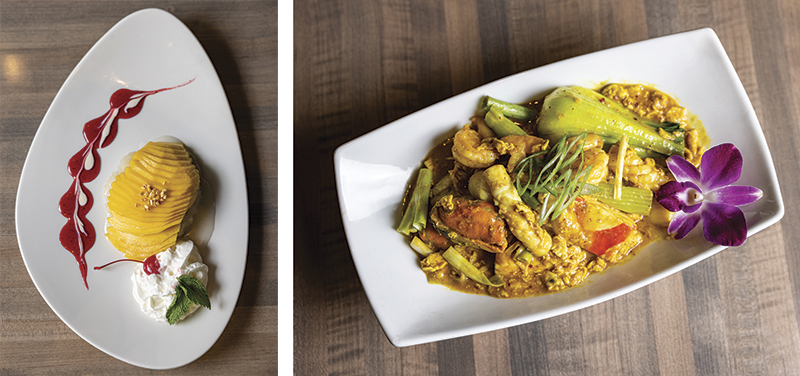 Guests can also enjoy a selection of Penny's specialties, such as pad Thai a la Penny (Mufuka's tasty take is prettily packaged in an egg crepe) and mango duck, deboned, crisped, and served on a bed of veggies with a mango, onion, and bell pepper sauce. Glossy and well balanced, the sauce highlights the tender, flavorful duck beautifully. 
Sweet sticky rice layered with fresh mango and coconut cream makes for a refreshing end to the meal, but it's not the only dessert option. Velvety coconut ice cream with fried banana and chocolate Rangoon also make for fun finales—although the latter is also available as an appetizer. The sweet and salty spin on traditional rangoon is a welcome addition anytime—like we said, there's really no going wrong at Bamboo Penny's, even if you're eating dessert first.