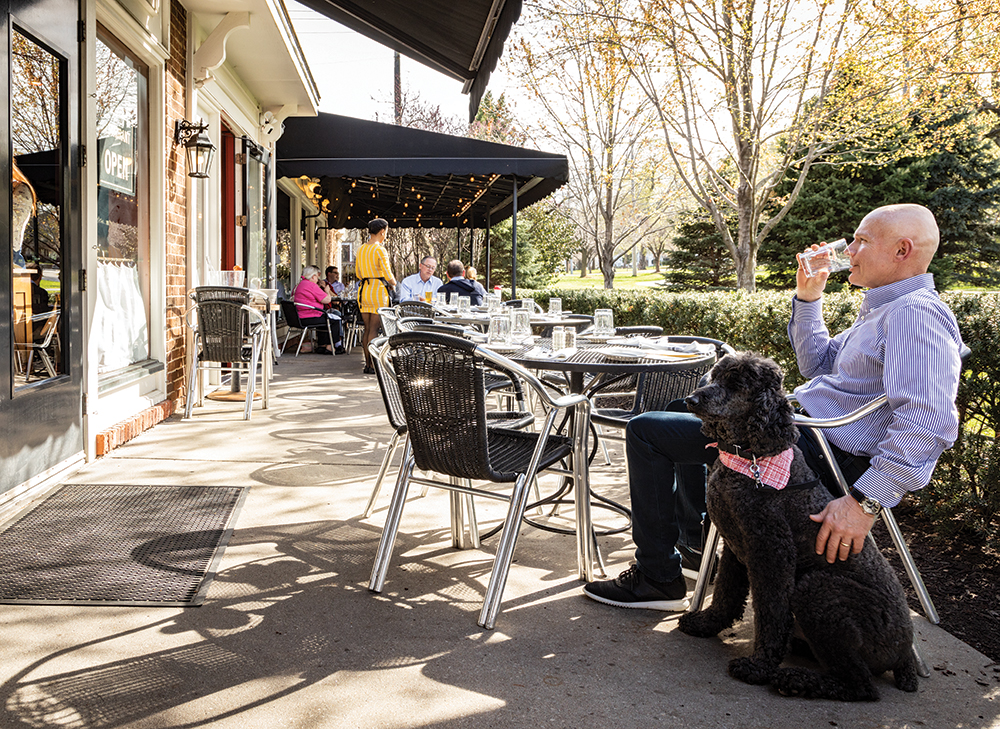 We've gone to the dogs—in a good way. Pets are part of the family, and when we want to amble around town and have a bite to eat, they go, too.
Just as pet names have undergone a sea change—Rover and Fido have been replaced by monikers like Oliver and Stella, according to rover—so too have the places we take our Best Furry Friends. We are spoiled for choice in Kansas City, from sidewalk cafes to sport patios.
And a dog-friendly restaurant patio etiquette refresher: Do let your dog potty beforehand, bring your own doggie water bowl and snacks, have a non-squeaky toy on hand if you're going to stay a while, and a leash is a must.
Now, let's get out there…
North of the River
Chicken N Pickle
Wood-fired jerk chicken, cold beer, and pickleball are the draws to this new restaurant concept at 18th and Burlington. Several outdoor patios, partially covered, welcome Bella and Buddy. All kinds of yard games are on offer, while you share your pickle-brined chicken sandwich with your BFFs.
River Market/Riverfront
Bar K Dog Bar
The absolute friendliest place for dogs and their humans nestles along Berkley Riverfront Park, just under the Heart of America Bridge. First of all, Bar K Dog Bar offers a two-acre, off-leash, fully-staffed dog park with two separate areas for big Max and little Bella, so you can get them all tuckered out. "Fully-staffed" means you can leave the pups to play while you head indoors for coffee, local craft beers, or nachos. They also have a leashed-dog patio, so you and Max and Bella can enjoy a meal together. You'll need to purchase a membership or a guest pass to bring your dog.
Le Fou Frog
Mano and Barbara Rafael's French outpost has a covered patio just perfect for happy hour, Tuesday through Friday. But if you're bringing Sadie, aim for a Tuesday or Wednesday when it's not as crowded. Then, you can sit back with a glass of Arrogant Frog Chardonnay or Lillet Blanc, slurp oysters on the half shell with the classic Sauce Mignonette, and share your pommes frites.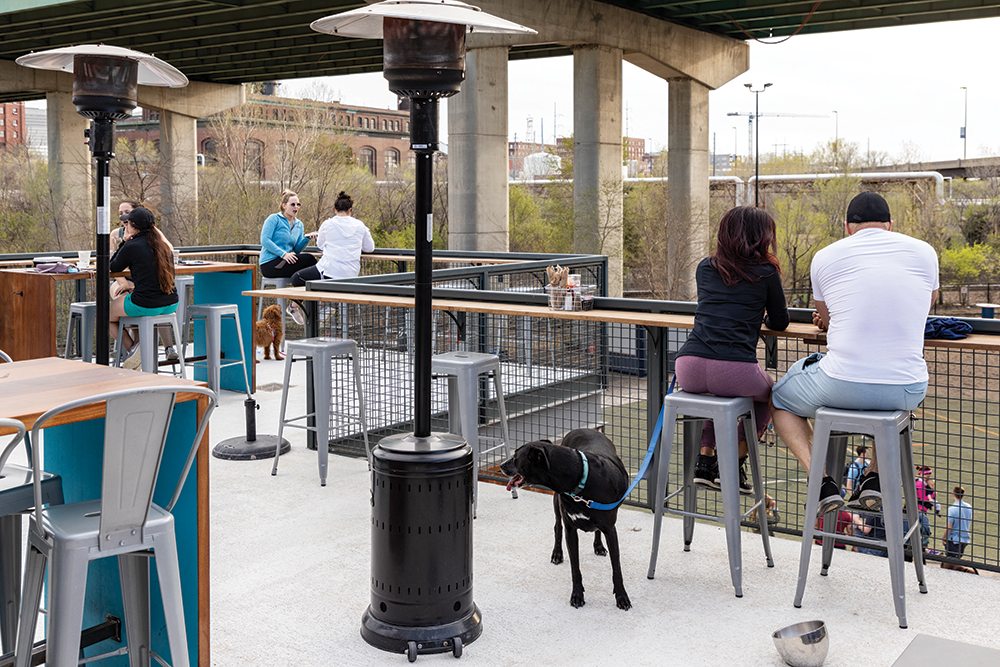 Westside
Blue Bird Bistro
Just catty-corner—sorry for the cat reference, Luna—is Kansas City's first true, organic, farm-to-table restaurant. Owner Jane Zieha devises her menus after she sees what the farmers bring to her. In good weather, the narrow sidewalk outside is great for breakfast or brunch. Sip your mimosa or bloody mary and tuck into real farm eggs cooked the way you like, fresh biscuits, and sometimes a signature French toast or pancake.
La Bodega
Just down the hill on Southwest Boulevard sits La Bodega (also at 119th Street in Leawood), one of the first Kansas City restaurants to offer tapas. Out on their patio is the perfect spot to enjoy these Spanish-themed appetizers and an icy pitcher of sangria for happy hour. Major would probably go for a deconstructed (off the skewer) chicken and chorizo in a garlic-cumin aioli. You and your BFF can also share Spanish meatballs with garlic cream.
The Westside Local
With its urban-rustic vibe indoors and out, The Westside Local is a great place to bring Rocky—you can even slip him a piece of real bacon or two. Sit in the beer garden, sipping on a cold brew and snarfing down their grilled cheese served with a fabulous homemade tomato soup; Rocky will beg for a little of that, too. Good news is that their grilled cheese is for big appetites, so plenty to share.
Westport
Char Bar
You want to have fun and Molly needs some exercise. You can do both and enjoy some delicious barbecue at Char Bar in Westport. Their large beer garden is set up for croquet, cornhole, ping pong, and other yard games. Sip on a local brewski and chow down on ribs and wings, pulled pork and burnt ends. You can go alternative barbecue with rosemary-infused lemonade, grilled pimento cheese, or kale-pecorino slaw that are also mighty fine.
Harry's Bar and Tables
On Westport Road, Harry's Bar and Tables features a 19th-century bar along with a cobblestone patio perfect for pets. Take Bruno when it's not too crazy with late-night revelers. Sip a creative cocktail or a single malt scotch. Their gorgonzola-topped hanger steak is a winner. The generous sandwiches and signature pizzas are also good for noshing.
The Plaza
Kaldi's Coffee
Let Lola do her thing first (remember to bring that plastic bag), maybe stop at Three Dog Bakery for a bag of doggie snacks on your walk, then settle in at Kaldi's sidewalk seating area at 47th and Jefferson. You can enjoy a signature treat, such as a lavender tea latte and a plate of wedding cookies or a salted caramel frozen coffee and an espresso brownie. No chocolate for Lola, but that's why you bought those doggie treats. Sit. Good girl.
The Mixx
Check out your favorite doggie novel at the Plaza Library, then lunch at The Mixx next door outside on their patio while soaking up the sun. You enjoy that Thai salmon salad with all those fresh veggies, while offering some of your Farm to Market roll to Charlie. You can do the same at The Mixx at 119th and Roe in Leawood.
Crestwood
Aixois
The patio on the west side of this Crestwood bistro is just shady enough for breakfast and lunch, and a quiet place where Lucy can take a nap after a long walk. You can enjoy a café au lait and a croissant for breakfast, a bowl of steamed mussels with frites for lunch, or a slice of heavenly quiche any time.
Brookside
Bella Napoli
In Italy, family restaurants welcome kids and dogs, so when Jake Imperiale opened Bella Napoli in 2001, he continued the tradition. On the sidewalk café area, you and Oliver can share any number of deli sandwiches with the best Italian charcuterie and cheeses along with their house-made olive salad.
Brooksider
Out on the patio, you and Tucker can take in a Royals' game at Brookside's favorite sports bar. Order a Boulevard beer and share Brooksider Poppers and World Series Nachos a bite at a time, one for you, one for your BFF.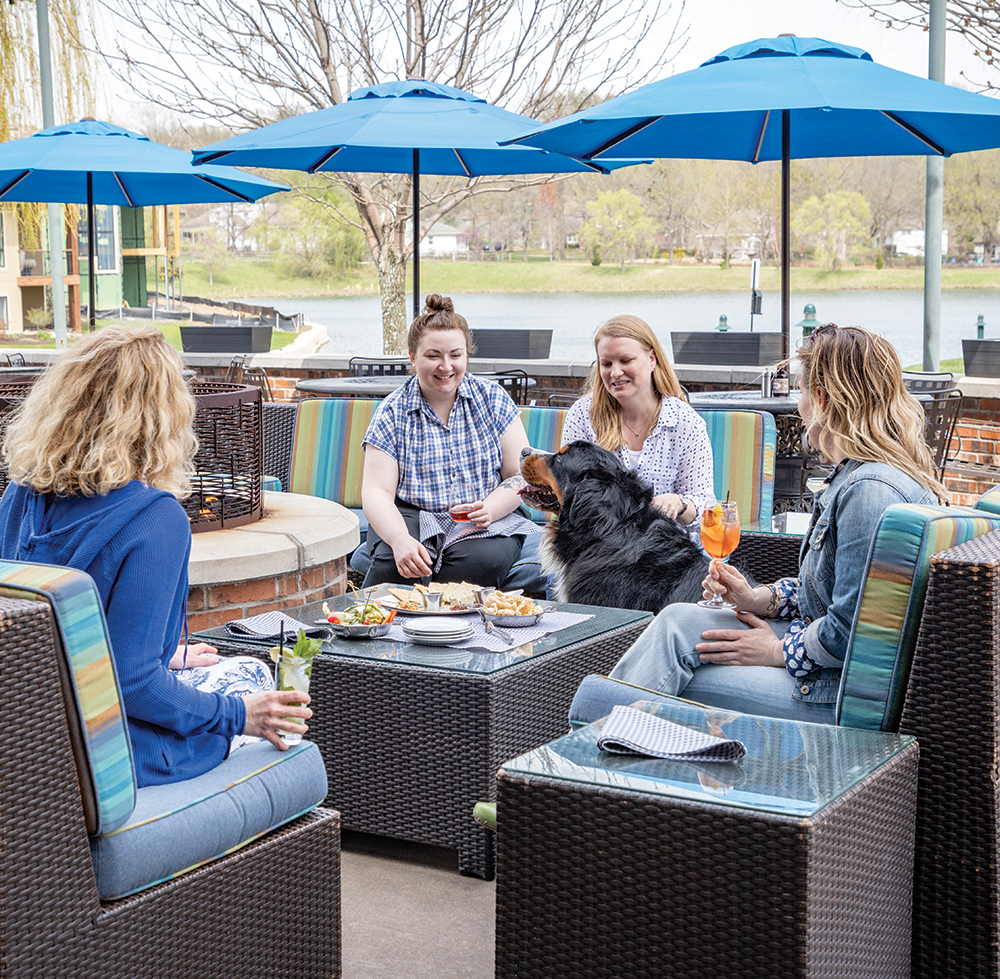 South
Nick and Jake's
Lead Bear out to the patio at either the Overland Park or Parkville location, where he would looove to have his own tenderloin slider, perhaps without the horseradish sauce, or a warm blue cheese potato chip loaded with bacon and green onions. The house-made meatloaf, from grandma's vintage recipe, is also a treat that two can share.
Rye at Mission Farms
There are several restaurant patios in this Leawood enclave, but Rye takes the lemon meringue pie for the best of the Midwest. Colby and Megan Garrelts' fried chicken is finger-lickin' and their chef-driven barbecue dishes hit the spot. Wouldn't Maggie just love a little bit of wood-fired ribeye or Blackened Berkshire Pork Rib Chop? Yes, she would.
Now sit, Max, sit.