Sponsored content:
When O'Dowd's on the Plaza decided to renovate a couple of years ago, they started from the ground up. Gone is the darkened, dated, ye olde Irish pub feel. Now the restaurant has a new, lighter, and decidedly European feel to go along with their new, lighter, and decidedly European menu.

Under the watchful eye of the executive chef, Mitch Neely, the gastrobar has impressed clientele with its modern look and feel—and stellar new menu options from across the pond. "There's a different mentality around here," says Neely. "We've changed things up—and one of those things included adding a Sunday brunch."
Given that brunch is a revered Sunday pastime around these parts, Neely knew he had his work cut out for him. So over the last few weeks, he's quietly been putting his "small, but mighty" brunch menu to the test. "People are loving it," he says. "And when the weather is nice, our place doubles in size with our outdoor deck."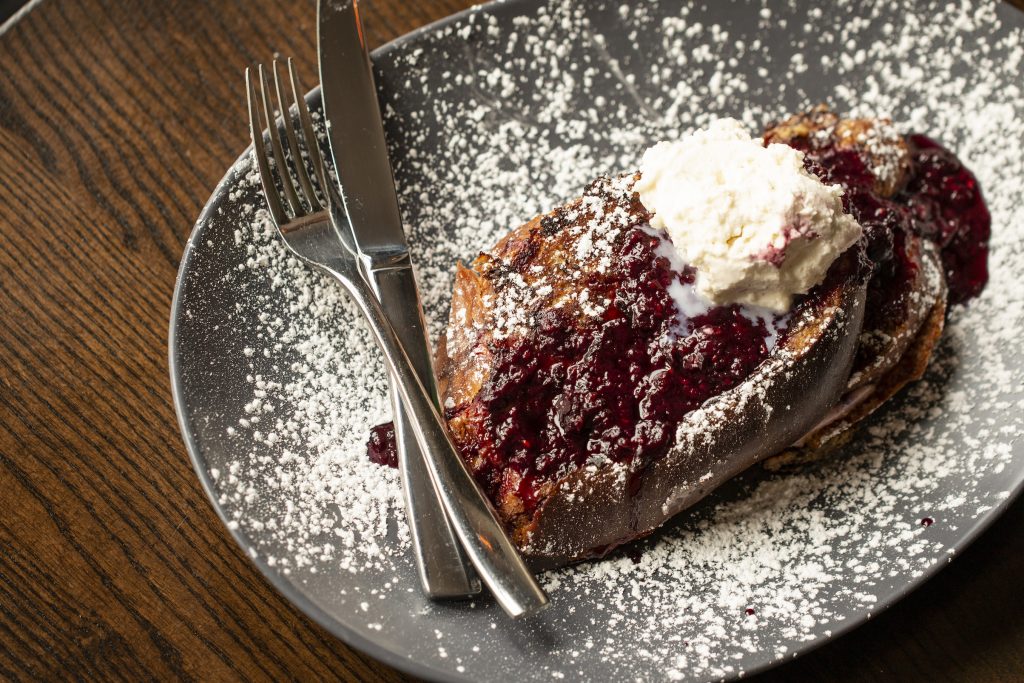 Neely, who's been the executive chef since the restaurant's extensive remodel, is eager to share with hungry patrons what he brings to the table. Not only has he been in the restaurant industry for more than 20 years, he's famous for his mad baking skills—which you'll find sprinkled in nearly every brunch item. "My background is pastries, and I make all the bread here," he says, "including the brioche for the stuffed French toast and, of course, the breakfast sandwich."
Served up with a healthy portion of breakfast potatoes, the sandwich is not your standard fare—and that's by design, Neely says, admitting that's his top choice on the brunch menu. "The breakfast sandwich has everything on it—including a chili-lime aioli," he says. "Man, it's got a lot of flavor."
A smaller menu gives Neely and his crew a chance to really dazzle guests who want to try out the "European-influenced" fare. "We're changing with the times, and that's why we revamped the menu. Our smaller menu means we can always add things," he says. "Sure, we'll have things that appeal to the Irish crowd, but everything here is simple and fresh. We make everything in house—well, except for cheese. For that we shop next door at Better Cheddar," he says, laughing.
Consider us wild fanatics of their killer chicken and waffles. (Not to be graphic, but we would actually consider bathing in the jalapeno-infused syrup. Yes, it's that good.) "They're definitely a hit," says Neely. "There's orange zest, nutmeg, and pumpkin in the waffles, too. We're giving people what they want, but it still has a special spin."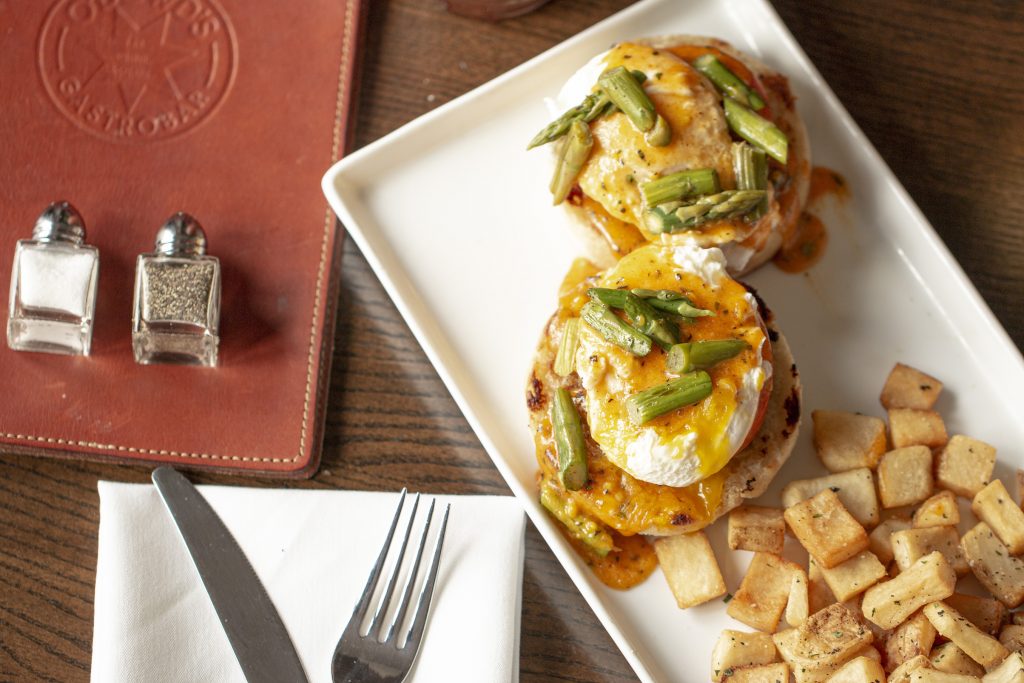 The piled-high eggs benedict is "simple and classic" according to Neely—whose goal is to create the tallest benedict in the city. "The presentation is everything. It's got a lot of height," he says. "How much more can I put on top of it before it topples over?" Meanwhile, he's perfecting his own updated English muffin recipe, which promises to make the dish just that much more decadent.
Want to imbibe? Of course you do—because when in Ireland, as they say. The handcrafted, homemade Bloody Mary's are a steal at only $5—complete with a healthy splash of Boru, a well-known Irish vodka. Endless mimosas are only $15.
If you haven't poked your head into O'Dowd's Gastrobar lately, you're missing out. Trust us when we say this isn't your grandfather's Irish pub. "I just moved back from Germany three months ago where I saw all the newer restaurant trends," says the front-of-house manager Colin Creek. "The days of the musty-dusty Irish pubs are over. Gastropubs are taking things to the next level. Better food. Finer cocktail selections."
Maybe it's time to get reacquainted with O'Dowd's, yes? "We're just reintroducing ourselves," says Creek. "We're now an Irish bar where the bar has been raised."