There is no shortage of great restaurants here in Kansas City. But every now and again, the road calls, and what better reason to climb behind the wheel than a little eating and exploration? Getting to these restaurants on both sides of the state line might put some extra miles on your car, but we promise the destinations are delicious.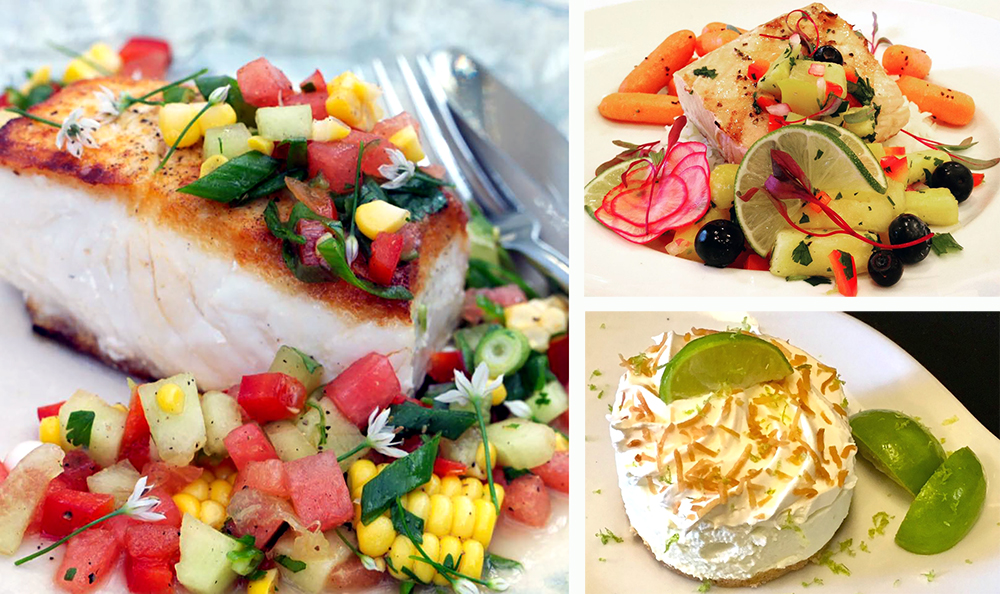 A Few of Our Favorites in Missouri
Abigail's
206 Central St., Rocheport, MO
You can't be quite sure what you'll get at Abigail's—that's because the menu is constantly changing, the day's options scrawled on a dry-erase board—but you can be confident the food will be delicious. The restaurant's rustic interior, open kitchen, and eclectic décor make it feel warm and inviting. Whatever you order, it's hard to go wrong, but Abigail's luscious cakes, pies, and other confections make a strong case for eating dessert first.
Avalon Café
608 Main St., Weston, MO
Avalon Café's patio is the perfect perch for looking out over downtown Weston. The restaurant, located in an antebellum home originally built in 1848, is as picturesque as the town, but it's the food that has kept residents and travelers flocking through its door for the past 25-plus years. The bistro-style menu includes pastas, wood-grilled flatbreads and steak burgers along with hearty entrées, such as the acclaimed beef tenderloin grilled over Missouri apple wood and served with a McCormick bourbon mushroom sauce. Just be sure to save room for dessert in the form of the warm cinnamon bread pudding swimming in a pool of rich vanilla cream sauce or an apple torte made with locally grown apples simmered over puff pastry.
Catalpa
510 High St., Arrow Rock, MO
A village of 46 people, Arrow Rock is perhaps not at the top of most KC foodies' travel lists. But it should be, thanks to Catalpa. The fine-dining restaurant is located in a little red-brick house and has only eight tables (plus some outdoor seating when weather permits) and operates June through the end of September, plus during December. Despite its size, it's gained numerous accolades for chef and owner Liz Huff's exceptionally executed dishes, particularly those grilled on Catalpa's Himalayan salt blocks, like the Alaskan salmon steak, glazed with a triple citrus orange-blossom reduction.
The Hotel Frederick Restaurant & Lounge
501 High St., Boonville, MO
Steps away from the Katy Trail, Hotel Frederick offers the charm of a quaint bed and breakfast alongside the chic luxury of a boutique hotel. Its stylish restaurant and lounge features a contemporary American menu that changes seasonally, featuring dishes like a 14-ounce pork steak, slow-cooked for five hours and topped with sautéed onion, as well as a selection of thick, juicy burgers. (What better way to refuel after a day of activity than the Black and Bleu Burger, drenched in gorgonzola bacon cream and piled high with crispy onion straws?) The Fred restaurant also serves weekend brunch, and guests can often enjoy live music in the hotel's Brick Room on weekend evenings.
Iron Horse    Blackwater, MO
101 Main St., Blackwater, MO
You'll find no sad scones at this hotel. The Iron Horse Hotel and Restaurant exudes southern hospitality, from its ornate wood-and-iron craftsmanship and period furnishings to the courtyard garden patio and stone-walled restaurant with its pressed-tin ceiling. The restaurant's chef trained in Italy and lived in New Orleans, and the menu reflects those flavors. Louisiana-style Creole shrimp and smoked sausage is braised in tomatoes, onions, celery, and bell pepper, while the spaghetti and meatballs are tossed in a flavorful caramelized onion and garlic tomato sauce. Lunch fare includes hearty burgers served with Memphis-style coleslaw and sweet-potato waffle fries.
Ivory Grille 
317 S Ohio Ave., Sedalia, MO
Sedalia's Ivory Grill is a throwback to the classic steakhouse, complete with a glamorous space inside the historic Hotel Bothwell, a soundtrack of live piano music, attentive service, and most importantly, lusty servings of meat. The famous hand-cut rib-eye is seasoned with a blend of truffle salt and served traditionally with a potato. On the lighter side of the menu, the Ivory Grille Salad is a signature item, with mixed greens topped with fruit, fried onions, and blue cheese and drizzled with tart raspberry vinaigrette.
Les Bourgeois
14020 West Hwy. BB, Rocheport, MO
Spectacular views of the Missouri River Valley and locally produced wines make Les Bourgeois Vineyards an ideal spot to slip away for a day trip. Its aptly named Blufftop Bistro includes indoor and outdoor dining areas, where guests can enjoy Les Bourgeois wines along with other local vino, beer, and spirits. The menu is relatively simple, but the ingredients are topnotch and sourced from partner farms. For lighter fare, the vineyard's picturesque A-Frame serves up picnic-friendly sandwiches and simple, yet satisfying, pre-made baskets. And of course you'll want to stop by the tasting room, where tours of the state-of-the-art winemaking facility are offered along with tastings.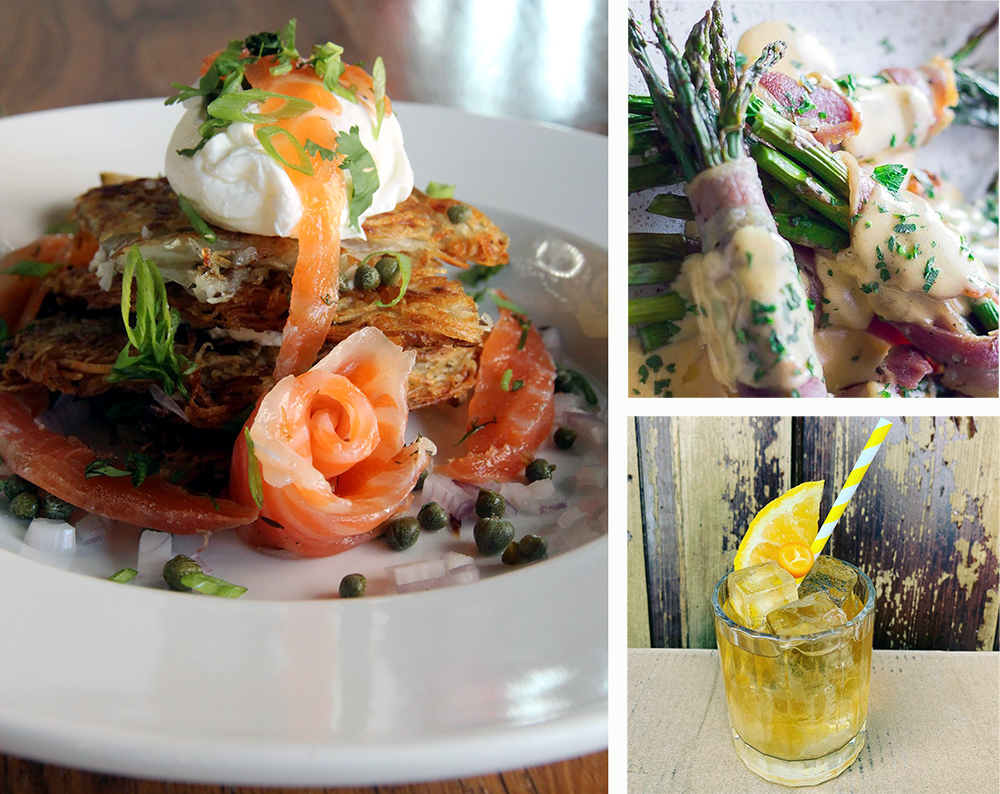 A Few of Our Favorites in Kansas
Ad Astra 
318 Cottonwood St., Strong City, KS,
Nestled in the rolling Flint Hills and taking its name from the Kansas motto, Strong City eatery Ad Astra fittingly celebrates its home state with local beef and bison, both available on burgers like the Prairie Burner, a fiery creation featuring American and Swiss cheese, jalapeños, apple wood-smoked bacon, spicy mayo, and lettuce on a brioche bun. Guests also rave about the restaurant's fresh fried potato chips (try them loaded with blue cheese crumbles, bacon, and house-made ranch) and signature Brussels sprouts, deep fried and tossed with lemon pepper seasoning.
Beethoven's 9th 
2 W. Piankishaw St., Paola, KS
Even out-of-towners feel like family at Beethoven's 9th, a cozy German gem that gives those far off culinary traditions a loving home in the heart of the Midwest. Here you'll find a variety of schnitzels, from the more recognizable Wiener to the Ingrid—topped with sautéed spinach, crab cakes and Hollandaise—as well as beef stroganoff, sirloin bierox, and German sausages. Specialties include the Frikadellen, a northern German-style meatloaf topped with a rich brown gravy and Rouladen, thinly sliced sirloin rolled with bacon, pickle, onion, and mustard topped with cream and baked in natural juices. All are perfect for enjoying alongside a beer from Beethoven's extensive list of German brews.
Brookville Hotel
105 E. Lafayette St., Abilene, KS
The Brookville Hotel does one thing, and it does it incredibly well: family-style chicken dinners. Although the restaurant moved from its original Brookville location to Abilene in 2000, the owners were sure to replicate the look, feel, and flavors. For $16, diners feast on half a chicken per person and an unlimited supply of sides, including sweet-sour coleslaw, creamed corn, baking-powder biscuits, and homestyle ice cream. Brookville Hotel has even been recognized with the America's Classics Award by the James Beard Foundation for its timeless appeal and quality food that reflects the character of its community.
Chicken Annie's
1143 E. 600th Ave., Pittsburg, KS,
It should come as no surprise that chicken is the star of the show at Chicken Annie's. The restaurant traces its roots back to 1934, when Ann Pichler started cooking dinner for local miners out of her kitchen. More than 80 years later, the fried chicken is still prepared the same way, and its profoundly delicious whether you opt for the dark meat dinner or chicken tenders. Annie's specials include a gravy-smothered chicken-fried steak, livers, gizzards, and hearts, but whatever you order, get it with an order of onion rings, home-battered and crispy.
Keller Feed & Wine Company
317 Broadway St., Cottonwood Falls, KS
A lot of restaurants claim to offer a little bit of everything, but Cottonwood Falls' Keller Feed & Wine Company puts its money where your mouth is. There's pulled pork and lasagna, brick-oven pizzas, and shrimp and crawfish boils, all of which the comfortable, casual diner does surprisingly well, adding in even more variety with special tasting menus on Saturday nights. (Keep in mind, the restaurant only serves beer, but guests are encouraged to bring their own wine or liquor for a $5 corkage fee.) Keller Feed & Wine also serves up a satisfying brunch—opt for the French toast stuffed with strawberries and cream cheese, and thank us later.
Lark A Fare
900 New Hampshire St. Suite B, Lawrence, KS
A block off Lawrence's historic Massachusetts Street, Lark A Fare specializes in fresh, local food. From house bacon-topped mac and cheese to the Good Natured Family Farms pork chop, menu items are familiar but executed with style by chef Chetan Michie, an alumnus of Port Fonda's kitchen. The Idaho trout, served with a creamy asparagus and sweet pea spaetzli and pickled leek salad, is a standout. Lark A Fare also boasts an impressive bar program and weekend brunch of hearty favorites and a few surprises, like fried-chicken eggs benedict on a buttermilk biscuit.
Myers Hotel Bar
20 S Main St., Tonganoxie, KS
The historic Myers Hotel in downtown Tonganoxie enjoyed previous lives as a diner, a salon and—depending on who you ask—the inspiration for a Marilyn Monroe movie. But it experienced a renaissance when Kate Frick opened The Myers Hotel Bar in the space. For now, the bar and coffee shop occupies an intimate sliver of the hotel's space, making guests feel like they're enjoying drinks at the home of a friend with a fully stocked bar and serious know-how. The menu is constantly shifting with the seasons and Frick's creativity, whether it be a gin fizz punched up with rhubarb or a mescal Manhattan.