Imagine this: you've just grabbed dinner from Buck Tui BBQ, Kansas City's newest barbecue joint. Your plate is brimming with smoked brisket swimming in a tangy, sweet barbecue sauce. You may be expecting to see a side of cheesy corn or barbecue beans, but not this time. Instead, your brisket is paired with sticky rice and pulled pork over noodles.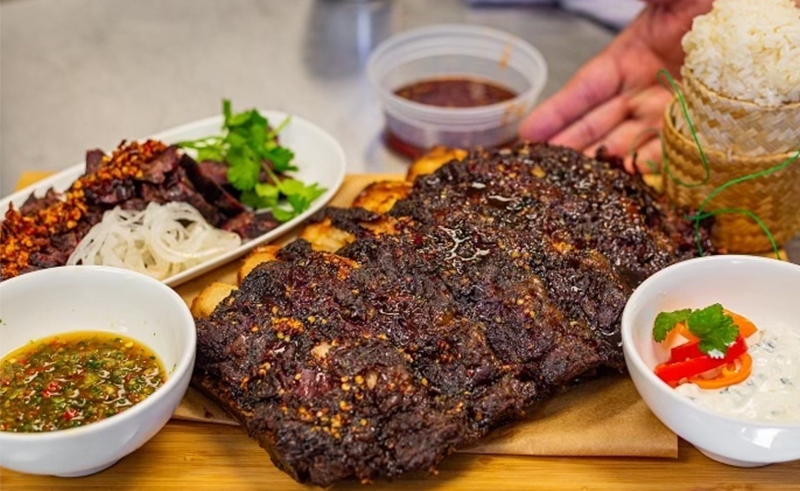 While this may seem like an unusual pairing, the pit master of the new eatery, Ted Liberda, has perfected the art of blending the familiar tastes of KC barbecue with Thai flavors and cooking techniques. 
After serving shoppers at Overland Park's Farmers Market last summer, Liberda is moving his operation to a storefront at the former Plowboy's Barbecue location at 6737 W. 75th Street in Overland Park.
The full-service restaurant is expected to open later this spring, but don't worry—you'll be able to try out the new spot before then.
Starting February 10, Buck Tui BBQ is offering a limited menu for carryout and curbside while construction of the full restaurant wraps up.
"We're presenting a real barbecue restaurant that rings true to the traditional Kansas City style of cooking over an open flame and rotisserie pit," says Liberda. "It has all the flavors and textures you'd expect, but with the additional flavors and balance that Thai cuisine is known for. We're paying attention to detail and sourcing local ingredients."
On the carryout menu, you'll find appetizers and soups like brisket egg rolls, Tiger Cry wings, and Buck Tui Chili; sandwiches like The X Man made with brisket, pulled pork, Thai sausage, barbecue sauce, papaya slaw, and creamy Tiger Cry sauce on a Farm to Market Bread Co. bun; and Thai BBQ Platters you can curate with a choice of brisket, chicken, pulled pork, Thai sausage, ribs, and more.
The carryout menu highlights Buck Tui's most popular dishes but after the grand opening, the restaurant will offer an expanded menu with dishes familiar and new.