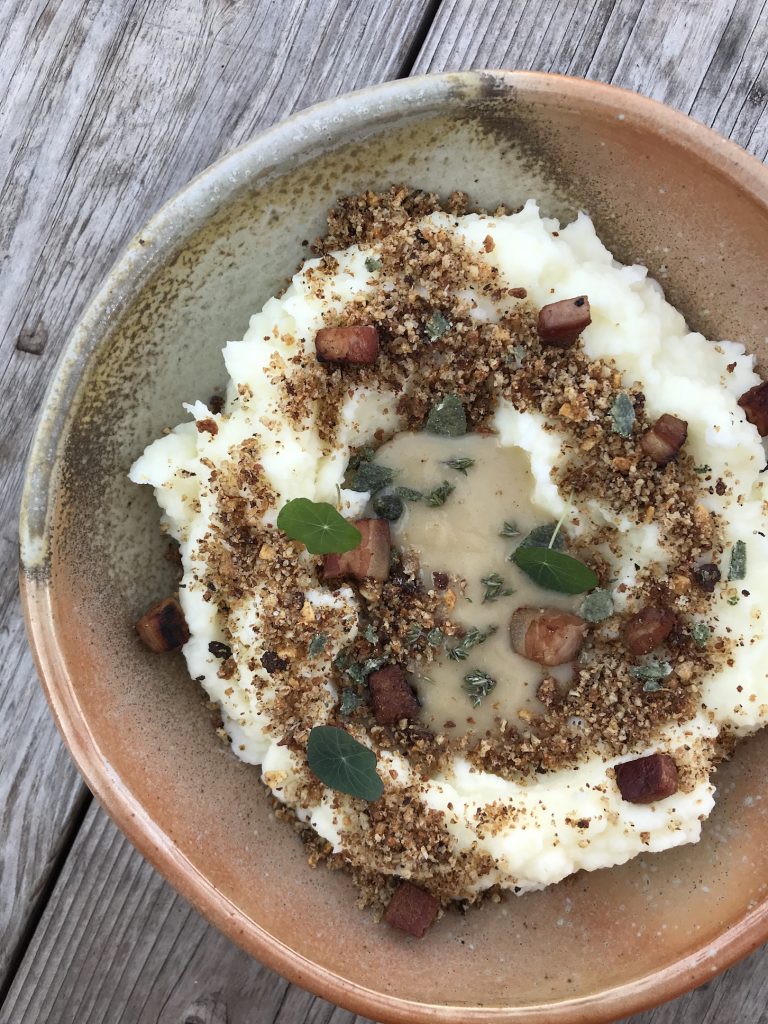 Thanksgiving is a time to reflect on our bountiful prosperity—uh, and carbo-load, of course. If you haven't tried Vaughn Good's horseradish mashed potatoes and gravy with breadcrumbs and bacon, well, you're not living your best life. Somehow, we cajoled Good—Fox and Pearl's owner and executive chef—to share one of his fave Turkey Day recipes.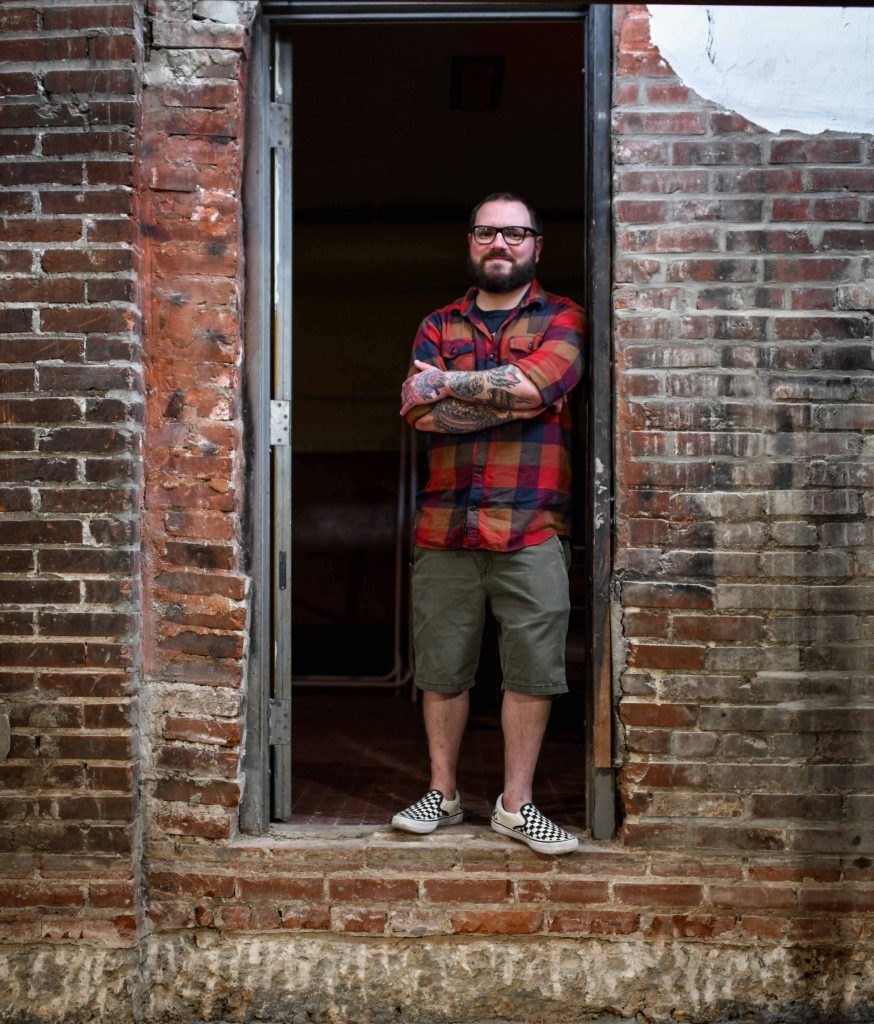 He grew up with soulful Southern and Midwestern cooking—so he obviously knows what's up. If Good's name doesn't immediately ring a bell, he started Hank Charcuterie in 2014 in Lawrence as a butchery and charcuterie, but it quickly evolved into a restaurant concept. Fox and Pearl is his rebranding concept as a full-service restaurant here in the metro.
Chef Vaughn Good's Horseradish Mashed Potatoes and Gravy with Breadcrumbs and Bacon
Makes 6‐8 servings
Mashed Potatoes
3‐4 medium/large russet potatoes, peeled and cut into 1‐inch chunks
1 cup heavy whipping cream
10 tablespoons butter
3 tablespoon prepared horseradish
Salt and pepper to taste
Cover potatoes with cold water. Bring to boil and cook until potatoes are tender, about 10‐15 minutes; drain.
In separate saucepan, heat cream and butter.
Process the potatoes through a food mill, or whip with paddle in stand mixer until fluffy.
Stir in the warm cream and butter, horseradish and salt and pepper to taste.
Gravy
1-quart high‐quality stock
3‐4 sprigs fresh thyme
1 sprig fresh rosemary
1 bay leaf
2 cloves crushed garlic
2/3 cup all‐purpose flour
6 tablespoons butter
Salt and pepper to taste
In saucepan, warm stock, herbs, and crushed garlic cloves. Bring to a low simmer for about 10 minutes to let the herbs infuse the stock.
In separate saucepan, melt butter over medium‐high heat. Add flour and cook the roux for 2‐3 minutes, stirring constantly.
Add warm stock to roux and whisk until roux is incorporated and continue cooking on medium‐low heat.
Once thickened, about 5‐10 minutes, drain the gravy through a fine strainer to remove the herbs and any clumps.
Season to taste with salt and pepper.
Breadcrumbs and Bacon
1-pound high‐quality bacon, cut into cubes
1 cup fine breadcrumbs
Olive oil
1/2 teaspoon crushed coriander
1/2 teaspoon fresh thyme, chopped
1/2 teaspoon fresh rosemary, chopped
Salt and pepper to taste
Preheat oven to 350 degrees.
Cook the bacon in a skillet over medium‐high heat until all the fat is rendered. Drain and save fat for another use. Set bacon aside to cool; crumble.
Spread breadcrumbs on a sheet pan and lightly coat with drizzled olive oil.
Toast breadcrumbs for until golden brown, about 10‐15 minutes.
In a mixing bowl, toss the breadcrumbs with the herbs until well combined.
Make a well in the mashed potatoes and fill with gravy. Garnish with breadcrumbs and crumbled bacon.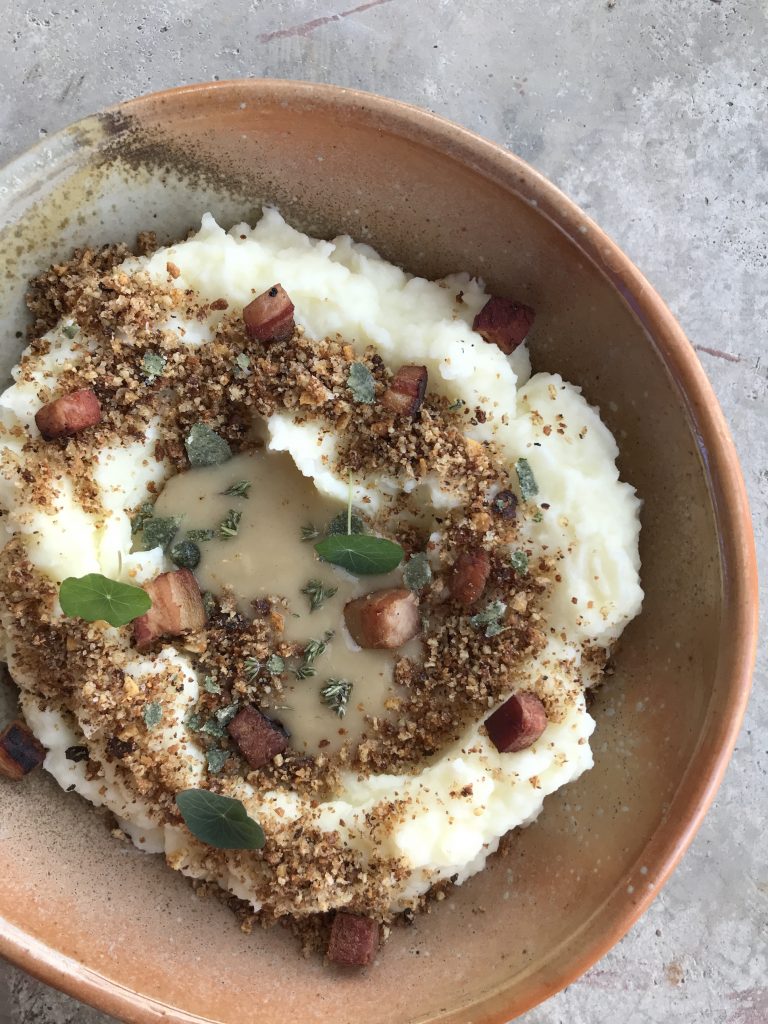 Chef note: I use Ibis Bakery's country loaf for the breadcrumbs and high‐quality bacon from a local butcher. For the gravy, any type of stock works, including duck, chicken, or pork, but I generally use homemade pork stock.