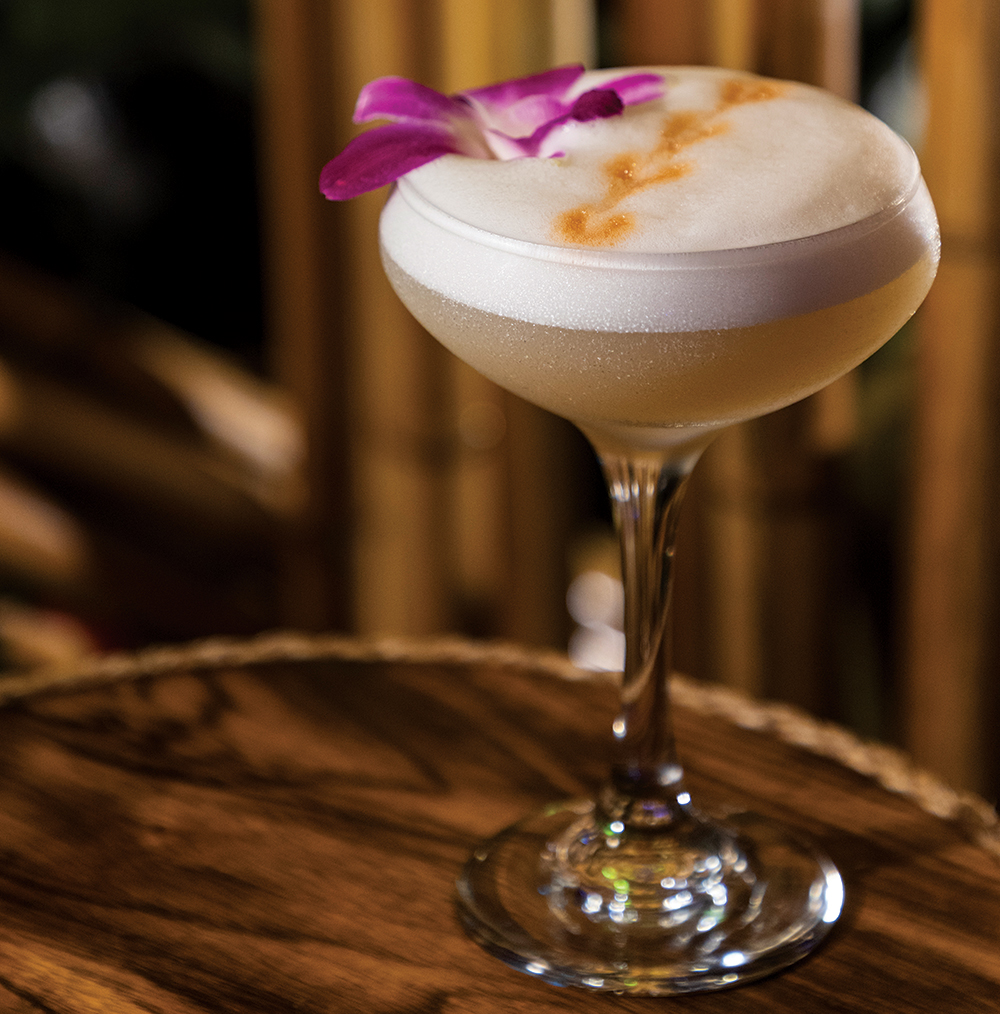 Kansas City is a world away from the Polynesian islands—or is it? A basement bar in Westport channels the isles' tropical vibes in a riot of color, culture, and cocktails. TikiCat (401 Westport Road) might not get you any closer geographically to beaches and sunshine, but time spent there does feel like stealing away for an hours-long getaway.
Everywhere you look, there's a piece of tropical décor, from tiki idols to bamboo shoots to vintage and vintage-inspired art. There's no holding back—more is more, and stepping into TikiCat proves such a departure from the typical bar scene it's initially almost jarring. Although it would be easy for the aesthetic to tip from kitschy worship to something more sneering, the bar oozes sincerity, not sarcasm, inspiring guests to get in on the fun too. Put on your best Hawaiian shirt or sundress (recommended. but not required), make a reservation and plan to incorporate some carbs into your evening, because the drinks pack as much of a punch as the interior.
TikiCat's menu was overseen by James Beard Award-winning mixologist Martin Cate and features traditional tiki drinks as well as riffs and house originals. Start with a classic, like the iconic Mai Tai, presented here as it was intended by the drinks creator, Trader Vic—with rare rums, fresh lime, orange liqueur, and a hint of almond. For a crowd, tiki punch The Luau serves two to four, depending on how enthusiastically your crew attacks the collection of rums, gin, and brandy with fresh citrus juice, demerara and orgeat syrups.
The riffs play off the same flavor profile but shake things up with whiskey or gin in addition to the more expected rum, and the house flavors take it a step further with drinks like the Grog Right Meow, a blend of dark and overproof rums, cold-coffee reduction, coffee grog batter (yes, it sounds weird, but go with it), heavy whipping cream, and demerara and vanilla syrups.
Drink up and get spirited away—at least for a little while.
"Serving this drink in a coupe glass showcases the layers between the cocktail and the egg foam beautifully."

—Mandi "Maiven" Murray
Maiven KaTikii's "Cautionary Tale"
The Cautionary Tale is an original creation from manager Mandi "Maiven" Murray. Inspired by her favorite tiki drink, Planter's Punch, Murray dreamt up a drink that had spice, along with an egg foam inspired by a creation she had years ago at The Pressed Penny Tavern.
"I originally was wanting this to be a bourbon-based drink due to the number of bourbon drinkers in our area, but I got selfish and was on a gin kick, so I decided to go with Bombay Sapphire at the last moment, and I am so glad I did," Murray says. "Serving this drink in a coupe glass showcases the layers between the cocktail and the egg foam beautifully."
Just like in any other cautionary tale, there's a little danger lurking just beneath the surface—so sip with caution.
Egg foam:
¾ ounce egg white
¾ounce cinnamon syrup
¾ounce Giffard Ginger of the Indies Liqueur
Dry blend with a single-spindle drink mixer for 15 seconds. Dry shake in a shaker tin until your arms fall off.
In same tin as egg foam add:
¼ ounce cinnamon syrup
¼ ounce fresh lime juice
¼ ounce fresh lemon juice
¼ ounce allspice dram
½ ounce Pierre Ferrand Dry Curacao
1½ ounces Bombay Sapphire
Add ice and shake it till you break it—or it becomes cold and frothy. Double strain into a chilled coupe glass and garnish with an edible orchid and a trail of bitters down the center of the foam.