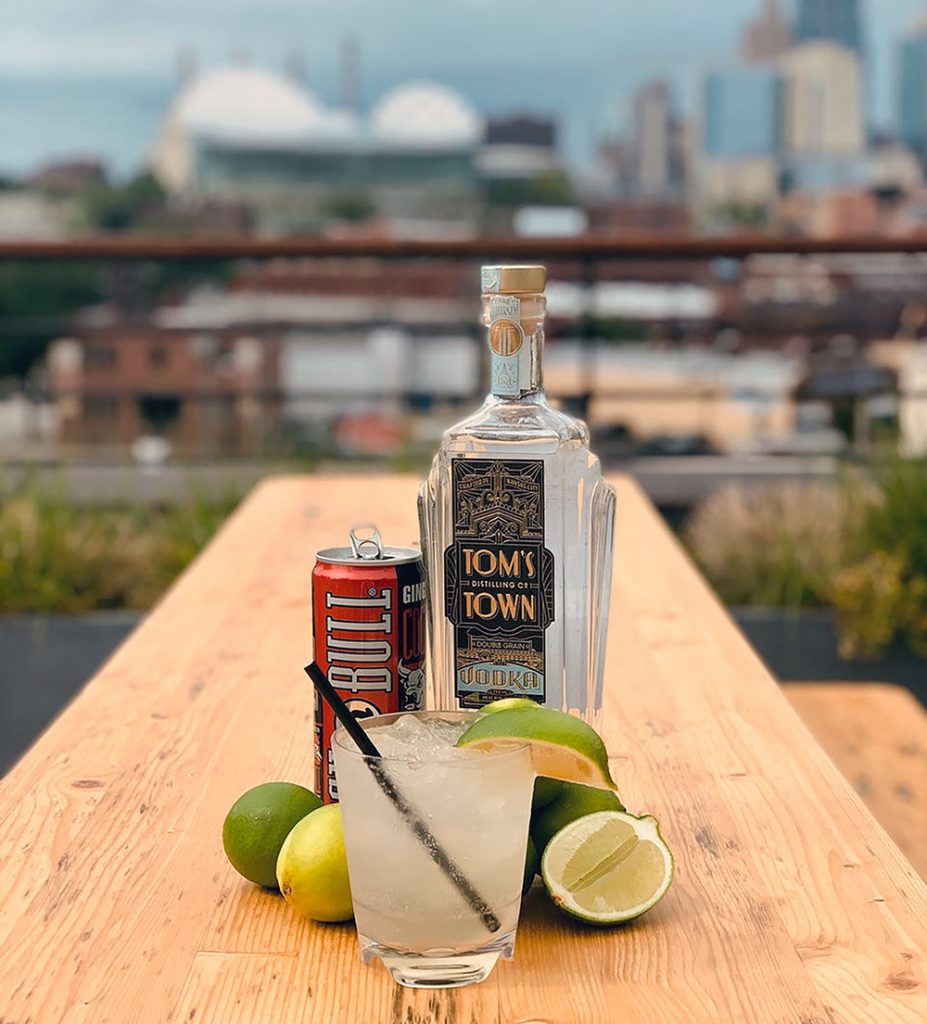 The recipe for a summer night out has less to do with the drink in your hand than it does where you're drinking: Make it somewhere outside, far enough off the ground that you can feel the tickle of a cool breeze as you look out at the city's skyline. 
The Percheron checks all those boxes and many more. Perched on the rooftop of the ultra-hip Crossroads Hotel, the bar pairs its glamorous location overlooking landmarks like the Western Auto sign and Liberty Memorial with a pleasantly relaxed atmosphere. Guests gather around beer garden-style picnic tables in between rounds of lawn games like bocce—just don't think too much about the implications of throwing a ball around while you're on top of a four-story building, and you'll be fine. (A nearby sign wisely commands players to keep rolls below the waist and on the court.)
Although it's only been open since the spring of last year, Percheron has already earned recognition from Condé Nast Traveler and Maxim, not to mention scores of Kansas City revelers looking to enjoy a night up and out. It's not uncommon for the bar, which opens Thursday, Friday and Saturday at 4 p.m. and closes at a tame 11 p.m. (10 on Thursdays) to have a wait on weekends or particularly nice summer evenings. Percheron is appealing anytime, but it really comes alive at night, with strings of lights illuminating the crowd admiring the 360-degree view. 
For now, food isn't available at the bar, but guests aren't left high (atmospherically speaking) and hungry, thanks to a collaboration with neighboring Lulu's Thai Noodle Shop. The restaurant offers mobile ordering and delivery straight to rooftop—because the only thing better than Thai food at the end of a night of imbibing is Thai food while you're enjoying all those drinks. 
It's only fitting that the hotel has a topnotch bar—after all, the space has a long history with booze. The building was originally constructed as the Pabst Brewing Depot in 1911, when teams of percheron horses traipsed along the streets hauling wagons filled with beer. During Prohibition, the real estate was snatched up by Tom Pendergast, who reportedly used the premises to bootleg liquor. 
The property's history may be long and complex, but the menu at today's Percheron is comparatively short and sweet. A few beers make the list, one that of course includes Pabst Blue Ribbon, along with an approachable selection of wines and spirits.
The cocktails are well-suited to be enjoyed alfresco, particularly frozen offerings like the strawberry daiquiri. Percheron reopened in June following COVID-19 precautions with a menu of classic cocktails, but keep an eye out for creative, seasonally inspired drinks. In the meantime, you can never go wrong with a summer favorite: The Moscow Mule.
The classic cocktail is refreshing and balanced, says Jeremy Bennett, director of lifestyle for Crossroads Hotel. "It delivers all of the citrus and ginger bubbles your heart desires," he says, adding, "It's impossible to drink just one." And naturally, the bar uses vodka from Tom's Town Distilling Co., the Crossroads spirit-making outfit named for Pendergast.
---
Classic Moscow Mule
2 ounces Tom's Town Double Grain Vodka

 

.5 ounce fresh lime juice

 

.5 ounces Giffard Apricot
4-6 ounces Cock & Bull Ginger Beer

 
Combine the ingredients and shake. Serve over ice garnished with a lime wedge.