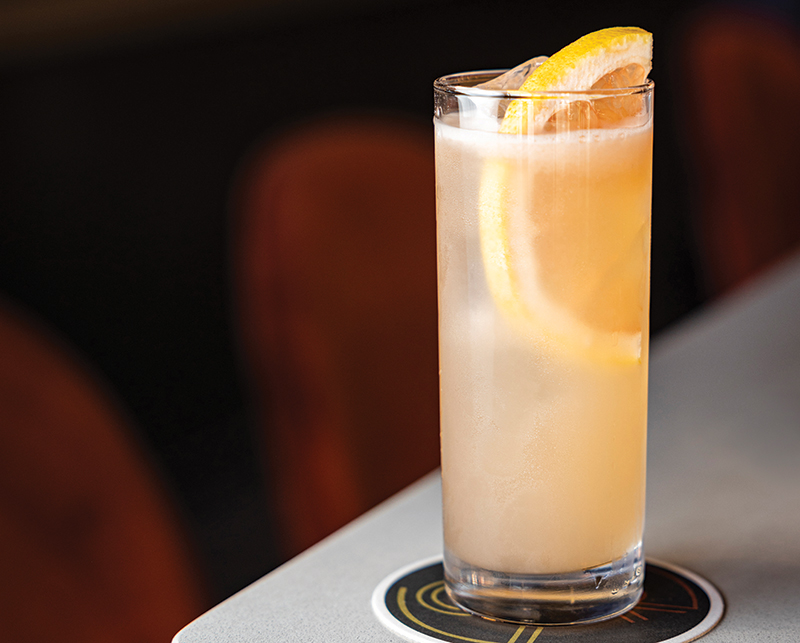 In the early 20th century, Kansas City was home to two rival political factions: the Goats, controlled by Tom Pendergast, and the Rabbits, led by Joe Shannon. Despite their tumultuous history, the two sides came to an agreement for mutual political gain in 1925. It's that spirit of coming together Goat & Rabbit toasts to on West 39th Street.
The bar, which opened in late 2020, is the second concept from Jugal and Atit Patel, who also own Dodson's Bar & Commons in Waldo. Though many would be tempted to open up another location of a successful establishment, the Patels instead decided to create a new bar that felt fitting for its distinct neighborhood while sharing some of Dodson's DNA.
Their recipe? A strong cocktail program alongside solid beer and wine offerings to ensure Goat & Rabbit provides something for those on both side of the state line, cocktail connoisseurs and Bud Light drinkers alike, and an environment where who you're drinking with far outweighs what you're drinking.
"We want everyone to feel comfortable—if you're on the Kansas side, the Missouri side; if you're a KU fan, a Mizzou fan, a K-State fan, whatever you are, come one, come all," Atit explains.
To that end, the menu is eclectic, with a draft list that celebrates local and regional breweries, including Brewery Emperial, Torn Label, and Cinder Block. Goat & Rabbit also offers up a selection of beers served with a shot (and not just your standard whiskey), known as pop-ins, as well as a handful of red and white wines by the glass.
Although Goat & Rabbit plans to expand its beer and wine programs in the future, cocktails are certainly set up to be the focal point. The cocktail list is designed to be fun but still approachable, Atit says. Drinks like the Amaro daquiri, made with white rum, Montenegro, and falernum, and the Black Manhattan, which boasts Averna and walnut liqueur, showcase both elements.
Atit says Goat & Rabbit also plans to start serving coffee sometime in the future, a frequent request from passers-by thanks to the bar's former life as Nomads Coffee. The interior has retained its Midtown-cool aesthetic from its Nomads days, with a slightly more sophisticated edge, along with other design refreshes. The spirit of the spectacular windows on the front of the building has been preserved but they've been made more functional as garage doors, and an intimate patio has been built in the back, strung with lights and complete with a glass-enclosed indoor-outdoor space. As the temperatures in KC warm up, it's an ideal space to enjoy Goat & Rabbit's Mezcal Paloma.
Palomas were a best-seller at Dodson's, so the Patels and company decided to create a slightly more grown-up version of the cocktail. "I'm a big fan of that smokiness that comes through," Patel says. "I love a paloma, but sometimes you just want a little heft and weight to it." Fidencio Mezcal provides that without imparting an overwhelming amount of smoky flavor, and lime and grapefruit juice help make it light and refreshing for spring and summer sipping.
---
Mezcal Paloma
Combine the following ingredients and store in freezer:
.25 ounce agave
.5 ounce lime juice
.5 ounce Mommenpop Pamplemousse Vermouth
1.5 ounces Fidencio Mezcal
1.5 ounces grapefruit juice
1 ounce soda water
Add all ingredients to tin, shake, and use a Hawthorne strainer to pour into an ice-filled Collins glass. Garnish with a grapefruit wheel.