As a professional chef, I am always on the lookout for ideas for new dishes. For me, travel—be it a two-day road trip or grand tour of another country—is sure to fire the imagination. A recent but brief excursion to Emilia-Romagna (home of balsamic vinegar, Parmigiano-Reggiano cheese and prosciutto di Parma), provided just the inspiration I needed—fruit-infused white balsamic vinegar, perfect for cocktails, savory accompaniments, and best of all, dessert. 
Over the past five decades, balsamic vinegar has gone from basically unknown status (outside of its home in Emiglia-Romagna in Italy) to an almost ubiquitous presence available at every American grocery store (though most versions are of questionable to poor quality). The process for making true balsamic vinegar is complex, tightly regulated, and time consuming. The resulting product is black and viscous, with an astoundingly complex depth of flavor—and a staggering price tag. White balsamic vinegar is a relative newcomer to the sweet-and-sour scene. It is made by boiling and reducing trebbiano grape juice (one of the key grapes for making traditional balsamic) and combining it with wine vinegar. It is pale yellow in color (almost clear), extremely floral and fruity (almost cloyingly so if abused), inexpensive, and bracingly acidic. My visit to the Giuseppe Giusti balsamic production facility where they have been producing their famous black liquid gold for over 400 years showed me that even when steeped in tradition, there is always room for innovation. They have been experimenting with infusing various balsamic vinegars with fruit to great success. Since they are not yet available in our area, I decided I would make my own version, which I share with you here. I am also including a recipe for a basic panna cotta, the "cooked cream" eggless custard that is a wonderful conclusion to a meal, as well as an excellent vehicle for fruits, preserves, and sauces of all kinds (see In the Pantry for preserved inspiration). Both recipes can stand alone, and should provide inspiration for myriad variations. 
Panna Cotta with Raspberry-Infused White Balsamic Syrup
Panna cotta is a wonderful dessert for entertaining at home. It can (and should) be made at least the day before you wish to serve it (and can be made up to four days before serving without suffering in freshness) which helps reduce stress the day of entertaining. The following proportions make six responsible servings. 
Begin by mixing 3 teaspoons of powdered gelatin (about a packet and a half if you buy it that way) into ¼ cup cool water, mashing with the back of a spoon to eliminate any lumps if they form. Allow it to sit for about 10 minutes while you proceed with the other ingredients. Next, gently heat 3 cups half-and-half (you don't want it to boil) with ⅓ cup sugar, ¼ of a vanilla bean (seeds scraped out of the bean into the liquid to facilitate infusing), a pinch of salt, and a few strips of lemon peel/zest. (Note: the flavorings can be varied in countless ways—herbs or other spices perhaps, orange instead of lemon, coffee beans, a few drops of almond extract instead of vanilla, you get the idea.) The mixture should infuse for about 30 minutes, so you need to reduce the heat to your lowest setting or turn it off completely if your stove is lacking in subtlety. Meanwhile, I like to serve panna cotta molded in individual ramekins, but tea or coffee cups could work just as well. Whatever your vessels, lightly brush them with a neutral flavored vegetable oil (almond oil is brilliant for this) to facilitate unmolding. 
If oiling the molds only took you about 2 minutes, you might want to skip ahead to infusing the vinegar to save time. If you move with the speed of a sloth or fell into the Instagram time trap, then proceed. Taste the milk mixture (which should still be warm—if not, apply a little heat), and if the flavors have developed to your liking, stir in the bloomed gelatin, stirring to dissolve the gelatin completely. Strain mixture into a large spouted measuring cup to remove the vanilla bean pod, zest, and any undissolved bits of gelatin, and to help with pouring. Pour the mixture into the ramekins or cups and place them in the fridge for at least 5 hours, preferable overnight. 
Now for the infused vinegar, I specified white balsamic here. If it is difficult to find or you have absolutely no desire to leave the house, apple cider vinegar or white wine vinegar could be used, although the outcome will be slightly different—but still delicious. For a full-flavored reduction with the fruity characteristics of the trebbiano grape, bring 4 cups of white balsamic vinegar to a boil and reduce it to about one-and-a-half cups (you might want to do this with open windows). Add ⅓ cup sugar and a big handful of raspberries to the vinegar, stir, smash, and continue reducing until the volume is just a little more than a cup. (Note: if you are thrifty, like a chef in a restaurant, you might just save all of your raspberry scraps—like the seeds and skins strained out of making a raspberry sorbet or puree—in the freezer for just such an occasion and use those to infuse vinegar, so nothing goes to waste. Berries are expensive.) Remove the reduction from the stove and immediately strain the liquid, pressing on the berry mash to get every last bit of the syrup. Allow the syrup to cool. It will store indefinitely in the fridge and can be used for adding a secret dash of flavor to cocktails or other desserts. Other berries or fruits could be substituted at your discretion. 
To serve the panna cotta, run a knife around the edge of the mold, place a plate upside down on top of the panna cotta and invert, giving a good shake so that you hear/feel the panna cotta release. Proceed with each of the custards. Drizzle a few teaspoons of the syrup over each, and garnish with a few fresh berries (alternately, allow the fresh berries to macerate in the syrup for a few hours before serving to further intensify the flavors). 
---
In Your Pantry: Unusual Preserves
A traditional grand Turkish breakfast can be astonishing for the uninitiated. Composed of numerous freshly prepared breads, egg dishes, cured meats, cheeses, sweet and savory spreads, the entire table, crowded from edge to edge, can contain 20 or more different elements. One of those elements is a large selection of sweet preserves, beautiful to behold and stunning in variety. Look for the following (and many others!) at Shahrazad International Market at 127th and Metcalf or other stores specializing in Middle Eastern goods.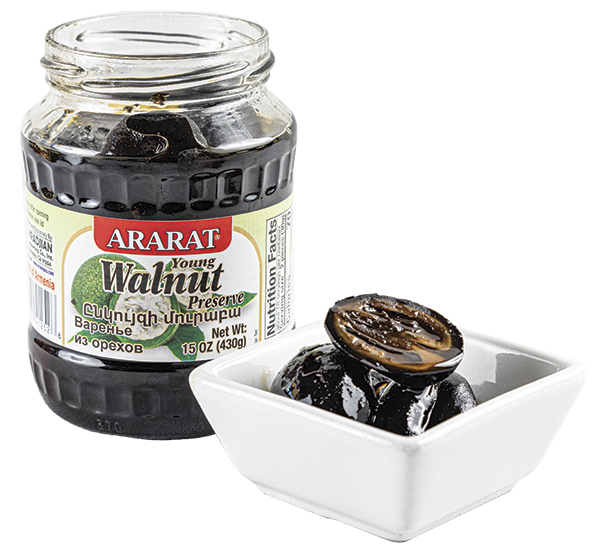 Young Walnut
Although slightly intimidating upon first viewing, this deep green, almost black preserve consists of immature whole walnuts (still in their edible shell!) suspended in syrup. The walnuts are frequently served cut in half as part of a dessert tray with other little bites. Their syrup has a rich maple-and-date flavor that would be delicious drizzled on pancakes, waffles, or ice cream. Young walnuts would also be a wonderful foil for pungent cheeses or roast game. Likewise, the syrup makes an excellent glaze for meats, or swirled into butter, yogurt, or mascarpone for a decadent slice of toast (or pound cake). The notes of caramel and vanilla play well with many foods, and would make a welcome decoration for pumpkin pie, or even as a sweet and nutty garnish to a whiskey-based cocktail like a manhattan.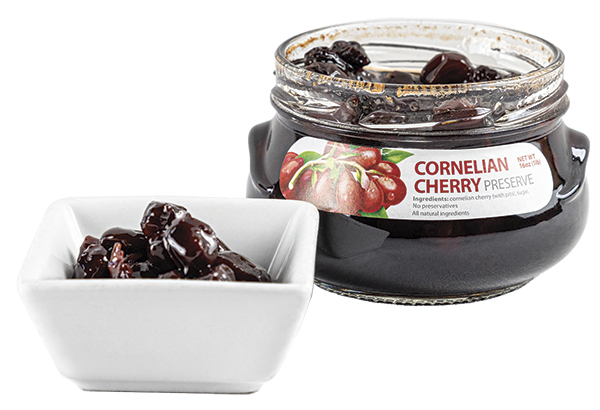 Cornelian Cherry
This deep red preserve has an intense red-fruit flavor similar to that of a tart cherry or cranberry. It is extremely high in anthocyanins and has many reported health benefits. Because the fruit has a large pit that contributes to the flavor of the jam, it is normally retained when preserved. In more delicate times, the jam was served with a small silver spoon for gingerly removing the pit from the mouth. Try serving alongside cheesecake in the company of family and friends, perhaps out of doors to facilitate spitting out the pits. The Cornelian cherry is not a true cherry, but is actually a variety of dogwood with beautiful flowers in springtime that grows well in our area.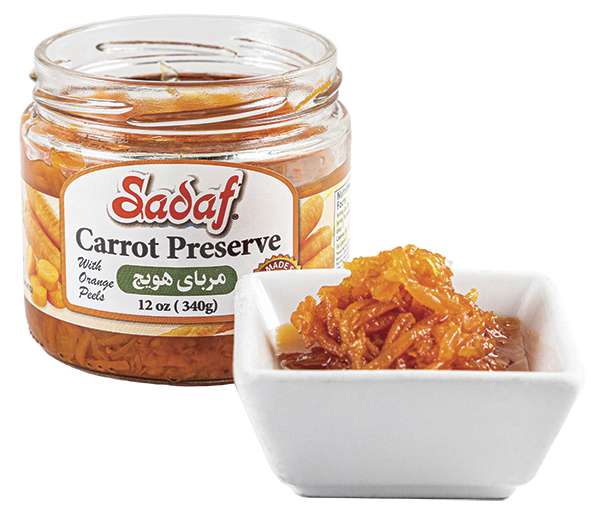 Carrot
Imagine the sweetest carrot, shredded, suspended in syrup with hints of orange, rose water, and cardamom—it is exotic and familiar all at once. Try it spooned onto breakfast pastries or accompanying a cheese platter. Gilding the lily on carrot cake? Spread on buttered toast, these carrot preserves would be welcomed by every bunny at an Easter brunch.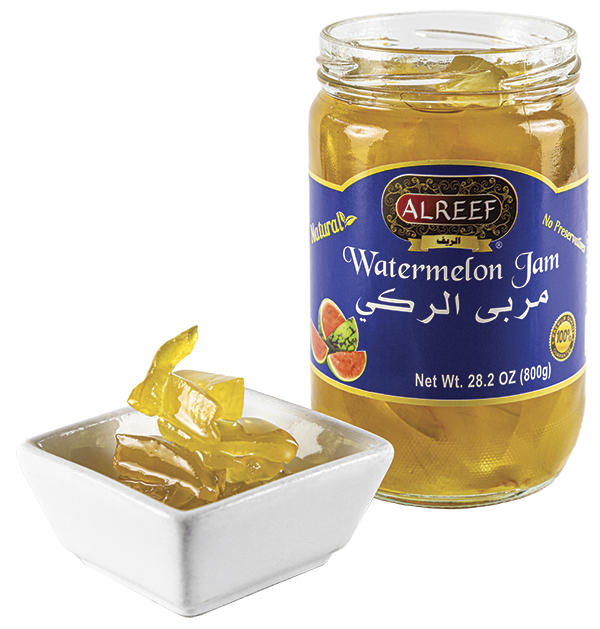 Watermelon
This jewel-like preserve is not made with the red flesh of a watermelon, but rather the rind, very similar to traditional Southern pickled-watermelon rind, but without all of the pickling spices and acid. It has a clean, cool flavor with a hint of cucumber, the texture being pleasantly resilient to the tooth. In addition to its role at breakfast stirred into labneh or yogurt, these translucent chunks would be welcome alongside many cheeses or even ice cream.