I love the sea, and I love seafood. Given our geographic location—just about as far from any ocean as you can get—there are some obstacles to delicious, fresh and highly perishable aquatic fare. For the home cook in the midwest, unless you're willing to spend a small (or not-so-small) fortune, truly fresh seafood is often out of reach. Working in a restaurant, I have the luxury of buying from commercial seafood purveyors—but even then, freshness can be elusive. Frozen fish, however—an option that many fail to consider—does lend itself to cooking in saor, one of my favorite Venetian cooking techniques applicable to many types of fish.
Originally used by fishermen and frugal coastal cooks to preserve the day's catch, seafood prepared in saor (meaning flavor or savor) is simply fried then marinated in a lightly sweet-and-sour preparation (aka agrodolce or escabeche). Coastal cuisines around the globe have similar methods of preparation/preservation for seafood, with variations in degrees of sweet and sour as well as seasonings. For saor, the marinade is usually cooked onions, vinegar, sugar, and seasonings. It is an especially perfect way to make use of leftover fried fish. Although the most traditional fish used is the sardine, other fish, such as monkfish, cod, flounder, tilapia, trout, and swordfish work well in this preparation. It could even work with catfish. 
Regardless the variety of fish (possibly frozen!) or your locale (probably a long way from the sea), I hope you'll employ this technique the next time you crave a taste of the seaside. 
Swordfish in Saor
Begin by preparing the marinade. In a bowl, combine equal parts apple cider (or other) vinegar and water (let's say ½ cup of each for enough to eventually marinate 4 pieces of fish). Add 1 cup of raisins (any type—even dried cranberries would be nice) and one thinly sliced shallot. Allow this mixture to macerate while you prepare the rest of the ingredients. 
Traditionally this dish is made with only onions and raisins, but I like the addition of a few more vegetables for color, flavor, and variety—because who doesn't need a few more vegetables in their diet. They should be vegetables that stand up well to quick pickling, like carrots, peppers, and celery. Halve and thinly slice 1 onion (any color), slice 2 cloves of garlic, and cut any other vegetables you are using—let's say 1 carrot, 1 stalk celery, and 3-4 baby bell peppers—into large matchsticks. 
Generously season a few swordfish (or other type of fish) filets with salt and pepper, then lightly dredge them in flour. If using frozen seafood, I tend to skip the thawing of the fish in this manner of preparation, and proceed exactly as if the fish is fresh–it will thaw and cook completely without the thawing step. Heat a large nonstick skillet, pour in a few tablespoons extra-virgin olive oil, and add the fish filets in a single layer. When the fish is lightly browned on the first side, approximately 8 minutes, turn the fish and cook on the other side. When the second side is beautifully colored and the fish is fully cooked (this may take a few more minutes if using frozen fish or extremely thick pieces), remove it to a plate, discard any oil left in the skillet, and wipe the skillet clean with a paper towel. 
Return the pan to the heat, add a generous splash of oil and begin cooking the sliced onion and garlic. Cook for about 5 minutes, stirring occasionally to prevent browning, then add the prepared celery, carrot, and peppers. Lightly season with salt and continue cooking and stirring for a few minutes more. Next, pour in about 1 cup of whatever white wine you're drinking. Vigorously cook the mixture until the wine is almost completely evaporated, then add the raisin/vinegar/water mixture to the skillet. Reduce the liquid for a few minutes, then toss in a few sprigs of fresh rosemary, 2-3 bay leaves (I prefer fresh bay leaves, but dried will work in a pinch), a few whole peppercorns, and about 2 tablespoons of honey (or sugar). If you have them, a few toasted pine nuts (or walnuts) would also be a nice addition and could be added at this time. Cook a few minutes longer, stirring to prevent scorching. There should be a small amount of syrupy liquid at the bottom of the pan. Turn off the heat. In a dish small enough to snugly contain the fish and marinade, begin by putting a thin layer of the vegetable and herb mixture in the bottom of the dish, then top that with a layer of fish, then another layer of vegetables, then fish, finishing with vegetables on top. Pour any liquid remaining in the skillet over the marinating fish and cover the dish with a lid, plastic, or foil. Allow the fish to sit at room temperature for a few hours to work its magic–remember, it's lightly pickled, so there is no danger of pathogens flourishing. If you are preparing the fish for a meal the following day (or several days later), place the covered dish in the refrigerator to rest and marinate. Its flavor will only improve. 
A few notes on preparing and serving: The next time you fry fish, make more than you will need. Then, just make the marinade above and layer it with the excess fried fish for a simple and delicious round of leftovers that are probably better than the original. This dish is best served at warm room temperature, definitely not cold, where the flavors would be muted and the texture of the fish "tight." It doesn't benefit from being served hot, but it definitely shouldn't be cold. Seafood in saor is delicious served with polenta or fried potatoes, but can make an excellent appetizer or light lunch when shredded and tossed with the vegetables and served atop toasted bread. If you have an excess of the marinated vegetables, I love them combined on grilled bread with crumbles of goat cheese and a drizzle of olive oil.
---
In Your Pantry
Preserved Seafood
Although highly perishable, fish accounts for around 15 percent of the protein consumed by humans. The challenge of preserving the catch has evolved a number of delicious and distinctive methods for us to enjoy. We've all seen the little cans of versatile, umami-rich anchovies in the grocery store, but if you look closely, you might notice some varieties of seafood that you previously overlooked. There is a definite relationship between price and quality—if you think you don't like canned seafood, you probably need to spend a little more. Good quality preserved seafood should be delicious straight out of the can or jar without any other modifications necessary. Watch for some of these on your next grocery shopping adventure.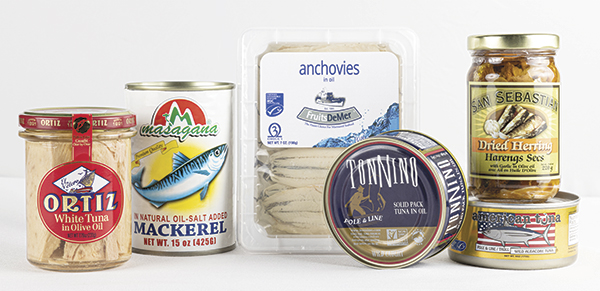 In Oil: Some of the most delicious, healthful, and highest quality canned fish is preserved in oil. Although many consumers opt for fish packed in water or brine for caloric reasons, tuna, sardines, and mackerel are at their most luxurious when packed in oil. The type of oil can have a substantial impact on flavor, so look for fish packed in olive or extra-virgin olive oil. And keep in mind that the flavorful oil can be used as well—cooking the onions or garlic for a seafood pasta sauce, for example. And watch for point of origin. Canned seafood from the western Mediterranean, especially from Spain (where preserved fish has a cult status) and Italy, is some of the best stuff out there. Note: peppers and beans have a natural affinity for canned seafood, and make for quick, delicious, and filling pantry salads.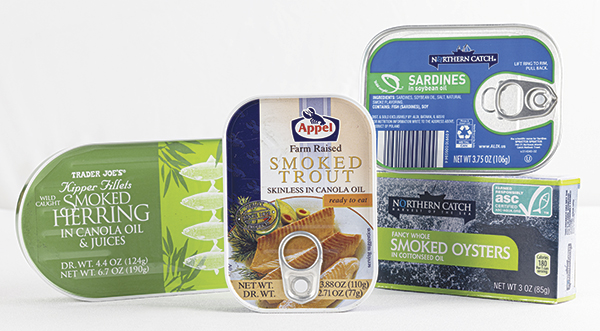 Smoked: One of the oldest methods of preserving food, smoking adds a satisfying layer of complexity to fish like trout, herring, and eel. While delicious simply flaked and tossed in a salad, smoked seafood also blends brilliantly with cream for delicious dressings and sauces. And don't forget the oyster—these little flavor bombs are great for topping canapes or smashing into spreads for your next impromptu cocktail party or picnic.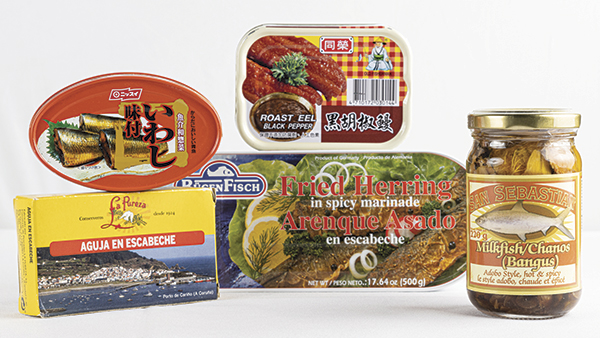 In Escabeche: Also known as lightly pickled, seafood in escabeche/scapece/savoro/scabetche has a tangy sweet-and-sour quality that lends itself beautifully to appetizers. Thought to have originated in Persia, the escabeche technique was spread throughout much of the world during Spanish imperialism. The seasonings vary from place to place, taking on a wide range of flavors, from mild to highly spiced. In the Philippines, a related sweet-and-sour technique is referred to as adobo.