At the height of summer, unless there has been an extraordinary dry spell, my garden tends to become overrun with peppers of all shapes and sizes. This is a good problem. In the pursuit of a zero food-waste policy at home, I have explored countless uses of peppers from cultures around the globe. One universal theme that reasserts itself again and again is the use of the pepper as a container. Sweet or hot, large or small, all but the most excruciatingly spicy peppers can find some use as a vessel for stuffing. 
In addition to avoiding wasting an excess of peppers, using leftovers to stuff them can give last night's dinner odds and ends new life and avoid wasting that as well. The important thing is to try to match the stuffing to the type of pepper and method of cooking. I like to use larger peppers simply because you don't have to stuff as many of them to make a meal, but even tiny peppers like jalapeños (think jalapeño poppers), and the currently popular mini sweet bell peppers are great for making delicious little flavor bombs. The filling can be as simple as leftover starch, such as potatoes, rice, or stale bread, mixed together with diced vegetables and/or proteins, maybe an egg, and seasoning. If you don't have any leftovers to salvage, try this summertime favorite from my kitchen featuring shrimp and potatoes, and stuff away!
Shrimp and Potato Stuffed Peppers
This recipe originated from a "what's in the freezer and garden" situation that grew into a quick and satisfying theme for endless variations. I frequently use raw frozen shrimp in seafood recipes I share because here in the Midwest we are a long way from the ocean, and I find that the quality of seafood in most outlets is less than ideal. When it is ideal, it can be staggeringly expensive. Once you find a brand you like, frozen shrimp are a reliable seafood for our part of the world. 
I most often cook for two at home (or 200 at work), and this recipe adapts easily to any size group. Since we are using seafood, which cooks relatively quickly, begin by cooking the other ingredients in the filling because otherwise they will not have time to cook.
For two entrée portions, peel and dice a medium-sized potato and sauté it in olive oil with two slices of bacon cut into smaller bits (the bacon is optional but adds a smoky, savory quality). While that cooks, dice half an onion, one stalk of celery, and a few inches of carrot and add it to the skillet with the potato. Smash a clove or two of garlic and mince that, adding it to the skillet as well. Lightly season with salt and pepper. Next, prep the peppers. If using larger peppers (like poblanos or bell peppers), cut them in half lengthwise and remove the seeds and core, leaving or discarding the stem as you desire. Smaller peppers can be split open but left connected for stuffing. Slightly season the peppers with salt and pepper. If you would like it spicy and your peppers are sweet, sprinkle them with a bit of crushed red pepper. When the potatoes are tender, remove them from the heat and allow them to cool briefly. Coarsely chop a half pound of thawed, peeled, deveined shrimp—four ounces per person if you're expanding the recipe—then mix it thoroughly into the potatoes. Add the zest of one lemon or lime and some dried oregano (or other herb, like parsley, basil, cilantro, or mint—or a combination of all of those) and mix again. Taste the filling (sauté a tiny bit if you're afraid to try it raw) and adjust the seasoning as needed. 
Mound the filling into the peppers and place them in a pan with a little crushed tomato or tomato sauce and a splash of white wine. Drizzle everything with olive oil and put into a 350 degree oven for about 30 minutes (tiny peppers will take less time, enormous peppers might take a few minutes longer). You want the shrimp to become opaque, but not tough. Serve with some of the tomato sauce and a garnish of fresh herbs (the ones you used in the filling). A fresh green salad and a glass of white wine or lemony iced tea make for a perfect summertime meal that you'll want to repeat again and again.
---
In Your Pantry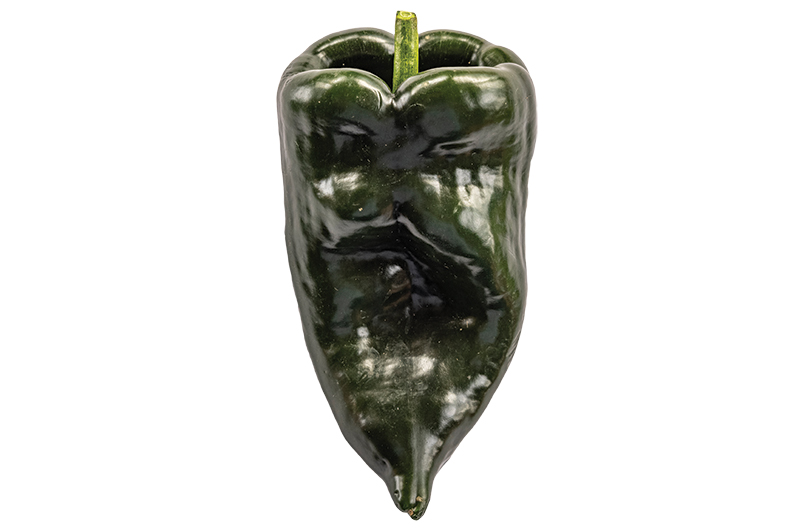 Poblano
The classic choice for Mexican chile rellenos, these dark green beauties vary dramatically in size and Scoville units (the unit for measuring the amount of heat in a pepper). For a pepper-inspired breakfast, try slicing one of these in half, steaming it briefly, then filling it with diced ham, cheese, an egg, and a little oregano. Bake (or continue steaming) until the cheese melts and the egg is cooked to your liking. Serve with fresh tortillas and sunshine.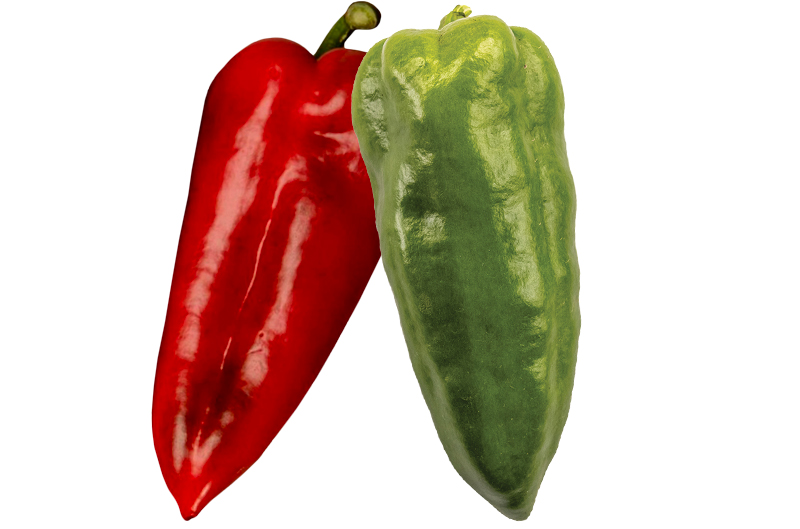 Ajvar
When red, these large, thick-walled, sweet peppers from the eastern Adriatic coast are used to make their name-sake spread, ajvar. When green—for those who can't wait for them to ripen—they make an excellent vessel for stuffing due to their size. Try a filling of cooked rice, diced sautéed vegetables, and your choice of herbs and cheese or seafood. Bake or grill until tender.
Cubanelle
The pepper for stuffing Italian-American style and serving over a steaming mound of pasta. These pale green, thin-skinned peppers are boxy square, and perfect for stuffing. Try a combination of raw Italian sausage, bread crumbs, sautéed onions, and cheese for filling, then gently cook the peppers in tomato sauce for 30 minutes until the peppers are tender and the filling is cooked through. Dress the pasta with the tomato sauce, top with peppers, and sprinkle with cheese. Look for them at Italian grocers and the farmers market.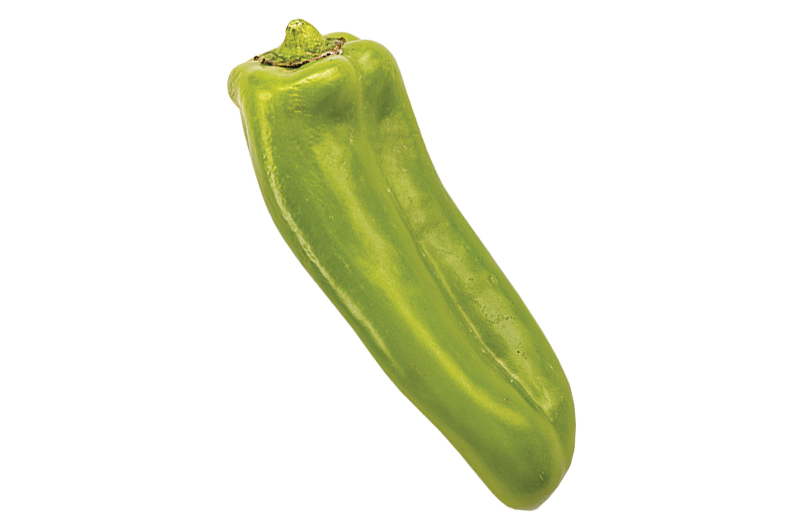 Anaheim
When large enough (Anaheims are frequently skinny), these pleasantly piquant peppers make a great stuffing pepper, especially if you like things spicy. Also known as Hatch and New Mexican chile peppers (depending on the exact variety, season, where they are grown, and the level of marketing savvy), these peppers scream "stuff me with cheese and grill me." The level of heat can vary from mild (like a bland jalapeño) to attention grabbing. Available year round in larger grocery stores.