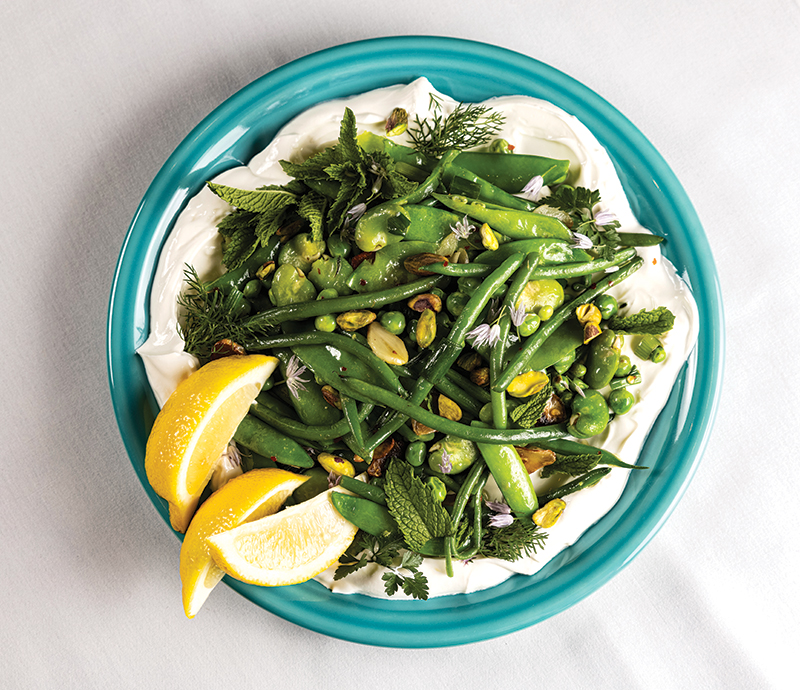 Early summer/late spring is a wonderful time for gardeners and cooks. The most arduous aspects of gardening are behind us—the big spring cleanup, the soil prep, the initial plantings—and the weather is still pleasant enough to enjoy being outside. In the kitchen, the new produce is so bright and fresh and tender that it barely needs cooking to really shine and make the cook look brilliant without having had to do much. I love this time of year.
During the pandemic spring of 2020 I began armchair exploring the cuisines of western Asia and southeastern Europe—Turkey, Persia, and surrounds—and found inspiration for new dishes and new ingredients. Those cuisines celebrate a great variety of vegetables and are not as meat-centric as ours here in the Midwest. The diversity of dips and spreads, finger foods, and salads is staggering. It's a lovely, stimulating and healthful way to eat. The following recipe is inspired by some of those traditions. I hope it will inspire you to create your own version with your next trip to the farmers market or garden.
Early Summer Legumes with Labneh
This lovely vegetal composition could serve many different roles in many different cuisines. It would be delightful served as an aperitif accompaniment, as part of a mezze table or small plates, as an appetizer salad course, as a vegetable side, or vegetarian entrée. It's at its best at room temperature but can be prepared (although not dressed with vinegar or lemon juice) ahead of time. The most difficult part of this dish is choosing just which ingredients you use. It's possible to get carried away and not know when to stop—the danger is that at some point the flavor becomes unfocused and you're just eating a pile of random ingredients. Try to pick a theme—Italian, French, Middle Eastern, etc.—and let that be your guide, but if you get a little crazy the culinary police aren't going to come knocking at your door.
Begin with a selection of beautiful legumes, like freshly shelled English peas, snow peas (any tough strings removed), peeled fava beans (see last month's recipe), sugar snap peas, and the earliest baby green beans. Asparagus could work as well, especially the tips, and edamame, tiny halved heads of baby bok choy, or even quartered radishes or new potatoes—then we're well away from legumes, but you get the idea. The cooking of the dish itself will take only a few minutes, but whatever you use, a few of them, such as the fava beans, green beans, and/or new potatoes, will undoubtedly need a little pre-blanching or steaming. The goal is to ensure that all of the ingredients are quickly cooked together and reach the finish line as fresh and bright as possible and at the same time.
Preheat a large skillet with a lid. Drizzle in a bit of EVOO or avocado oil (my current choice for sautéing things) and add a few cloves of sliced garlic (or shallot!), and briefly sizzle. Depending upon your preference, sprinkle some crushed red pepper flakes, or cayenne, or Aleppo pepper, or a few slices of fresh hot pepper (like jalapeño), and cook for a few moments more—don't let the garlic cook past golden or it will begin to taste bitter. If using fresh English peas, add them now (they need to cook just a bit—frozen peas could be left until almost the last few moments of cooking). Add the sugar snap peas and snow peas and toss everything together, adding a tablespoon or so of water to help create steam if the pan seems dry. Cover with a lid for about a minute. Uncover and toss again, next adding the cooked ingredients like baby green beans, asparagus, or new potatoes. Sprinkle everything with salt and toss again. Once more, if the pan seems dry and isn't producing steam, add another tablespoon or so of water and toss, then cover again. Let all of the startlingly green ingredients in your skillet get hot and cook for about a minute. Taste, adjusting the spice and salt as needed. Remove the pan from the heat.
To plate and assemble: smear the bottom of a serving platter with a generous amount of labneh—also spelled labne or labnah among other spellings—on the bottom of the plate. (Labneh is a strained yogurt cheese, thicker than Greek yogurt, and extremely tangy like sour cream—either of which could serve as a substitute. Keeping the labneh under the vegetables retains the color and vibrancy of the vegetables and allows the diner to take as much or little of the cheese as desired. It's a great technique.) Top this with the sautéed vegetables and sprinkle everything with torn fresh herbs, such as mint, basil, dill, wild fennel fronds, cilantro, oregano, Italian parsley, chives, and edible flowers like chive blossoms. For more crunch, sprinkle with roughly chopped pistachio or other nuts. Serve with lemon to drizzle or a good dusting of sour sumac to heighten the acidity to your taste. You could drizzle with a really good olive oil, but when the vegetables are so fresh and spectacular, it can be nice to substitute a milder nut oil like pistachio oil (see In the Pantry) so the vegetables can really shine. Serve with your favorite breads (especially flatbreads) and crackers.
---

In the Pantry
Nut Oils
Need some inspiration for your next kitchen foray? Look no further than nut oils. Their delicate and nutty aromas can add a bit of earthy complexity without overwhelming the dish.
Many of these oils have low smoking points so they are best used for putting the finishing touches on nut-inspired dishes rather than for cooking (like frying or sautéing). The intensity varies with the manner of production—cold-pressed oils or virgin oils tend to have a much lighter flavor, "traditional" and "roasted" nut oils have a more assertive profile. Most labels will indicate what to expect. Always store nut oils in a cool, dark place, and keep the containers closed to prevent oxidation.
Walnut Oil
A favorite for salad dressings in many regions of France, try it on your next beet, apple, endive, and walnut salad, or garnish cheeses like Pont-l'eveque, Brie, and Camembert with a generous glug.
Pumpkin Seed Oil
A spectacular flavor enhancer for fall dishes, especially those containing any kind of pumpkin. Try a drizzle over ice cream or as a garnish for butternut-squash soup. Combine with cider vinegar for an autumnal vinaigrette you won't soon forget.
Pistachio Oil
More tolerant of heat than many nut oils, pistachio oil can be used for low-temperature cooking, especially if added towards the end of the heating process. It has a beautiful pale green color and subtle, but distinct, pistachio flavor. Great for complementing the "green" flavor of vegetables.
Hazelnut Oil
Buttery and rich, hazelnut oil is a delicious alternative for dressing pasta, especially those containing mushrooms and cheese. Try it as a substitute for vegetable oil in chocolate cakes or pancake batters to lend them a little "Nutella-like" quality.
Almond Oil
The subtle sweetness of almond oil lends itself especially well to desserts, especially for lining baking molds, ramekins, and pans. Its flavor pairs beautifully with cherries, peaches, and other stone fruits. It also makes a great massage oil.