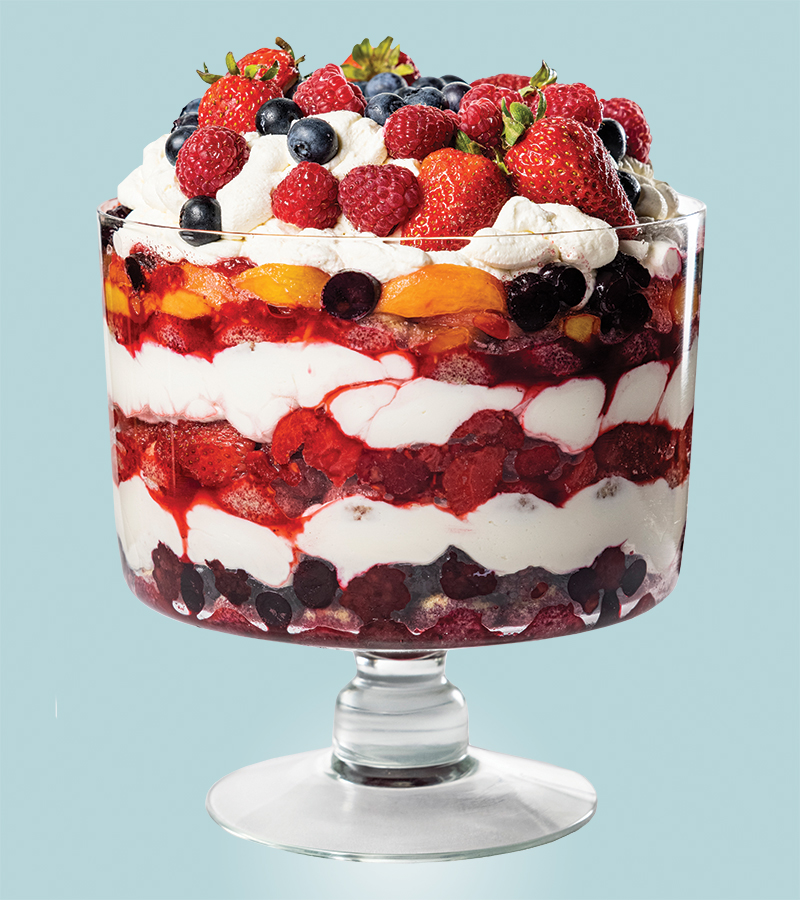 During my first year of professional cooking, I was tasked with making a summer dessert for a small buffet and was fortunately given a relatively foolproof recipe from celebrity pastry chef Emily Luchetti to follow. It was for a summer pudding, a classic British dessert of cooked fruit layered with bread soaked in the fruit juices, chilled, and served topped with whipped cream. It really is the essence of simplicity and can be stunning if the fruit is excellent. My inaugural pudding was a complete success. I was brilliant (even though following someone else's recipe.) That sweet memory has persevered through the years and my variations on the theme have been many.
The summer pudding is closely related to the trifle, tiramisu, and the Italian zuppa inglese—really any layered dessert where something acts as a sponge soaking up syrupy liquids, served with a dairy element. As a pastry chef, after years of making traditional coffee and chocolate flavored tiramisu, the evolution to a fruit-flavored version seemed only logical. I call the following recipe a tiramisu because that word to most humans is like a high-pitched whistle for dogs. It really grabs their attention. I hope the memory of my first summer pudding triumph will inspire you to make some version of your own.
Summer Fruit Tiramisu
When writing this recipe, I had a surreptitious goal—using a long-neglected trifle dish bought years ago at an estate sale. Finally, justification for my purchase! The proportions are enormous—great for a party or brunch buffet, but you could easily halve this recipe and still have plenty for 6 to 8 people. You could also make a single portion or two if that's all you need or all the fruit you have.
There are three essential components to this dessert: cooked, sweetened fruit, some type of cake, and a creamy filling. For a behemoth confection you will need several quarts of fruit, and because the fruit is cooked, you could successfully use frozen fruit if you have a summer fruit windfall and want to freeze it for later. Whatever is delicious and available will work—berries of all types, peaches, nectarines, plums. Only the most perfect, intensely flavored and velvety of melons could work here, so I would not use those—they never improve with cooking.
First set aside some of the most beautiful berries to use as a garnish on top of the finished dish. Then, begin by heating the fruit with a generous sprinkling of sugar or drizzle of honey so that the fruit begins to release its juices. I sometimes cook different-colored fruits in different pots, so their colors don't blend together, and you have more of a rainbow effect with the layers. Regardless, cook the fruit for about 15 minutes, tasting and adding a bit more sugar if needed. If the fruit is lacking in acidity and seems a little flabby, add a little lemon juice to brighten up the flavors. Remove from the heat and allow it to cool. If you like your fruit boozy or if it needs a little more perfume, add a splash of brandy, kirsch, or other eau de vie.
For the "cake" layers, use what is easiest or what you have in the pantry already (see In the Pantry). For the lightest rendition, try using ladyfingers, but you could very successfully use other absorbent conveyances like sponge or pound cake, little madeleines, stale brioche, or shortcakes. For the filling, begin by slowly whipping about 2 cups of cream with ½ cup of sugar. When it begins to thicken, add 2 pounds of mascarpone cheese and a teaspoon or two of vanilla extract or a summer fruit brandy or an eau de vie like kirsch or even limoncello (as you used earlier with the fruit). If that seems like too much cream and mascarpone—said nobody, anywhere, ever—you are correct. It is a lot, possibly more than you need. But the perfect peach, the elusive black raspberry, and those other splendid summer delights you found at the market should be enjoyed in excess—so you need balance with the creamy layer. Continue whipping the cream-mascarpone mixture until it begins to thicken like soft whipped cream, but not to the point that it becomes grainy (at which point the texture suffers irreversibly).
For the construction, begin by putting a ladle of the fruit juices in the bottom of your vessel. Top this with a layer of ladyfingers or sponge cake, cutting or tearing as needed to completely cover the bottom of the dish. Top with a layer of fruit and juices. With the back of your spoon or ladle, press down on the fruit and sponge cake to encourage the absorption of the juices. Spread a few spoonfuls of the cream mixture over the fruit layer—enough to completely cover the layer. Then cover the cream layer with another layer of cake followed by fruit and juices, pressing lightly after each addition. Continue layering until you run out of ingredients or space in your vessel, piling everything up in a glorious heap, and gilding with the reserved glamour berries. In an ideal world, you would refrigerate this for a few hours before serving, allowing the cake to absorb juices and the filling to firm up slightly. Good luck waiting. If you made the complete amount and you are only feeding two people, it will keep for several days in the refrigerator. Serve for breakfast, lunch, and dinner.
---
In Your Pantry
Spongy Alternatives
After a trip to the fresh market for spectacular seasonal fruit, sumptuous summertime desserts can be assembled in no time if you have one of these time saving staples in your pantry.
Savoiardy
The quintessential layering, soaking, and dunking pastry cookie—delicate, egg-based, and feathery light. AKA ladyfingers (the English), loeffelbiskuits (spoon biscuits—the Germans), bizcochos de Huevo (sponges of egg—the Spanish) and boudoirs (bedroom cookies —oh, the French).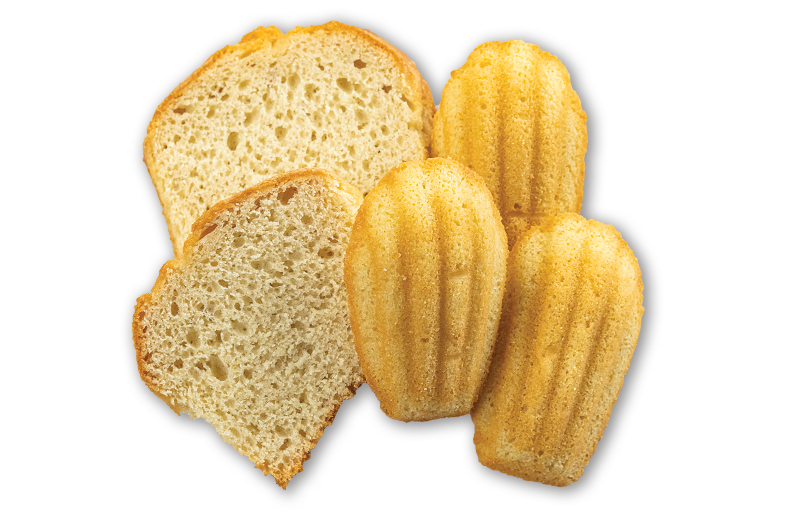 Bakery Pound Cake
The impulse purchase pound cake that landed in your freezer during lockdown could have you minutes away from a show-stopping dessert. Sauté slices of cake in butter and layer with jam, fresh fruit, whipped cream and/or melted chocolate. Eat it right away or allow the flavors to meld for a while. Don't forget a splash of brandy or limoncello to take it over the top.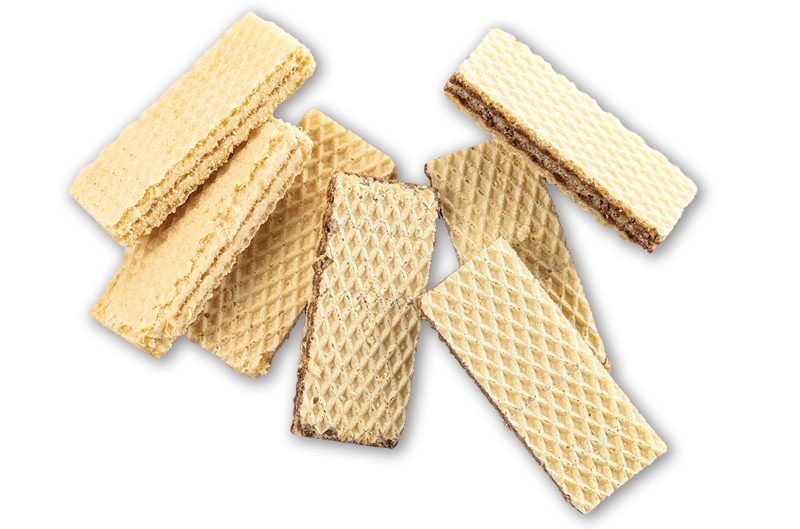 Wafer Cookies
Store-bought wafer cookies can provide a wonderful crunchy texture to assembly line-inspired desserts. Set out a selection of wafers (pick the flavor to go with your theme), whipped cream, ice cream, pastry cream, chocolate sauce, poached fruit, berries, nuts and jams and let your guests have fun doing all the work. Be sure to use a good brand like Loacker.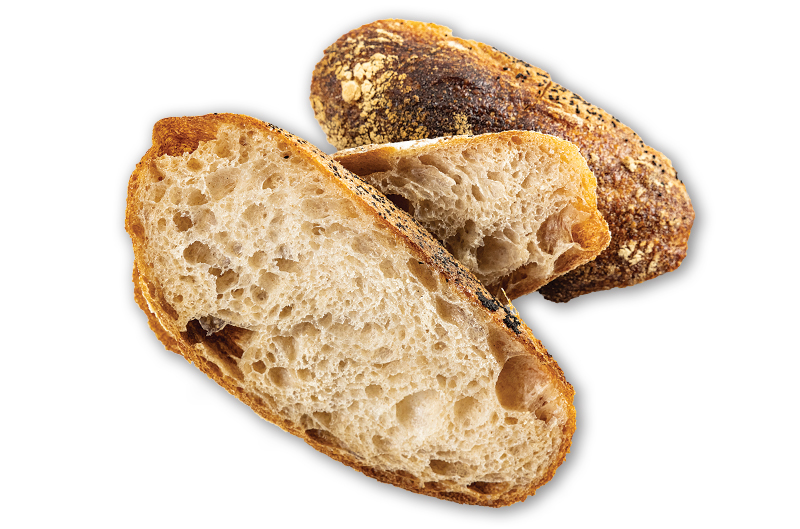 Good Bread
When you think about it, bread is just cake that's not really sweet. Add some sugar and you're practically back to cake. Bread can be soaked and layered with fruit juices, sweetened coffee or flavored syrup to make homey and satisfying treats. Try toasting slices of chewy artisan bread and layering them in a baking dish with juicy ripe summer plums or peaches. Top with sugar, dabs of butter, and a dusting of cinnamon, and bake like a fruit-filled lasagna for an unforgettably delicious summer.