When it comes to brand-name condiments, who's on top? Seems our neighbors to the north of us in Iowa are preoccupied with Hidden Valley Ranch Dressing. Shockingly (or not so shocking), the two states to the south, Oklahoma and Arkansas, also have an unholy affinity for all things ranch.
But what specific condiment brands top the list in Kansas and Missouri? Well, it sure as heck isn't—ugh!—ranch. We're way more original than that. The fine folks at Influenster—a leading product ratings and reviews community with more than 30 million reviews—went out of their way to analyze more than 50,000 reviews across its platform to determine which spread/schmear/sauce is the most buzzworthy in each state.

Seems Kansas likes to slather—of all things—Country Crock Buttery Spreads on everything. Sounds about right. We'd put butter on an aspirin if we could. Country Crock fanatics seem to love the product's "delicious oils, purified water and a pinch of salt." Um, okay. Whatever floats your boat, kids.

Missouri, on the other hand, are all about French's Classic Yellow Mustard. Well, we do consume our weight in burgers, brats and hot dogs. And with a heavy dose of German-influencing throughout the state, it seems only apropos. Valerie D. of Springfield, MO gave French's Classic a glowing five-star review on Influencer.com saying, "This is the only mustard brand I will purchase. Has such a great flavor and will not try any other brand. Will continue to purchase and recommend this brand/mustard." Good stuff, Valerie. Good stuff!
Want to know what other brands the rest of the country can't get enough of? Here's Influenster's full list: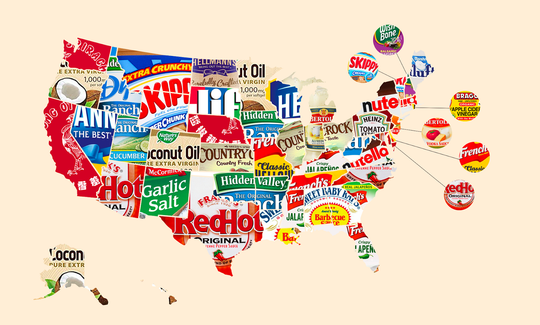 Alabama: Sweet Baby Ray's BBQ Barbecue Sauce
Alaska: Nature's Way Extra Virgin Coconut Oil
Arizona: Frank's RedHot Original Cayenne Pepper Sauce
Arkansas: Hidden Valley Original Ranch® Dressing
California: Huy Fong Foods Inc. Sriracha Chili Sauce
Colorado: Nature's Way Extra Virgin Coconut Oil
Connecticut: Nutella Hazelnut Spread
Delaware: French's Classic Yellow Mustard
Florida: French's Crunchy Toppers Crispy Jalapeños
Georgia: Sweet Baby Ray's BBQ Barbecue Sauce
Hawaii: Nature's Way Extra Virgin Coconut Oil
Idaho: Hidden Valley Dips Mix Original Ranch
Illinois: Country Crock Original
Indiana: Bertolli Alfredo With Aged Parmesan Cheese Sauce
Iowa: Hidden Valley The Original Ranch Dressing Buttermilk
Kansas: Country Crock Original
Kentucky: French's Crunchy Toppers Crispy Jalapeños
Louisiana: Sweet Baby Ray's BBQ Barbecue Sauce
Maine: Marshmallow Fluff Original
Maryland: Frank's RedHot Original Cayenne Pepper Sauce
Massachusetts: Nutella Hazelnut Spread
Michigan: Bertolli Alfredo With Aged Parmesan Cheese Sauce
Minnesota: Nature's Way Extra Virgin Coconut Oil
Mississippi: French's Crunchy Toppers Crispy Jalapeños
Missouri: French's Classic Yellow Mustard
Montana: Skippy Super ChunkPeanut Butter
Nebraska: Huy Fong Foods Inc. Sriracha Chili Sauce
Nevada: Hellmann's Real Mayonnaise
New Hampshire: Wish-Bone Balsamic Italian Vinaigrette
New Jersey: Bertolli Vodka Sauce
New Mexico: McCormick Garlic Salt
New York: Nutella Hazelnut Spread
North Carolina: Frank's RedHot Original Cayenne Pepper Sauce
North Dakota: Hellmann's Carefully Crafted Dressing And Sandwich Spread
Ohio: Country Crock Calcium Plus Vitamin D
Oklahoma: Hidden Valley The Original Ranch Dressing Buttermilk
Oregon: Nature's Way Extra Virgin Coconut Oil
Pennsylvania: Heinz Ketchup
Rhode Island: Braggs Organic Apple Cider Vinegar
South Carolina: French's Crunchy Toppers Crispy Jalapeños
South Dakota: JIF Peanut Butter
Tennessee: French's Classic Yellow Mustard
Texas: Frank's RedHot Original Cayenne Pepper Sauce
Utah: Hidden Valley Cucumber Ranch Dressing
Vermont: Skippy Creamy Peanut Butter
Virginia: Nutella Hazelnut Spread
Washington: Huy Fong Foods Inc. Sriracha Chili Sauce
West Virginia: Hidden Valley The Original Ranch Dressing Buttermilk
Wisconsin: Hellmann's Real Mayonnaise
Wyoming: Skippy Super Chunk Peanut Butter