Food can change lives, especially here in Kansas City. Fueled by enthusiasm from the community, these programs and nonprofits help people find connection, growth, and joy through food.
Learning to grow and cook healthy food is just part of what young men learn through BoysGrow. Founded by John Gordon Jr., the nonprofit helps participants build camaraderie, discipline, and business skills that will serve them throughout their lives.
The application-based program hires eighth-grade boys to work for a paycheck on BoysGrow's South Kansas City farm, where over two years, they learn the ins and outs of agriculture, producing food that will go on to stock Kansas City restaurant kitchens and stores. They also have a chance to specialize in tracks that align with their interests. Options include farming and agriculture, construction, culinary arts team, graphic design, and public speaking. Kids are on at least two teams, where they work with mentors and staff to learn the field during the summer and for a few days each month during the school year.
"They'll have two years of applied learning and hands-on experience of what it means to work in those different fields," Gordon says.
During their tenure, the boys develop a unique culinary product that they will have to present, market, and effectively sell to grocers and restaurants. Some participants find career direction from their time in BoysGrow, but most everyone comes away with a deeper connection to food and a newfound confidence.
"They feel like they have a voice in the adult world," Gordon says of the boys. "They can advocate for themselves, they can shake people's hands, they can look people in the eye, they can pitch the program, they can pitch their ideas and concepts. I think when you're 15 years old, it's kind of hard to get that experience."
Most teenagers also don't get facetime with renowned chefs like Michael Corvino and Howard Hanna, who are just a few of BoysGrow's industry supporters who donate their time and talents to fundraising events or simply coming out to cook with the boys on the farm. Restaurants also help support the organization by purchasing the food they grow and offering mentorship to those interested in the culinary arts.
"There are a lot of chefs that believe in what we're doing, and without their support, I don't know where we'd be."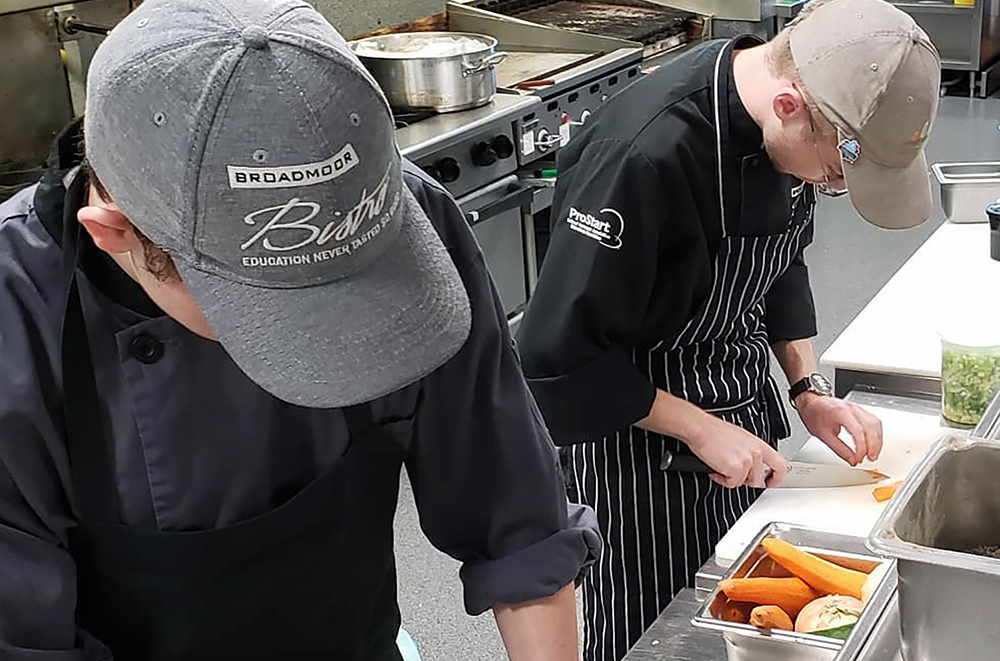 The mingling fragrance of garlic and ginger drift through the air in the Broadmoor Bistro kitchen as high school students finish up a unit on poultry that's taken them through techniques from deep frying to poaching to today preparing teriyaki chicken with fried rice and sesame broccoli.
The dish is an assignment for the Culinary 1 class, part of Shawnee Mission School District's innovative culinary arts and hospitality program offered to juniors and seniors at the district's Center for Academic Achievement.
The program will turn 20 next year, but it's mission feels more relevant than ever in today's shifting education and employment landscape.
"The reality is, college is really expensive no matter where you go," says Matthew Ziegenhorn, the center's entrepreneurial leadership instructor. "What we're working on as schools is, how do we prepare them with an industry-recognized credential or some kind of certificate to get to a job that's $40,000 right out of high school?"
Students can tailor their experience through their course selections, which include options like commercial baking 1 & 2, and catering and event management. Experiential learning is vital, so the center includes a sleek restaurant space that operates as Broadmoor Bistro along with a café, lab-style classroom space for instruction, and a fully-stocked production kitchen.
Here, students perfect the light, buttery English muffins that make them favorites at the Overland Park Farmers' Market, along with a four-course seasonal tasting menu served every Wednesday evening. During dinner service, the students do everything from seating guests and serving to brewing coffee and to cooking.
Many will go on to work in the culinary world right after graduating high school or continue their culinary education at another institution. Some are hired by guest chefs and alumni of the program who return to share their experience and expertise through the KC Originals/James Beard Guest Chef Lecture Series.
"We're really one of the largest workforce providers in Kansas City," Ziegenhorn says. "These are the future chefs of Kansas City, and they'll go outside of Kansas City too."
But even if culinary stardom isn't in their future, students still gain valuable skills.
"These kids, whether they go on to be chefs or not, they can cook their own food," he adds. "That's a win for us."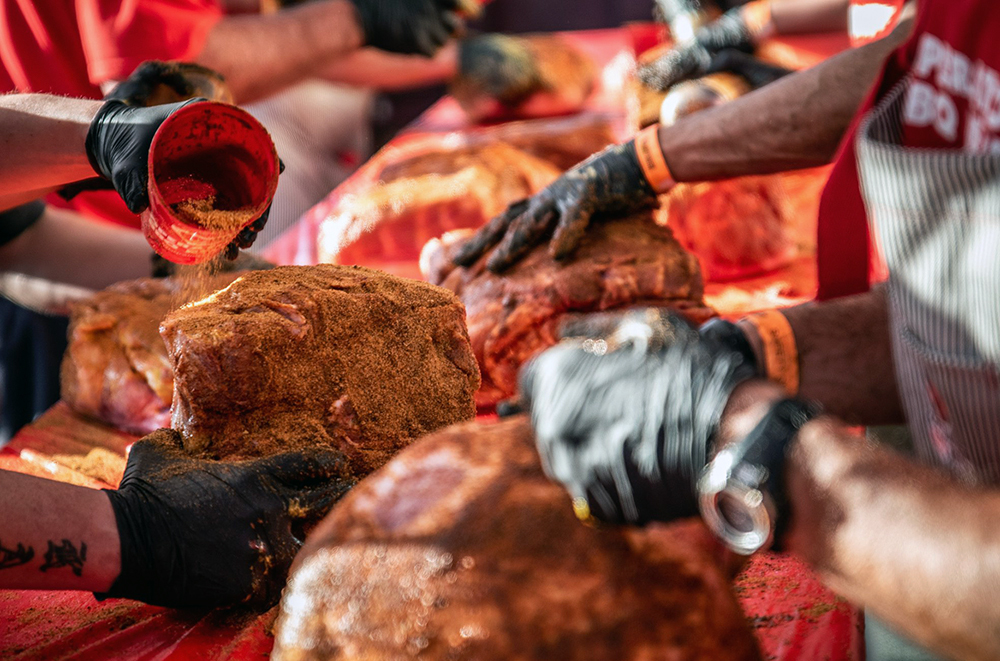 Stan Hays was an aspiring competition barbecuer in May 2011, when he watched on TV as a tornado devastated Joplin, Missouri.
"I just remember sitting there feeling helpless and thinking about what I could do," Hays recalls. Then his wife had an idea: Why didn't he get his barbecue team together to go serve food in the community? 
The group thought they'd serve a couple thousand meals over the course of a few days.
"That four or five days turned into 11 days and that 4 or 5,000 meals ended up being about 120,000 meals," he recalls.
By their third day in Joplin, the team realized a gap existed between when disaster strikes and bigger organizations can arrive on the scene to start helping with rebuilding efforts. It was a gap he and his teammates thought they could come up with a way to fill—thus Operation BBQ Relief was born.
So why barbecue? Hays, who serves as the organization's CEO, calls it the quintessential comfort food. It's a common way people gather and celebrate, not just in Kansas City but around the country.
"I affectionately tell people I have never been to a bad barbecue, because no matter whether the food wasn't the best that day, it was the people who were there that made the barbecue. It wasn't about the food," he says. "It was about the people."
When the crew shows up to serve hot, fortifying meals in the wake of tragedy, it gives first responders and community members an opportunity to take comfort in something familiar and maybe think back to happier times. In the years since their visit to Joplin, Operation BBQ Relief has dished out more than 3 million meals in 26 states, plus the Bahamas.
But in 2018, Hays and company realized they could find ways to make a difference year-round. That led to the launch of the Always Serving Project, which focuses on military, first responders and the food insecure.
Last year, Operation BBQ Relief served 318,000 meals outside of disasters at events at military bases and in communities around the holidays as part of the program. The organization also launched Barbecue Basics, which teaches military personnel and first responders the foundations of grilling and barbecuing.
"We train all of them to value their new skills, to go out and help in the community," Hays explains. "The discussion of the fight on hunger is always part of what we're talking about—use your skills now to cook for good."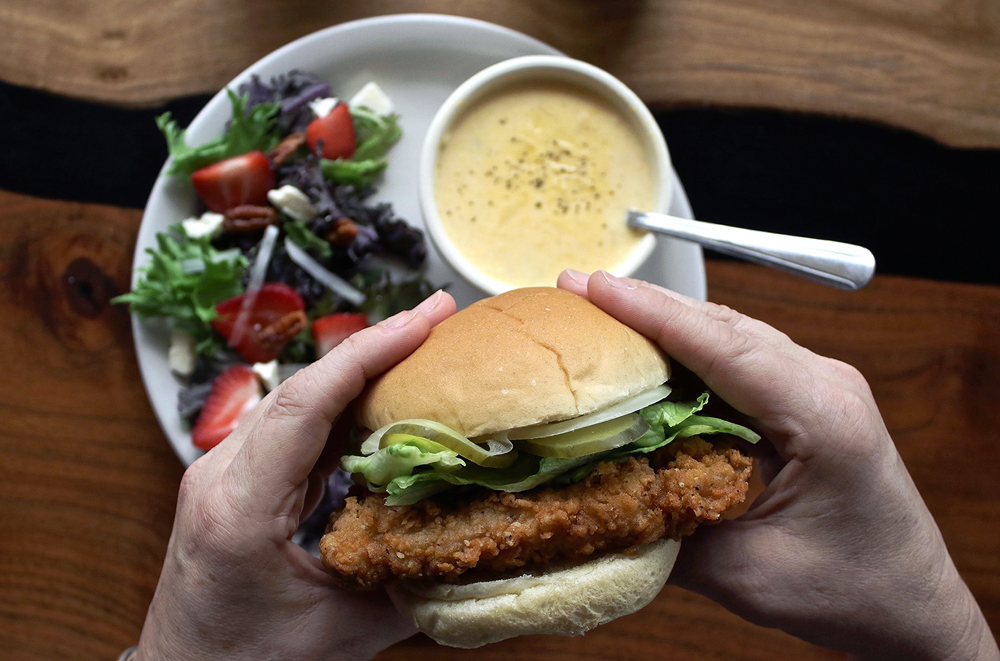 Lunch at Thelma's Kitchen will set you back $12 for a large plate—or a half-hour of volunteer service.
The restaurant, an initiative of Reconciliation Services, is Kansas City's first with a "donate what you can" model. Headquartered at 31st Street and Troost Avenue, the nonprofit has worked to care for its neighbors in a variety of ways since its inception, and providing food has always been part of the mission, says communications and grants manager Jodi Matthews. But as other organizations began offering food banks and meals in the neighborhood, Reconciliation Services saw an opportunity to evolve its concept into a dignified dining experience where people from all walks of life could enjoy quality food together.
"We wanted to continue to increase food access for our neighbors, but we also wanted to deepen the opportunities for positive social interactions between different people that may not always be in the same space," she says.
Pamela Shoemake serves as Thelma's chef, and her menu includes a rotating array of soups, salads, sandwiches entrees and desserts—fried pork tenderloin and potato cheddar soup are among the community favorites. Guests can make a suggested donation ($9 for a small plate and $12 for a large plate), pay what they can or complete 30 minutes of volunteer work around the restaurant helping do dishes or bussing tables. The volunteer aspect allows people of all resource levels to contributing in a meaningful way.
"Investment isn't always about quantity—it's about quality and participation," Matthews says.
That participation is critical for Thelma's, where long-term sustainability for the concept will depend on about 60 percent of people making monetary donations and the other 40 percent contributing their time. 
Since opening its doors in summer 2018, Thelma's has been well received by neighbors as well as people from around Kansas City who choose it for an affordable and delicious lunch spot.
"We will have big executives and homeless folks and postal workers and a crossing guard and our friends that come from some of the group homes around the area all sitting in the same space enjoying the same meal," Matthews says. "People have to make a choice to be here. I think that when our more resourced neighbors make a choice to be here, I find that really encouraging."