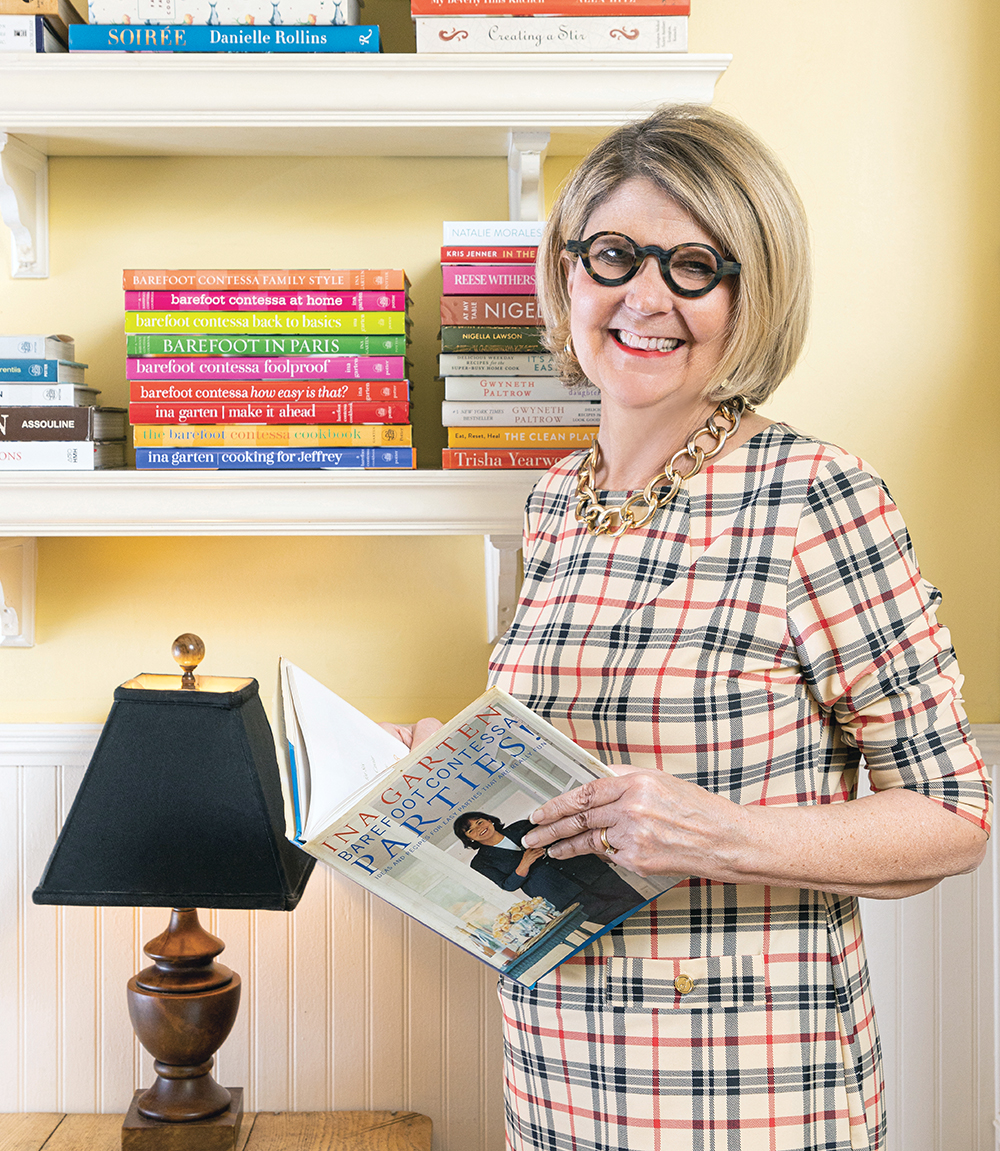 A question for my fellow cooks: are you fickle like me? I discover a new recipe, fall in love with it and it becomes my new boyfriend. I think of it all the time, can't wait to be in the kitchen with it again, and to introduce it to my friends, who often become smitten, too. The recipe and I get together over and over. Then, as quickly as I fell in love, I tire of it and cast it aside, barely remembering it until years later, when it comes up in conversation.
My most beloved all-time boyfriend is linguine with lemon, garlic and thyme mushrooms from Nigella Lawson's Nigella Express, one of my favorite celebrity cookbooks. This recipe (you'll find it on the opposite page), like most in the book, is fast, ready in well under an hour. It's simple, made with ingredients available in supermarkets. It's flexible—you can use any pasta noodle, not just linguine. And it's delicious hot, cold, or at room temperature. Really, the perfect side dish for a dinner party, especially if you are feeding a vegetarian or two, for whom it becomes a satisfying main course.
I am a Sucker for Celebrity Cookbooks
I own a ton of celebrity cookbooks, because I can't seem to quit them. I even have In the Kitchen with Kris by yes, Kris Kardashian, a perfect example of how the very idea of most celebrity cookbooks defies logic. Just because someone is famous doesn't mean they know anything special about cooking, right? But the books are glossy and gorgeous, with mouth-watering photography, and we all know they are ghostwritten by someone who knows what they are doing. The celebrity provenance gives recipes a certain cachet. There is just something fun about announcing to people that they are eating not just any chicken enchiladas, but Natalie Morales's chicken enchiladas. (From her excellent At Home with Natalie. Google it, or email me and I'll send you the recipe, or any I mention herein.)
If you're going through one of those seasons—we all do—when you don't care that much about cooking, I suggest you find a celebrity cookbook, the kind they have mountains of at Costco, and commit only to skimming through it half-heartedly. Just looking at the photography and recipe titles will get your cook's blood pumping. Here are some of the good ones, with favorite recipes for having people over.
Give the Contessa her Due
If you are a cook who intends to entertain, there are no better cookbooks than the 11 in Ina Garten's Barefoot Contessa series. In my opinion, Ina is the best recipe developer in America. She was the first author to truly understand what most consumers want in a cookbook: not a jillion recipes in each section, necessarily, but a handful of very clearly explained, gorgeously photographed, no-fail dishes. The filet of beef with Gorgonzola sauce in Barefoot Contessa Parties is a trusted standby, but you have to roast the filet exactly as she says, no messing around. Potato-fennel gratin, from the same book, is glorious, especially if you use a mandoline to slice the potatoes. Skillet-roasted lemon chicken from Cooking for Jeffrey is the perfect entrée if you are serving three and only three. Her boeuf bourguignon (from Barefoot in Paris) is one of my favorite winter dinner-party dishes. And don't get me started again on her Outrageous Brownies (from her first book, The Barefoot Contessa).
Gwyneth's Books: Annoyingly Good
Yes, I know, everybody picks on Gwyneth. She regularly tops hated-celebrity polls, mostly because she seems so out of touch with reality, as evidenced by her lifestyle website, which peddles products you will never need at insanely high prices. Plus, she won the DNA lottery, complete with perfect metabolism.
When she published her first cookbook, My Father's Daughter, I really wanted not to like it. But every recipe I tried was darn good. The butternut squash soup is scrumptious and relatively easy (if you purée it using an immersion blender), the perfect starter to a cold-weather dinner party. Her fish tacos are meltingly delicious, and nice for a small, interactive dinner gathering. And her salad dressings are killer. I have her balsamic lime vinaigrette committed to memory.
Her recent book, It's All Easy, has a section called "Unexpected Guests" with some really delicious but not all that easy dinner party recipes, such as Zuni sheet-pan chicken and seared scallops with watercress and asparagus.
Steer completely clear of her latest book, The Clean Plate: Eat, Reset, Heal if you are looking for party food. It is full of draconian cleanses and hard-to-make recipes that serve two.
Trisha is a Treasure
Did you see the PBS Ken Burns eight-episode documentary on country music? It's one of the best, most affecting things I've ever seen on the telly. Watch it however you can* and, reader, have a tissue at the ready. What has this to do with entertaining, you ask? Well, first of all, there is a soundtrack CD available that makes for rousing party music, especially if hosting multiple generations. On this soundtrack is the great Trisha Yearwood song She's in Love with the Boy. Hearing it put me in mind of how likable and authentic Trisha is, and how much I've enjoyed her show on the Food Network the times I've seen it. So I ordered her latest cookbook, Trisha's Table: My Feel-Good Favorites for a Balanced Life. It's lots of fun to read, full of healthy-ish recipes and little anecdotes about family life with her hubs, Garth Brooks. Her pork tenderloin with honey-mustard glaze is super easy and tasty and easily doubled or tripled for a larger crowd, same for her maple-glazed salmon. Either tastes delicious with her mushroom risotto recipe. Her Snappy Pear-Cranberry Crumble would be a sweet ending to your February dinner party.
*It's available through pbs.org or Amazon Prime
---
This Recipe is a Work of Genius!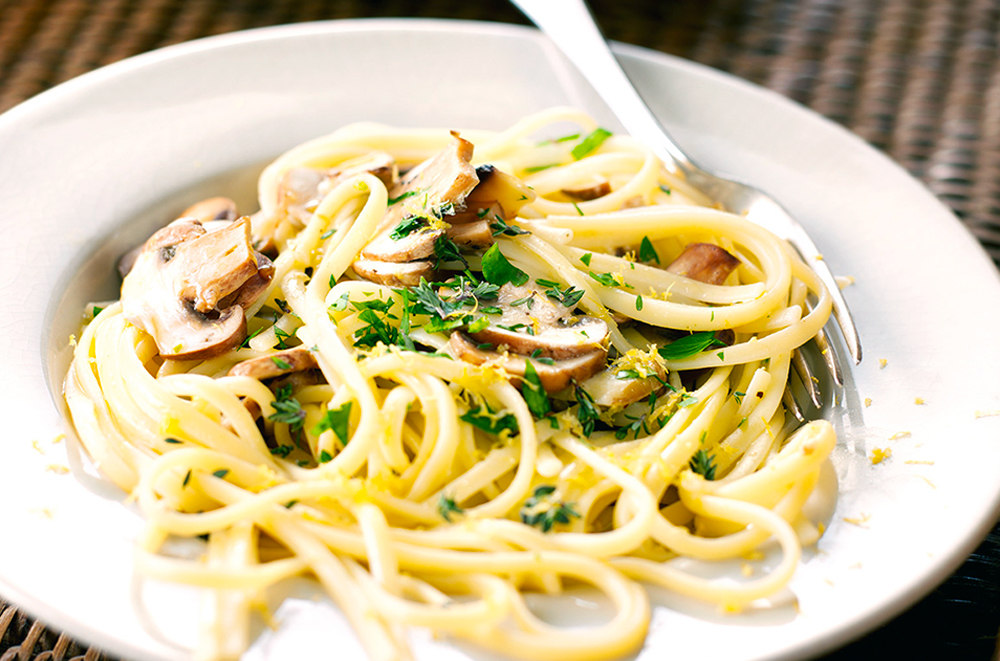 Linguine with Lemon, Garlic and Thyme Mushrooms
From Nigella Express by Nigella Lawson
Serves 4 to 6, depending on appetites and what else you're serving.
4 cups (8 ounces) finely sliced cremini or button mushrooms

1

/

3

cup extra-virgin olive oil
1 tablespoon Maldon or kosher salt or 1

½

teaspoons table salt
1 small clove garlic, minced
1 lemon, zested and juiced
4 sprigs fresh thyme stripped to give 1 teaspoon leaves
1 pound linguine or other pasta shape, regular or gluten-free
1 bunch fresh flat-leaf parsley, leaves chopped, to give

½

cup
2 tablespoons freshly grated Parmesan, to taste (up to 3 tablespoons)
1 pinch freshly ground black pepper
Slice the mushrooms finely, and put them into a large bowl with the oil, salt, garlic, lemon juice and zest, and gorgeously scented thyme leaves.
Cook the pasta according to the packet instructions and drain loosely retaining some water. Quickly put the pasta into the bowl with the mushroom mixture.
Toss everything together well, and then add the parsley, cheese, and pepper before tossing again. Eat with joy in your heart.