Great party hosts possess qualities of selflessness and fearlessness. And it helps to have a supply of gluten-free flour, as well.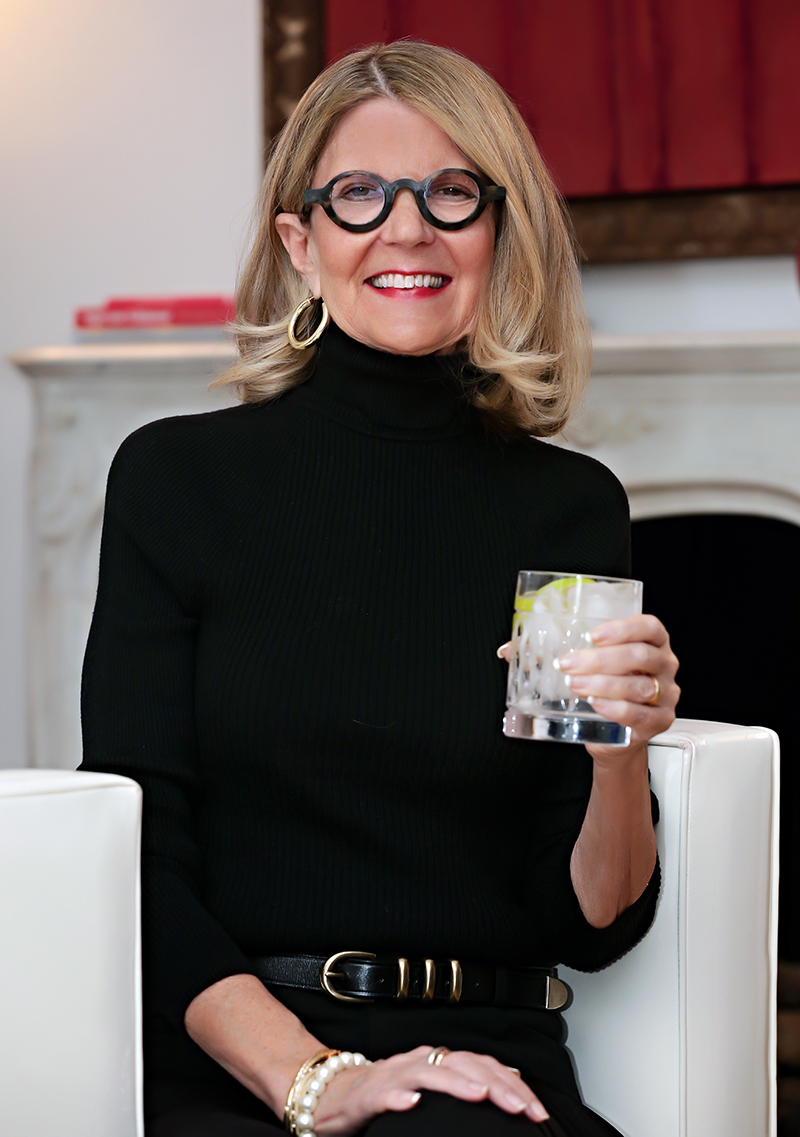 My St. Louis sister called me a while back, in a snit. She was in the throes of hosting a dinner party, occasioned by a beloved girlfriend's significant birthday. Sissy had presented her friend with a handmade certificate, redeemable for dinner for 12 at Sissy's house, on a mutually agreed-upon evening, the guests to be of the birthday girl's choosing. Isn't that a darling idea? Sissy gives you leave to steal it. 
But back to the snit. The dinner had been months in the planning; every detail engineered to reflect the honoree's favorite flowers, colors, and especially her favorite foods. The evening before the party, as she was making the boeuf bourguignon to be served the next night, Sissy got a text from a guest. "Hey, it's Debbie," it said. "Remember I'm gluten-free."
Sissy barely knew Debbie, so there was no "remembering" about her gluten-freeness. "She's known for a month about this dinner and she lets me know the night before that she's gluten-free? Who does that?" fumed Sissy." Put that in your column." And so I am, because the story has a good ending
Sissy Gets Over Her Boeuf
After the initial hissy fit, Sissy did what good hosts do. She gritted her teeth and took care of business. The boeuf bourguignon recipe called for three tablespoons of all-purpose flour. She got gluten-free flour and made a separate little batch for the ill-mannered Debbie. She bought gluten-free crackers for the appetizer and an individual gluten-free dessert.
"In the middle of my venting about G-free Debbie, I remembered that I was doing the dinner as an act of love for my friend, who would give you the shirt off her back," says Sissy. "And I knew it would mean a lot to her that everyone had a great dinner, including Debbie. After that, I didn't mind going to any extra trouble."
All good parties are an act of love, don't you think? And also, an act of courage, a quality more typically associated with, say, the French resistance than with entertaining, and yet you must admit good party hosts possess a kind of fearlessness: So what if my kitchen is tiny/my furniture outdated/my dog sheds everywhere/ people won't know each other? So what?  
Or in Sissy's case, she was giving her friend a love bomb; so what if she didn't know some of her dinner guests. The party turned out to be a real humdinger, and a gift her friend will never forget. Email me for Sissy's boeuf bourguignon recipe and any others mentioned herein.
An Eclectic Guest List Makes for Noteworthy Gatherings
When I look at some of the groups I put together in my early days of party-hosting, I marvel at my own bravery, or maybe it was stupidity. I had a dinner party once to which I'd invited several couples who'd never met each other. One woman in particular was an outspoken liberal, one gentleman an equally vocal conservative.
I'd done all the tactical hostess things I always recommend: The hooch was flowing, the lighting low, Billie Holiday was playing in the background. During cocktails, everyone got on like a house on fire.
Then we sat down to dinner (a first course of endive, pear, and Roquefort salad followed by spaghetti and meatballs for a crowd) and conversation turned to politics. Suddenly people were screaming at each other. It got ugly. The liberal and the conservative went after each other with hammer and tongs. I changed the topic several times, and thought I had them separated but, like bull elks during rut, they wheeled and charged each other again and again.
It took my really spectacular dessert (Panache Truffle Cake, recipe below) to get them off politics, but the party never got its groove back. For a time, I was horrified about it, but you know what? People still talk about that party, and wouldn't you rather something happened that people will talk about later?
It's always worth the risk to invite people who don't know each other. Your parties can become the catalyst for great friendships, and there's nothing more meaningful than that.
And Speaking of Fearless
My friends Dana and Doug Nelson had a seated dinner party a number of years ago at their home in Mission Hills. I think they'd invited ten guests. At the end of the cocktail hour Dana realized she had neglected to fire up the oven, and her main course, stuffed chicken breasts with a basil pesto sauce, was sitting in the oven, raw. 
A lesser hostess might have panicked, but Dana had a good laugh about it in the kitchen, then strolled gamely into the crowd "I forgot to turn on the oven, so dinner won't be ready for probably 90 more minutes," she announced, a merry glint in her eye. "I hope you don't mind, but we're all just going to have to have another drink."
Nobody minded in the least. She was so relaxed about it, and that was contagious. And besides, she had invited an avidly likable group; some of us had never met and we were having fun getting to know each other. There were crackers and cheese and cocktails, and dinner eventually. What more could we want? I try to channel Dana's insouciance whenever I am in the midst of any party mishap.
As long as I am sending out recipes, I have an outstanding one for stuffed chicken breasts that I will send you if you email me. It's not Dana's recipe (she doesn't have it anymore) but it's still a great party dish.
---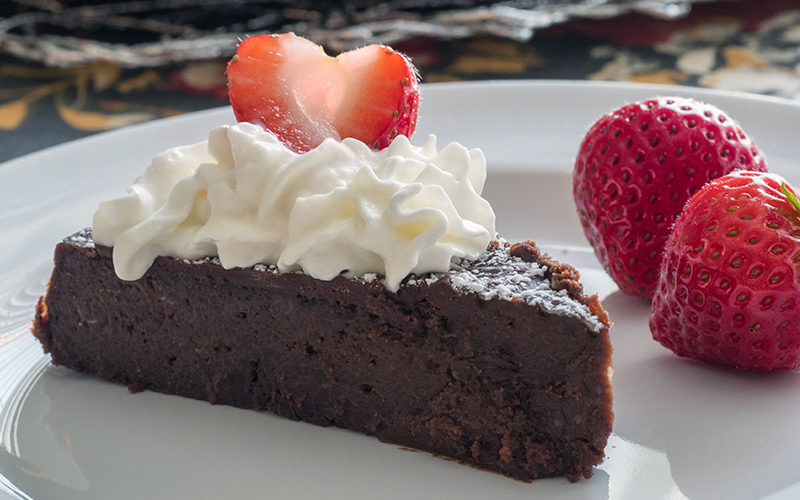 A dessert good enough to distract warring dinner guests, and certainly quite perfect for a Valentine's Day gathering.
Panache Truffle Cake   Serves 10 
From Beyond Parsley, legendary cookbook of the Junior League of Kansas City, Mo.
Cake:
8 ounces semi-sweet pure chocolate
1 cup sugar
1 cup unsalted butter
½ cup brewed coffee
4 eggs
In a double boiler or microwave, melt chocolate, sugar and butter; let mixture cool. Add coffee and beat in eggs. Butter and line with foil an eight-inch springform pan. Bake at 350 degrees for 30 minutes. Cool to room temperature and refrigerate overnight. Remove from pan.
Whipped Cream:
1 cup heavy cream
¼ cup confectioners' sugar
¼ teaspoon vanilla
Whip cream with sugar and vanilla until stiff peaks form. Pile whipping cream on top of cake. Decorate with fresh strawberries or shaved chocolate. Keep refrigerated. Cake can be made five to six days ahead or frozen; add whipped cream when ready to serve.
---
Email me with your entertaining questions, dilemmas, or triumphs at mjackson@inkansascity.com