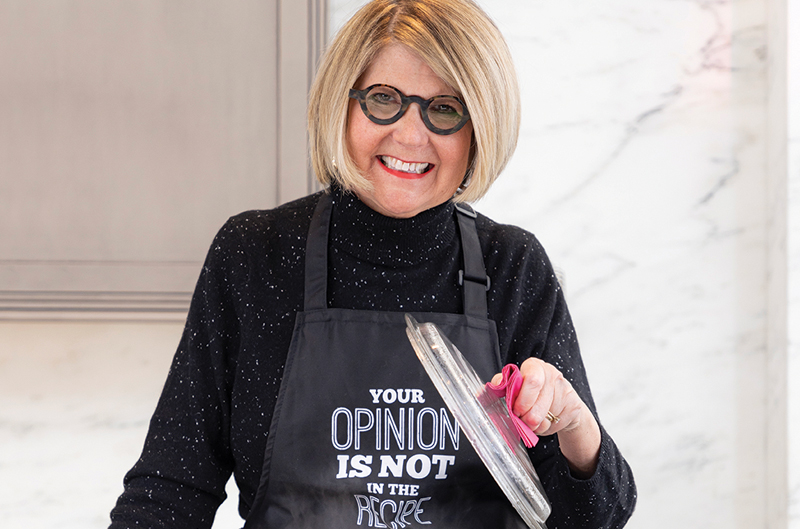 Before the pandemic, I had a nice social life. I bet you did, as well. I actually—and maybe this describes you, too—had two social lives. One with the hubs, and one without. This worked well for both of us. Bobo (my nickname for the Mister) has a reasonable appetite for socializing, whereas I am a glutton for it. "My girl likes to party all the time," he would cheerfully croon as I walked out the door for the fourth night that week (does anybody else remember that pop single released by Eddie Murphy is the mid-eighties?)
Of course, all of that ground to a screeching halt right around mid-April, 2020. I'm sure you remember it. Suddenly we were all home every day and night—and cooking every day and night.
I honestly didn't mind; I love to cook when I have the time and all at once I had oodles of time. And Bobo, while not in any way a cook—he would rather go hungry than open a can of soup—is an appreciative, enthusiastic, and most importantly, diplomatic eater. For example, he didn't say what we both were thinking—"this isn't nearly as good as Minsky's"—when I served him the homemade pizza I had spent a day making. Fresh dough, fresh sauce, fresh toppings, all from scratch and the 'za was terrible. I think it was because I misplaced my pizza stone and didn't want to invest the time to look for it, in case I couldn't find it. Can you see my logic? So, I used a baking sheet instead, and, since I found myself out of parchment paper, a silicone baking mat. A truly half-wit idea. It rendered the crust practically inedible. But Bobo gamely choked it down and found something to like in it, as he does all my duds.
I've had winners, too, that I will probably add to the repertoire. The day draws nearer when we can actually entertain. Here are our faves, going from meal to meal.
Allow Me to Boast About My Poaching Skills
Bobo's favorite breakfast is two poached eggs on any kind of toast, with bacon. I hate to sound braggy, but I have a foolproof technique for poaching eggs. You need a 10-inch or 12-inch skillet with a tightly fitting lid. Fill it almost to the top with water. Pour in a glug of plain white vinegar and a small handful of salt and set it to the boil. While the water is boiling take two, three, or four eggs and crack them into individual teacups. When the water comes to a lively simmer, quickly lower the lip of each cup just into the water and tip the egg into the pan. Slap that cover on the pan, turn off the heat and set your timer for exactly three minutes and 20 seconds. When time's up, remove eggs with a slotted spoon, and plop them on a slice of buttered toast or an English muffin half. Grind some pepper over it, add a little drizzle of olive oil and serve.
Those grossly overpriced boxes of Hormel ready-to-microwave bacon represent everything that's wrong with America, but they are so convenient, I can't quit them. Four slices of perfect, freshly fried bacon in two-and-a-half minutes. My house is not subsumed with the lingering funk of bacon grease, and I don't even have to dirty a pan. Anyway, these unprincipled bacon strips are what I serve Bobo with his poached eggs.
For Better or for Worse, but Not for Lunch
Bobo is on his own at lunchtime. He does know how to make himself a sandwich or heat up leftovers in the microwave. Occasionally, however, I will take Guerrero brand tostada shells, two for each of us, top them with grocery store salsa and grated cheese and broil them until the cheese is bubbly, about three minutes. I round out this simple repast as I do many meals—with individual ramekins full of assorted, loaded-with-antioxidant berries.
We Love Ourselves a Snack
Have you heard of a cake salé? It's a Parisian cocktail snack, a savory quick bread with varying ingredients, like olives, ham, and always one or two types of cheese. Dorie Greenspan wrote a piece about them recently in The New York Times Magazine. I've made her recipe a couple of times; a slice of it makes for a tasty snack mid-day or with a glass of wine before dinner. When I have people over again, I definitely will serve it with drinks. Email me for her recipe, or any recipes I mention herein.
Three Parts Oil, One Vinegar
A dressing made with very high-quality olive oil and vinegar can make even the plainest salad taste scrumptious. Currently I'm using my favorite Villa Manodori Aceto Balsamico with a Tuscan olive oil called Castello ColleMassari that I discovered at Better Cheddar. When whisked together using the standard ratio of three parts oil to one part vinegar—and a little salt and pepper—these two fellas make an exceptional vinaigrette. A spoonful of finely minced shallot takes it right over the top. My favorite salad hack is to take a freshly washed and dried romaine heart, lay it longways on the cutting board and chop it vertically into one-inch slices. Instant salad greens, enough for a side salad for two people.
A "Capsule Collection" of Cold-Weather Recipes
Another loveable thing about Bobo is he has absolutely no aversion to eating the same thing two, even three nights in a row. I have developed a fabulous chili, a doctored-up rendition of the recipe on the back of Williams Original Chili Mix. I serve it the first night with whatever toppings I have on hand and Zingy Cornbread or just saltine crackers, the second night with fusilli for a chili mac, and sometimes I keep the racket going for night three and serve it over Pierre Franey's baked rice, my absolute favorite technique for making rice. I made this same rice recipe recently to accompany Laurent Tourendel's foil-baked cod with ginger, orange, and cumin. This recipe is such a grand slam! The fish steams inside individual foil packets, so it comes out infused with orange, ginger, and cumin and swimming in a delicious sauce. It would be perfect to serve at a small, casual dinner with friends. Of course I'll send you the recipe, along with some other champs, such as Snobby Chef Donald Loncasty's baked Scimeca's sausage links with Pomodoro sauce; orzo with mushrooms, scallions, and parmesan; and Melting Cabbage, all of which go well with Snobby's sausage recipe and Pierre's rice. Just ask for the capsule collection!
My Blondie Logic
It doesn't make sense to prepare a whole dessert recipe for two people. Who needs a whole coconut cake or pear clafouti sitting around the house, winking at them? I have, however, taken to baking an entire batch of blondies for just the two of us. I rationalize it because I can cut the blondies into squares and hide them away in a Ziploc bag, so they're not staring us in the face as a cake or pie would. The Perfect Cookie, a most excellent cookbook from America's Test Kitchen, is where I found my blondie recipe, which produces a truly outstanding cookie bar, with probably very little nutritional value. Well, it does call for a cup of either walnuts or pecans. Nuts are healthy. So that's not nothin'. You know what to do if you want the recipe!
---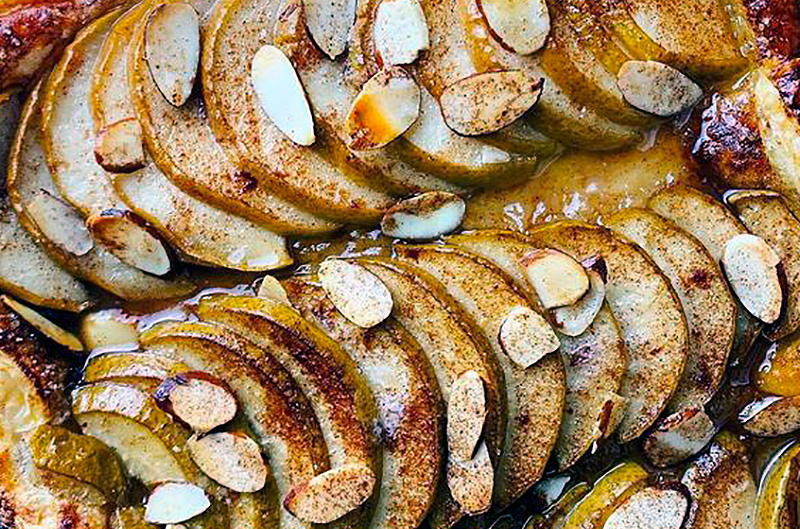 This Dessert Can Be the Hero of Your First "Safe" Dinner Party
My friend Cindy Barnhill gave me this simple tart recipe. The combination of pears, goat cheese, honey and puff pastry is heaven on earth. Cindy owns Pear Tree Design and Antiques, a treasure of a shop in Crestwood, (she'd love to meet you—check it out!) hence the name of this mouthwatering dessert.
Pear Tree Tart
1 package (2 sheets) frozen puff pastry, thawed
Egg wash: 1 large egg beaten with 1 tablespoon milk
8 ounces goat cheese
2 large pears, thinly sliced (I use Anjou)
2 tablespoons coarse sugar (or brown sugar!)
¼ cup sliced almonds
Sea salt for sprinkling
Honey for drizzling
Preheat oven to 375°. Line a 12- by 17-inch baking sheet with parchment paper or a silicone baking mat.
Unroll the pastry sheets on a floured work surface. Place the edge of one over the other and use a rolling pin to adhere them together. Roll the whole thing out into a 10 by14-inch rectangle. Fold over the edges and crimp down with a fork. Crimping is much easier the colder the pastry is, so place into the refrigerator to chill if needed.
Brush the entire pastry, edges included, with egg wash. Top with goat cheese.
Toss the pear slices and coarse sugar together. Line the pears on top of the pastry. Sprinkle with almonds and sea salt.
Bake for 35-40 minutes until the edges are golden brown. Remove from the oven, place on a wire rack, and allow to cool for 10 minutes. Drizzle with honey before slicing and serving.
---
Email me with your entertaining questions, dilemmas, or triumphs at mjackson@inkansascity.com