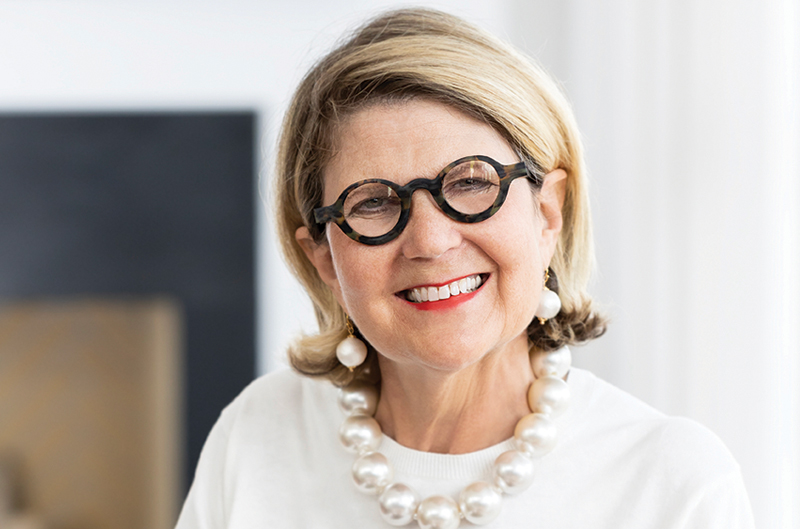 It's February, isn't it, and we are that much closer to the return of fun times together—happy hours, brunches, cocktail parties, dinner parties. Remember them? In a normal February I might be offering you ideas for Valentine's, Oscar and Super Bowl parties, but—vaccine notwithstanding—it's still not normal. I'm staying home, as the 'rona ain't over yet.
This pandemic has turned me into a cooking fool. I'm grateful for the many hours I've been able to spend in my cozy kitchen in South Hyde Park, making meals for me and my sweet, appreciative hubs. If you haven't been at the stove, do not let me guilt-trip you. You do you, honey. We all have our interests, essential distractions during the sadness of this pandemic. I happen to like cookery, and all the gadgets associated with it. In the June 2020 issue, I waxed on about my favorite simple, low-tech tools. Herewith are my most indispensable higher-tech things. My kitchen is small, so I must be selective about my stuff.
Blends with Benefits
Do you have an immersion blender? Mine has become my new BFF while I've gone on a mad jag of making wholesome, broth-based vegetable soups and puréeing them, as they sit in their pots, into little oceans of creaminess that taste decadent but are not. My immersion blender is by Everus, and—for a mere thirty-seven bucks—it comes with several useful attachments, including a whisk, and a small, light, food-chopper bowl. The latter makes it super easy to mince shallots or dice onions, without having to get out my huge, heavy pig of a food processor.
I learned about the Everus from my friend Donald Loncasty, aka The Snobby Chef, who uses his in a number if inventive ways, including dropping the blender stick directly into an open can of whole San Marzano tomatoes to break them up for a fresh-tasting tomato-basil sauce he serves with pasta. Snobby has shared the recipe—it's really more of a technique—with me. Email me and I'll send it to you, along with any other recipes mentioned herein, such as Julia Child's Potage Parmentier (potato and leek soup—only six ingredients, counting water and salt!) which I like to purée into velvety goodness with my Everus. It would make a snug little winter supper for you and your pod.
The Thermapen: Cheap Insurance
My ThermoWorks Super-Fast Thermapen instant-read digital thermometer cost me a usurious hundred bucks, but it bought me the security of knowing I will never again ruin a high-dollar chunk of meat, fish, or fowl. There's just no way you can know what's going on inside a $120 tenderloin of beef unless you take its temperature. Once you own a Thermapen and you know that your filet needs to be taken out of the oven the very instant its internal temperature reaches 132 degrees (it will rise about 10 degrees while it rests), your stress level drops considerably. There is a slew of $15 to $20 digital meat thermometers out there, but they are big fat liars. Buy the Thermapen and you will only cry once.
While we're on the topic of beef, my favorite tenderloin recipe is Ina Garten's filet of beef with gorgonzola sauce, from Barefoot Contessa Parties.
AAand She's Talking About the InstaPot Again
My six-quart Instant Pot (manufactured by Nova) is a truly useful gadget; worth the space it occupies. Email me and I'll send you the boeuf bourguignon recipe from New York Times food columnist Melissa Clark, who has written a terrific book of multicooker recipes called Dinner in an Instant. Her recipe for wild mushroom, pancetta and pea risotto is perfect for feeding someone who eats gluten free, and delicious even if you use plain old button mushrooms. Email and I'll send it to you.
One thing to bear in mind: although cooking in an Instant Pot is way faster than other methods, don't expect instantaneous meals. When you use the pressure-cooker function, be prepared for the lag time it takes for the machine to reach and release pressure—ten to 30 minutes. It's never factored into the recipe's prep time. I learned this the hard way.
I Would Never Throw Away My Crock Pot
Even though I have the InstaPot, I still use my Kitchenaid 6-Quart Slow Cooker; I bought it because it got six out of six stars from the persnickety editors at Cook's Country magazine. Inexpensive cuts such as pork shoulder, lamb shoulder, beef brisket, and chicken thighs transcend themselves after eight hours in le crock pot. The cold months are here, perfect weather for one-pot meals like Yankee pot roast, beef stew and Southwest-style posole. You can load up the slow cooker in the morning, toddle off to do whatever you do all day, and dinner awaits when you walk through the front door.
So Sous Me
Many home cooks now own a sous vide (French for "under vacuum"), which produces melt-in-your-mouth foods with minimal exertion. With sous vide, practically any vessel in your kitchen can be transformed into a precisely controlled water bath. You put food into a Ziploc bag, pop it into the water-filled pot, insert the sous vide device, set the temperature and time, and walk away, sometimes for as long as three days. Once cooked, the items can be held at the perfect degree of doneness for as long as you like. I have a brand-new Anova sous vide which I cannot wait to use; I like how it fits neatly in my utensil drawer. The first thing I will make will be The Snobby Chef's delectable sous vide pork tenderloin with garlic and shallots. You know what to do if you want the recipe.
Yes, the Idiot Box
I have an 18-inch flat-screen TV on my kitchen counter. The room would look a million times better without it, I know my design-y friends are horrified by the sight of it, and they will pry it from my cold, dead hands. It keeps me such company while I'm cooking. I watch the news, costume dramas on KCPT, Forensic Files, The Food Network, Turner Classic Movies and of course, my beloved Patrick (don't call him Pat!) Mahomes and the Chiefs. On election night, glued to the telly, I made the spaghetti sauce from my friend Sally Uhlmann's tour de force Just Cook with Sally. It calls for six different dried herbs, three types of canned tomatoes, and simmers for three hours, while you stir it every fifteen minutes. Yes, I will send you the recipe, but you won't regret buying the book.
---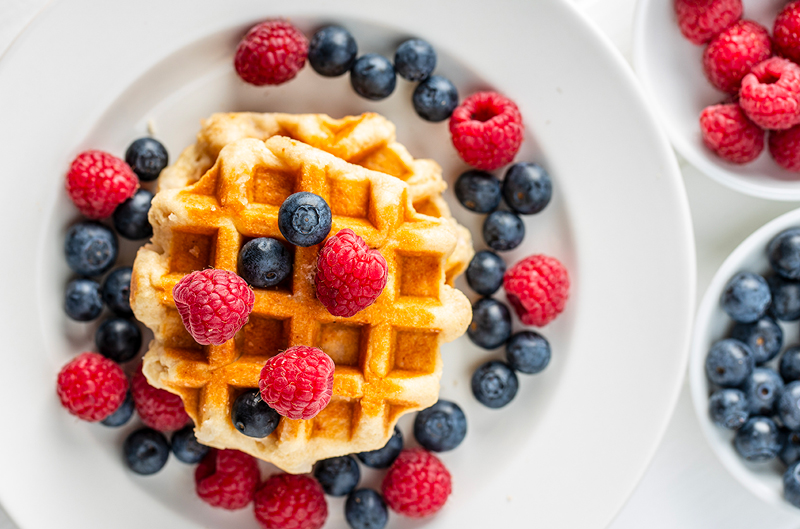 Waffle Around
I use my Cuisinart Belgian waffle iron to make these four-ingredient waffles; I can whip them up anytime because the ingredients are shelf-stable. The club soda makes the waffles crispy on the outside, light and fluffy on the inside. They sop up syrup like a sponge, so if you like your syrup sitting neatly atop your waffles, this is not the recipe for you.
Club Soda Waffles | Makes about 12 four-inch waffles
2 cups biscuit mix
¼ cup vegetable or canola oil
2 large eggs
1 10-ounce bottle club soda
In a large bowl, combine the biscuit mix, eggs, and oil. Add club soda—you want to keep it fizzy as long as possible, so open at the last minute. Stir batter until smooth. Pour just enough batter to cover the plates in your heated waffle iron. Cook until golden. Repeat until batter is gone. Serve waffles with maple syrup, heated if you are so inclined.
You can freeze cooled waffles between layers of waxed paper, and pop them in the toaster, or microwave on high 30 to 60 seconds until heated through.
---
Email me with your entertaining questions, dilemmas, or triumphs at mjackson@inkansascity.com