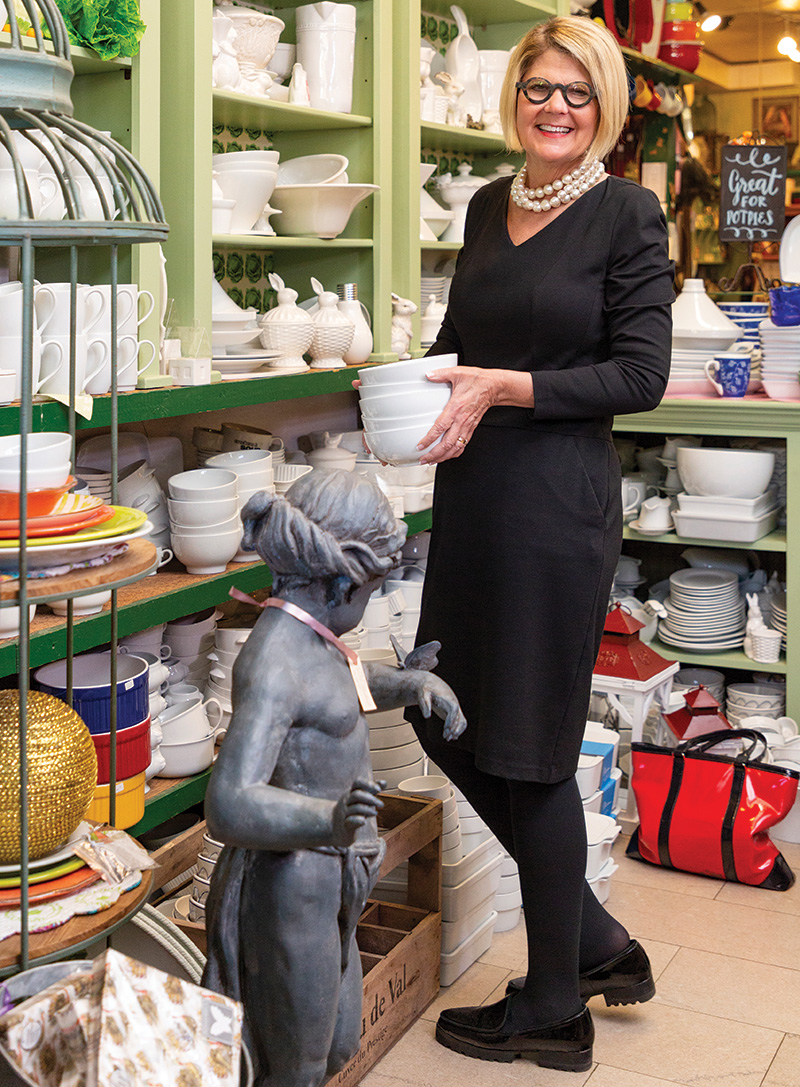 I bought a pair of white porcelain butter dishes last month when I was in Deauville, France. I mention this purchase in a bold and desperate attempt to impress you with my international travel habits, which really aren't all that habitual. A secondary reason is to incite you to acquire as many white serving pieces as your cupboard has room for. Classic, unadorned white serving pieces never go out of style, and food looks best on them. You don't need to travel to Deauville to buy them. I like to snap up white serving bowls and platters when I see them at Tuesday Morning or T.J. Maxx (read: for cheap). Then, when I bring food to a gathering (for example, The Barefoot Contessa's Outrageous Brownies—email for the recipe), I can just leave the serving dish as a little prezzie for the host. 
For this, the "Live Like A Local" issue of IN Kansas City, I offer you my highly personal list of local resources for party-giving—and party-attending. Some are hidden, others not so much. Most are near my midtown stomping grounds, but even if you live in the 'burbs, these places are worth the drive.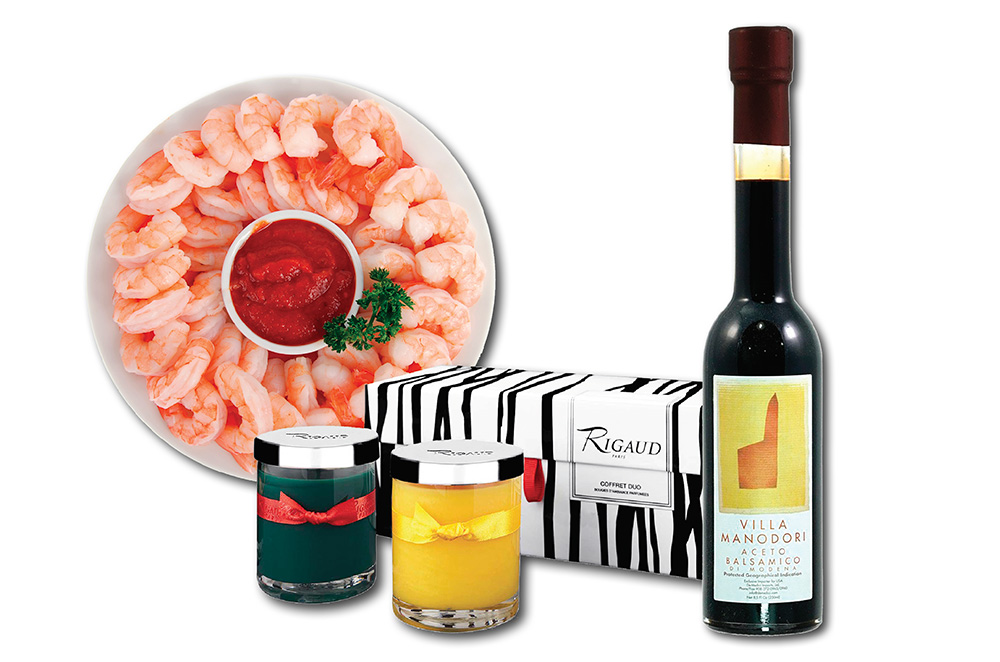 Those Darling Little Shops
Located at 50th and State Line Road in Westwood Hills, The Little Flower Shop and its conjoined sister shop, The Little Shop Next Door, are my favorite destinations for hostess gifts. It takes me about 30 seconds to pick out a hostess gift, because there isn't one thing there I wouldn't want for myself. Then I spend another hour shopping for me, me, me. You'll find chic-looking objets, scented candles (they have Rigaud!), witty cocktail napkins. They also have gorgeous grab-and-go "Baby Bloom" bouquets for $25.
Here's Why I Can't Shut Up About Pryde's
These days, Mojitos are a standard cocktail, but there was a time not so long ago when no one outside of Havana had heard of such a thing. It was during this era that a friend returned from an exotic vacation and told me about sampling his first Mojito. Keen to try one myself, I researched the recipe and learned that an authentic Mojito requires use of a muddler. I'd never heard of it. So I headed to Pryde's Kitchen and Necessities in Westport.
Sales associate: May I help you?
Me: I'm looking for something called a muddler.
Sales associate: You mean like for a Mojito?
Me: Well, yes!
Sales associate: Would you like silicone, stainless steel, or hardwood?
This illustrates exactly why Pryde's is my go-to place for all things kitchen. They have everything and they know everything. They never disappoint. Speaking of muddlers and Mojitos, I have a terrific recipe for Mojitos for a Crowd—email me and I will send it to you!
My Fave for Fish and Meat
Need beef filet sliced paper thin for carpaccio? Berkshire pork cut for kebobs? Great lump crabmeat for crab cakes? Take thee to McGonigle's, at Ward Parkway and 79th Street. The butchers are extremely knowledgeable and will never look at you like you are daft if you ask for tenderloin tips because you're making Julia's Saute de Beouf (email me for the recipe) The rest of the store is serviceable, too, with enough general grocery items that you probably won't need to make another stop on the way home.
Foodie Nirvana
It's so easy to drop a couple hundred bucks at The Better Cheddar, the best specialty food shop in the city. For vinegar snobs like me, it's a particularly dangerous place. They have my Villa Manodori Aceto Balsamico for $52 a bottle—the tiniest drizzle makes anything taste good.
As one would expect, their cheese assortment is massive, with many pricey selections. But it's a better deal than you might think—they will re-cut any piece into smaller bits, so you buy only what you need. My current favorite, Pierre Robert, might sound steep at thirty-five dollars a pound, but a quarter pound is manageable. It's like eating butter mixed with crème fraiche. Smeared on a slice of ripe pear, you have the perfect fall appie.
I shop at the Plaza location. If you get there between nine and ten in the morning, you can park right out front.
Wine, Roses and Emergency Dinners
Why do I love my midtown Costco? Because the wine deals alone are worth the price of membership: (I challenge any wine snob not to like The Kirkland Signature Napa County Cabernet Sauvignon, at thirteen bucks a bottle.) Because Kirkland brand olive oil is cheap and fabulous. Because if you get there by noon you can buy coral-pink roses—two dozen stems for about seventeen bucks. And because, in an emergency, you can always find all the makings for a perfectly respectable dinner party. Buy the shrimp cocktail platter and re-plate it to a pretty serving dish for the hors d'oeuvre. Then, serve their Caesar salad (from the deli, not the kit) followed by Kirkland Signature lasagna with Italian sausage and beef. For dessert, fresh berry cream pie. Dinner. Boom. Done.
While We're on the Topic of Last-Minute Dinner Parties
At his glammy Midtown studio/event space, my friend Alejandro Lopez assembled an impromptu dinner for ten to honor the artist Hunt Slonem, in town for his show at Weinberger Fine Art. Alejandro served a scrumptious buffet of take-out Indian food. I tell you this in another attempt to impress you because, yes, I got to go, and as a way to assert that Indian takeout is a great dinner party solution, and Taj Mahal on Wornall Road, Alejandro's choice, is a dependable source for it. Alejandro has graciously agreed to share his brilliant menu—email me and I'll send it to you.
A Final Shout-Out to KC Take-Out
With the emergence of UberEats, DoorDash and Grubhub, you can have amazing food delivered in about 45 minutes; many Kansas City restaurants have special menus to accommodate this new market. Even my favorite "hidden" restaurant, Jarocho Authentic Mexican Seafood in Kansas City, KS, is available via DoorDash. The Fish Filet Veracruz is perfect for a dinner party. It comes with rice, salad and tortillas. Don't forget to order everything in bulk.
---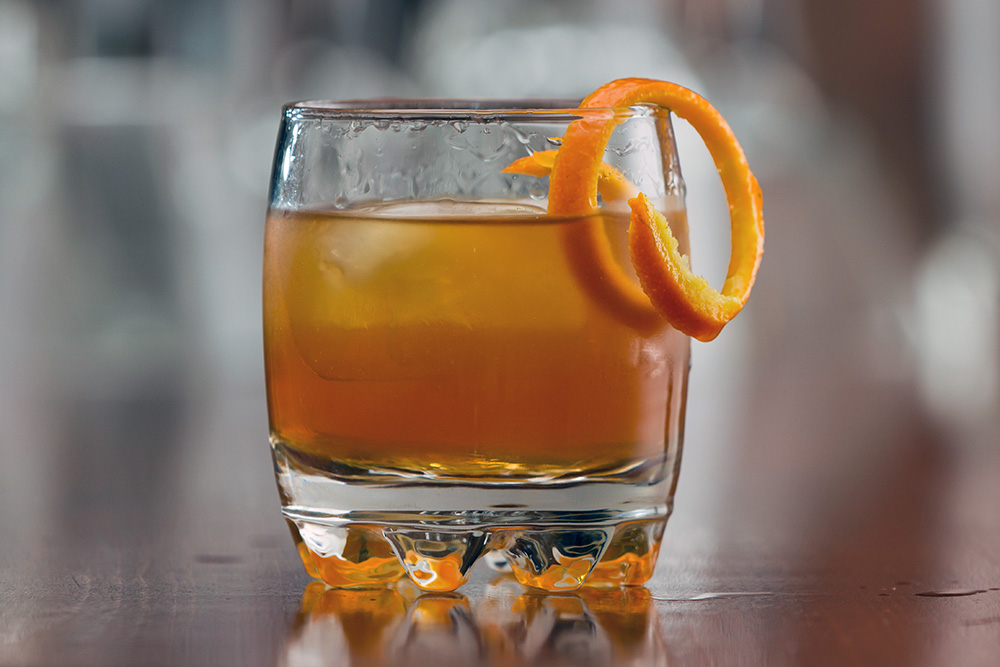 A Honey of a Drink Recipe
Don't you just adore a cocktail you can make in big batches? This one, developed by the gifted hooch masters at Tom's Town Distilling Company, is tangy, refreshing and surprisingly complex. It would make a great signature cocktail at your next gathering.
The Bee's Knees
1 part raw honey
2 parts freshly squeezed lemon juice
3 parts Tom's Town
McElroy's Corruption Gin*
Mix ingredients together and pour over ice in a rocks glass. Garnish with a lemon peel. This drink is boozy. To make it less so, add water.
*I normally don't recommend a specific brand of liquor in a cocktail recipe, but this gin is what makes this recipe hum. It's available at most Kansas City liquor stores.
---
Email me with your entertaining questions, dilemmas, or triumphs at mjackson@inkansascity.com