Our entertaining maven offers suggestions for hosting birthday celebrations, surprise and otherwise.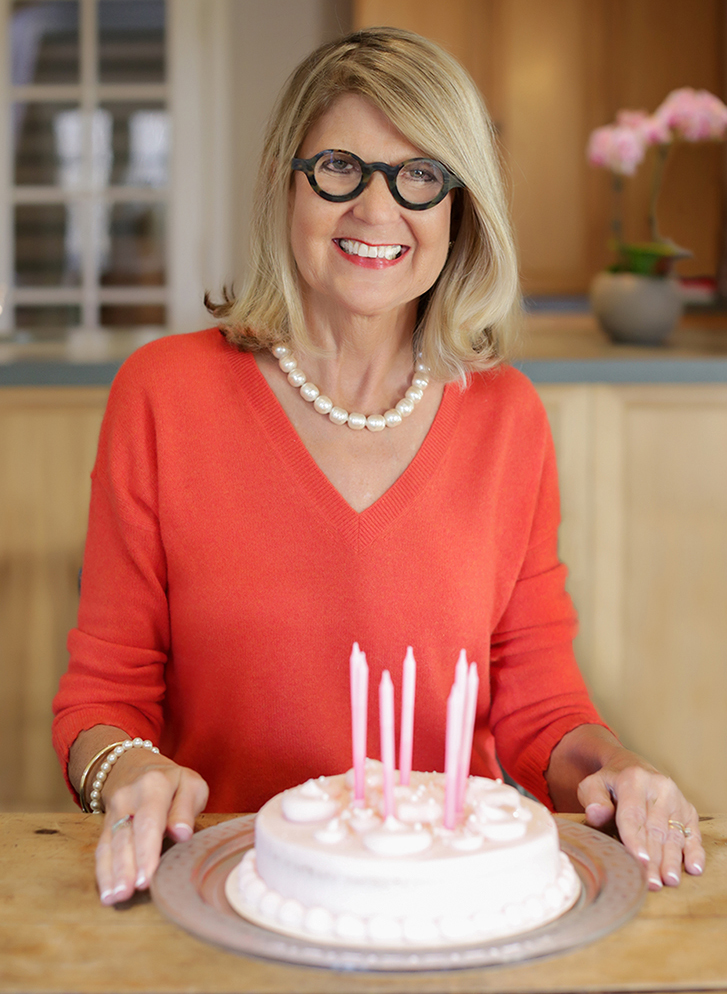 I have a group of girlfriends—we are four altogether—who have much in common: married and childless by choice; many mutual friends; a love for food, fashion, good design. For more than 25 years, we've celebrated our birthdays together, and boy does it assuage the pain of turning another year older. We have drinks and dinner at Lidia's Kansas City; the birthday girl is treated, of course. Then she opens a prettily wrapped something from each of us accompanied by a card, the saltier the better, chosen to make us cackle as we pass it around the table. We give superlative gifts because our tastes are so similar, we know exactly what each will like.
In the early years of the tradition, we would choose a date close to our birthdays for our girlfriend celebration, the understanding being the actual birthday was sacrosanct for celebrating with the hubsters. We came to realize we enjoyed our girlfriend celebrations more than dinner with our spouses (no offense, boys) and began to insist on doing the Rock Chick—that's what we call ourselves, a story for another column—celebrations on our actual birthdays, which aligns with my first axiom of birthdays: in order to have a birthday one genuinely enjoys, one must take charge of the planning oneself, one mustn't rely on one's spouse or family to orchestrate the birthday of one's dreams, even if it means throwing oneself one's own party. In fact, some of the best parties I've ever attended were self-hosted birthday parties.
… Which Doesn't Mean Surprise Parties Aren't Wonderful
There's nothing more fun than being an accomplice to a surprise party where the honoree is genuinely gobsmacked and thrilled. But if you are planning a surprise party, consider carefully the preferences of the surprised. And especially consider how you are orchestrating the surprise, and how the honoree will react.
There are shy types, perhaps you are one, who would rather prep for a colonoscopy than endure the glare of the surprise-party spotlight. If your guest of honor is a bashful soul, an all-at-once surprise is probably not the best way to make them feel honored and loved. Consider letting them know at the beginning of the party what's going on, then staggering the guests' arrival so they do not feel ambushed. Or let them in on the planning from the beginning, but surprise them with out-of-town guests or a special musical performance.
Whatever you do, make sure the scheme you devise to lure the honoree to the party necessitates that he or she look presentable enough to be photographed. Party pix are forever, especially on social media.
Here's an Idea for a Super-Easy Surprise Party
My St. Louis sister's much beloved husband, Rick Kelly (not one of the shy types mentioned above) recently marked a milestone birthday and Sissy and two of their couple friends hatched Operation Tango Romeo (Trick Ricky). The scenario was that the two couples were coming over at 6:30 for drinks, then heading to a restaurant for a celebratory dinner. But they had secretly sent out 40 evites, instructing friends to show up at the house promptly at 7:00 with no gifts, but an appie from their favorite restaurant. The two couples arrived at 6:30; unbeknownst to Rick, their cars were loaded with ice, booze, rented barware, and balloons. Thirty minutes later, guests arrived bearing Buffalo wings, flatbread, artichoke dip, bruschetta. The planners quickly mobilized to pull together a self-service bar. There was no moment where people yelled "surprise," but it dawned on Rick pretty quickly what was happening, and he was over the moon to see so many friends. I've never seen anyone have more fun at their surprise party, and it was so easy. The last guests left at 2 a.m.
In Praise of Professionals
The most effortless way to host a birthday party, surprise, self-hosted or otherwise, is to call a caterer and let them swoop in and handle everything. A good caterer will have a million wonderful ideas for food and drinks, and can supply servers and bartenders to keep the party humming. If you have a generous budget, this is an option I highly recommend. You could also consider using the birthday person's favorite eatery; many restaurants have a catering arm.
If you don't have budget for that, or you just want it to be more personal, you can still give your birthday person a humdinger of a party. Read on for a few ideas.
Nothing Like an At-Home Dinner Party
For many years I celebrated my husband on his birthday with a small, unfussy dinner party with close friends. He is a man of simple tastes and I always served his favorite dinner, white chili and a great dish called Zingy Cornbread (email me for it and any other recipe mentioned herein), with my famous—if you don't mind my saying—coconut cake for dessert. You'll find the recipe below.
My sister once presented a dear friend with a handmade certificate, redeemable for dinner for 12 at Sissy's house, on a mutually agreed-upon evening, the guests to be of the birthday girl's choosing. Isn't that a darling idea? The dinner was beautiful, every detail engineered to reflect the honoree's favorite flowers, colors, and especially her favorite dinner, Ina Garten's Boeuf Bourguignon. I have the recipe!
Simple Celebration Ideas, Surprise Optional
A cheery brunch can make for a festive, cost-effective birthday celebration, especially when children are on the guest list, or older people who no longer venture out at night. All you need for a respectable brunch are: a big, gooey, egg casserole; a fruit salad; an assortment of baked goods, and mimosas and Bloody Marys. Yes, I have recipes.
Or invite people to stop by after the dinner hour for Champagne (or prosecco) and birthday cake. This doesn't require a lot of planning, and you can invite more friends than you could to a seated meal. Dolce Bakery makes exquisite birthday cakes from scratch, and they will inscribe a message for free. Just remember you need to order it two business days in advance. I also have a recipe for a marvelous-tasting red velvet cake made with German chocolate cake mix, buttermilk, cider vinegar, and red food coloring. I'll send it to you, along with a nice cream-cheese frosting recipe.
If it's a very significant birthday, you can ask guests to provide a photo, memory, or story about how that person has affected their life. Many people don't get to hear how special they are while they are alive. Birthdays, all kidding and cynicism aside, provide us just that opportunity.
---
Merrily's Crowd-Pleasing Coconut Cake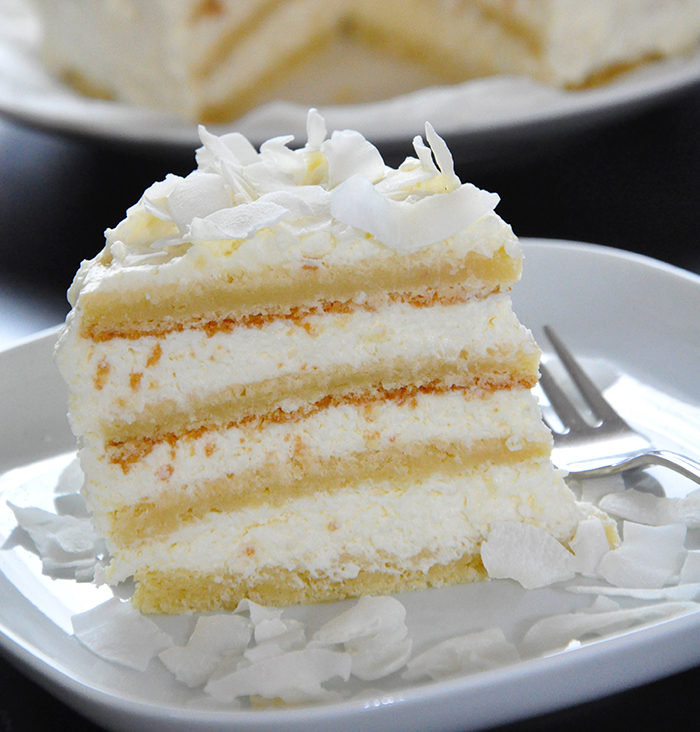 This makes a wonderful birthday cake. And no one will ever know you used a cake mix.
Cake
1 box (15.25–ounce) Betty Crocker Super Moist yellow cake mix
3 eggs
1 cup whole milk

1/2

cup vegetable oil
Frosting
2

1/2

cups heavy whipping cream

1

1/2

cups sour cream

1 1/4

cups powdered sugar or to taste

1

7-ounce can or bag Baker's sweetened coconut
Prepare cake according to package directions, substituting whole milk for water. Bake, as directed in two round cake pans. Cool and cut each layer in half, making four thin layers. Prepare frosting by whipping heavy cream and sour cream together until soft peaks form. (A stand mixer is best for this job.) Gradually beat in sugar, then stir in most of the coconut, reserving about a third cup. Liberally frost top of each layer, stack and frost sides. Sprinkle reserved coconut over top. Serves 12.
(Can be made a day ahead; refrigerate then bring to room temperature to serve.)
Note: you might have too much frosting, but better too much than not enough!