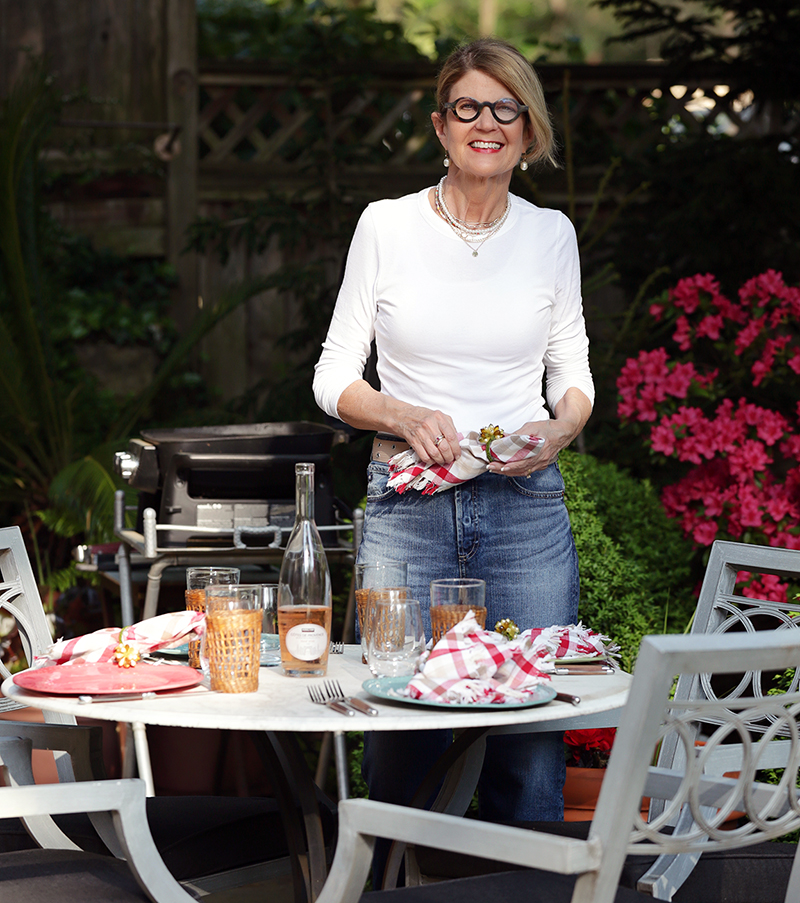 I am not the outdoorsy type. You'll never find me willingly camping, canoeing, hiking, orienteering. In fact, it is a running joke with my family how sour and cranky I become during enforced outdoor activities. 
But when conditions are on the money, I do love myself an outdoor party. Really, is there anything more pleasant than unwinding with friends in the glory of a balmy Kansas City evening? Conversely, is there anything worse than going to an outdoor party where you're miserable because it is too hot, too cold, too windy, too wet, or too buggy?
That's why rule number one for outdoor entertaining in KC is to have a Plan B for inclement weather. Think about how you'll arrange the bar, the food, and the seating if you have to move things indoors. If the whole point of the party is to be outside, say for a cook-out, provide a rain date right from the start. Guests can pencil in the second date as well. Just make sure to keep guests informed if forecasts are dicey as the day approaches. 
Here are some other ideas about entertaining alfresco.
Candlelight, Crickets, and Comfy Seating
You don't need lavish landscaping or high-end lawn furniture to have a great outdoor party. My husband and I live in a modestly sized "Kansas City shirtwaist" home in South Hyde Park. It's never going to be chosen for a garden tour, it saddens me to say. But we do have a shady back deck with comfortable seating, a good sound system, and easy access to the bar and kitchen. Oh, and a supply of outdoor foggers, the only insect repellent that seems to actually work. I spray it on everything, including the patio furniture, 45 minutes before people arrive. And then I keep some Off! handy for that one guest who is irresistible to mosquitoes. 
Consider the Lighting
The right lighting can make an outdoor party magical. Invest in some sturdy hurricane lanterns, in varying sizes, and candles to glow inside them. I love the look of little glimmering lanterns suspended from a pergola, patio umbrella or overhanging tree. I also like to see citronella candles and flickering tiki torches—although they don't do much to repel insects—and tiny, sparkling fairy lights. It's important for your bar area to be well lit. Sometimes I take a smart-looking lamp from inside my house and plug it in to light the bar on our deck. 
Tunage, Check
Good-quality outdoor speakers are a sensible buy. The Sonos Move wireless portable speaker gives you voice access to audio streaming services and your digital music collection, and it has Bluetooth so you can take it beyond the reach of your WiFi network. What to play? Reggae music sets a nice stage for outdoor partying. I tell Alexa to play the Bob Marley station and she never disappoints. But musical tastes vary, darling. You do you. 
Smart Purchases Make for Easy Parties
A few other sensible purchases include: Melamine dinnerware that looks like ceramic or china but resists breaking, chipping or cracking; acrylic drinkware that looks like the real thing but doesn't pose the risk of broken glass; a handsome insulated beverage tub that chills bottled and canned drinks without producing condensation, which means you can place it anywhere and it won't damage the surface or create a puddle; and an all-weather table or cart that will be the ideal self-serve station, providing all the essentials in one spot.
Guidance for Great Grilling
Cooking outside while your friends hang out and watch is fun. No matter what kind of grill you have, you want to keep its surface clean. Oil it well while it is cold and preheat it thoroughly. 
Use the finest ingredients you can afford and have them at room temperature for faster cooking. Assemble all the tools you might need—spatula, tongs, fork, basting brushes, wire grill brush, thermometer, etc.—so you won't have to leave the fire to dash into the kitchen. 
Cookouts are relaxed affairs. Give yourself plenty of time and don't worry if the fire dictates that you have to eat sooner or later than you planned. Email me for my Grilled Mojito Chicken recipe and three side dishes that go perfectly with it: watermelon-feta salad, fresh corn pudding, and ratatouille. (But please know there is no shame in serving store-bought sides.) 
The Very Best Way to Spend a Summer Evening Outdoors in KC
For two long years, the pandemic deprived us of Shakespeare in the park. The wait is over, and I'm ecstatic! The Heart of America Shakespeare Festival is mounting a full production of Romeo and Juliet, June 14 through July 3. Grab a few friends, a blanket and some wine and head for Southmoreland Park to see consummate actors perform The Bard's most popular and romantic play. The show starts at 8 p.m., but you can go as early as 6 p.m., spread out your blanket, and enjoy a light supper and people-watching before it begins. There is always a pre-performance lecture and a Shakespeare parody happening before the show; you can wander back and forth between them and the food trucks. You'll find good food for sale, or you can tote in a hamper of homemade comestibles. Another idea is to swing by The Mixx (4855 Main) or Jimmy John's (4300 Roanoke or 3900 Broadway) and pick up some chips and sandwiches to nosh on before the show. The show, like my advice, is free, free, free. 
---

Grilled Swordfish

with

Sauce Niçoise
Former Kansas Citian Cort Sinnes is a well-known cookbook author and legendary host. This simple recipe is from his excellent tome The Grilling Book, written in 1985, an absolute classic. If swordfish is not available, use sturgeon, tuna, shark, or marlin.
6

tablespoons butter

 

Juice of 1 lemon, more lemon for garnish

1

or

2

garlic cloves, minced or pressed

2

anchovies, mashed with a fork*

1

tablespoon minced parsley, more for garnish

 

Freshly ground pepper
4 swordfish steaks
Chopped parsley
Lemon wedges
Melt the butter in a small saucepan. Add the lemon, garlic, mashed anchovies, parsley, and pepper to taste. Cook over low heat, stirring occasionally, for 10 minutes. Keep over very low heat until ready to use. Grill the swordfish steaks over a hot fire until you can slip a skewer into the fish with little resistance. Pour the Niçoise sauce evenly over the 4 steaks. Garnish with a sprinkling of parsley and a wedge of lemon. Serves 4.
*Substitute olive pâté or tapenade if there is an anchovy hater in the group.
---
Email me with your entertaining questions, dilemmas, or triumphs at mjackson@inkansascity.com