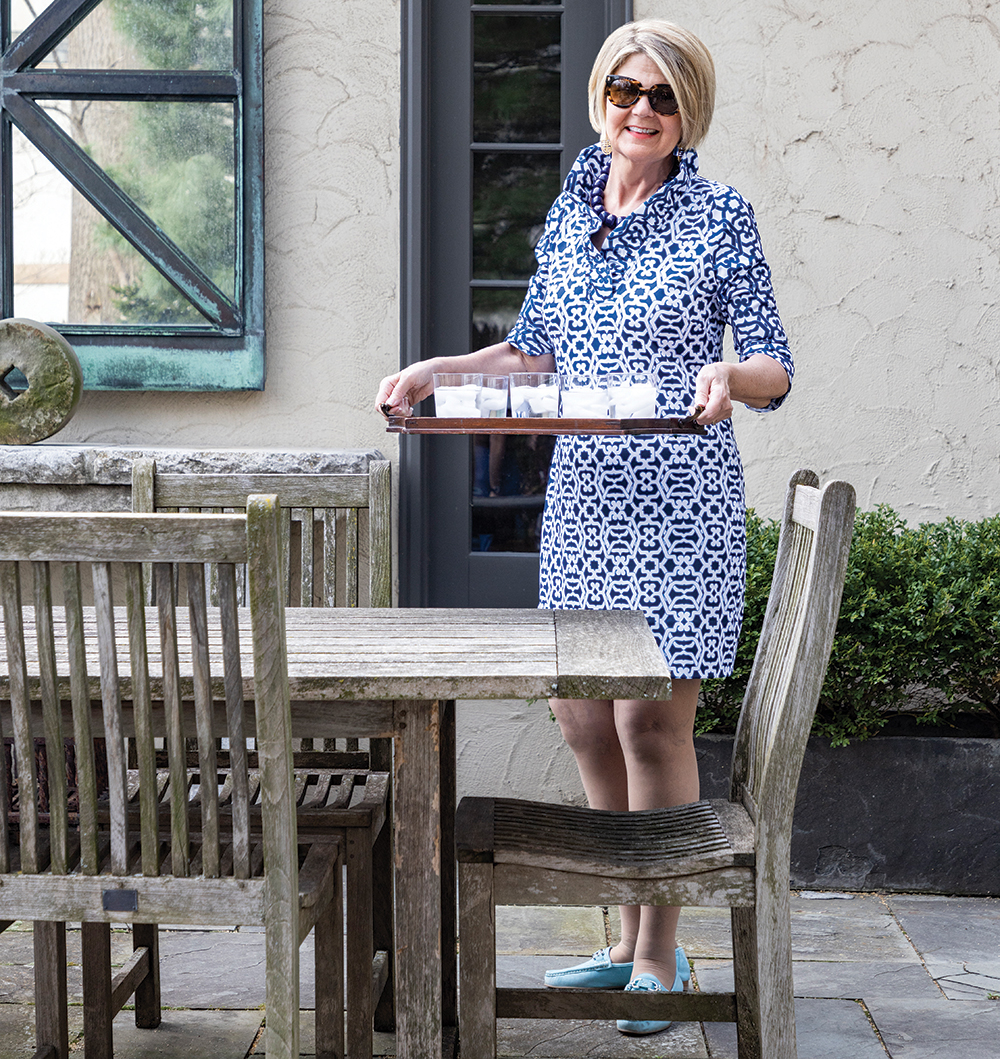 It's outside party time! Huzzah! Normally my husband and I would be enthusiastically gearing up for a season of casual cocktail gatherings on our shady back deck. But this year will be a challenge. That's because the bamboo—our tall, gorgeous, sheltering bamboo that made our deck feel like a tropical paradise, and, very importantly, concealed the view of a hideous, absentee-landlord home that abuts our backyard—has mysteriously died. All of it! Maybe it's not completely dead; it might grow back, but not soon enough to do its job this year.
I like to evangelize about how you don't need a Pinterest-worthy yard to have a great get-together, that your friends won't care if your lawn is not landscaped or your garden scraggly, just have the party! It's time for me to remember my own advice and continue to gather friends on our deck, because an outdoor party—even if the view is a neglected eyesore of a house—is fun. When the weather is gorgeous, and the wine is cold, just spending an afternoon or evening outdoors with friends is entertainment enough. The bamboo is gone, but we still have comfortable seating, a good sound system and plenty of Yard Guard foggers, the only insect repellent that really works. (I spray it on everything, including the patio furniture, 45 minutes before people arrive. And then I keep some Off! handy for that guest—one in every crowd—who is irresistible to mosquitos.)
Here are some ideas for super-casual outdoor gatherings.
A Blueprint for Last-Minute Cocktails Al Fresco
Here's a perfectly respectable drinks party you can pull together quickly, after a day of puttering around your garden: for beverage choices, offer white wine, gin-and-tonics, and vodka sodas. For food, put out good cheese and crackers (I have a list of my favorite combinations—email me for it or any of the recipes I mention herein), a bowl or two of nuts and some dried fruit. Your guests can admire your handiwork, have a drink and a snack, and move on for dinner somewhere else. But remain flexible because what might happen is you all sink back in your chairs with your adult beverages, the conversation gets good, and someone allows as to how it sure would be easy just to order a couple pizzas. Others might quickly agree and soon you're on the horn with Minsky's, and then you're having a casual, relaxed dinner with friends—and that's what summer is all about, isn't it?
Potluck But Not Really
Hatch a plan for a casual summer get-together with good friends. You do a grilled main course, say Mojito chicken, marinated flank steak, or Pacific Rim pork. You ask guests to bring sides, brilliantly coordinated by you to avoid the ingredient overlap that so easily can happen if you just declare it to be potluck. You could ask one friend to bring a ratatouille (Craig Claiborne's is amazing) and another to bring their favorite potato salad or fresh corn pudding and perhaps a third to bring a watermelon and feta salad. For dessert I recommend the Barefoot Contessa's peach-raspberry crisp. 
Drinks On The Driveway
One's driveway is an often overlooked venue for party-giving. Neighbors of my St. Louis sister, two gentlemen, on occasional warm-weather Friday nights, host a popular gathering called, simply, "Drinks on the Driveway." They assemble a bar in their driveway, crank up the music, put out a few snacks and laissez les bonne temps roulez. I've been told similar gatherings happen all the time in convivial suburban neighborhoods teeming with small children. The parents love it because they can sip and gab and keep an eye on the kiddos.
Don't Forget The Music!
Music adds life, soul, joy. You easily can create a playlist on iTunes by selecting an artist and creating a station. iTunes will automatically serve up music of the same style. If you don't like a song, just fast forward! My friend David Jimenez, who lives in Paris and gives the world's most swellegant parties with the dreamiest music, starts evening dinner parties with an upbeat station by Coralie Clement, which features a fresh mix of French and American pop and jazz artists. Then he switches to Diana Krall, Tony Bennett or Melody Gardot to create a more mellow vibe later in the evening.
If you're a Pandora fan, you can't go wrong with the "Hipster Cocktail Party" station.
Other Thoughts About Outdoor Entertaining:
• If you are planning a large, outside spring or summer party and are trying to decide whether or not to rent a tent, rent the tent. Tents have saved a lot of great parties from disaster. And your peace of mind is worth it.
• Have a Plan B for inclement weather. Think about how you'll arrange the bar, the food, and the seating if you have to move things indoors. If the whole point of the party is to be outside, say for a summer cook-out, provide a rain date right from the start. Guests can pencil in the second date as well. Just make sure to keep people informed if forecasts are iffy as the day approaches.
• For a no-fuss grilling party, choose several make-ahead or store-bought items for sides and starters. Trying to grill meat, vegetables, and bread all at the same time will stress you out and in turn, your guests—even if they love hanging around the grill.
• If younger kids are on the guest list, they will love you for having sidewalk chalk and bubbles.
• If your party is in the hot sun, have a box of sunhats, baseball caps, and sunscreen for guests to grab. Add four-star style with an ice bucket of spray-mist water bottles.
• Chill wine in a flash by placing the bottle in a bucket and adding a layer of ice, followed by a layer of salt. Repeat until you almost reach the top. Fill the bucket with cold water to just below the ice line. Your wine will be cold in less than ten minutes.
• Lighting for night-time parties is critical. Invest in some sturdy hurricane lanterns, the more the better, in varying sizes, and some fat candles to glow inside them. I love the look of little glimmering lanterns suspended from a pergola, patio umbrella, canopy, or overhanging tree. I also like to see flickering tiki torches—although they do nothing whatever to repel insects—and tiny, sparkling fairy lights.
---
Try It Before You Knock It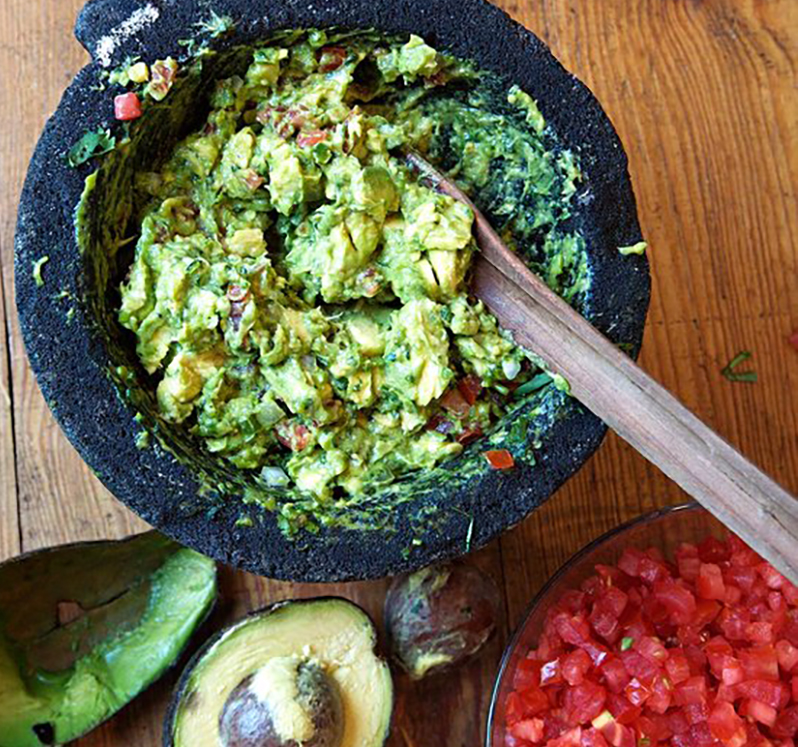 Chrissy Teigen's first cookbook, Cravings: Recipes for all the Food You Want to Eat is packed with delicious, practical recipes. (And bonus: it's laugh-out-loud funny.) She calls this recipe the most controversial recipe she ever created, because, you know, cheese in guacamole. Trust me, it is a winner. It would be the perfect thing to serve with warm-weather drinks, or to bring to a dinner party.
Chrissy Teigen's Cheesy Guacamole
3 large Hass avocados
3 tablespoons fresh lime juice

½

teaspoon cayenne pepper

½

teaspoon ground cumin

½

teaspoon kosher salt

1

cup coarsely grated sharp cheddar cheese

½

medium onion, diced

2

Roma (plum) tomatoes, seeded and diced

½

jalapeño pepper, seeded and finely minced

2

cloves garlic, minced

¼

cup chopped fresh cilantro leaves
Halve the avocados and scoop the flesh into a large bowl. Add half the lime juice, the cayenne, cumin, and salt and mash with a potato masher until chunky. Fold in the cheddar, onion, tomatoes, jalapeño, garlic, cilantro, and remaining lime juice. Press plastic wrap into the surface of the guacamole (this prevents it from turning brown) and let sit at room temperature for one hour before serving, to let the flavors meld. Serve with veggies or taco chips.
Thank you to reader Sharon Fallek, who emailed me to recommend Chrissy's book.
---
Email me with your entertaining questions, dilemmas, or triumphs.