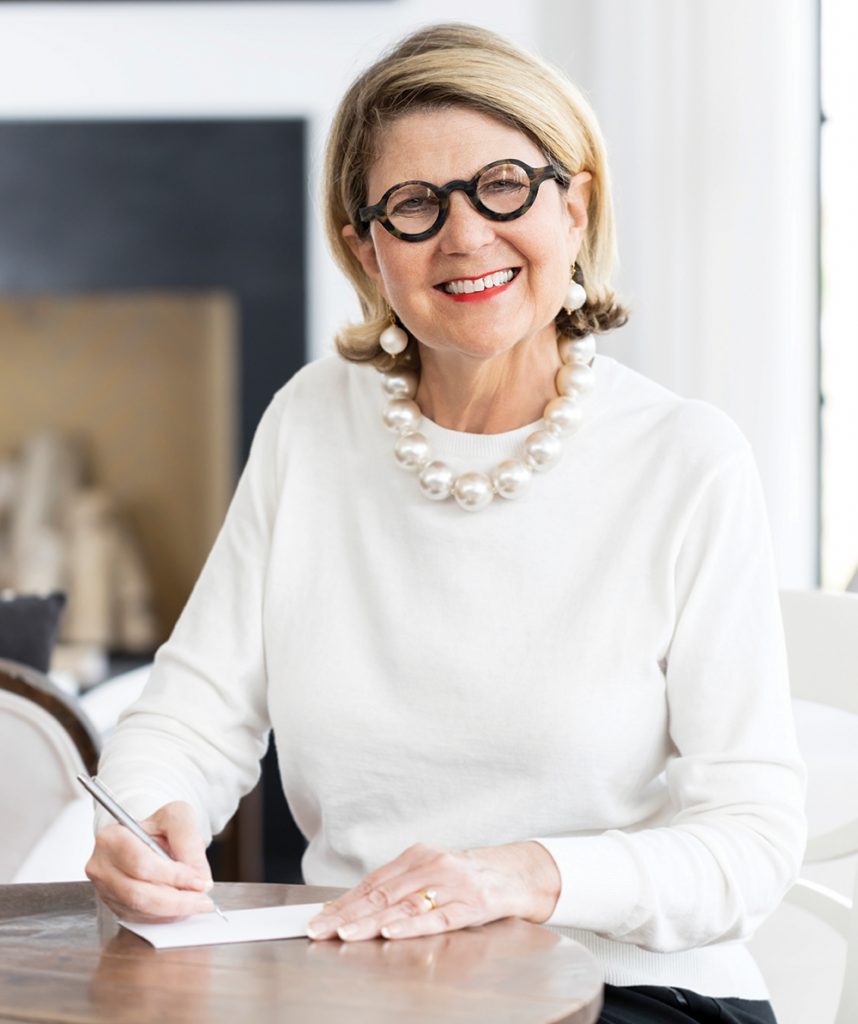 Merrily offers guidance for inviting people to parties large and small, formal and informal, planned and spontaneous. 
My husband is an aggressive bill payer. The minute he gets his hands on the mail, he sorts through it, feverishly seeking a bill to open and pay. His wife, on the other hand, will blast through the same pile, hurling aside the bills, catalogs and other detritus, in search of that increasingly rare jewel: a hand-addressed invitation. When there is no such treasure—most days—it is a bit of a let-down. 
Which is not to say I don't love getting an evite, text, voicemail, or email invitation. In fact, I would submit that great parties happen more often because technology allows us so easily to issue invitations. But there is something singularly thrilling about getting a printed invitation.
Tradition is always in style
Nobody understands the benefits of printed invitations better than Trish Podlasek, owner of chic stationery purveyor Cuorebella in Hawthorne Plaza. "A printed invitation tells the guest his or her presence is meaningful," Trish says. "Even if it's for a backyard barbecue or drinks on the patio, sending a printed invitation sets a special tone and gives guests a tactile reminder of the fun that's to come."
If you want to send a hip-looking invitation for a fun party, Trish says you can look to fashion magazines for design inspiration. "Invitation design trends follow fashion trends," she points out. 
You'll note that I specify party invitations. The rules are different for weddings. Call me old-fashioned, but I think that the format and wording of a proper, traditional wedding invitation is not to be messed with. 
A wedding, at its heart, is a sacred event. The invitation to one's nuptials is no place to make a fashion statement or show off your best friend's awesome graphic design skills. If being socially correct matters to you, an engraved invitation, on ivory paper, no extra frills or gewgaws, is the way to go. Google Miss Manners or Emily Post for the correct form. 
Round up the usual suspects
For smaller, more spontaneous parties, it's perfectly acceptable to text, email, or call around to find out who can come, and then follow up in writing. (Or not. Really, the important thing is that you have the party.) A written follow-up is an especially thoughtful touch when you are inviting someone who has not been to your house before. 
Your personal stationery is perfect for this sort of correspondence. Blank-on-the-inside note cards, the kind you find in museum gift shops, are nice, too. 
You can keep the wording very simple. All invitations need to communicate the basics: time, place, what to wear and how much one can expect to be fed. For the afore-mentioned aide memoire, you can almost word it telegraphically, e.g. Dinner—Saturday, June 1, 7 p.m.—1313 Mockingbird Lane—casual, darling. 
And speaking of correct
I get a secret and very catty little thrill when I see otherwise educated people make the mistake of saying "please RSVP," which they do a lot. Since r.s.v.p. (always lower case) stands for the French phrase, répondez, s'il vous plaît, which means "please reply," you've already said please. So throwing that extra please in there is redundant. 
Another common mistake made by people who should know better is listing the man first in social correspondence. The woman's name always comes first, e.g. Leslie and George Brett, never George and Leslie. With same-sex couples, the names go alphabetically, by last name. e.g. David Brinkerhoff and Dan Meiners. And finally, people are always misusing the honorific "Mrs." Mrs. means "wife of." So, I am addressed either as Mrs. James B. Jackson or Merrily Jackson. I am not Mrs. Merrily Jackson. Were I a singleton I would be Ms. Merrily Jackson. 
Don't dis the evite
Evites have risen in my esteem the last couple of years. One simply cannot ignore how practical they are for the host. And there are certain clear advantages to the invitees, for example being able to see who else has been invited, so you know to whom you can mention the party. Which brings up another important point about invitations of any kind. Never talk about parties to which you've been invited in front of those whom you don't know definitely to have been invited. It hurts to feel excluded.  
Know that the host can see the exact moment when you view an evite, so you totally can get busted for not replying in a timely fashion. It's best to respond within two days of viewing. If you are unsure whether you can attend, respond "maybe" with a brief explanation of what is holding you up. Then change your reply to yes or no as soon as possible.
If you wish to be clever in creating any kind of invitation, remember that brevity is the soul of wit. I recently got a Paperless Post evite that made me laugh out loud. It said simply "Joseph. 50. Tears. Cocktails." and then the time and place. (Note: The honoree's name has been changed to protect the feelings of the uninvited.)
Facebook invitations: No, just no
Here's my pet peeve: invitations on Facebook when I'm one of 752 people invited. I don't even respond to them because I know no one sat and thought "Gee, it would be awfully nice if Merrily attended my little event." If I see an invitation to a party on Facebook, I seldom click through to look at it; I just assume it is one of those mass invitations and that if the inviter really wants me there, he or she will follow up with a personalized email, text, phone call, or better yet, something in the mailbox. 
A final thought
Facebook invitations notwithstanding, it takes courage to extend an invitation, particularly to one's home. If inviting people makes you nervous, you are in good company. The most self-confident, fabulous people tell me how terrified they are to have people over, even if it's only dinner for a couple of friends. Just know how deeply such invitations matter in people's lives.  
---
Timing is Everything
Whether you're mailing invitations or inviting guests by evite, text, or phone, you don't want to invite guests so early they forget, or so late they're booked. Here are my suggested guidelines.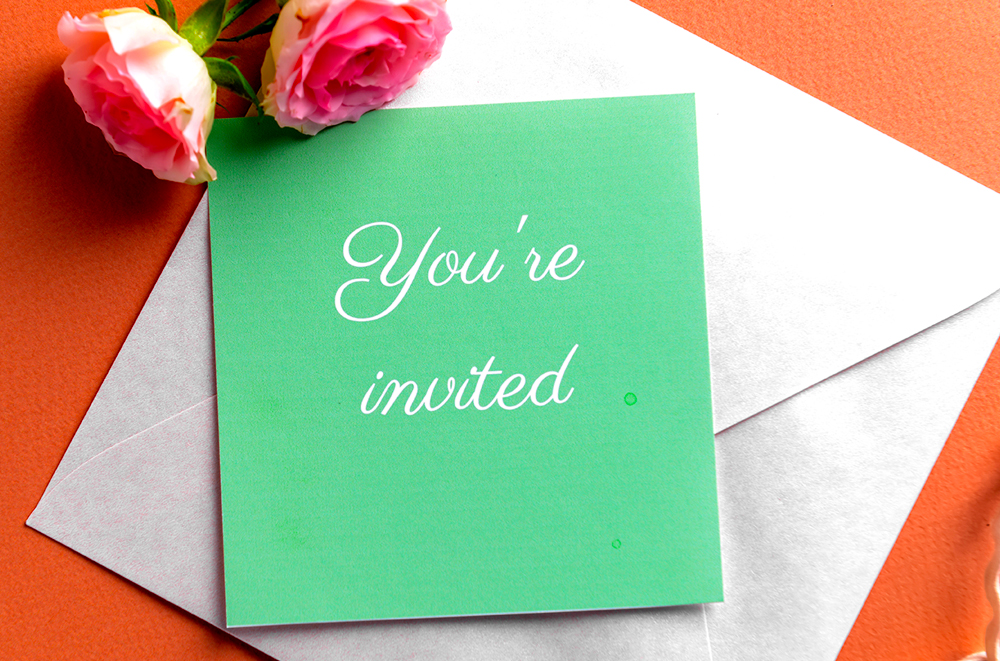 Anniversary Party 3 to 4 weeks before the event
Bar or Bat Mitzvah 8 weeks
Baby or Bridal Shower 4 to 5 weeks
Birthday Party 2 to 4 weeks
Casual Drinks Same day to 2 weeks
Cocktail Party 2 to 4 weeks
Fancy Dinner Party 3 to 4 weeks
Fundraising Event 2 months (save the date 6 months)
Graduation Party 4 to 6 weeks
Holiday Party 3 to 4 weeks
Impromptu Dinner Same day to 1 week
Let's Do Lunch Same day to 3 weeks
Thanksgiving Dinner 4 to 8 weeks
Wedding 2 months (save the date 6 months)  
---
Email me with your entertaining questions, dilemmas, or triumphs at mjackson@inkansascity.com