Sponsored content:
Talk about a career change. Before James Clausen founded KC Wineworks with his wife, Lindsay, he had a career in commercial diving.
Yet he had always dreamed of owning a winery. That dream was made more accessible by the fact that James's family emigrated to the U.S. from Germany in the mid-1800s and, upon arriving, purchased land in Macon, Mo. (about 30 minutes north of Columbia).
Before the Clausens celebrated their first harvest year in 2014, James' father grew and sold grapes to local winemakers. Now, Lindsay says the vineyard supplies about "40 percent of our wine needs," and they also source the rest of their grapes from Missouri. Supporting businesses close to home is an ongoing priority for KC Wineworks.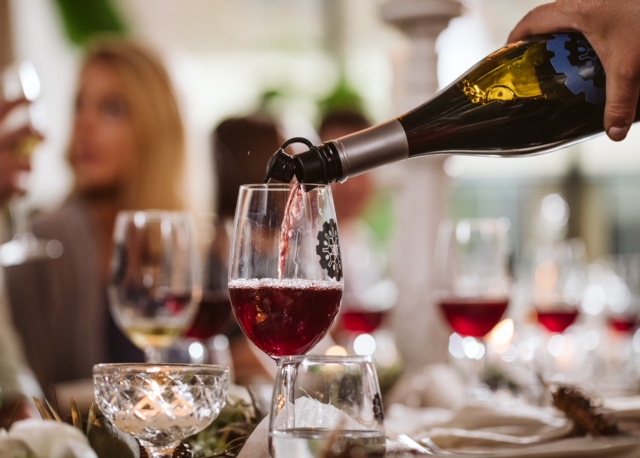 "We're committed to buying and harvesting local," Lindsay says. "We're a privately owned, family-funded winery, so we try to keep all of our money in Missouri as much as we can."
Given that local business-first mentality, it's no wonder that KC Wineworks opened its public tasting room in 2016 in downtown Kansas City's thriving Crossroads Arts District, one of the city's epicenters for locally owned businesses and creatives. Lindsay says fellow urban winery Amigoni proved to be a source of inspiration as they created KC Wineworks' public-facing space.
Like Amigoni, Lindsay says KC Wineworks wants to push the boundaries of local grapes. The winery's approximately nine varietals produce about 18 unique wines. Every KC Wineworks wine is classified as 100 percent grape-to-glass.
"If our label says a varietal name like Chambourcin or Norton or Vignole, the wine is 100 percent of that grape," Lindsay explains. "Within every state, wineries only have to use a certain percentage—usually 75 to 85 percent—of that varietal."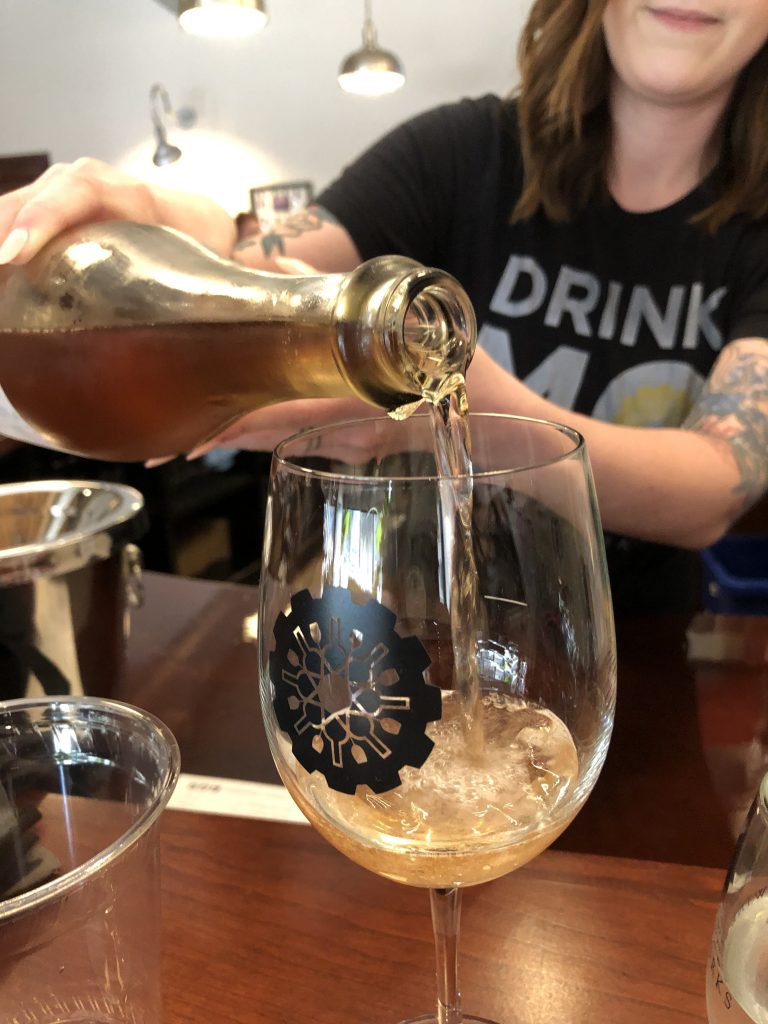 That commitment to showcasing the full flavor profiles of each grape varietal makes for an unexpected and more memorable tasting experience.
"People will stop in and say, 'I love cabs,'" Lindsay says. "Then I ask if they've had a 100 percent cab?"
The result is more than delicious, drinkable wines—it's part of a continual effort to showcase the possibilities of Missouri grapes. In fact, Lindsay says she and James have embraced more of a Pacific Northwest mindset when making wines. Before moving to Kansas City, the two met in Oregon, Lindsay's home state.
Now, as business owners in the Crossroads, James and Lindsay have fully embraced their vibrant surroundings. Not only does KC Wineworks introduce a different style of wine; they also strive to create an out-of-the-box (err, bottle?) experience.
"Our hours are a little different from other wineries; we stay open later," Lindsay says. "We want to create a space that people have access to whenever they want it: after dinner, during a date, before a concert. The walkability of the Crossroads is a key factor, and we want to create a space for those planned or impromptu gatherings."
Like many businesses, KC Wineworks had to quickly pivot to comply with current coronavirus procedures. Although the tasting room is temporarily closed, KC Wineworks is offering curbside pick-up. Simply shop their website at www.KCWineworks.com. And if you're feeling especially adventurous, opt for the Mystery Wine Bag, which comes with four bottles, at least one of which is a new release.
Speaking of new releases, this spring brings an exciting addition to the KC Wineworks portfolio: Crossroads After Dark, a sultrier interpretation of KC Wineworks' top-selling wine, Crossroads Red.
"Crossroads Red is approachable, fruit-forward, ready to drink," Lindsay says. "Crossroads After Dark, on the other hand, is what happens after the sun goes down. It's a blend of Chambourcin and Norton that's oaked for a drier finish."
The original plan was to release Crossroads After Dark during KC Wineworks' fourth birthday party on April 4. Although the party is on hold, Crossroads After Dark is available now. Order a bottle and consider yourself a Missouri wine trendsetter.
When KC Wineworks reopens, put another milestone wine on your list: Show-Me Sangria.
"We were the first winery to can wine in the state of Missouri," Lindsay says.
The white wine base is enhanced with natural juices and just a hint of spritz to mimic the mouthfeel that you'd enjoy from other canned beverages.
"We do like to add new wines, but we also want to be consistent in what we offer," Lindsay says. "We produce around 20,000 bottles each year, and our goal is to always feature a more approachable wine list that pairs perfectly with the low-key environment of our tasting room. Thanks in part to our Crossroads location, we have the flexibility to be whatever we need to be for the people who come in."