If you have never experienced the spontaneous joy of discovering and eating a warm arepa stuffed with skirt steak and queso fresco at a farmers market or tucked into a plate of street tacos at a local brewery, enjoyed a pizza with crust as light as a cloud at a natural wine shop or bit into a smash burger with everything on it while sipping on a drink from a local distillery, then it is about time you did. In fact, we insist you do, as the chefs hosting these food pop-ups may very well be the future of our local food scene in Kansas City. 
What started as a survival tool for many chefs during the pandemic in Kansas City, has now evolved into a legal path and license in Kansas City, Missouri, that allows these trained food folks to earn a living by opening for one or two nights inside a handful of local businesses, bars, and breweries, selling their food to anyone lucky enough to follow them on social media or find them popping up in the wild.
Embracing the freedom and flexibility that comes with owning their own food business, these chefs enjoy having something that they can pick up or put down whenever they need extra income or can do in conjunction with a kitchen job at a local restaurant. Some dream of owning their own food truck or brick-and-mortar restaurant one day, others want to host multiple pop-ups to serve multiple locations. Without being hampered by the hours and heavy overhead costs associated with opening a new restaurant, local chefs can experiement with different food items to figure out their hero menu items before making a large financial commitment to a brick-and-mortar in real time.  
All of them typically offer only a few menu items each week, advertising on Instagram with catchy names and enticing full-color photos meant to whet the appetite and get people excited to try their latest viral offering. They are called pop-ups because they can happen at any time and any day of the week. Ordering and paying for your food is done via text, QR code, or website, and although each one works a little differently than the next, all provide detailed instructions on how and where to go to pick up the food or have it delivered to your door. 
These variable food vendors have found local farmers markets a great place to pop-up in addition to retail shops, such as Big Mood Natural Wine in the Crossroads. Local breweries, wineries, or distilleries are also natural hosts for pop-ups as they are looking for those who can provide good food to pair with the beverages they already sell. Pizzas, burgers, sandwiches, tacos, pies, fresh pasta, or cinnamon rolls are all on offer for those willing to seek it out and support this new culinary gig economy.
Now with a bright future ahead for pop-ups in all parts of the city, we thought we'd bring you a list of those who are adding their own unique flavor to the local food scene.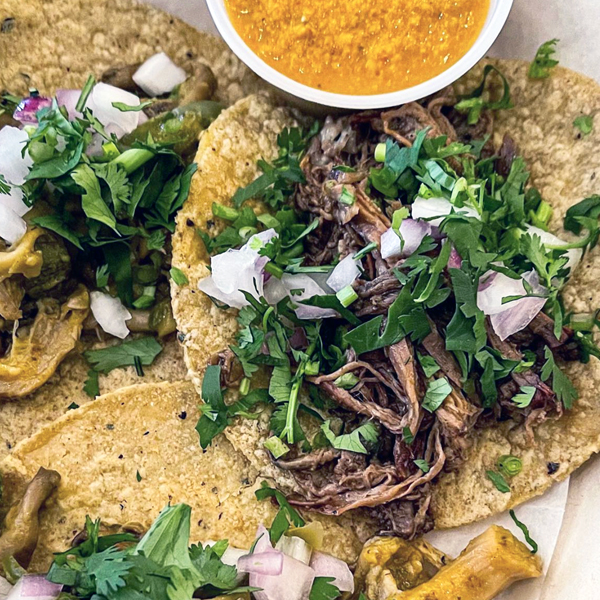 Tacos Valentina
After being furloughed during the pandemic, Roger Avila, Kendra Valentine, and Pablo Muñez talked about the challenges of working in the hospitality industry and wondered if they could build a better mousetrap. They decided to start small, with Tacos Valentina, a pop-up celebrating their shared culture and serving authentic and approachable Mexican food. Tacos were an easy place to start and are a food item that has a history of being sold at pop-up roadside stands all over Mexico. They bought a countertop mill to nixtamalize heirloom corn varieties to make their own tortillas, each with its own distinctive flavor and color. They fill them with a variety of proteins, (barbacoa, carne asada, al pastor, and cochinita pibil) fresh produce, and handmade sauces based on whatever is fresh, local, and in season. Their rotating selection of tacos and tetelas (a Oaxacan type of taco made from a tortilla that is shaped into a triangle pocket filled with beans and cheese and griddled to hold its shape) has developed a following with a regular schedule that includes Thursday nights at Casual Animal Brewing Co., Saturday evenings at Alma Mader Brewing, and Big Mood Natural Wine on First Friday, in addition to private events and catering. The goal is for the trio to one day operate several pop-ups all over the city on the same night operating out of one central commissary kitchen. Follow them on Instagram @tacosvalentina.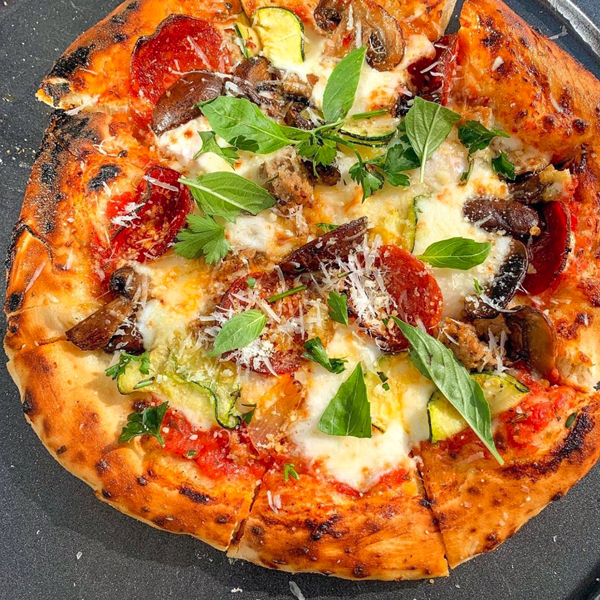 Devoured Pizza
From hosting her own backyard pizza parties during the pandemic with her little Gozney Roccbox portable pizza oven (for whom she is now a brand ambassador) to popping up with her world-famous "cloud crust" at watering holes around town, Jhy Coulter has been the pizza pop-up to watch for some time now. This year you can find Devoured Pizza at the Overland Park Farmers Market, every Wednesday and Saturday from 7:30 a.m. until 1:00 p.m., slinging creative pies to hungry shoppers. She also plans to return to some of her favorite spots on alternative days, such as Big Mood, Strange Days Brewing, and KC Wineworks, in addition to doing private events and catering. Although the chef has found her new 5:00 a.m. wake-up time a rough adjustment to be ready to open at the farmers market, she feels the love from a curious and enthusiastic new fan base at the market. In addition to her crowd-pleasing pizzas, such as the Vegan Bae and The Pep, she has also added two new breakfast pizzas for the folks at the farmers market. The first is a more traditional pie topped with bacon, potatoes, scrambled eggs, cheese, peppers, and onions. The second she calls "Jam Bam" and it comes topped with crème fraiche, prosciutto, and blueberry ricotta for those who love it sweet and savory. Coulter is thinking a small brick-and-mortar location is likely her next big step for Devoured. She wants a permanent place to create 'za that has her "Jhy-ness" on it. Follow Devoured Pizza on Instagram at @devouredpopup.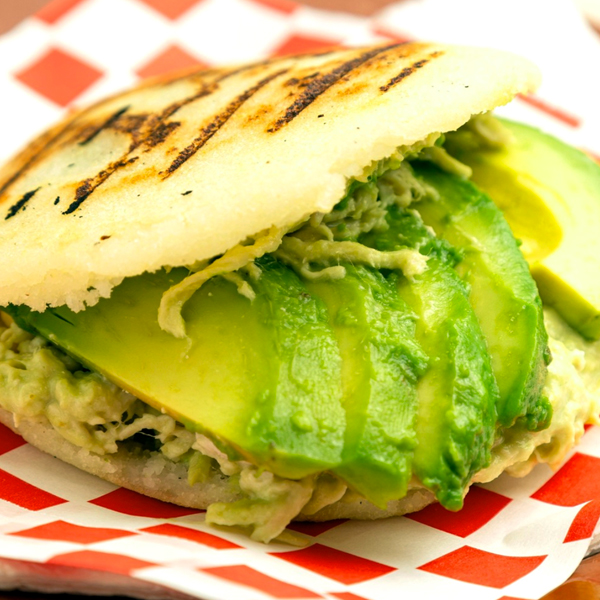 Baré Coffee Grill
After studying gastronomy in Venezuela, Leonor Gutierrez moved to Kansas City six years ago, finding culinary work in high-end restaurant kitchens like 801 Chophouse, North Italia, and Rye in Leawood. Now, ready to return to her roots, she has opened her own Venezuelan pop-up, Baré Coffee Grill (pronounced bar-ray, and named for an indigenous Amazonian tribe), where she makes traditional arepas every Saturday from 7:30 a.m. to noon at the Park Place Farmers Market in Leawood, where a line starts to form the minute she steps in front of her grill. The gluten-free arepas are made with white-corn dough formed into a flat, round disk and grilled until it puffs up and can be cut open to be filled with one of four customary fillings—reina pepiada (chicken and avocado salad), carne mechada (skirt steak with queso fresco), scrambled eggs with queso fresco and pico de gallo, and her vegan one filled with black beans, avocado, and pico de gallo. Gutierrez has also found success catering for corporate or private events with her arepas and Venezuelan appetizers, such as tequenõs (fried-cheese sticks) and pastelitos (savory hand pies filled with ground beef). She will be popping up at the market until October, and then assessing the success of her first season. Having her own restaurant is a dream, but for now she is considering which farmers market to pop-up at next season. Find Baré Coffee Grill on Instagram at @barecoffeegrill.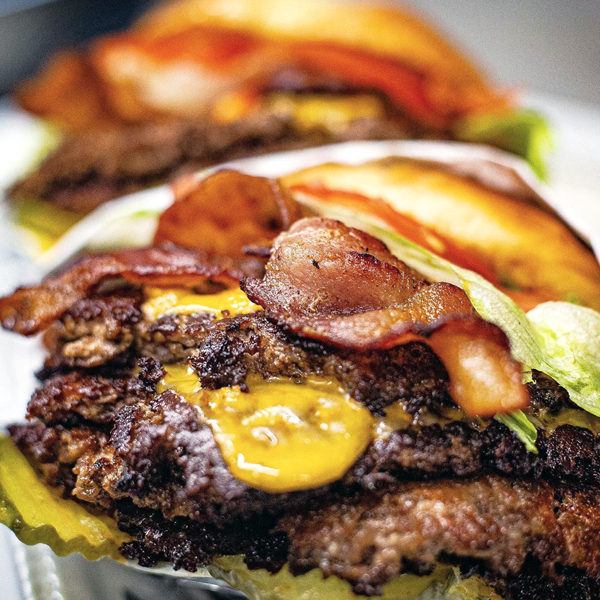 Big Head Burger
After catering a Kansas City family reunion in 2019, David Bryant was convinced by his childhood friend and local Kansas City barbecue enthusiast and photographer, Tarik Sykes, to bring his Waterloo, Iowa, based smash burger concept, Big Head Burger, to Kansas City. Working side by side with his mother, Nina, Bryant opened Big Head Burger in Iowa, first as a food truck, and eventually as a brick-and-mortar restaurant serving hand-ground burgers, hand-cut French fries and hand-dipped milkshakes. Bryant is currently looking to build his burger empire by opening a second location in Kansas City, but in the meantime, he and Sykes are hosting a series of pop-ups this summer at local breweries to give people a taste of what is to come and see where the summer takes them. With a solid schedule of dates set you'll be able to find Big Head Burger this summer at Pathlight Brewing, Sandhills Brewing, Callsign Brewing Company, and a few others, serving up smash burgers with secret sauce, cheese, sliced onions, and pickles on a brioche bun. The response to his smash burgers so far has been impressive, with Big Head Burger already generating big buzz in Kansas City. Follow Big Head Burger on Instagram at @bigheadburgerkc.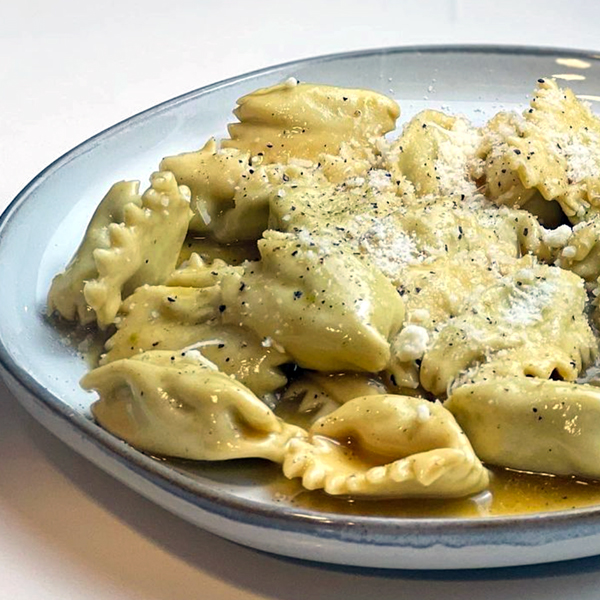 Zero Zero Handmade Pasta
Mitch Fagan and Leah Steinberg started making fresh handmade pasta at home, inspired by their pre-pandemic travels to Italy. They eventually got so good at it, they built a cottage business selling pasta to friends and family. Zero Zero Handmade Pasta, named after the 00 flour used to make their pasta, may have been born out of boredom, but it is big business now, as the couple has signed the lease and will open their first fresh pasta store on Kansas City's Westside in the former home of Fervere/Ibis Bakery next door to Blue Bird Bistro this month. Working together with a handful of trained employees, the couple makes a different pasta each week, announces it on Instagram, and takes orders Friday through Wednesday, then produces the pasta on Wednesday night. On Thursday, their customers get fresh pasta delivered right to their door, just in time for the weekend. This year they expanded into a booth at the Brookside Farmers Market where you can find them on the weekends selling fresh pasta right next to the produce vendors. Their new retail location puts their pasta-making talent on display with large wood tables behind glass where guests come in and watch. They also have a small market section where they sell bags of the flour they use to make their pasta, from Kansas City-based Marion Milling, in addition to a selection of seasonal ingredients one might need to build a sauce. Saturdays they offer a single pasta dish, ready-to-eat. It might be a piping hot slice of lasagna or something that can be quickly cooked to order and enjoyed there with a glass of wine or at home. As for the brick oven that was a showpiece of Fervere, they plan to use it to bake beautiful loaves of focaccia bread to sell. Follow them on Instagram @zerozeropastakc.