Some of the metro's biggest chocolatiers are pulling out all the stops for their Chiefs-themed bonbons and confections. If you're a choc-aholic, we've procured some choice treats for you to try.

ChocoPoppo, Anyone?
Panache Chocolatiers in Leawood's Park Place has Kansas City's winning snacking combination: ChocoPoppo. Available with butter or caramel popcorn, this treat is drenched with rich milk or dark chocolate. A Kansas City classic, ChocoPoppo is perfect for game day.
Pick up a tin, jar, or snack bag for your football-watching pleasure. Oh, and through Sunday, February 7, enjoy 10% off your Panache purchase with the code "Run it Back." Hurry to stock up—supplies of this chocolate-laden treat are limited. Prices range from a $6 snack bag up to a $125 three-gallon tin. (P.S. We're in!)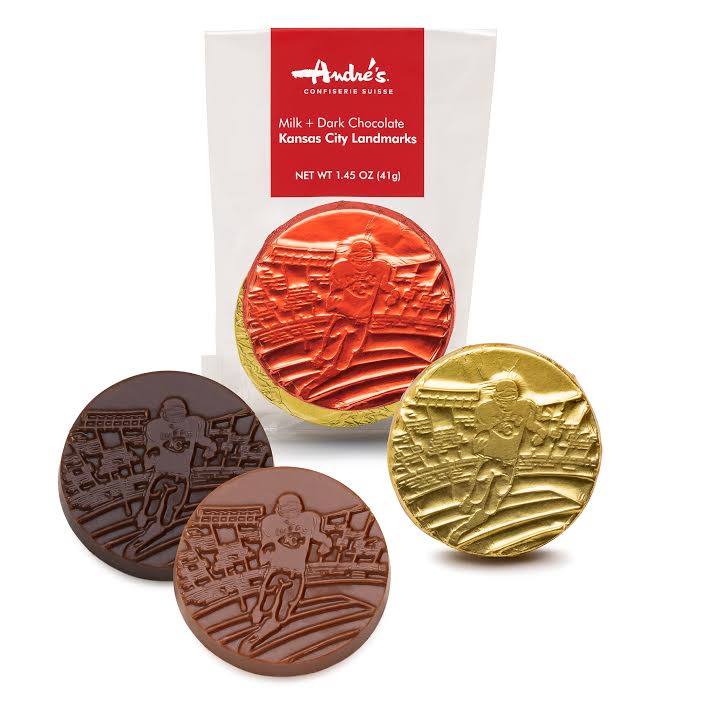 It's Game On at Andre's!
The legendary confectioner just reintroduced their Kansas City Landmark Chocolate Disks (two pieces for $4.80). This disk—which features a Chiefs football player in the foreground of Arrowhead—was designed by Kansas City artist Bob Holloway. Not only was Holloway one of the founding artists for the Westport Art Show, he created a whole series of choco-artworks for André's.
Or check out these cute mini chocolate stars or footballs ($4.75 per bag). We're also fans of their tasty KC Cookies ($7.50 for two, $22 for six). Made from Andre's classic butter cookies, the football shape is actually created from a  tree cookie cutter turned on its side. Ingenious! Want a Playoff Picks Gift Box ($20)? It's a collection of their fave Chiefs-centric individual items.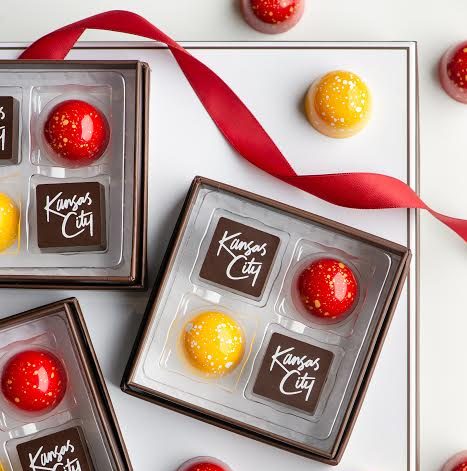 Up To Their Elbows in Chocolate!
Score! The candymakers at Christopher Elbow Chocolates are working overtime packaging their delightfully delicious bonbons. Their new Kansas City's Chiefs Chocolate Collection features three unique flavors, including:
Fresh Lemon—house-made lemon marmalade and lemon-infused white chocolate ganache in a white chocolate shell.
Raspberry Vanilla—raspberry pâté de fruit layered with a vanilla bean white-chocolate ganache in a white-chocolate shell.
Fleur de Sel Caramel—Buttery caramel infused with gray French sea salt in a dark-chocolate shell.
This collection will be exclusively available in Elbow's Kansas City store for $12.95. (Product not available for purchase online.)