Eating local has become all the rage—but the dedication to supporting area businesses and munching on food produced in the region need not stop when you leave the farmers market or pay the check at your favorite eatery. These Kansas City owned and operated catering companies boast inventive menus, years of experience in KC and plenty of homegrown character.

Above & Beyond Catering

If you just want to meet expectations, you don't name your business Above & Beyond. But owner and founder Roxanne Strub didn't set out to do the bare minimum. With the help of friends Patrice Pitts and Tina Tilton, she wanted to make her catering company a cut above. Mission accomplished. Offering only items prepared from scratch using fresh and local ingredients, uniformed servers and whatever other flourishes are needed to make an event one to remember, Above & Beyond lives up to its moniker. 

Blue Pot Catering
Blue Pot Catering aims to make clients' events about enjoying their time with guests, not what's going on with the buffet table. Dishes are made from scratch and menus range from classic to contemporary, depending on what the occasion and palate calls for: Simple yet delicious sandwiches? They've got you covered, or opt for the more sophisticated herbed chicken Milanese, a Blue Pot favorite. From black-tie weddings to backyard barbecues, chef Mark Juhnke and his crew want diners to eat well, no matter the occasion.

Chef Kansas City
Responsibly sourced, organic and farm-fresh ingredients are on the menu for Chef Kansas City, a local personal-chef service and catering company. Chef Kansas City focuses on office catering, delivering flavorful, exciting lunches to businesses around KC, but the culinary team can take on any event—even your frenzied Monday morning breakfast—thanks to its meal delivery service. Choose from their breakfast, lunch, and dinner menus each week and prepare to feel like you have your own personal chef on call.

Feasts of Fancy
Andy and Kathleen Jacot bring decades of experience in the catering and restaurant industries to the table with Feasts of Fancy, their longtime Kansas City catering company. Although they serve their tasty fare at venues throughout the metro, Feasts of Fancy sets itself apart by also offering a rustic-meets-urban event space in the West Bottoms complete with a loft space and courtyard. Their food is equally capable of being polished (like gorgeous salmon available with a variety of rubs and sauces) or playful (mini grilled cheese sandwiches and tomato soup shooters, anyone?).

Geaux Catering
In a sea of traditional catering options, Geaux Catering stands out by specializing in Cajun-Italian fusion. Sure, chef T. Jamaal Gore offers the requisite chicken dishes, but they're listed alongside grilled basa, red beans and rice, jambalaya, and seafood gumbo on the company's extensive menu (which offers some of the best variety in KC for your buck). Geaux's friendly and enthusiastic service paired with those audacious flavors make for a dining experience ideal for any event where stuffy and conventional just won't do.

Inspired Occasions
For nearly 30 years, Inspired Occasions has been synonymous with unforgettable parties. Lon Lane is the virtuoso behind Inspired Occasions and co-owns the company with his wife, Marcia. Their son, Stewart, now serves as executive chef and director of culinary services. Together, their team custom creates awe-inspiring menus, whether they include colorful interactive food stations for a corporate event or their signature (and scrumptious) onion puffs at an intimate soiree. The Inspired Occasions crew's ingenuity and experience make for a delicious dining experience.

Local Seasons Catering
When chef Sean Kirby says he's committed to local ingredients, he's not just paying lip service. The restaurant veteran has been known to wander through the woods picking mushrooms and wild greens. It's that commitment to homegrown, seasonal fare that inspires everything served by Local Seasons. His dishes possess an understated elegance, from rustic wild mushroom and gruyere strudel to gulf red snapper cakes with mango and grapefruit salsa. Kirby and company are also skilled at accommodating dietary restrictions, and did we mention his signature seasoning is so revered it's known as magic dust?

Olive Events
Whether your event has five guests or 500, Marisa Roberts has your back. The owner of Olive Events trained at Johnson County Community College and worked under Jennifer Maloney, Laurie Thomas, and Steve Cole before striking out on her own in 2002. Since then, the company has catered bar mitzvahs and dinners attended by the president of the United States and everything in between. Her detail-oriented team offers both catering and event planning for weddings as well as private events. Expect elegant presentation and creative cookery.

Relish Classic Catering
Relish Classic Catering has an enviable list of friends from Boulevard Brewing Co. to River Market Event Place and loads of other Kansas City area venues and vendors, connections that make life a little easier when you're planning an event. But the company doesn't just collaborate with heavy hitters—they make a point to make gatherings big and small, simple to extravagant, a success for guests through their cuisine and presentation. Bonus: They're licensed bar caterers, so they can handle drinks on top of everything else.

Scrape the Plate
Upscale cuisine gets a down-home twist at Scrape the Plate catering. The menus are always custom creations, but they share a few commonalities—dishes look and taste good, thanks to owner and head foodie Scott Hale, whose team is also widely recognized for its topnotch service. We're particularly fond of their desserts, which include a buttery pound cake grilled panini style with fresh strawberries and Scrape the Plate's signature chocolate chip cookies, dense, moist and packing three types of chocolate.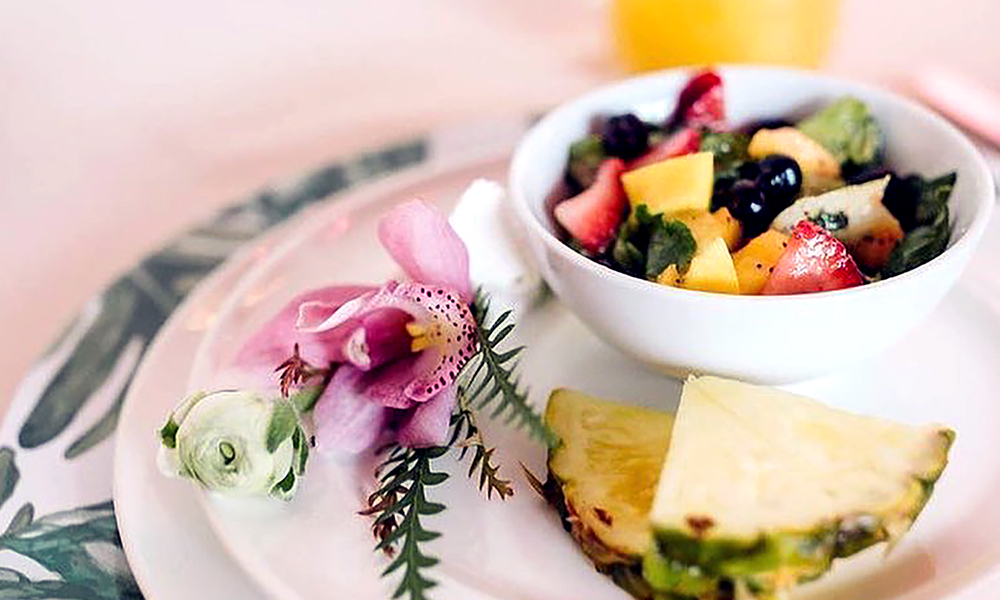 Shining Stars Catering
Deborah Williams always loved cooking. After marrying an Army man, Marvin, she catered military events throughout his career, picking up new styles and learning to think outside the box during the couple's 20 moves. After settling in Kansas City following Marvin's retirement from the Army, she put all that knowledge into Shining Stars. The company specializes in catering weddings (and has the Knot Hall of Fame designation to prove it), where they collaborate with couples to bring their visions to life, from late-night snacks like Chicago hot dogs and pretzel bites to elegant brunches.

Sugar & Spice Catering
Parkville's Sugar & Spice Catering makes wedding days extra sweet. Founded by Larry Roberts and his late wife, Diana, the catering company's calling card is show-stopping cakes as charming to look at as they are to eat, but their offerings go well beyond desserts. Sugar & Spice's full-service catering trends towards the classics, running the gamut from simple, satisfying sandwich service to chef-carved prime rib and Italian favorites like chicken spiedini and lasagna. They also make a special effort to cater events for nonprofits within their budgets—and without sacrificing quality or taste.

Two Sisters
Some siblings have rivalries. Belinda Smith and Michele Fisher have a business. The women behind Two Sisters Catering inherited their culinary passion from their mother and imbue their events with homespun tenderness and care. The sisters' spicy Mexican corn dip is among their most beloved offerings, along with their rich chocolate brownie with creamy peanut butter icing and butterscotch coffee cake (a recipe so coveted the sisters now sell a mix so the treat can be enjoyed whenever, wherever).