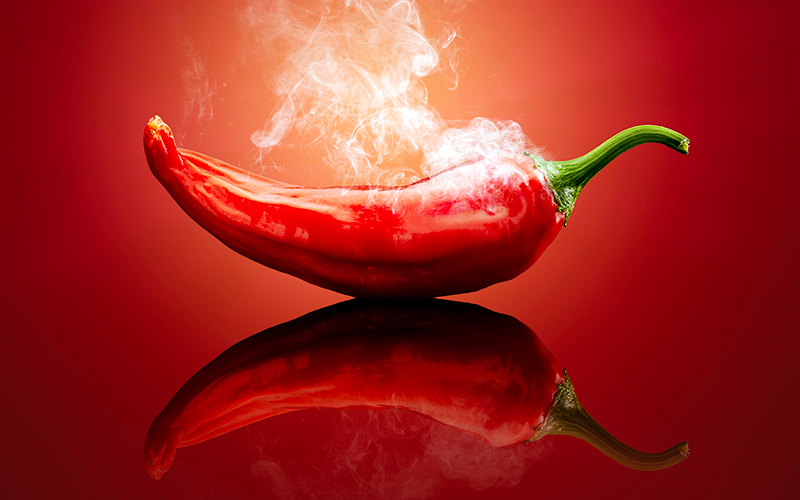 Kansas City is not known for its "hot" cuisine. Like most of the Midwest, we come by our aversion to spice honestly. Historically, we can point to the palate of the European immigrants who settled here, the strict Protestant beliefs at the time around spicy foods being considered a bodily pleasure, and therefore a sin, or we can simply look at our hardworking rural farm communities that ate what they grew, prepared simply and without anything more than salt and maybe a little black pepper.
Today, with modern technology, a world of heat, flavor, and spice is more accessible than ever before. Fueled by both international and armchair travel, via television or our smartphones, we have developed a growing interest in foods with deep heat and flavorful spice. Traditionally, we may have looked to restaurants serving Chinese, Mexican, Thai, Korean, Indian, or Ethiopian food to help educate us on the complex role chilies play in those cuisines, but we also love a little spice in our comfort-food standards, as witnessed by the explosive popularity of Nashville hot chicken in recent years.  
Our grocery stores are now stocked with a variety of fresh and canned chilies, "flavor blasted" snacks and an abundant selection of spicy oils, chili crisps, marinades, hot sauces, and condiments of all kinds, which we are now using to spice up the dishes we make at home. Food researchers confirm that Americans are eating spicier foods, and it seems the more spice we eat, the more tolerance we build. Our palates are starting to grow and change as a result. 
Local chefs in Kansas City are also responding to the call for spicier foods by making and selling their own sauces and condiments used in their restaurants. Some of this push to bottle came from the pandemic. With restaurants closed, chefs were trying to survive by selling everything from pasta sauces to hot sauces, and with more people cooking from home during Covid-19, the interest in finding something to jazz up a boring chicken breast was very enticing. Now that restaurants have reopened, chefs are continuing to see success selling their spicy condiments as a healthy passive income stream for their business.
From the father of Kansas City-style barbecue, Henry Perry, who brought his own flavor and spice with his original barbecue sauce that was described as "harsh and peppery," to the many restaurant chefs, barbecue teams, and budding sauce entrepreneurs who have worked to bottle their own hot condiments, perhaps we have evolved our palates to the point where we can all agree "spice is nice." 
Here are a few local favorites to check out the next time you are feeling a little spicy.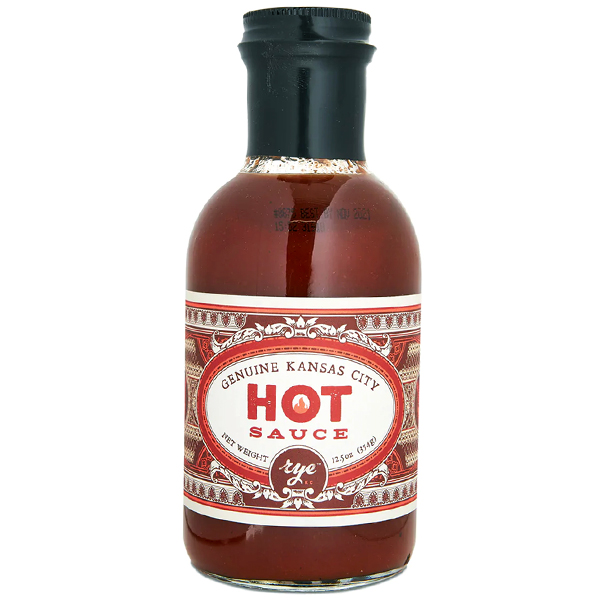 Rye Genuine Kansas City Hot Sauce
A decade ago, James Beard Award-winning Colby Garrelts and his wife and partner, Megan Garrelts, opened Rye in Leawood. It was their second restaurant, but their first casual concept focused on Midwestern favorites, such as fried chicken, quality steaks, and delicious pie. It was also the place that allowed the chef to play with his passion for smoked meats and barbecue, using a commercial smoker he installed in his restaurant kitchen. With smoking meat came an interest in making his own barbecue and hot sauce, and by the time they had opened their second location on the Country Club Plaza, the sauce was bottled and available for purchase at both locations. Rye's Genuine Hot Sauce is for those who want just a touch of spice. It is a mild yet complex sauce with heat that comes from smoked Fresno chilies and jalapeños combined with cider vinegar, garlic, and brown sugar. It is sweet and a little spicy, packing that perfect punch of flavor to fried chicken, scrambled eggs, or anything else that just needs a little kick. 
Novel Hot Sauce & Marinade
After years spent working at Momofuku in New York, it stands to reason that Ryan Brazeal occasionally likes to lean into those Asian flavors as chef at his restaurant, Novel. The same is true for his foxy new hot sauce and marinade. The label bears the artistic interpretation of the fox that's also found in the tilework (created by frequent collaborator Peregrine Honig) that decorates the wall of his Crossroads restaurant. The sauce is a combination of dried Korean pepper flakes for up-front heat and a little smokiness, Szechuan peppercorns for a lingering heat on the finish, fermented broad beans and soy sauce for a umami funk, and it's all rounded out with rice wine-braised onions and garlic for a sweet tangy balance that pulls the whole sauce together. It packs a heat similar to sriracha, but with much more depth and complexity. Use it wherever you would normally use hot sauce, dip your fries into it, marinate chicken, or simply toss it in some cold sesame noodles.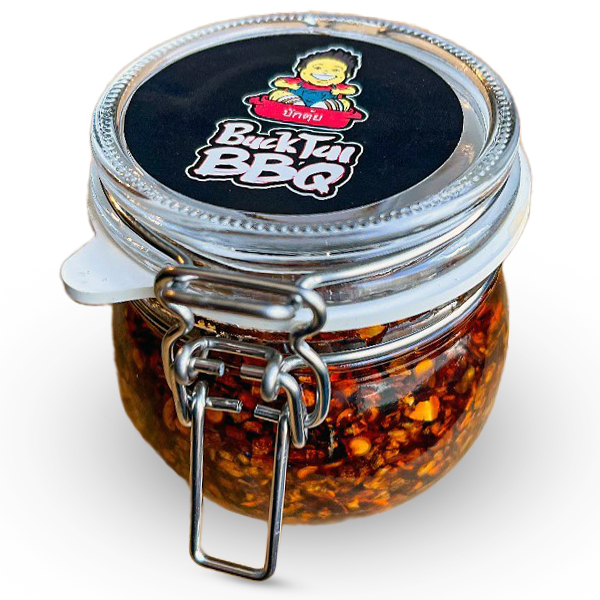 Buck Tui Chili Crunch
When Ted Liberda opened Buck Tui BBQ, serving up his Thai take on Kansas City barbecue, he changed our minds as to what we can and should consider Kansas City-style barbecue. So, you know the chef was going to blow our minds with what he considers the perfect barbecue sauce for his Thai-riffic smoky meats—his own house-made Buck Tui Chili Crunch. At his restaurant, as at his home, Liberda always has a jar on hand, and now you can too. He starts by chopping up lemongrass, garlic, shallots, and six different kinds of chilies that he then adds to a heat-proof bowl along with whole star anise and Szechuan peppercorns. Slowly he pours heated canola oil over everything to quickly crisp up all the aromatics, chilies, and spices, infusing the oil with flavor and giving his chili oil a big crunch and slow burn. He uses a combination of chilies in the crisp to ensure it brings just the right amount of heat. It is hot, but not Thai hot. Look for his chili crunch at his restaurant or you can also find it drizzled over the nachos served at the Buck Tui BBQ stand at Arrowhead stadium, home of the Kansas City Chiefs.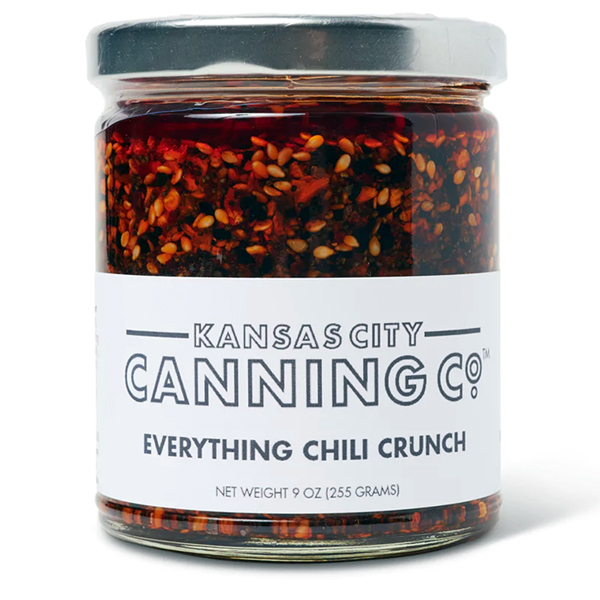 Everything Chili Crunch from Kansas City Canning Co.
During his five years in business, Tim Tuohy and his small team have managed to preserve, ferment, and pickle just about every imaginable vegetable and fruit for his popular condiment company, Kansas City Canning Co., which sells products in fine food stores in seven states, from California to Massachusetts. With all his products made from scratch by hand in a former hamburger stand in the East Bottoms, using as many locally sourced ingredients as possible, the chef and his team recently came out with their own version of chili crunch, one that takes a cheeky cue from Everything Bagel spices. 
Their take on the spicy and savory condiment is more crunch than chili oil, but that doesn't mean it doesn't have the warm heat it needs to make you sit at attention. Made with blended oil, dried garlic, poppy seeds, black sesame seeds, white sesame seeds, dried onion, coarse Korean chili flake, crushed red pepper, salt, and spices, stir their Everything chili crunch into Greek yogurt for creamy but spicy dip for chips and vegetables, or pour it over a block of cream cheese and serve with, what else, bagel chips.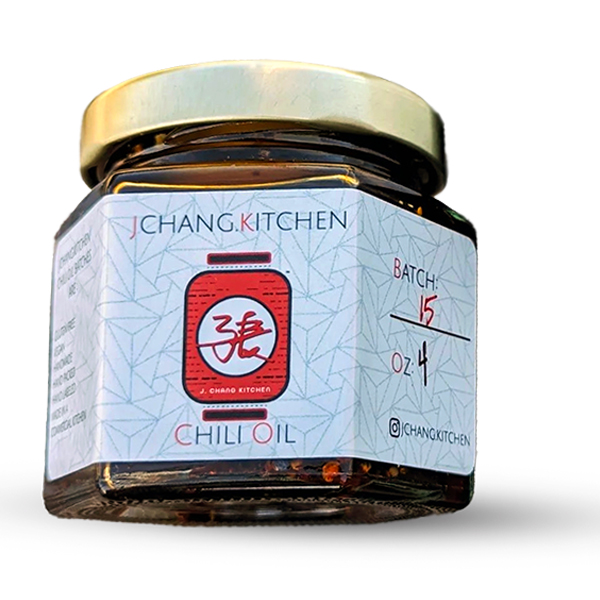 J. Chang Kitchen Chili Oil
James Chang, the chef behind J. Chang Kitchen and the general manager at Waldo Thai, likes to switch things up with each batch of his now famous Taiwanese chili oil being just a little different than the last. So, if you find one you particularly like, you better stock up because once it is gone it is gone. Made and bottled by hand and sold though the J. Chang Kitchen Instagram page, his chili oil is gluten free, vegan, preservative free and is made by slow cooking whole onions and garlic cloves (he used over 30 pounds of garlic to make his most recent batch) in oil for hours until the flavors of all the aromatics have all melded together, then he combines Szechuan and dried Indian chili flakes, hand-toasted and ground spices, and finishes his chili oil with crispy fried shallots and toasted sesame seeds. Chang plays well with others and his chili oil has been mixed into a vanilla ice-cream base and sold as a surprisingly delicious collaboration he did last year with the folks behind the French Custard pop-up. You can find jars of his spicy stuff for sale at Italian Sausage Company along with the #22 sandwich, a collaboration sando that is a permanent fixture on their menu, made with pastrami, salami, red-wine olives, J. Chang chili oil, garlic aioli, tomato, shredded lettuce, and burrata cheese.