When Fox & Pearl's Vaughn Good got word that he was nominated for a James Beard award this week for Best Chef Midwest—well, according to him, he was "freaking out."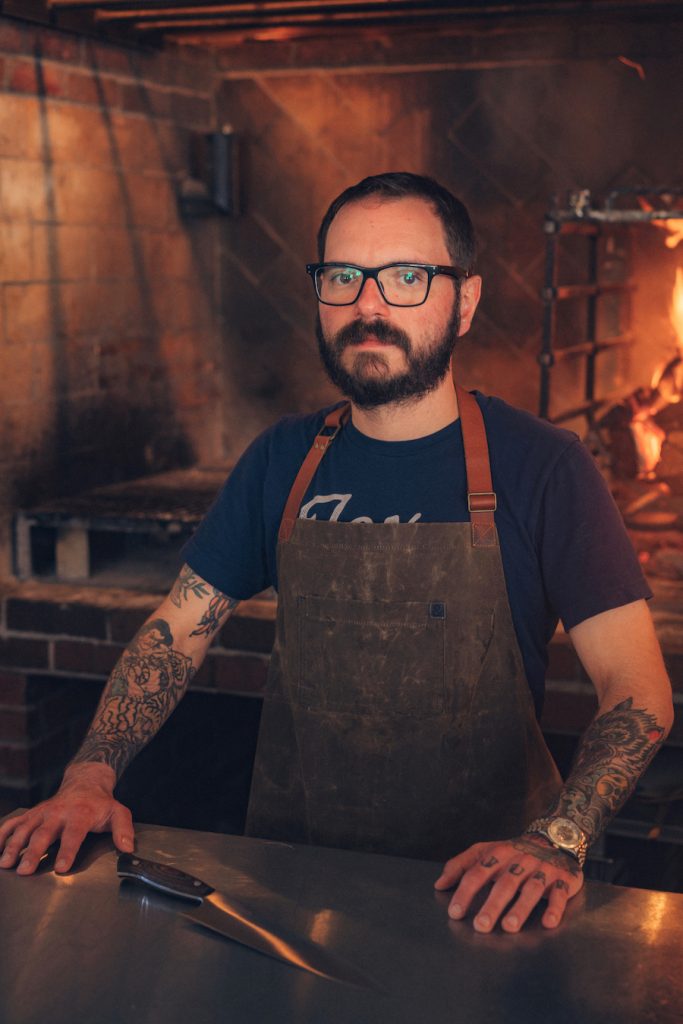 It's the first nomination for Good—who cut his teeth at the popular Hank Charcuterie in Lawrence. Known for his delectable hearth cooking and hyper-local, farm-to-table dishes, Good still can't believe he's in such good company. "I still check my phone a couple of times a day to make sure my name is on the list," he says.
We caught up with the culinary pro to get the 411 on his well-deserved nod.

Where were you, I mean, what were you doing when you got the news?
"I was outside unloading wood. We had just gotten four cords of wood in and we were out there unloading and Kristine, my partner, came out and told me. I kinda didn't believe her at first. I was like, 'What?' That—and I was out of breath. I had to pull it up on my phone and see it with my own eyes to believe it."
This is like the Academy Awards of culinary arts. What does the nomination mean to you?
"For the most part, it's every chef's dream. It's just nice to be recognized and validated by your peers. It felt like all the work we've done for so many years—and grinding away to open Fox & Pearl—had been noticed and appreciated."
How did you score your nod?
"I really don't know to tell you the truth. They do an open call in October where you can suggest people or enter to be nominated. I guess we must have been voted for—in that process—at some point."
How do you feel being nominated with the other local contenders in your category?
"I'm excited about it! It's really cool. I have a lot of respect for all the chefs and it's nice to be listed with them." (Other nominees in that category include Michael Corvino, Linda Duerr, and Nicholas Goellner.)

Break it down! Describe Fox and Pearl—in 25 words or less.
"Midwestern bistro fare. It has the vibe and feel of a casual, European bistro, but focused on Midwestern ingredients. We marry Midwestern and Southern traditions with classic European cooking."
That was 29 words. I'll take it. At Fox & Pearl, what the most important thing to you?
"Farmers and ingredients. I think there's such an abundance of it here. Just bringing the farmers in and letting them grow. One of our largest accomplishments so far here in our new space is how much local product we're using and how we're allowing those farmers to expand."

I'm coming in for dinner this weekend. What should I order?
"Right now? One of my favorite things is the duck meatballs. I think that's a nice entrée for one—or a good start to share with a few people. Our most popular dishes are our smoked porkchop and our confit quail dish."
Talk to me about your last 24 hours.
"My phone has been blowing up—a lot. I've responded to so many people on so many platforms—Messenger, Instagram, Facebook, it's all over the place. I'm having a hard time keeping track, but it's been nice. We've gotten really great response and I'm pretty excited about it. It's been great to hear from old regulars from Hank's Charcuterie that have responded. That's been pretty cool."

Have you seen a sudden uptick in reservations?
[Laughs] "Maybe? Yes? We've been pretty busy consistently since we opened—but we'll see I guess."
Interview condensed and minimally edited for clarity.