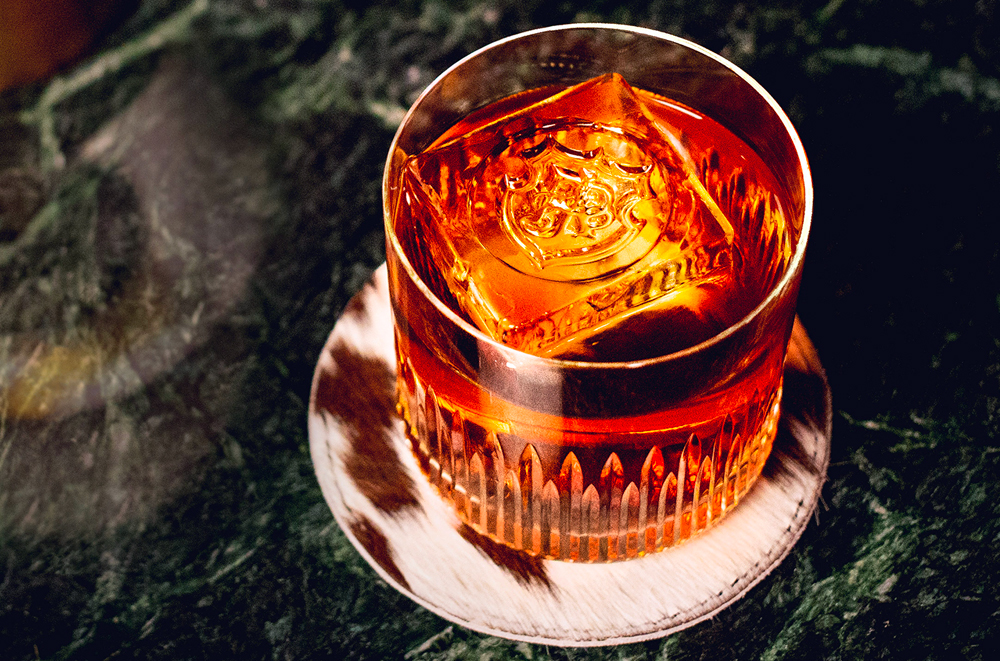 J. Rieger & Co. has a history with Kansas City—more than 130 years of it. So, it's only fitting that the Hey! Hey! Club, located on the basement level of the company's recently opened distillery in Electric Park, takes its cues from the past in a variety of ways.
Let's start with its name, a reference to the Kansas City speakeasy The Hey Hay Club, which operated at 4th and Cherry during a chunk of the 1930s. Guests enter the bar by way of an appropriately clandestine entrance on the distillery's ground floor and are greeted by a replica of the sign from Robert Altman's 1996 film, Kansas City. The club itself is all vintage styling with velvet and leather banquettes, plaid wingback chairs, a glamorous crystal chandelier and rich blue-green walls.
If you were to picture what getting a nightcap looked like a cool 90 years ago, chances are this is the aesthetic that would come to mind.
The high-end look and feel could make the bar seem inaccessible, but grouped seating, a working fireplace and a selection of board games shift the energy toward intimate rather than exclusive. Food options from culinary director Maria Swift make one even more inclined to curl up in a seat and stay awhile. Her menu includes fare to snack on like shrimp cocktail served with Rieger's gin cocktail sauce and a local cheese plate, as well as an herb-roasted beef filet and sweet treats such as espresso crème brûlée.
The food is a welcome surprise, but the cocktails are what you come for. Unlike many distilleries, J. Rieger isn't afraid to let competitors take up real estate on its menu. Cocktails incorporate spirits from a variety of brands across categories. Visitors can also order from a short list of wine or sip a Heim Beer, a nod to the building's original occupant, The Heim Brewery. The Hey! Hey! Club's version is brewed by local booze brother-in-arms KC Bier Co. in the authentic German tradition.
Reflections on the past are even more present on the cocktail menu. The Hey! Hey! Club's beverage director Andrew Olsen and bar manager Derek Branham took a semi-narrative approach to designing the bar's debut offerings, aiming to explore westward expansion and its impact on Kansas City from the late 1700s to 1887, the year Jacob Rieger's distillery was first founded. If that all sounds a bit highbrow, rest assured that you don't need to understand the backstory to appreciate the thoughtful, nuanced cocktails, like the Flintlock.
"We knew we had to create a drink that captured the determination and grit of the cowboys and traders who made a life in this area," explains Olsen. "We wanted a cocktail that was as bold and timeless as the spirit that drove these folks."
They started with a Manhattan or Boulevardier-style cocktail in mind and slowly added elements to build the character they were after.
"Overall, this drink has a lot of components, which can be a challenge with consideration for balance, but the end result is both complex and singular, and has helped make it the most popular cocktail on our inaugural menu," Branham says.
---
Flintlock
½ ounce Russell's Reserve 10 Year
½ ounce Appleton Estate 12 Year Blend
½ ounce Carpano Antica
½ ounce Bruto Americano
¼

ounce J. Rieger & Co. Caffè Amaro

½ ounce China China
3 dashes Cacao Bitters Blend (50/50 Fee Brothers Aztec Chocolate & Bittercube Corazon Bitters)
Orange Peel
Combine all ingredients in glass with ice, stir. Strain over ice. Flame orange peel over drink and discard.