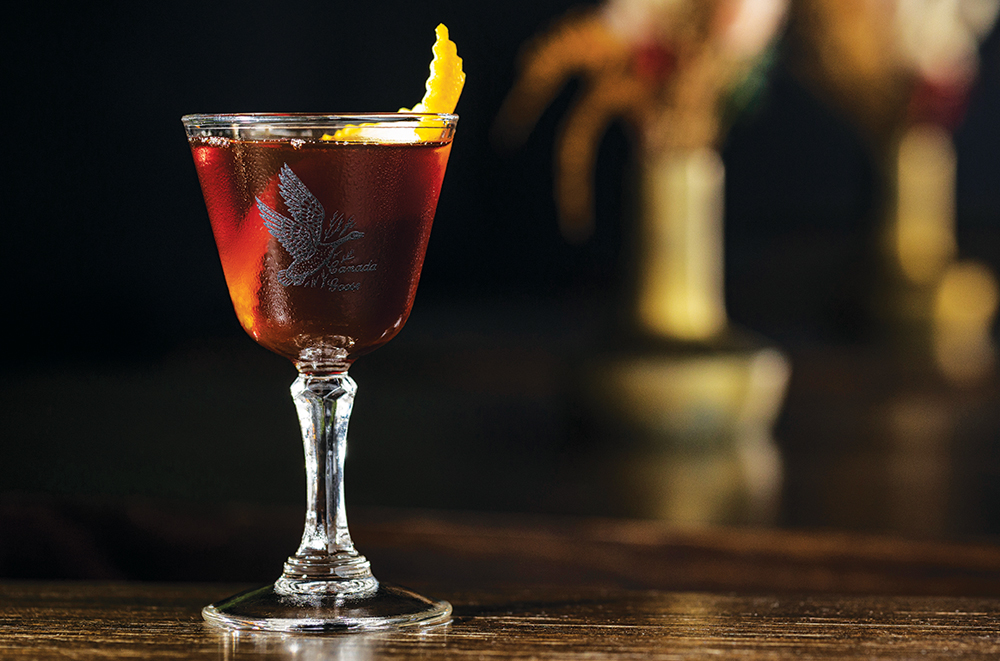 Don't bother with tents, folding chairs, or head lamps. All you need at Kansas City's coolest Campground is an appetite for craft cocktails.
Despite its name, the West Bottoms-based bar is a far cry from a real campsite and closer to a moody, modernist mountain retreat you hole up in with a hot toddy and a good book. Black walls and dark tables and chairs reflect back natural light, keeping the space from feeling gloomy. Clusters of vibrant green plants and an exterior painted the color of pine trees at dusk also help pull in the natural world, along with The Campground's fowl-depicting glassware.
It's a big, beautiful leap from how owners Christopher Ciesiel and Cristin Llewellyn launched the concept in the early 2010s. Back then, it was nothing more than a converted shed in the couple's backyard where they hosted private cocktail parties for friends, events that left other Kansas City cocktail aficionados desperate for an exclusive invite.
After a few false starts, Ciesiel and Llewellyn opened the new and improved Campground to the public in late 2018 to much-deserved fanfare—from Kansas Citians as well as media outlets such as Vogue.
In the age of COVID-19, the bar's setup has shifted, with guests sitting on the patio or at the improvised parking-lot bar rather than inside the intimate (re: not great for social distancing) space. Fortunately, The Campground is still able to do what it does best: deliver impeccable cocktails and a surprisingly robust food menu.
These aren't offerings just designed to satiate drinking-induced munchies. Instead, The Campground serves up luscious charcuterie boards showcasing products from local companies including Local Pig, Green Dirt Farm, and Frisian Farms; carnitas tacos; and a delectable smash burger. There are even s'mores bites, made with graham cracker cake, rich chocolate ganache, and toasted marshmallow for those wanting to really lean into the campground theme.
When it comes to beverages, the bar features an exceptional list of increasingly sought-after natural wines, beers and, of course, cocktails. The drinks will sound familiar—the menu includes a sangria, martini, and gimlet—but with a twist that makes them distinctively Ciesiel's creations. The sangria is made with cane-sugar soda; the martini comes with a side of salt and vinegar chips; and the gimlet delivers a taste of the mountains with tea-infused gin and pine liqueur.
For the Bronco Buster, Ciesiel took inspiration from close to home. The drink is a nod to the West Bottom's history of livestock and cattle wrangling—it was, of course, once home to the Kansas City Live Stock Exchange and Kansas City Stockyards.
"I like to think of this cocktail as a cowboy's first cup of morning coffee but not being able to finish it on the account of all the work that needs to get done," Ciesiel says. "So they leave it on the table, and when they get back to the house after a long day they add a little—or a lot of—alcohol to cap off their evening."
Made with coffee cordial and Frederiksdal Rancio Pedro Ximénez, a Danish cherry wine that has been aged in Pedro Ximénez (commonly abbreviated as PX) Sherry barrels, the finished cocktail has notes of chai, cherry pits, and dates.
---
Bronco Buster
1.5 ounces El Dorado 12 Year Rum
.5 ounce

 

Cruzan Blackstrap Rum
.5 ounce

 

Coffee Cordial
.25 ounce Frederiksdal Rancio PX
.25 ounce Cesar Florido Moscatel Especial
Stir over ice, strain into a chilled cocktail glass, and garnish with a manicured orange twist.